Potok's World Photography
Artistic Portrait from Maryland Barn Wedding
One of the most important traits that artistic wedding photographers in Maryland need to have is flexibility. Hiring someone who can create unforgettable images of your most important moments is critical. But getting wedding professionals who can do it while rolling with the inevitable hiccups of a wedding day is priceless. So as you shop around for wedding photographers in Maryland, try to get a sense of how well prospective hires handle changes. Because how they do could mean the difference between you getting a disappointing wedding photography experience and one you will rave about for years to come.
Expect the Unexpected on Your Wedding Day
Let's talk a little more about why it matters that the wedding photographers you hire to create art are flexible. If you have ever been a part of a marriage celebration as a bridesmaid or groomsman, then you know that weddings are almost always hectic and unpredictable. (And if you have not, then take our word for it!) Despite the months of planning that precede a wedding, the events rarely go exactly as expected. Things run late. Friends and family are not always where they are supposed to be when they are supposed to be there. Weird stuff has a way of just happening.
And you know what? All of that is perfectly normal. You should not get stressed about the likelihood of little bumps in the road. They are part of the process and frankly, something about which you will laugh later. We frequently tell our Washington wedding clients that those unexpected moments will be the ones that are most memorable in the end. You will forget what the chicken tasted like by the next day. You will remember forever having to get replacement pants for the groomsman who split his only pair.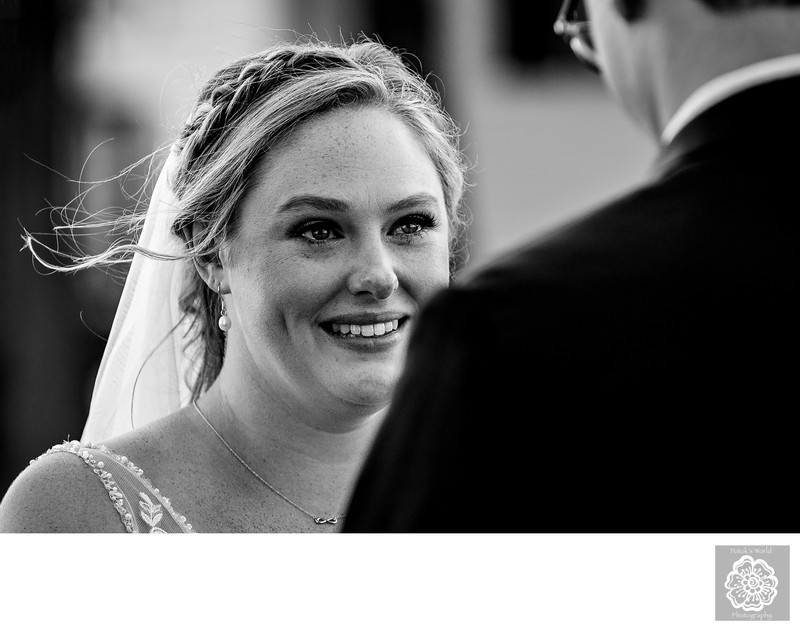 And Expect Your Artistic Maryland Wedding Photographers to Roll With It!
We learned long ago to just roll with whatever happens on a couple's wedding day. We are always punctual, of course, and help keep things on track when we can. If we can be of some assistance, we will do whatever you need us to do. But in the end, we are there to document what is happening, not be a part of the proceedings. We will photograph whatever is taking place, and the wedding album we deliver to you will be an accurate (if artistic) representation of the marital event.
Why? Because Flexibility Is Critical for Creating Artistic Wedding Portraits
Rolling with whatever happens on your wedding day is not just important for capturing images of the unplanned moments. Artistic wedding photographers in Maryland also have to be flexible when it comes to the more structured aspects of your day. Why? For starters, because we have almost no control over the setting of or conditions at your marriage celebrations. We do not have the luxury of bringing you to a studio for your couples portraits. We need to make use of whatever spaces are available, regardless of the conditions.
This becomes even more important when you factor in time. As we said above, things running late on a wedding day is a pretty regular occurrence. And in our experience, it is often the couples portraits time that gets squeezed. (Receptions usually have to start at a specific time. So if your getting-ready process or ceremony run long, there is typically less time for portraits.) As a result, we sometimes have to create beautiful, artistic portraits of you quickly and wherever you happen to be at that moment. Gorgeous locations with stunning views might be too far away when time is tight. So might have to make you look fantastic in church lobbies or reception venue parking lots. Which is no problem for us!
Artistic Maryland Wedding Photographers Turn Weaknesses to Strengths
Why does the prospect of creating memorable couples portraiture in less-than-ideal circumstances not fill us with dread? Because we have learned the secret to dealing with those situations. What is the key? Turning weaknesses into strengths. We take the very things that make conditions difficult and use them to create artistic wedding photos for you.
How We Create Artistic Wedding Portraits in Harsh Sunlight
The image featured here is the result of exactly what we are talking about. We took couples portraits for these newlyweds during the brightest part of their wedding day. (This is a pretty common occurrence, actually, because of the structure of most wedding schedules.) Unfortunately, the light is particularly harsh and unflattering at that time of day. It casts hard shadows. The contrast between light and dark is so pronounced that properly exposed images are difficult. Vital parts of the composition are either blown out or shrouded in darkness.
In situations like this, we typically need to either make the pictures very light or very dark. With a little bit of flexibility, though, we found ways to make this couple's a bit of both. The end result was a photo that was, despite the unfavorable conditions, perfectly exposed and very artistic.
Getting a picture this gorgeous in harsh lighting started with the positioning of the newlyweds. To keep the sunlight from creating deep shadows, we put the couple between us and the sun. That ensured that the side of them facing the camera was evenly lit. We also made sure that there was something other than sky behind their heads. Getting the greens of the grass and trees exposed correctly meant that the sky was no longer blue in our shots. It was, as you can see in the upper right corner of the frame, entirely whited out. By lining up the trees behind the subjects, we largely minimized what would have been a distracting effect. Doing that also included more nature and greenery in the composition, which we felt fit with the overall theme of the picture.
Bad Light + Flexibility = Gorgeous Wedding Portraits with Artistic Effects
The harsh lighting also created a second problem for us to solve. It was something called lens flare. That is a visual effect that happens when rays of sunshine (or other sources of light) sneak into a picture. This occurs even though the camera is not pointed directly at said source. It can produce sometimes-unwanted artifacts like rings or starbursts in the final image.
Because the sun was so bright that day and because our cameras were pointed towards that light, lens flare was an issue in this portrait session. However, we decided to take that weakness and turn it into a strength. We decided to use that very flare to create more artistic couples portraits.
Instead of trying to minimize the flare, we embraced it and altered it according to our designs. Using a small piece of copper tubing placed in front of the lens, we reflected the flare across the frame. This scattered the light a bit, making it less of a streak across the faces of the newlyweds. It became more even, gentle and flattering. The tube also shaped the flare into faint, concentric circles. This effect did a great job of creating a frame around the new husband and wife. The rings subtly encourage the eye to look at their faces and the tender moment between the two of them. The resulting image is a testament to the art that your Maryland wedding photographers can create for you with a bit of flexibility!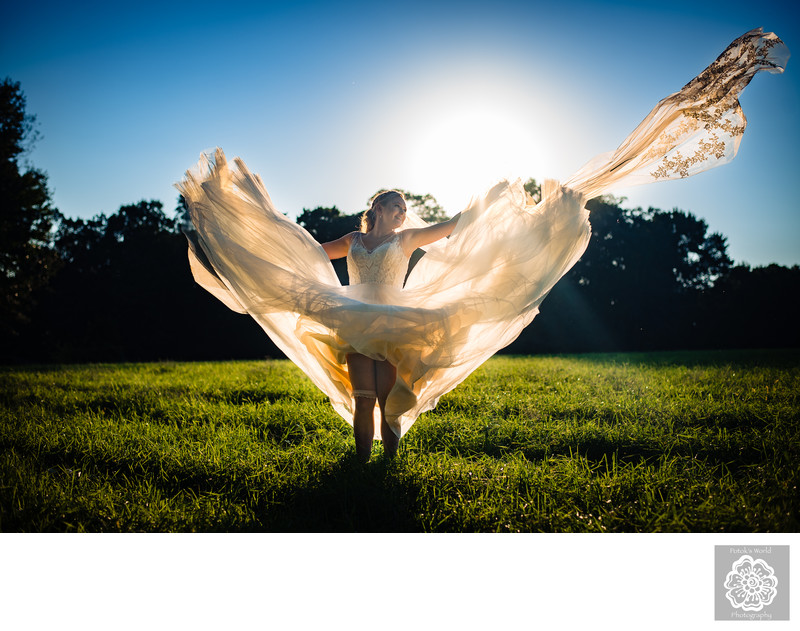 ---
Contact Us for More Information!
Interested in learning more about our services? Please visit our Wedding Photography FAQ page for answers to all your questions! Ready to inquire about our availability on your wedding date? Contact us now to get the conversation started!

Location: Cedar Ridge Farm (The Linde Farm), 723 Streaker Rd, Sykesville, MD 21784.

Keywords: DC Wedding (12), DC wedding photographers (13).

© 2023 Potok's World Photography - Husband & Wife Washington DC Wedding Photographers