Potok's World Photography
Best Washington, D.C. Wedding Photographers
Hotel Monaco in Washington, DC
Downtown Washington, DC, is a great location for a wedding event. Why? Because everything a DC bride and groom can find everything they need for their marriage celebration within a few blocks. Wedding venues that suit every taste are scattered throughout the city. Luxury hotels that cater to wedding clients seemingly rise from every street corner. Quirky lofts like Fathom Gallery give DC brides and grooms artsier spaces in which to get married. The Nation's Capital even has a few rustic wedding venues in the parks and forests within its borders!
Whichever wedding venue a Washington-based couple chooses for their marriage, they will be close to great spots for portraits. The downtown area in particular is rich with beautiful and meaningful backdrops. Within a few blocks of just about any DC wedding venue are a half-dozen iconic locations.
The Kimpton Hotel Monaco DC is a perfect example of such a venue for a marital celebration. It is located in Penn Quarter on 7th and F Streets Northwest, mere steps from DC's historic Chinatown area. The hotel is just a few blocks from the National Gallery of Art and other iconic Smithsonian museums. The US Capitol is not all that far away either.
For Washington-based brides and grooms with tight wedding timelines, there are great options very close to the hotel. The National Portrait Gallery and Smithsonian American Art Museum are literally across the street from the Kimpton Hotel Monaco DC. As we have mentioned elsewhere on this website, those are fantastic sites for wedding and engagement photography. In fact, that is where we took the Washington bride featured in this photo for her couples portraits.
That was after her marriage ceremony at the Holy Rosary Church, a lovely Italian house of worship. That wedding venue was (naturally) mere few blocks from where she and her future husband got into their wedding clothes. Like we said, you can organize an entire luxury wedding in downtown Washington within a five-block radius! The fiancés exchanged their vows according to their Catholic traditions and surrounded by delicately intricate stained glass windows and paintings. The star of the ceremony was probably the ring bearer, who was the groom's nephew and who took his role very seriously!
Before the wedding party left for the church, though, we made use of the Kimpton Hotel Monaco DC's luxurious facilities. We brought the bride into one of the gorgeous stone nooks adjoining the hotel lobby. It was there that we had her pose for this stunning bridal portrait.
After the ceremony and some couples portraits at the National Portrait Gallery, the entire wedding came back to the hotel. The Paris Room on the fourth floor hosted a beautiful and fun wedding reception for this DC-based couple. The gorgeous decorations came courtesy of Janice, the owner of Bellwether Events and wedding planner for this Washington, DC, marriage celebration.
The cake was no less spectacular. Just behind the sweetheart table was a lovely two-tiered wedding cake that made the mouth water on sight. It had also been artfully decorated by Buttercream Bakeshop with a humorous topper that read, "For Like Ever."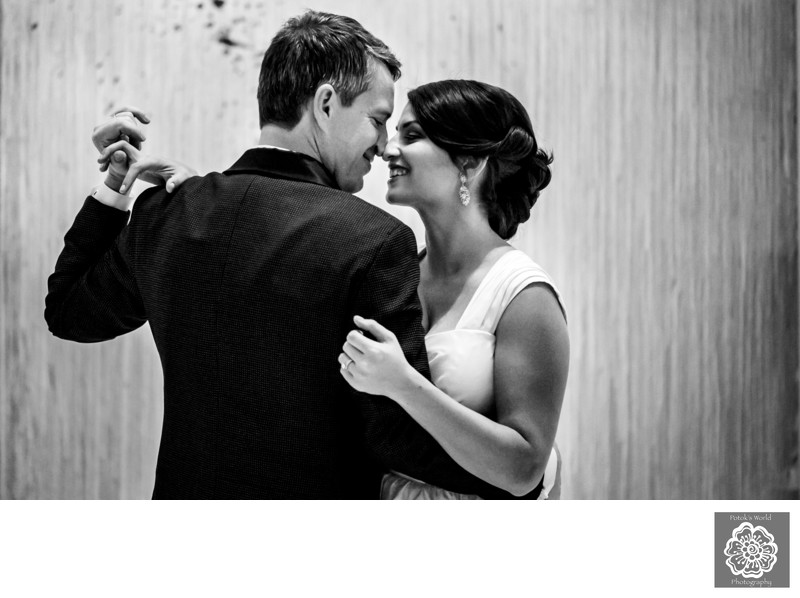 Location: Hotel Monaco, 700 F St NW, Washington, DC 20004 .