Potok's World Photography
Best Washington DC Wedding Photographers
If you are looking at wedding venues in the rural areas surrounding the Nation's Capital, you have some great options. The best Washington DC wedding photographers can tell you that there are some truly beautiful locations in suburban Maryland and Virginia. Want to have a barn wedding? You have more choices than you can count. Does getting married amid hills covered with grapevines sound more like your style? There are also many beautiful wineries in Northern Virginia. The best part about those venues? They also offer you jaw-dropping views of the Blue Ridge Mountains! (The chance to taste some delicious local wines might also be a factor.) What if you prefer a cold beer to a glass of wine, though? If so, you are in luck! Washington DC brewery weddings are absolutely a thing! There are plenty of breweries in and around the Nation's Capital that host marriage celebrations.
Downtown Venues for Washington DC Brewery Weddings
The majority of the venues for brewery weddings in the DC metro area are in the downtown area. Atlas Brew Works has two locations within the District. The Tap Room at each is available for smaller wedding celebrations. One brewery is within a block or two of Nationals Park. So if you are a fan of local baseball, that could be a great choice!
If you are a longtime Washington resident like us, you have no doubt seen (and probably sampled) DC Brau, one of the region's most iconic beers. Did you know, though, that the company has a huge facility in Northeast that hosts Washington DC brewery weddings? With 48,500 square feet of space, the brewery can accommodate up to 600 seated reception guests.
Rural Washington DC Brewery Weddings
Finding a brewery that hosts marriage celebrations in a more rural setting is a bit of a challenge. There are, however, a couple in the broader DC metro area. And though the quantity is low, the quality cannot be beat! Springfield Manor Winery Distillery Brewery is one of the loveliest wedding venues we have had the pleasure to work at. The surrounding countryside of Thurmont Maryland makes a gorgeous backdrop for both your exchange of vows and subsequent couples portraits.
Weddings at Waredaca Brewing Company
Another great option for Washington DC brewery weddings set in the beauty of nature is Waredaca Brewing Company. The latter is a lovely wedding venue set in the rolling green hills of the area outside of the Nation's Capital. Located on a horse farm in Laytonsville Maryland, the venue is only about an hour's drive from downtown Washington. That setting means you can exchange your wedding vows amid some of the finest natural beauty DC has to offer. And of course, you and your wedding guests can then enjoy some tasty craft beers during your wedding reception!
The property on which the brewery currently sits was originally home to the Waredaca rural Maryland co-educational residential camp. As such, the name "Waredaca" (which the brewery later inherited) was a portmanteau created from "Washington Recreational Day Camp." In the years that followed, the Waredaca property transitioned from a day camp to a horse farm. It eventually became one of the best facilities for equestrian eventing and riding lessons in the Washington DC area.
The Waredaca Brewing Company is more than just a great location for Washington DC brewery weddings. It is also a superb choice if environmental protection is important to you. Just like the horse farm with which it shares the property, the venue is committed to sustainable business practices. For example, it reuses an existing building and minimizes disturbance to the surrounding land. Waredaca has refined its brewing practices to limit water usage and carbon dioxide emissions. It also gives the spent grain generated during the brewing process to local farmers for use as animal feed. The brewing company uses ingredients grown on the property in its beer and plants new fruit trees around the farm. Finally, it uses only reusable, recyclable or compostable products in its tasting room.
Same Sex Washington DC Brewery Wedding
This same-sex couple booked Waredaca Brewing Company for their nuptials partly because of this very approach to social issues. Truth be told, they and their wedding guests were also serious aficionados of good beer. That is why, prior to their outdoor Washington DC brewery wedding ceremony, the two spent a few quiet minutes in the tasting room. That allowed the two brides-to-be to enjoy a craft beer in private before their wedding ceremony on the green lawn behind the brewery.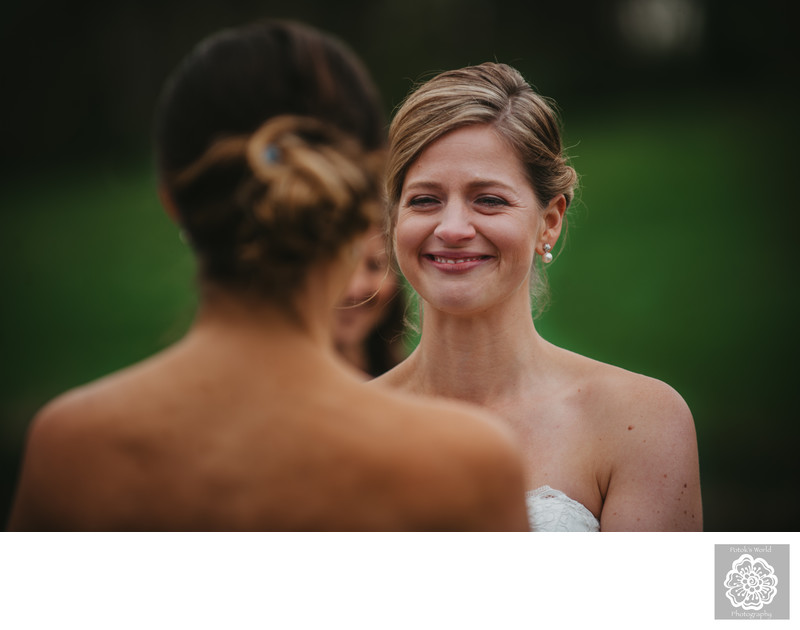 Wedding Reception Image by Best Washington DC Wedding Photographers
We captured the image featured here during the wedding reception that followed their lovely and touching exchange of vows. The party really represented what is best about Washington DC brewery weddings. It was a rollicking affair in a tent set up between the ceremony area and the main brewery building. Everyone there, from the youngest to the oldest guest, enjoyed themselves to the absolute maximum.

Before the celebrations started in earnest, though, this same-sex couple entertained their guests with a carefully choreographed first dance. The highlight of that part of their wedding day happened when the song came to an end. One bride pulled the other close. The first then twirled her new wife around and dipped her low to the ground. As their wedding guests cheered and celebrated, we stepped closer and got the moment on film. The result was one of the best pictures one of us has ever taken as a Washington DC wedding photographer.

Location: Waredaca Brewing Company, 4017 Damascus Rd, Gaithersburg, MD 20882, USA.

Keywords: DC Wedding (12), DC wedding photographer (11), DC wedding photographers (13).

© 2023 Potok's World Photography - Husband & Wife Washington DC Wedding Photographers