Every spring, we get a lot of requests for cherry blossom engagement sessions. And that's not a big surprise! In addition to looking gorgeous in photos, the trees that ring the Tidal Basin are some of the most iconic and recognizably "DC" elements in the Nation's Capital. What many couples don't know, though, is that downtown Washington is not the only place where they can find cherry blossoms. All those requests that we get have made us experts in the best spots for pictures with those flowers in the DC area. And one of our favorites is Green Spring Gardens. That park in Alexandria VA offers some really lovely cherry blossom trees. But we'll get into why Green Spring Gardens engagement photos offer you so much more than just those iconic trees below!
When Sarah and Mike approached us about taking their portraits, they suggested doing a cherry blossom engagement session. Neither is originally from the Nation's Capital, but the city has become their home. So they liked the idea of pictures with a quintessentially "DC" feel. And as we mentioned above, very few things give engagement photos that more than the metro area's most famous trees!
Want Cherry Blossoms Near DC? Try a Green Spring Gardens Engagement Photo Shoot!
We always love the opportunity to do engagement sessions with cherry blossoms, of course! There were, however, a couple of hurdles to overcome in Sarah and Mike's particular case. The first was the timing. The date of their engagement session was unfortunately after the peak bloom of the trees around the Tidal Basin. The second issue was the cancellation of the 2021 Cherry Blossom Festival due to COVID-related restrictions. This meant uncertainty about whether we could even do a photo shoot near the National Mall.
Fortunately for Sarah and Mike, we always have ready that aforementioned list of great locations for cherry blossom engagement photos in other parts of the DC area. And not just because of the pandemic! Even in "normal" years, the Tidal Basin is not necessarily the best spot for couple photo shoots during peak bloom. It gets REALLY crowded with tourists that time of year. That can be great for giving your engagement portraits a typical DC feel. But you might find the crowds distracting and a nuisance. Doing engagement sessions on National Park Service (NPS) lands also requires a permit that costs $140.
Thankfully, finding an alternate location for Sarah and Mike proved no trouble at all! After a little research, we selected Green Spring Gardens, a lovely little public park between Alexandria and Fairfax. It has some gorgeous cherry blossom trees near the entrance, and the permit to use it for a professional photo shoot costs a fraction of what NPS charges. More importantly for Sarah and Mike, though, the trees at Green Spring Gardens bloom later than the ones in downtown DC. Meaning they were at their most beautiful on the date of the couple's engagement session!
Green Spring Gardens Engagement Photos: Bucolic Beauty Near the City
The best part of Green Spring Gardens is not the cherry blossoms, though. It is everything else that it offers for engagement sessions! The diversity of flowers, trees and landscapes there means a three-hour engagement session would still leave areas unexplored. Because of this, Green Spring Gardens engagement photos have a delightfully wide variety of looks and feels. And that is something we always love to give our couples!
With that in mind, we actually started Sarah and Mike's engagement session not at the cherry blossoms by the entrance. Instead, we took them down a small hill to two ponds, one of which has a lovely gazebo in the middle of it. More than the cherry blossoms, that structure is really the park's centerpiece. We took some lovely pictures of the couple posing with their rambunctious dogs on a small bridge over a stream leading to that pond. (Engagement sessions with dogs are always a great idea!) Afterwards, we had them stand under the gazebo while we took a variety of wide-angle and closeup shots of them cuddling.
From there, we brought them along a creek that runs from one end of the park to the other. We captured lovely images of them sitting on a large stump in the middle of the trail and of them dancing on the banks of the stream. And of course, a few more shots of them playing with their adorable pooches!
Before wrapping up the Green Spring Gardens portion of Sarah and Mike's engagement session at the cherry blossoms, we took advantage of the park's creative possibilities. Back at the top of the hill is another gazebo with a very unusual spherical sculpture nearby. We used that piece of artwork to create some trippy and fun engagement photos of the couple.
Green Spring Gardens: Just the First Stop in an Alexandria VA Engagement Session
Their Green Spring Gardens engagement photoshoot was only half of the what Sarah and Mike booked us for. After we finished taking their pictures at the park, we drove into Old Town with them for part two of their Alexandria VA engagement session. Click here to see the blog post about and photos from that portion of their session!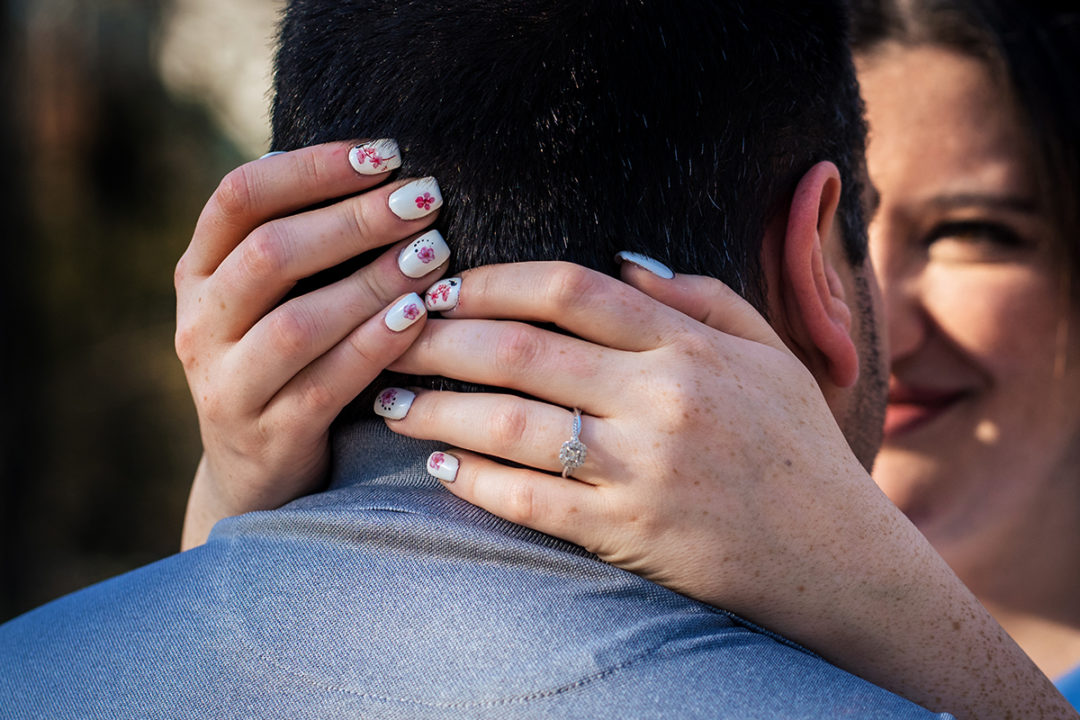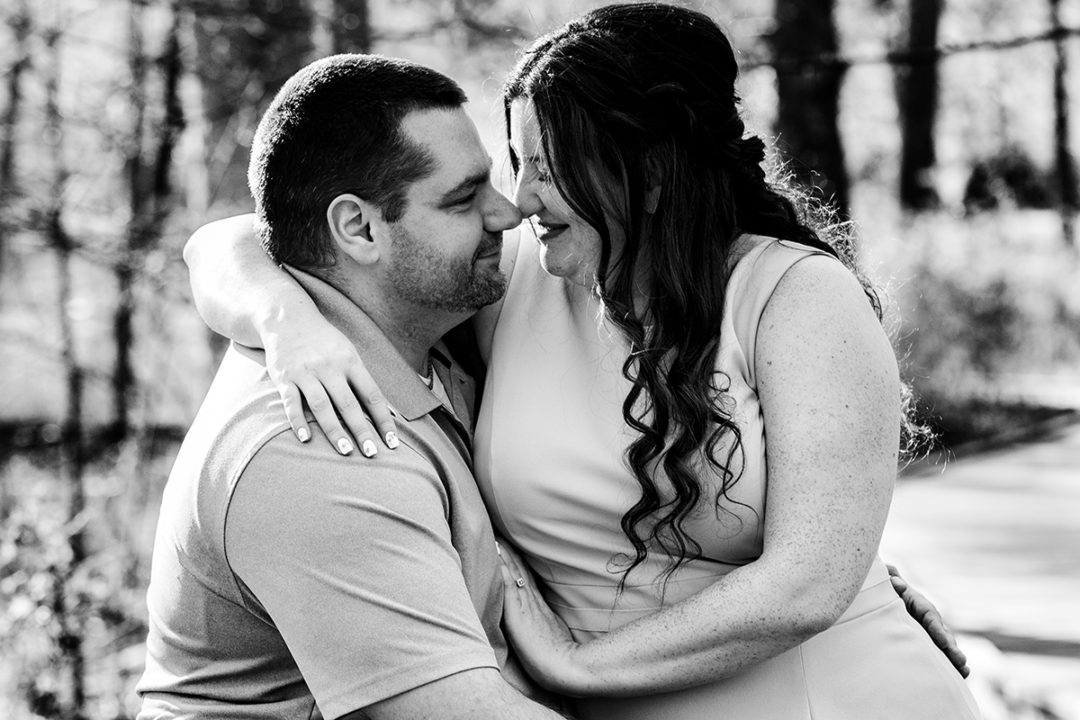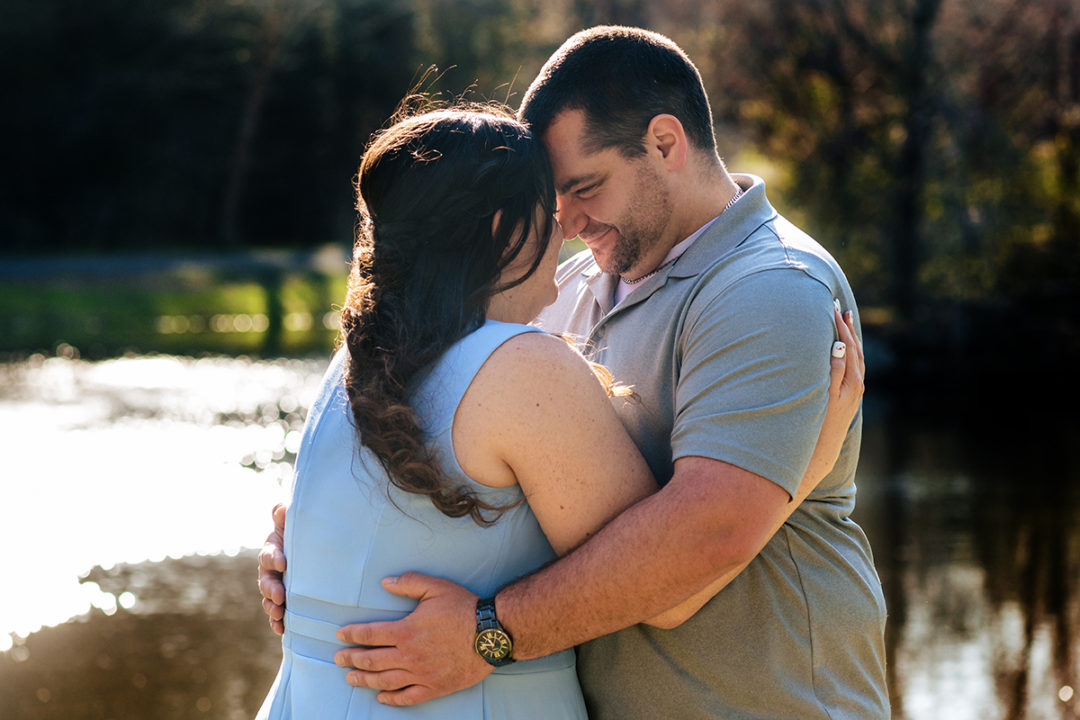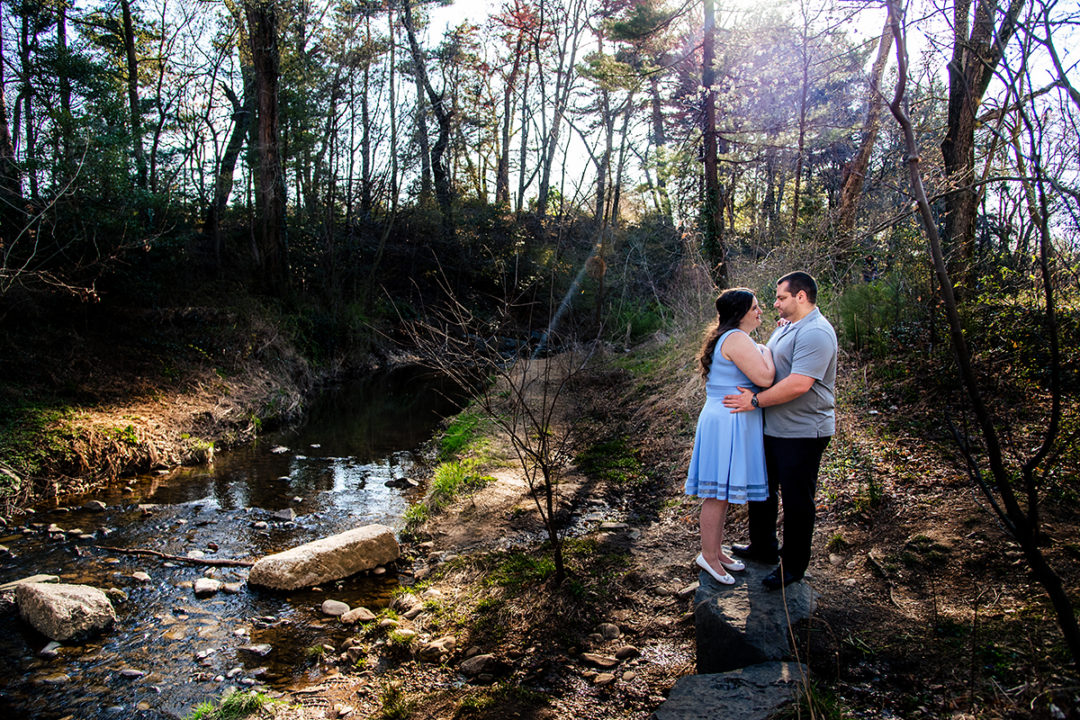 ---
Contact Us for More Information!
Interested in learning more about our services? Please visit our Wedding Photography FAQ page for answers to all your questions! Ready to inquire about our availability on your wedding date? Contact us now to get the conversation started!