Potok's World Photography
Blue Valley Vineyard Wedding Photographer
There are a lot of compelling reasons to schedule your wedding at one of Northern Virginia's gorgeous vineyards. If you want a rustic wedding, for example, then you will not find more beautiful settings in the DC area. The rolling hills, the rows of grapevines, the wide-open skies… These venues give you Mother Nature at her finest. At the same time, Northern Virginia wineries offer you just about any creature comfort you need. Getting married in the country does not have to mean roughing it. The best part of a wedding at a venue like Blue Valley Vineyard and Winery, though? Probably the wine, right? Maybe. Or perhaps it is the opportunity to get post-ceremony wedding portraits in front of stunning sunsets. If that is what you are looking for, then Blue Valley Vineyard wedding will give you some of the most spectacular sunset portraits you can imagine.
Blue Valley Vineyard Wedding Venue
Gorgeous sunset portraits are not the only reason to plan a Blue Valley Vineyard wedding, of course. After all, your couples portraiture is only a small piece of your whole event. (An important one in the eyes of many a Northern Virginia wedding photographer, but not nearly the most crucial!) The wedding venue offers everything you will need to plan and host an unforgettable rustic marriage celebration.
The owners of Blue Valley Vineyard and Winery, John and Helen Zissios, opened the wedding venue more than 20 years ago. John originally hails from Greece, where his family were prominent winemakers. He learned the art of winemaking from his grandfather when he was just nine years ago. John then brought those skills to Northern Virginia, and he and Helen planted their first grapevines a few years after opening Blue Valley Vineyard.
Not surprisingly for a rustic wedding venue, Blue Valley Vineyard and Winery's appeal starts with its outdoor spaces. It has two different locations that offer scenic views of Northern Virginia's Blue Ridge Mountains. The backdrops of an outdoor Blue Valley Vineyard wedding are so spectacular that your guests' eyes will almost wander away from you during your ceremony. (Almost, but not quite! After all, you are still the main attraction!)
Lots of Northern Virginia winery wedding venues offer you fantastic outdoor areas, obviously. One thing that sets Blue Valley Vineyard and Winery apart, though, is its indoor spaces. The vineyard's main building houses more than 20,000 square feet of beautifully appointed rooms in which you can host your wedding. The rod iron double doors, stone accents, exposed beams, soaring ceilings and foyer waterfall make it a celebration of rustic elegance. And the views through the floor-to-ceiling windows? Just as breathtaking as the ones outside.
Sunset Portraits at a Blue Valley Vineyard Wedding
Blue Valley Vineyard and Winery really does stand out among rural Northern Virginia wedding venues. But let's get back to those sunsets for a moment. As you can imagine, couples portraits with a beautiful sunset in the background cannot be beat. Any great Northern Virginia wedding photographer will tell you that they can be among the most unforgettable that you ever could ask for. They will almost certainly be one of the highlights of your Blue Valley Vineyard wedding.
What makes sunset portraits so gorgeous. For starters, the light during the so-called "golden hour" of the day is soft and gentle. As a result, it tends to be very flattering and forgiving. You and your future spouse are assured of looking great when bathed in the sun's last rays of the day. In addition, a sky ablaze with oranges, yellows, reds and even purples makes the kind of canvas that matches the beauty of your path to the altar. It provides a backdrop worthy of your love story.
Blue Valley Vineyard Wedding Photographers in Northern VA
As we have mentioned elsewhere on this website, we have a lot of experience with photographing sunsets. A lot of the early work that we did when we first picked up our cameras was in the field of nature photography. So we always relish the opportunity to incorporate the best that Mother Nature has to offer into the wedding and engagement pictures that we take of you. And we have the experience necessary to make sure those shots of you and your intended at sunset turn out great!
We brought that experience to this lovely couple's Blue Valley Vineyard wedding portraits. As soon as we saw the venue's grounds, we knew we would have the chance to pose them in front of a beautiful setting sun. So once the wedding rings were on the bride's and groom's fingers and their first kiss had been shared, we brought them to the spot that offered the best view of the Western sky lighting up with the sun's last rays of the day. As you can see below, the results were stunning!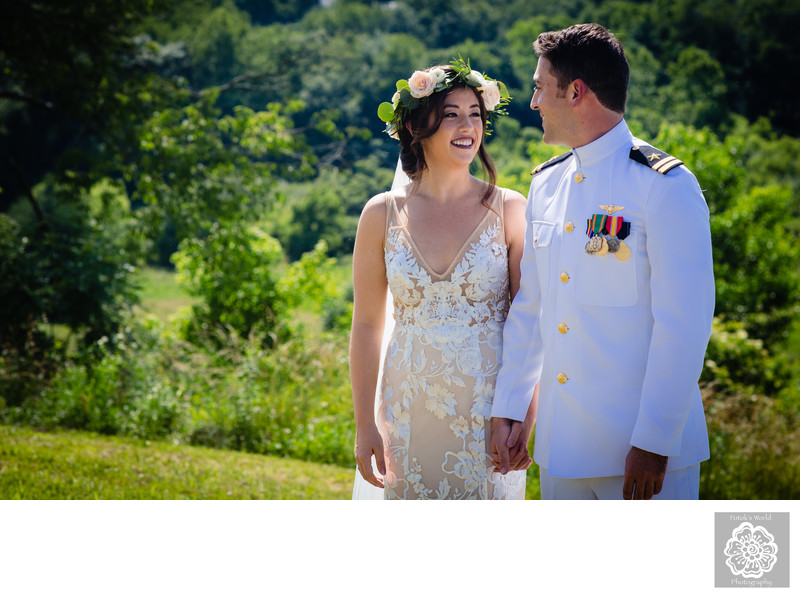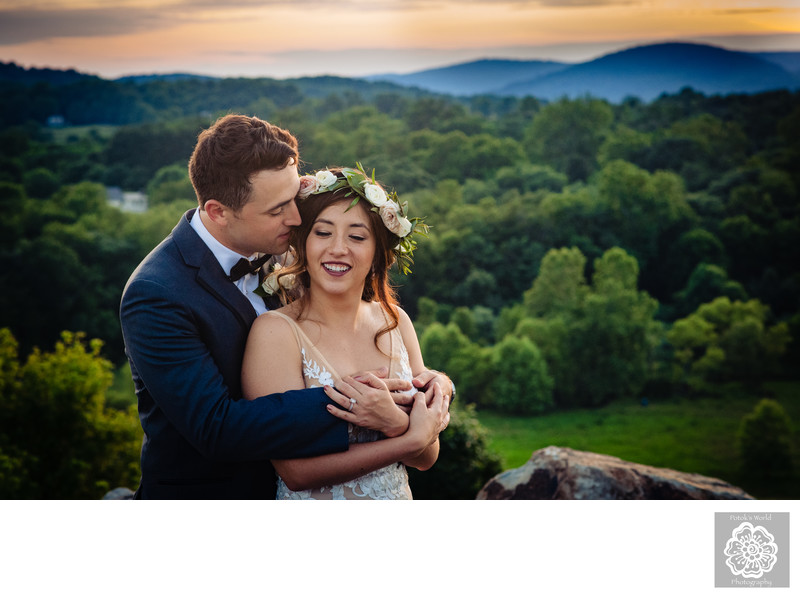 Location: Blue Valley Vineyard and Winery, 5535 Blue Valley Way, Delaplane, VA 20144.
© 2020 Potok's World Photography -- Husband & Wife Washington DC Wedding Photographers