Potok's World Photography
Destination Wedding at Bückeburg Castle Germany
Destination Wedding in Germany
In the opinion of these DC wedding photographers, there are many compelling reasons to have your destination wedding in Germany. For example, the country offers beautiful natural scenery — from the Alps of Bavaria to the forests of Northern Germany. It also boasts a well-developed and efficient wedding and hospitality industry. DC-area couples can be sure that they will get whatever they need for their marriage celebrations. There are also lots of things for brides, grooms and their guests to do before and after the wedding. Germany has a great tradition of organizing community festivals in the summers. In those months, there is an outdoor party nearly every weekend somewhere in a major city. For beer lovers, those events almost aways feature the beverage for which Germany is most famous.
These are all great reasons to travel from Washington, DC, to Germany for your wedding. One of the best ones, however, is the wedding venues. More specifically, Germany offers locations with histories that American venues cannot match. Because Europe was once ruled by nobles and monarchs, Germany's landscape is dotted with beautiful, old castles. Many of these are available for rent for weddings and other events. That gives DC-area brides and grooms the opportunity to realize their dreams of having a fairytale wedding. They can exchange their vows in ancient stone halls once inhabited by dukes and duchesses. They can have their portraits taken in front of antique tapestries that are hundreds of years old. In some cases, newlyweds can also toast their nuptials in glorious gardens with castle towers soaring behind them.
Weddings in German castles are a dream come true for a Washington, DC, wedding photographer as well. As great as the Nation's Capital is for photography, it has nothing quite like the historical buildings found in Germany. Washington is too young, and America has never had any official noble class. The city has beautiful architecture and some of the world's most famous landmarks. But it does not have castles. Getting to photograph couples in and around such edifices gives our images something fresh and new. It imbues our pictures with a very different and unique look and feel. It encourages us to stretch ourselves creatively and strive for more.
One of our favorite castles that serves as a wedding venue in Northern Germany is Schloss Bückeburg. Located in the eponymous town of Bückeburg about 40 minutes from Hannover, the castle was once the residence of princes. Though the principality of Schaumburg-Lippe no longer exists, the descendants of the princely family still live in the castle. The building is a magnificent structure that towers over the town. Its interior is appropriately ornate and magisterial. The area surrounding it is pastoral and filled with trees. Schloss Bückeburg has both elegance and natural beauty — literally everything a Washington, DC, wedding photographer would want for gorgeous images. And more importantly, anything that brides and grooms would want for an unforgettable marriage celebration!
The couple in this photo was actually from Bückeburg and had their wedding in their hometown. After exchanging their vows in a civil ceremony at the town hall, they came to the castle for couples portraits. The bride had very specific preferences regarding the portraiture and took us to her favorite part of the grounds. She brought us to the Princely Mausoleum, located across a small road from Schloss Bückeburg. Built to look like the Pantheon, the structure was constructed in 1915 to house the remains of deceased family members. It is a massive building whose size is not immediately apparent due to the trees surrounding it. When you get closer to it, you can see how it is the second-largest private crypt in the world that is still being used. Like the castle, the structure is open to the public.
The interior has a gorgeous gold mosaic on its cupola. Like the building itself, it is enormous — second in size only to the one in Istanbul's Haga Sophia. As breathtaking as this was, however, we decided to stay outside for the couples portraits. For starters, it was a beautiful day, the sort of summer afternoon that Germans wait all winter for. The color and texture of the mausoleum's exterior also appealed to the DC wedding photographers in us. Beige with a rough surface, the walls and columns looked like an excellent backdrop. They were interesting and noticeable without being distracting. They would provide nice context without overshadowing the real story in the frame.
We decided to pose the new husband and wife against one of the columns that grace the front of the mausoleum. We felt having them slightly confined by the column and the nearby wall would create some intimacy in the photographs. We also wanted lots of physical connection in the pictures. So we had them pull each other in close. We had him wrap his hand around her back and her put her hand on his chest. Finally, we asked him to gently place his hand on her arm. The result is an image that is private and personal. The kind of picture it was worth coming from Washington to Germany to get.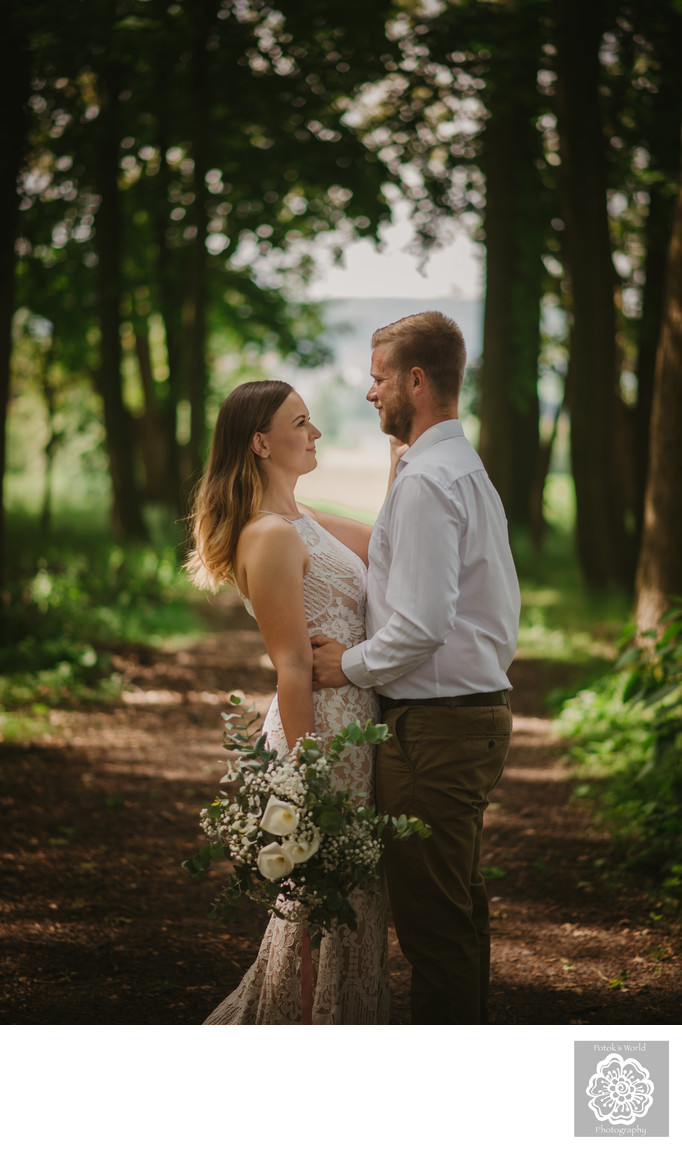 Location: Schloss Bückeburg, Schloßpl. 1, 31675 Bückeburg, Germany.
© 2019 Potok's World Photography - Husband & Wife Washington DC Wedding Photographers