Potok's World Photography
Downtown Washington DC Wedding Photos
We have very strong principles that guide our work as DC wedding photographers. We are committed to giving you and your future spouse the highest levels of customer service. We want every part of your experience working with us to exceed your expectations. We are also committed to delivering you photographs that help tell a crucial part of your love story. The images we give you should allow you to relive one of the most significant days of your life on an emotional level.
Those guiding principles are behind every decision we make and every photo we take at every one of your Washington, DC wedding venues. Photos of your matrimonial celebration should capture the genuine emotions you feel on your wedding day. Because the best wedding photography (in our opinion) prioritizes candid and unscripted moments, we focus on those as much as possible. That even applies to the couples portraits we take of newlyweds.
Washington DC Wedding Photo Locations
In our experience, most future spouses want to use their marital pictures to relive their big day. You want to be able to savor again every feeling you experienced when tying the knot. For that to happen, the images you revisit need to look and feel real. And what kind of pictures are the most true-to-life? Certainly not the majority of those in which everybody is looking at the camera and smiling! That sort of thing does not generally happen spontaneously. Photographs of "moments" that a Washington, DC wedding photographer has staged ahead of time do not look genuine either. You and your guests are likely to remember that the photographer paused the proceedings to ask you to pose. And that is not what we want you to recall when they think about their wedding day!
Obviously, the most genuine DC wedding photos are those that are natural and unposed. If the moment was real, the images of it are pretty certain to reflect that. That is why we spend most of a wedding day trying to blend into the background. We want our you to forget we are there. More importantly, we want you to forget that our cameras are there. When that happens, you and your intended relax and experience their day in an authentic way.
Not every part of a wedding celebration lends itself fully to this approach, of course. Couples portraits and family formals are clearly not moments that occur spontaneously during a marriage event in Washington, DC. It would be a rare thing indeed if your entire family happened to congregate in the same room at the same time. It would be stranger still if a person happened to be standing in that exact spot with a camera! No, couples portraits and family formals invariably require direction from and posing by the Washington DC wedding photographer.
Though couples need some assistance posing for their post-ceremony portraits, we can still make those photographs more natural. We start many of these sessions by letting the you and your spouse interact as you normally would. By seeing how you hold one another, we get a sense of their body language and how you fit together. We are also able to get photos of you in those moments that are more natural and unscripted. During that process, however, we also sometimes discover little things that need tweaking. For example, a you might inadvertently cover your beloved's face with your arm when you embrace. In those cases, we will usually step in to make adjustments in how you are posing. As documentary DC wedding photographers, we try to do that as little as possible. But we do want your couples portraits to look fantastic, so losing a little genuineness is a sacrifice we will make.
In the pursuit of stunning wedding photography, we will also sometimes introduce posing tweaks that are non-cosmetic. Over time, we have learned that small details or flourishes can turn a good portrait into an unforgettable image. It can be as simple as having the couple kiss or snuggle. Or something like asking the groom to make his new wife laugh. We do not want to introduce too much unreality into the scene, but a little prompting usually does not hurt.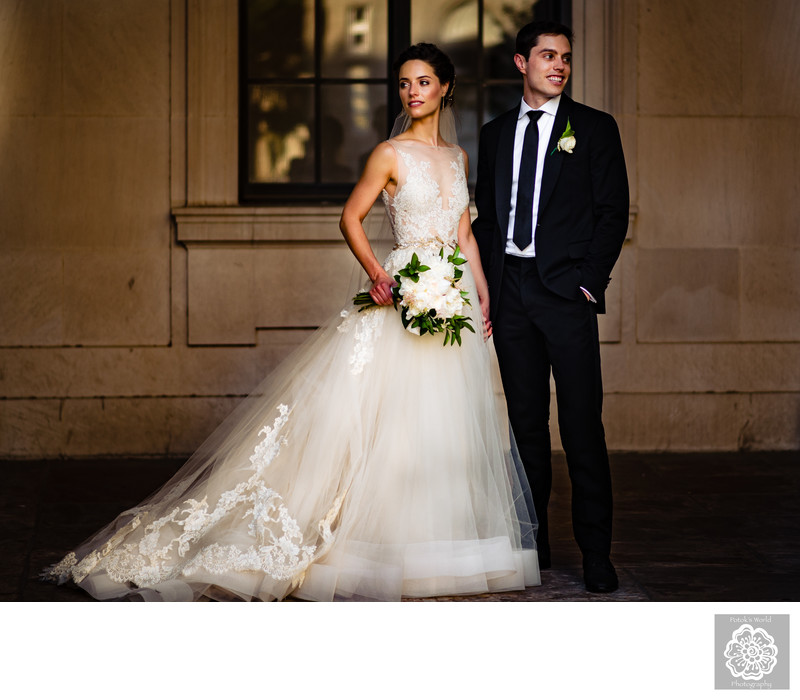 Wedding Photos at the Ronald Reagan Building in DC
The image featured here is an excellent case in point. We took it at the Ronald Reagan Building and International Trade Center, one of DC's best spots for couples portraits. We brought these newlyweds and their wedding party there after a lovely marriage ceremony in Washington's northern suburbs and before their reception at 101 Constitution. After taking some shots of the bridesmaids and groomsmen with the couple, we moved on to the couples portraits.

The bulk of the posing in this picture came from the newly-married couple themselves. We used the photographic techniques mentioned above to encourage a very natural look to the images. In other words, we largely let this bride and groom them pose themselves. We noticed, however, beautiful light flooding into the part of the Reagan building where the newlyweds were. It was illuminating them from behind, and we wanted to utilize it to the fullest. In particular, we saw how the white of the bride's wedding dress was catching the light. And we wanted to amplify that effect. So we asked the bride, a former classical dancer, to toss the train of her dress in the air. While she did that, she struck a particularly artistic pose. The result was this image — one that is both natural and visually pleasing at the same time.

Location: Ronald Reagan Building and International Trade Center, 1300 Pennsylvania Ave NW, Washington, DC 20004.

Keywords: DC Wedding (25), DC wedding photographer (25), DC wedding photographers (27).

© 2022 Potok's World Photography -- Husband & Wife Washington DC Wedding Photographers