Destination Night Engagement Photos
Picking a venue for your marriage celebrations can be a challenging process. Identifying a place that fits your vision for your wedding, can accommodate all of your guests and has a price tag that is within your budget is not always easy. It takes time and effort. Years of experience as DC destination wedding photographers has given us an understanding of just how stressful the process can get.
Unique Engagement Photoshoot Locations
But it is 100% essential that you do what is necessary to find the absolute right location for you and your needs. Every Washington DC wedding photographer is required to say that photography is your most important wedding investment. But the reality is that your venue is truly the most critical thing that you need to lock down during your wedding planning. In addition to being the place that will host you and your wedding guests, it will literally determine the type of marriage celebration that you have. If you pick a rural venue, you will have a wedding with a rustic feel. If you select an artsy location, your nuptials will have a more unique and offbeat vibe. If you choose a grand ballroom, you will celebrate your nuptials in elegance and style.
There are undeniably a lot of factors to consider when you are picking your wedding venue. Style, size and price are just a few of them. One thing that you do not need to worry too much about, though, is ensuring that your location has good spots for couples portraits. If the one you select does, then that is great. But you should not spend a lot of time shopping for a venue with beautiful views, an iconic mural or anything else that would make a fabulous backdrop for your portraiture. Why not? Because the best DC wedding photographers can create gorgeous images of you and your future spouse in front of any background.
Years of experience photographing couples like you and your future spouse has given us an eye for good spots for couples portraits. We can look at a scene and find the exact place where the two of you will look the best. We can also see a setting that appears to have nothing to offer photographically speaking and identify some area that will give you stunning pictures.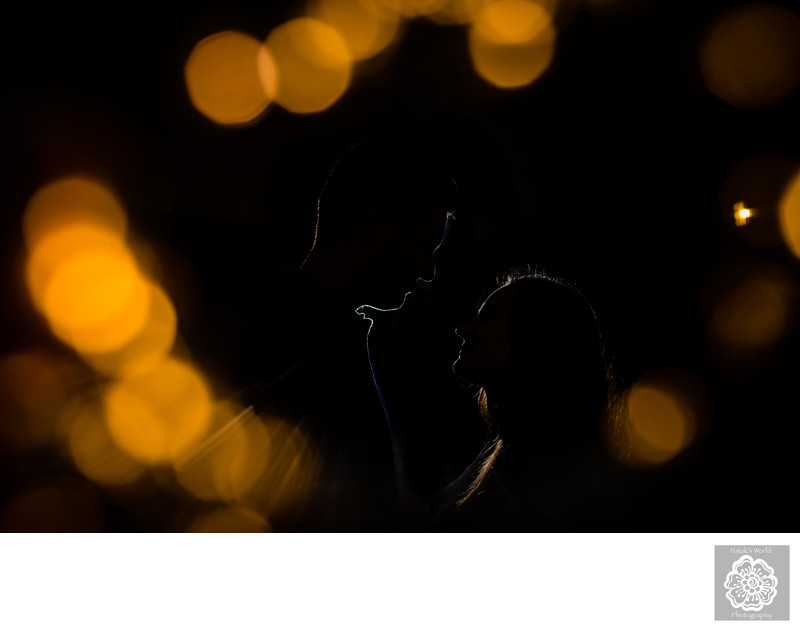 Night Engagement Photos by Destination Photographer
That is exactly what happened while creating this couple's destination engagement photos. They were originally from Hannover, Germany, and asked us to come to their hometown for the session. The future bride and groom wanted their engagement portraits to be particularly "Hannoveraner," as the locals call it. With that in mind, they picked the most typically Hannover setting they could think of: the Messegelände. The Northern German city they called home is famous for its "Messe" or international trade fairs. Every year, millions of people come from all over the world for expos showcasing a variety of different industries. The fairs are such a huge draw that the city of Hannover has constructed an entire complex of exhibition halls and spaces called the Messegelände.
The Messegelände is a very attractive space, but it is clearly designed more for business and industry than love and romance. So we knew we had bit of a challenge in store for us during the engagement session. We knew how badly the couple wanted to have their portraits taken at the Messegelände. But we also knew that we needed to give them unforgettable pictures of the two of them together. So we did a bit of scouting and found several spots that — with a couple of tweaks — would be perfect for spectacular portraiture. For example, there is a footbridge that passes over the highway that runs between the two halves of the Messegelände. Striking metal spires rise from the edges and the middle of it. During the day, the setting looks very industrial/steampunk. But at night and with some creative lighting, it can look eerily beautiful and romantic. So we took the lovely couple there, set up a flash with a blue gel behind them and captured some really hauntingly beautiful images of them embracing.
Location: Messegelände, 30521 Hannover, Germany.
© 2020 Potok's World Photography -- Husband & Wife Washington DC Wedding Photographers