Destination Night Engagement Photos
One of the best reasons to schedule a sunset photoshoot is the opportunity to get night engagement photos. Elsewhere on this website and on our blog, we have discussed why engagement sessions at dusk are great. We have talked about the beautiful sunsets that can serve as the backdrop in images of you embracing. We have talked about the "golden hour" and what makes it such a perfect time for gorgeous photos. But thus far, we have not talked about what you can do after the sun sets. Though it might not necessarily seem like it, the nighttime is a fantastic time to take engagement pictures. Your engagement photographers in Washington DC can take some really striking photos of the two of you at that time.
The Key to Awesome Night Engagement Photos: Contrast
What makes night engagement photos so special? It starts with the very thing that makes a lot of people think they will not work well. When we suggest a sunset session to our clients, many ask what we will do after the sun goes down. They cannot believe that there will be good photo opportunities after dusk. After all, it is dark then, right? And you cannot take pictures with no light, right?
They are not wrong to wonder about this. Photography is, by definition, the art of painting with light. You cannot paint with darkness, can you? No, but it turns out that darkness makes a perfect canvas upon which to create stunning night engagement photos.
One of the most striking elements in photography is contrast. A marked difference between the darkest darks and the lightest lights reaches out and grabs your attention. It jars you in a good way. The best engagement photographers in Washington DC can also use contrast to direct your eye to certain parts of the frame. If everything is relatively dark except for one spot, where are you naturally going to look?
Night engagement photos have that kind of contrast automatically baked in. That canvas of darkness we just talked about? Your engagement photographers in Washington DC start with one half of the contrast right there. They need to bring you out of that darkness though, right? So that means that they have to introduce light into the frame. There are two main ways they can do this (more on that later), but they have to use a good amount of light either way. And that brings the other half of the contrast.
One Way to Light Night Engagement Photos: Flashes on You
We have kind of spoiled the punchline in the header there. But one of the ways in which your engagement photographers in DC can bring you out of the darkness is by illuminating you directly with flashes. (It is technically possible to light you in night engagement photos using only ambient sources. But it is difficult, and the results are honestly not as striking). This makes you, your faces and your facial expressions clearly visible in the shot. Because you will probably be the brightest part of the image, the viewer's eye will naturally go directly to you. Which is, after all, the point!
The cool thing about illuminating you with flashes is that it allows your engagement photographers in Washington DC to bring a little more of the background into the shot. Flashes "freeze" the action in a particular image, allowing the photographer to slow their shutter speed without you becoming blurry. Slower shutter speeds let in more ambient light, so elements in the background that would have been dark become visible. Ever seen spectacular night engagement photos of a couple posing in front of a sky full of stars? Their photographer does that by slowing the shutter speed way down and using a flash to freeze any little movements by the subjects.
The Other? Flashes Behind You
Your engagement photographers in Washington DC can also draw the eye to you by illuminating the area directly behind you. Though this leaves you in darkness, it still brings light into the scene. The eye will still go to the brightest part of the image. And you will be in the center of it. In fact, the contrast in those pictures will be even starker. There will be the overall effect in the image, thanks to the ambient darkness of night and the flashes illuminating one area. Then there will also be another layer of contrast between the lit part and your silhouettes. And that will make your night engagement photos very compelling!
When using their flashes in this way, your photographers can also introduce another cool effect into the images. By putting colored "gels" on the lights, they can turn parts of the scene just about any shade of the rainbow. (They can (and do) also do this when illuminating you from the front. But this is usually to balance out overall color tones in the image. Painting you green or purple is not generally advisable, unless you are into really artistic photos!
Destination Night Engagement Photos Session
We employed the latter technique in the image featured here. The photo comes from a destination engagement photoshoot in Hannover, Germany. The couple wanted their images to be particularly "Hannoveraner" (as the locals say), so we picked an area called the Messegelände as the site. Hannover is famous around the world for its "Messe" or international trade fairs. Every year, millions of people come for expos showcasing a variety of different industries. The fairs are such a huge draw that the city of Hannover has constructed an entire complex of exhibition halls and spaces called the Messegelände.
The Messegelände is a very attractive space, but it is clearly designed more for business and industry than love and romance. Rather than fight that aesthetic, though, we leaned into it. The whole area is filled with concrete, glass and metal spires. During the day it has a definite steampunk vibe. We thought that it would look even more so in night engagement photos. Especially the footbridge that passes over the highway that runs between the two halves of the Messegelände. So we took the lovely couple there, set up a flash with a blue gel behind them and captured some really hauntingly beautiful images of them embracing.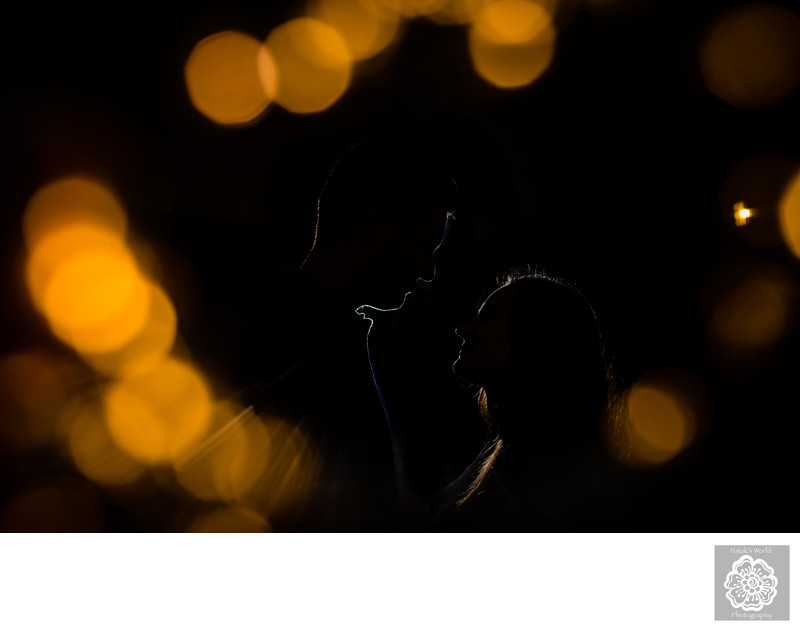 ---
Contact Us for More Information!
Interested in learning more about our services? Please visit our Wedding Photography FAQ page for answers to all your questions! Ready to inquire about our availability on your wedding date? Contact us now to get the conversation started!
Location: Messegelände, 30521 Hannover, Germany.
© 2022 Potok's World Photography -- Husband & Wife Washington DC Wedding Photographers