Indian Engagement Photos in Downtown Baltimore
If you are from the Baltimore metro area, you do not need to travel far to get stunning engagement pictures. The city is a great place for wedding and engagement photography! Though we are primarily DC wedding photographers, we have taken pictures of future spouses and newlyweds in the Charm City on numerous occasions. We have loved the setting so much that we now consider Baltimore something of a second professional home. As such, we are always excited about opportunities to photograph couples there.
Though not as large as its neighbor to the south, Baltimore offers just as much diversity of locations as the Nation's Capital. It has a place that fits just about every couple's specific sensibilities. If you are looking for historic buildings, a city that is among America's oldest has plenty of those. If you want urban areas bustling with activity, Baltimore's streets teem with people throughout the day. If you dream of engagement pictures near the water, Baltimore's famous Inner Harbor gives you a gorgeous backdrop. If you prefer portraits in a rural setting, the Charm City's parks offer acres of green space. And the best part is that all of these venues are at your disposal at any time of year.
In our time as DC wedding photographers, we have had the pleasure to document couples love stories at just about every type of location that Baltimore has to offer. We photographed a bride and groom celebrating their wedding reception at the historic George Peabody Library, for example. We have also taken couples portraits of newlyweds posing in the Inner Harbor and on Federal Hill, an outcropping across the water. We have captured images of a couple embracing at the foot of a twisting tree in Baltimore's rustic Cylburn Arboretum.
Indian Engagement Photos at the Baltimore Inner Harbor
For the couple pictured here, we combined a couple of different quintessentially Baltimore spots. We started their engagement shoot at M&T Bank Stadium, home to the city's wildly popular pro football team. Both the bride and groom were huge Ravens fans, so they loved getting portraits near a statue dedicating to one of the team's most notable players. From there, we took them to the aforementioned Inner Harbor. Instead of posing them for a traditional shot with the water behind them, though, we opted for something fresh and different. We noticed an unusual concrete tube on the side of the boardwalk. It was big enough to fit the couple, so we asked them to climb inside. That is where we got this offbeat but very romantic shot of them.
Going forward, we are excited about the possibility of doing engagement sessions at some of Baltimore's other great locations. We would love to photograph couples at historic Gramercy Mansion, a turn-of-the-century bed and breakfast that also hosts weddings. Similarly, the prospect of taking couples portraits amid Brookside Gardens' aquatic flowers sounds fantastic to us. Finally, we would jump at the chance to take pictures of a couple in the tunnels of the world-famous National Aquarium in Baltimore, where sharks and rays swim regularly past.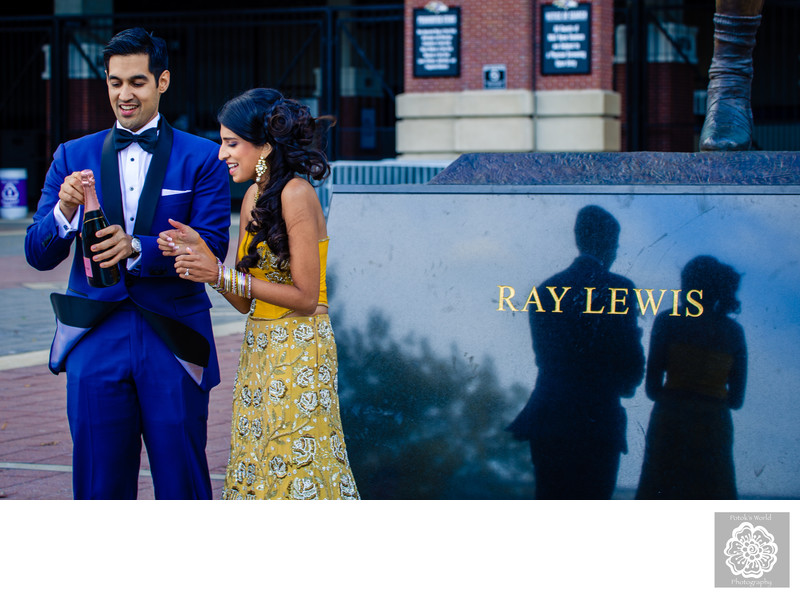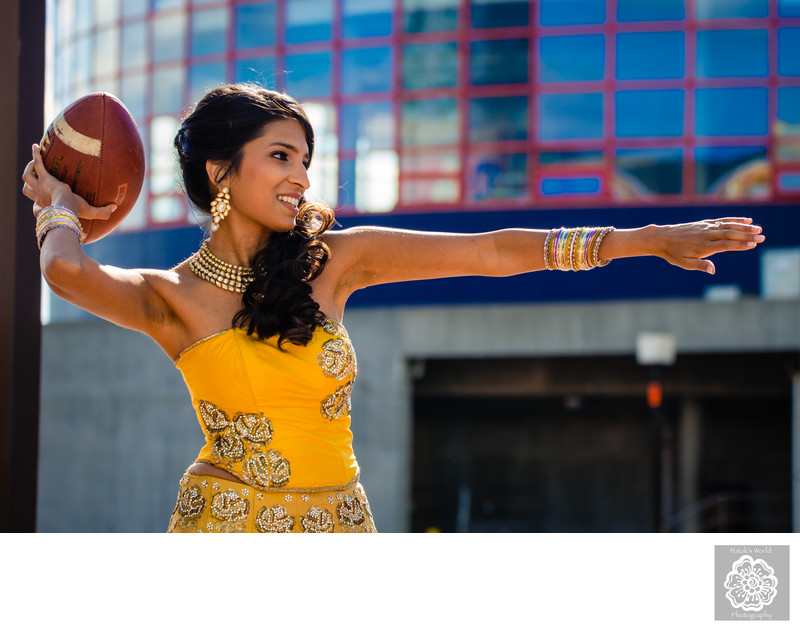 Famous People from Baltimore
If you choose the Charm City for your engagement session, you get more than just great locations. You might even catch a glimpse of one of the many celebrities who hail from Baltimore. Here are some of the famous people who have called the city home over the years:

- Julie Bowen: Actress known for playing Claire Dunphy on "Modern Family".

- David Hasselhoff: Actor and musician also known as "the Hoff." Known for leading role in "Baywatch" and for being hugely popular in Germany.

- Jada Pinkett Smith: Star of "Gotham" and numerous movies. Spouse of international superstar Will Smith.

- Michael Phelps: One of the most successful swimmers of all time. Nicknamed the "Baltimore Bullet."










Location: Baltimore Inner Harbor, Baltimore, Maryland.

Keywords: Baltimore wedding (11), Baltimore wedding photographer (3), Indian bride.

© 2021 Potok's World Photography -- Husband & Wife Washington DC Wedding Photographers