Potok's World Photography
Now Larimar Punta Cana Beach Pictures
Though this couple lives in the Washington DC metro area, they preferred that their wedding celebrations have a more tropical feel than the Nation's Capital can provide. With that in mind, they chose to tie the knot at the Now Larimar Resort in Punta Cana Dominican Republic. As their destination DC wedding photographers, we cannot say that we minded the chance to tag along and enjoy a few days in the Caribbean!
Best Punta Cana Wedding Venues
The bride, groom, bridesmaids and groomsmen made the most of their visit, coming down a week before the wedding to spend a bit more time soaking up the sun. The rest of their guests and extended families joined them the day before the ceremony. The entire resort felt as though it had been set aside for their marriage celebrations!
The bride began her wedding day on the early side by enjoying a leisurely brunch with her bridesmaids and mother, and getting her hair and makeup done in the resort's comfortable bridal suite. Amid the laughter and champagne, she also managed to share a tender moment with her mother and sister when they gave attached a small picture of her late father to the bridal bouquet. Once she finished getting dressed, we took some absolutely gorgeous bridal portraits of her in one of the suite's more unique rooms, as well as outside on a verdant lawn.
The groom and his buddies were a little slower to get going after a raucous night of celebrations the night before. As they got prepared for the big event, they cracked jokes and teased the groom-to-be. The highlight for us as photographers was when the latter opened a gift from his future wife. Not only were we able to capture his joy at getting the Christian Louboutin shoes he had had his eyes on, but we also got great shots of him licking their soles in response to a dare from one of his groomsmen.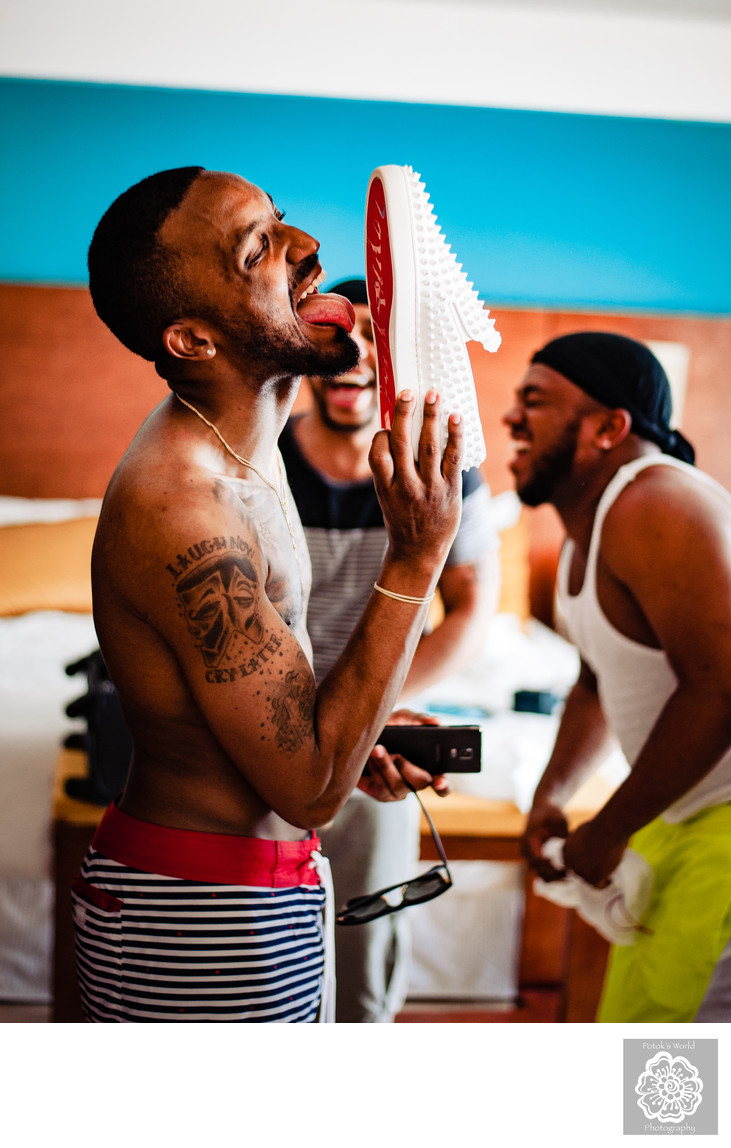 The wedding ceremony took place under a pavilion decorated with tropical flowers near the Now Larimar's network of pools. Our favorite moment from the afternoon was seeing the groom sob without restraint as his beautiful bride glided up the aisle.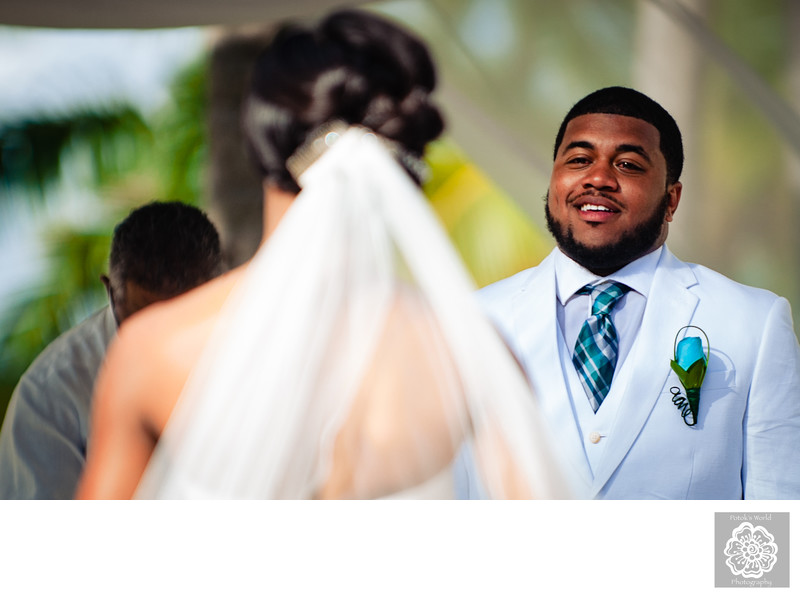 After they said "I do," we took the newlyweds out for some Now Larimar Punta Cana beach pictures. Posing them was exceptionally easy, because the bride possessed such innate grace and elegance that every shot looked beautiful.
Beach Wedding Reception
Their day concluded with one of the rowdiest and funnest wedding receptions we have ever captured on film. The resort set up a DJ booth, speakers and a dance floor on the beach sand. The couple's favorite DJ, who had flown in from the DC area, then cranked the newlyweds' favorite songs. The entire wedding danced, drank and partied late into the evening, giving the couple's nuptials the celebrations they merited. The highlights included the groom taking a turn in the DJ booth, the bridesmaids entertaining the bride with a special sorority dance and the mother of the groom pulling one destination wedding photographer out onto the dance floor. The other DC wedding photographer could only roar with laughter and take picture after picture of the moment.

Location: Now Larimar Resort, S/N El Cortecito, Avenida Alemania, Punta Cana 23000, Dominican Republic.

Keywords: Destination wedding (14), destination wedding punta cana (4), Destination Weddings (10).

© 2020 Potok's World Photography -- Husband & Wife Washington DC Wedding Photographers