Potok's World Photography
Now Larimar Punta Cana Destination Wedding Photographer
Any DC destination wedding photographer will tell you that beach marriage celebrations rock. Not that you did not already know that! Exchanging vows on some tropical island is a dream scenario for a lot of couples. It is not always a realistic option, of course. As awesome as destination weddings can be, sometimes a more traditional celebration is a better fit for you. Many couples find the total extra costs of hotel and airfare to be an issue. (Though we should point out that many venues like the Now Larimar Resort in Punta Cana, Dominican Republic, offer very reasonable, all-inclusive packages for destination weddings.) Future spouses also often want to tie the knot locally because a particular house of worship that has played an important role in their lives. Even more frequently, many spouses-to-be decide to celebrate their nuptials closer to home for family reasons. Destination weddings can be harder for many members of your extended family (grandparents, in particular) to attend.
If a getting married on a beach is realistic for you, though, you are in luck! There are so many things about a Punta Cana destination wedding that kick butt. The sun and sand, for starters. The beautiful weather sure does not hurt either! The fact that you can basically have your wedding and honeymoon in the same place is another huge selling point. As is the opportunity to have your destination DC wedding photographers take gorgeous pictures of you in front of some of the most stunning backdrops imaginable!
Destination Weddings: Reception Photos
One benefit that might not have occurred to you, though, is the opportunity to have your reception on the beach. We have photographed oceanside several wedding receptions and can tell you that they are the best. Why? For starters, there is the obvious. Beaches are just awesome! Just about every activity is more fun with the sun on your skin, the gentle sea breeze on your face and the smell of salt water in the air. (Well, there are a few exceptions that come to mind. We are suddenly reminded of unpleasant childhood memories of eating sand-coated baloney sandwiches at the beach. But most wedding-related things are great when done on the seashore.)
Perhaps more importantly, though, beach wedding receptions open up some new possibilities for you. For example, you can have an open-air celebration like this couple did. Most Washington, DC wedding venues will require that you set up your reception indoors. Even if you are having your marriage celebrations outdoors, chances are that your dinner, speeches and dancing will take place under a tent. Frankly, that is not the worst thing for weddings in the DC area. Summers in the Washington region can be lovely. But locations in the more rural parts of the metro area can have mosquito problems. Wedding venues in Northern Virginia, in particular, often attract a lot of insects. So receptions under a tent are something of a necessity.
Most destination wedding venues on the beach do not have these restrictions, though. You can set up your dinner tables, dance floor and DJ booth just steps from the water and with a clear view of the night sky. That means that after dining alfresco, you and your wedding guests can dance and party with the stars above you and that aforementioned salty sea smell in the air. And if your wedding celebrations are anything like this couple's, having your reception outside will be a hell of a lot of fun for you and your wedding guests!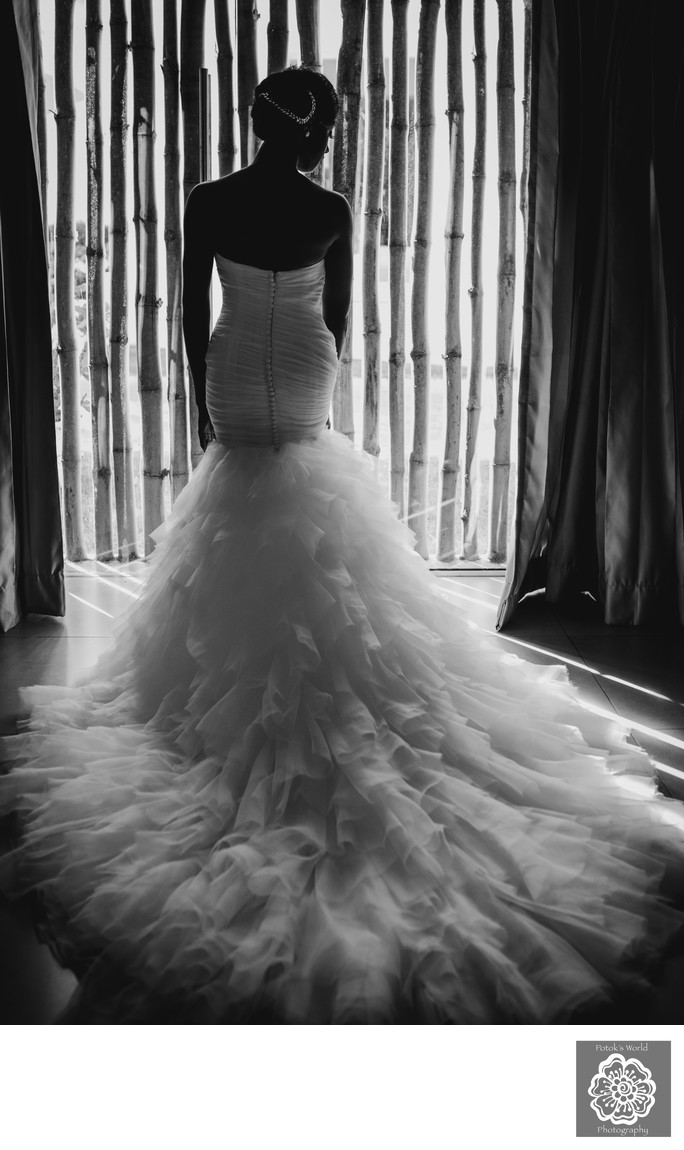 The bride featured here exchanged her vows with her now-husband at the aforementioned Now Larimar Resort. After some beautiful bridal portraits like the one posted here and a lovely (and emotional) outdoor ceremony near that venue's gorgeous fountain, the marriage celebrations moved to the beach for the reception. There underneath the stars, the bride and groom and their guests danced, sang, partied and shouted to the heavens until the wee hours of the morning. We can honestly say theirs was one of the craziest, funnest receptions we have ever photographed. The mother of the groom even dragged one DC wedding photographer out onto the floor with the tried-and-true lasso move. (All photographic evidence of that, by the way, is buried forever!)

Not surprisingly, we got some absolutely spectacular pictures of this wedding's attendees showing their best dance moves. It did not hurt that the bride and many of her friends were trained, semi-professional dancers. As a result, very movement she made was a study in grace and kinesthetics. There was not a single awkward picture of her from the entire celebration. (Unlike those aforementioned embarrassing pictures of one of us out on the dance floor!) You can see in this image how natural and smooth her dancing was. And more importantly, you can feel how much fun she and her friends and family are having. And a photo that captures the excitement and enjoyment of a reception dance floor is one that any bride will treasure for a lifetime.

Location: Now Larimar Resort, S/N El Cortecito, Avenida Alemania, Punta Cana 23000, Dominican Republic.

Keywords: Destination wedding (42), destination wedding punta cana (12), Destination Weddings (30).

© 2020 Potok's World Photography -- Husband & Wife Washington DC Wedding Photographers