Potok's World Photography
The QG Baltimore Wedding
The choice of venue for your Baltimore wedding is obviously critical. Your wedding venue shapes the tone, atmosphere and personality of your marriage celebrations. The entire feel of your wedding depends on the setting you pick. There are also practical considerations. Your venue's capacity dictates your wedding's maximum size. The location you select for your ceremony also determines whether you need several venues or just one. Some Baltimore wedding venues are all-in-one, allowing you to get ready, marry and celebrate your nuptials in the same place. Most houses of worship, however, are not. So you have to book getting-ready and reception venues as well. And if you need the former for your Baltimore wedding, we suggest considering The Quinntessential Gentleman (or The QG as most Baltimoreans call it). Why? Because a QG Baltimore wedding gives you something unique that you will not find anywhere else.
History of the QG Baltimore Wedding Venue
Let's start by talking about what this groom prep location is and a little about its history. The QG is an upscale barbershop/men's club in downtown Baltimore. The misspelling of the first part of its name is intentional. It honors the owner's mother, whose family name was "Quinn." It was she who taught him the value of acting, dressing and grooming like a gentleman. Not surprisingly, it was that upbringing that also inspired him to open a business celebrating that culture.
The QG began as a barbershop offering a sophisticated take on the old-fashioned approach to mens' grooming. Since it opened its doors in 2005, though, it has greatly expanded its services. Its features now include a spa, a cigar lounge, a bar, a restaurant and an upscale men's clothing store. The venue also serves wedding clients. More specifically, it offers grooms and their groomsmen a one-of-a-kind space in which to hang out and get prepared for a wedding day.
QG Baltimore Wedding-Day Preparations
For grooms who book the venue for their marriage celebrations, a QG Baltimore wedding day often starts with a classic hot-towel shave. We love that the location offers this amenity. One of our goals as Baltimore wedding photographers is to give every one of our clients pictures that are special. It is our belief that you deserve images that are as unique as your love story. And photographs like the one featured here look nothing like anything you can get at another wedding venue.
After the shave, most grooms and groomsmen then retire to The Clubhouse to finish putting on their wedding clothes. The Clubhouse is a private area on The QG's top floor. Its centerpiece is a beautiful pool table. It also features a TRUGOLF golfing simulator, several old-school arcade video games and a massive TV. Next door is a small bar where a QG Batimore wedding party can grab a quick drink to (perhaps) calm the groom's nerves a bit.
Wedding Venues like The QG Baltimore
The QG is not alone in offering these kinds of wedding-day services to grooms and groomsmen. We have noticed a cool trend over the past couple of years of wedding parties preparing and dressing at old-school barbershops/men's clubs. Like a QG Baltimore wedding experience, getting ready at these venues generally includes straight-razor shaves and other pre-wedding grooming for men. These clubs also typically have lounge areas where the groom and his groomsmen can play pool, hang out and get into their clothes for the wedding ceremony.
In our experience as Baltimore wedding photographers, these kinds of spaces are great for wedding-day preparations. Not necessarily because they celebrate Old-World notions of gentlemanly behavior. That is a vibe that might not be the right fit for every groom. No, it is more about the environment that they offer.
Groom and Groomsmen Photos at a QG Baltimore Wedding
What do we mean about that last part? Well, the best photos of a groom and his groomsmen getting ready are those that highlight the bonds that unite those men. There are reasons, strong reasons, why a man asks certain male family members and friends to stand beside him on his wedding day. It starts with friendship, of course. But it usually goes deeper than that. There are shared experiences. There are times in the past when one came through for the other in a time of need. Sometimes, there are even instances where the two served our country side by side.
These bonds do not always emerge in straightforward ways. Men do not often tell one another how they feel directly. Instead, they might show their feelings through jokes, toasts or shared drinks. It is more about moments than words. (Which, incidentally, makes our job quite a bit easier!) And those moments are more likely to happen when everyone is relaxed and enjoying themselves. Spaces like The QG give grooms and their groomsmen an environment conducive to that.
Photo of Groom on His QG Baltimore Wedding Day
After this groom finished the hot-towel shave shown in this image, he and his groomsmen headed up to The Clubhouse to get dressed. Once there, they indulged in a wedding-day tradition that we particularly enjoyed. (And that looked particularly great on film!) As he got ready for his wedding, this Baltimore groom asked each of his groomsmen to assist him in putting on one thing. One helped him into his shoes, for example. Another fixed his cufflinks, and the groomsman in this photo worked on his tie. It was a nice way to get all of the members of his wedding party involved in the Baltimore marriage celebrations. The gesture clearly made them feel more a part of his nuptials. It also acknowledged the importance of them supporting him on such an important occasion.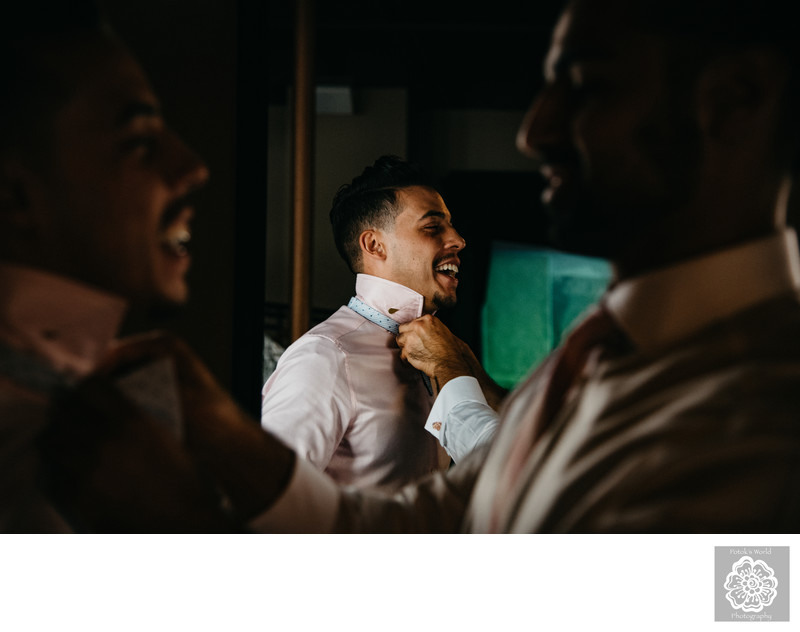 Location: The QG, 31 S. Calvert St, Baltimore, MD 21202.

Keywords: Baltimore wedding (10), Baltimore wedding photographer (3), Maryland wedding (8).

© 2022 Potok's World Photography -- Husband & Wife Washington DC Wedding Photographers