Potok's World Photography
St Francis Hall Wedding
Have you ever been at a church wedding and thought, "Wouldn't it be cool if the couple could also have their reception here too?" Many church interiors are absolutely stunning. The shaped stone, stained glass and heavy wood create a beautifully Old World atmosphere. Unfortunately, few houses of worship allow wedding receptions in their main spaces. Yes, their basements or lawns are sometimes available for events. But those usually have a very different look and feel. So most couples who have a church wedding end up having their reception elsewhere. There are, however, a handful of Washington DC wedding venues that can give your reception a church-like vibe. St Francis Hall in Northeast is a great example. A St Francis Hall wedding reception will leave you feeling like you celebrated your nuptials in a gorgeous old European house of worship or castle.
St Francis Hall Wedding Venue
The key to that vibe? St Francis Hall feels like an old church because it is an old church (sort of). The reception hall is part of a religious "estate," so to speak. The Franciscan Monastery of the Holy Land in America owns a complex of buildings on adjoining pieces of land. St Francis Hall is its main event and reception space.
Like the monastery's other edifices, St Francis Hall has a romantic Renaissance architecture that evokes memories of old castles and churches in Europe. Though the exterior is rather unassuming, the interior is gorgeous and a great space for a wedding ceremony and/or reception. St Francis Hall has an elongated shape, which creates a long hall (for lack of a better word) inside. That room, which is capable of fitting up to 250 wedding guests, is the building's main attraction. It has stone walls, soaring vaulted ceilings and gentle lighting. The shape and decor of the room makes you feel like you have stepped into a medieval banquet hall instead of a St Francis Hall wedding!
St Francis Hall's reception space is no dank, poorly lit cavern, though. It might be reminiscent of the Middle Ages, but don't expect to see people eating meat off the bone with their hands! A St Francis Hall wedding has a surprisingly light and airy atmosphere, given the building's resemblance to an old church. This is mainly due to the double windows that line the longer edges of the building. Every few feet, a pair of windows (one at ground level and the other near the ceiling) let plenty of natural light into the room. When it hits the blond wood flooring, the room feels warm and cozy despite its size.
Photos from St Francis Hall Wedding Reception
One of our favorite features of St Francis Hall's banquet hall space is the elevated stage at one end of the room. That is the area most typically used for the ceremony, should you choose to have that portion of your wedding at St Francis Hall. As Washington DC wedding photographers, though, we love what it does for the photographic possibilities. We are always looking for any element of a wedding venue that allows us to give our photos fresh angles. Being able to get up above the action allows us to photograph the action from a completely different vantage point.
Where that really makes a difference, we have found, is when we are getting reaction shots. Photographing from slightly above gets more of the crowd into the frame and amplifies the emotional impact of an image. So if your Washington DC wedding photographers are getting pictures of your maid of honor toasting you at your St Francis Hall wedding reception, it gets much easier to get cool shots of you toasting them back. For example, we can frame your smiling face in her arm and the glass it holds. And also capture the crowd reacting around you at the same time!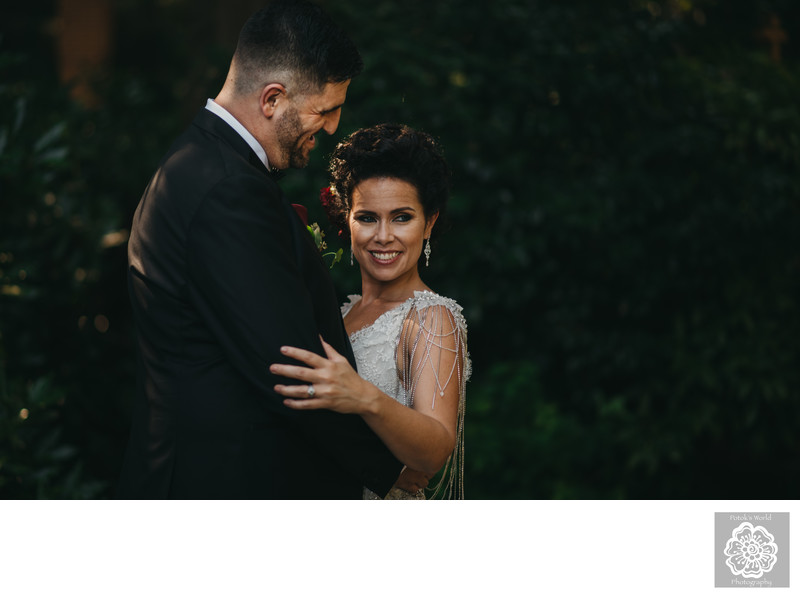 Couples Portraits at The Franciscan Monastery of the Holy Land in America
Because the venue is part of the aforementioned religious complex, a St Francis Hall wedding gives you access to one of the loveliest spots for couples portraits in Washington DC. The Franciscan Monastery of the Holy Land in America has three different locations in which you can get stunning portraiture. The first are the flower gardens growing on the monastery's front lawn. Your Washington DC wedding photographers can pose you there for some gorgeous, colorful classic pictures the two of you basking in your post-nuptial glow.

The second location for beautiful couples portraits is on the partially covered walkways that form a sort of inner courtyard around the monastery. The bold lines in those spaces create some really interesting visual effects. They can be a great way for your Washington DC wedding photographer to frame you such that the viewer's eye goes immediately to you.

The last (and in our opinion, best) space is down a hill behind the monastery. There you'll find the Lower Gardens. This area has deep religious significance to the monastery. It houses shrines to St Francis Hall's namesake, as well as to other Catholic notables. Because of this, the environment there is natural, peaceful and contemplative. That makes it a particularly great place for your couples portraits. You get a chance to breathe a bit and relax after the excitement of your ceremony. You can enjoy being with your new spouse and really get lost in one another. When that happens, you get portraits that emphasize the connection between the two of you. And when they are in a setting as lovely as the Lower Gardens? Then they are gorgeous to boot!

Location: St Francis Hall, 1340 Quincy St NE, Washington, DC 20017.

Keywords: DC Wedding (25), DC wedding photographer (25), DC wedding photographers (27).

© 2022 Potok's World Photography -- Husband & Wife Washington DC Wedding Photographers