Potok's World Photography
St. Regis DC Wedding Photographers
From the decor to the staff, the St. Regis Washington, D.C. is an ideal place for your marriage celebrations. If you book the St. Regis for any part of your wedding, you are guaranteed an elegant setting, luxurious comfort and excellent customer service. Any Washington, DC wedding photographer would agree that you will also get beautiful matrimonial pictures. Taken as a whole, these positives are clearly the ingredients for an unforgettable wedding-day experience.
Even if you choose a different venue for your DC wedding, you are still spoiled for choice in the Nation's Capital. There are fantastic Washington, DC wedding venues all over the metro area. The region offers you the opportunity to exchange your vows in luxury hotels, rustic barns, sunny vineyards and historic museums. That range of different venues also means that you get wedding photography with an unmatched breadth and depth. It is one reason why DC wedding photographers like us are lucky to be doing our jobs in this city! We get to photograph you in some of the best locations in the world.
Photoshoot Locations in DC
The other great thing about photographing DC-area weddings is the proximity to the most iconic buildings on the planet. Your marriage celebrations in the Nation's Capital are likely to take place within the shadows of the city's famous monuments, museums and memorials. So getting wedding photography that is beautiful and typically "DC" is not hard to do!
As great as local venues are for DC wedding photographers, however, photos do not always need stunning settings to be unforgettable. No matter which location you pick, we will get great shots of you and your beloved! A superlative Washington, DC wedding photographer can get an award-winning shot anywhere. We have taken pictures of newlyweds against undesirable backdrops many times and still managed to make the couple look fantastic. It just requires a bit of photographic skill. For example, when posing you in front of something that does not look great, we can adjust the lighting. If we light you and your future spouse dramatically, the background normally becomes dark in the resulting images.
We can also make the best of an unfavorable setting by focusing more tightly on the you and your new spouse. Using a lens with a long focal length and opening the camera's aperture highlights you and blurs the background. Doing that can be another great way to eliminate a distracting or unflattering background.
There are other good reasons for choosing that sort of composition, of course. Sometimes the background of a DC wedding portrait is beautiful, but it makes sense to narrow the focus to you and your beloved anyway. On your wedding day in Washington, you two are always the main story. The setting matters, but in the end, you and your intended are the most important elements in a photo. So composing an image around just your faces is never a bad idea. Such a portrait looks intimate and private, and highlights the love that connects you.
That was the case when we took this portrait of a DC-based bride and her groom. The now-spouses had their marriage celebration at the aforementioned St. Regis Washington, D.C. The cooperative mid-autumn weather made it possible for them to have their ceremony on the Astor Terrace. The latter is a lovely outdoor courtyard adjoining the main hotel building. It is available for wedding ceremonies and receptions, and it also makes a great location for couples portraits. The trees that run around the terrace add lovely bits of nature and greenery to those photos.
After the bride and groom in this picture exchanged their vows, we planned to take them to Lafayette Square for their portraits. The latter is the park on the north side of the White House. Before we took them to that iconic part of the Washington landscape, though, we wanted a couple of shots on the terrace. When we posed them there, we were struck by how beautifully they were gazing into each other's eyes. So even though the background was luscious, we chose to zoom in and just capture their faces. We think the results speak for themselves!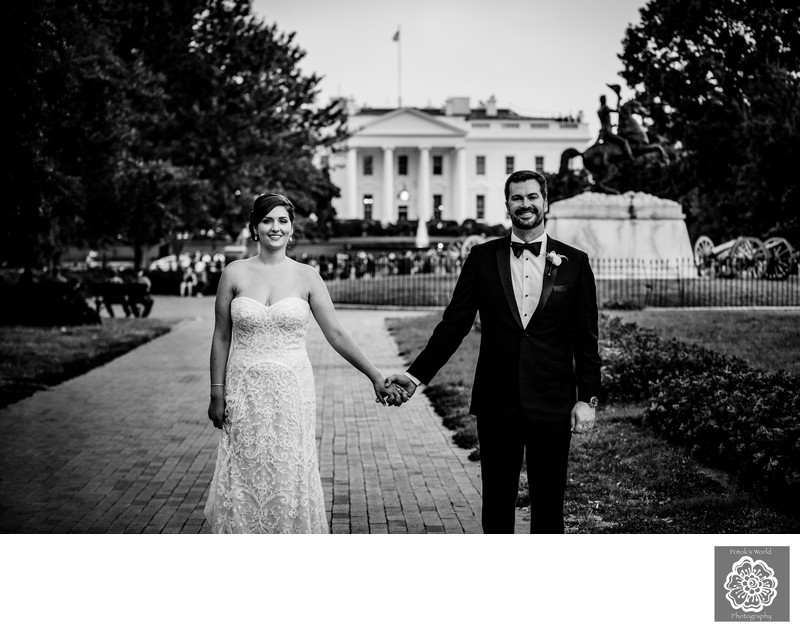 Location: The St. Regis Washington, D.C., 923 16th St NW, Washington, DC 20006.

Keywords: Washington DC wedding photographers (21).

© 2020 Potok's World Photography -- Husband & Wife Washington, DC, Wedding Photographers