Potok's World Photography
St Regis DC Wedding Photographers Bridal Portrait
As Washington DC wedding photographers, we spend a lot of time working on posing. We have literally devoted hours to practicing different poses using very patient friends, dolls, each other and sometimes even our cats. We have made a lot of mistakes along the way and tried a lot of poses that simply do not work. (The photographic evidence of those fails will NEVER, EVER see the light of day). Why do we do this? After all, we specialize in documentary wedding photography. And that means we focus on capturing on film important moments from your nuptials, right? The answer is that we will need to pose you a bit for the portraits we will take of you during your marriage celebrations. And we want to make sure that giving you bridal portraits as gorgeous as this one from a St Regis DC wedding is effortless for you and us.
Bridal Photography by Washington DC Wedding Photographers
Actually, maybe we should expand on that answer a bit. Our main goal for the portraiture part of your wedding day is making you look as beautiful as you feel. That applies to your couples portraits and your family formals, of course. But most of all, we want your jaw to drop when you see how gorgeous you are in your bridal portraits. You will have put so much energy into making sure your hair, makeup and dress are perfect. Your Washington DC wedding photographers need to show that off in your photos.
And that starts with great posing. So much of creating gorgeous bridal portraiture comes down to finding poses that flatter the subject. Obviously, lighting is tremendously important. As is the composition of the photo. But the perfect pose is what brings your best features to the forefront and leaves you more than satisfied with your portrait. So we practice and practice and practice some more. That way, on your wedding day, we can quickly identify poses that are going to make you look your best. Like we did for this bride during her St Regis DC wedding.
Washington DC Bride Poses Ideas
There is another reason we work so hard on posing. The only way you are going to look gorgeous in your bridal portraits is if you are relaxed. Naturally, the way your Washington DC wedding photographers pose you should leave you feeling loose and comfortable. If you feel tense or awkward, that is going to show in the resulting images. (This is why we ask all of our brides and grooms to let us know if a pose feels uncomfortable.)
But a relaxed state of mind is not just about physical comfort. You should also feel at ease mentally, emotionally and spiritually. The process of having your bridal portraits taken should be easy and stress-free. Because, again, if your mind is not calm, there will be tension in your body. And tension in the body equals portraits you will not be happy with.
The good news for you is that keeping you relaxed is mainly the job of your Washington DC wedding photographer. Sure, there are some small things you can do to make the process more stress-free. But at the end of the day, it is our job to make you look spectacular. And if we are stumbling around, trying (and failing) to find the right pose, you are understandably going to start worrying. You are going to justifiably wonder if your photographers know what they are doing. So we put in those years of practice to be able to show up at your wedding and quickly, efficiently and effortlessly give you stunning bridal portraits.
Gorgeous Portrait in the St Regis DC Wedding Suite
As we mentioned above, we took this lovely bridal photo at a wedding at The St. Regis Washington D.C. The latter is one of the most elegant and best wedding venues in DC. It has several elegant ballrooms, a truly unique terrace for outdoor ceremonies and (as you can see in this image) a bridal suite with great spots for stunning bridal portraits.
The pose we chose for this particular bride during her St Regis DC wedding is one that we use a lot in our wedding photography. We ask the subject to stand facing a window. That puts them in very soft, indirect and flattering light. We then ask the bride to gently look back and over one shoulder. We will either ask her to lower her gaze or close her eyes. Typically, we will then take photos of her from directly behind or (as in this case) from the side to which she is looking.
Best Bridal Photos Poses
Why do we like posing brides in this way? The short answer is (of course) because they look great in this pose! Clearly the bride from this St Regis DC wedding does! The longer answer has to do with both the lighting and what the pose suggests. Regarding the former, having a subject turn their head away from the light source puts part of their features in the shadows. That can be dangerous if the contrast between light and shadow in the scene is too strong. But when the source is soft and the subject is close to it, enough light wraps around their face to illuminate the back side. And that effect gives depth and three-dimensionality -- important components of a beautiful portrait.
What this pose means is obviously more subjective. As Washington DC wedding photographers, we feel that a bride posed this way looks expectant without looking impatient, demure without looking weak. The bride from this St Regis DC wedding appears to be turning her head because someone important is behind her. Perhaps it is her future spouse? That she has not fully turned around, however, lets us know that she is waiting on her terms. She is in control of the situation, because whoever is there must approach her. Not the other way around.
Casting her gaze downward gives a bride a distinctively beautiful and feminine air. But she does not look shy or scared. With her chin parallel to the ground, she seems confident and self-assured. And why wouldn't she? She looks and feels beautiful, and more importantly, knows that she is loved.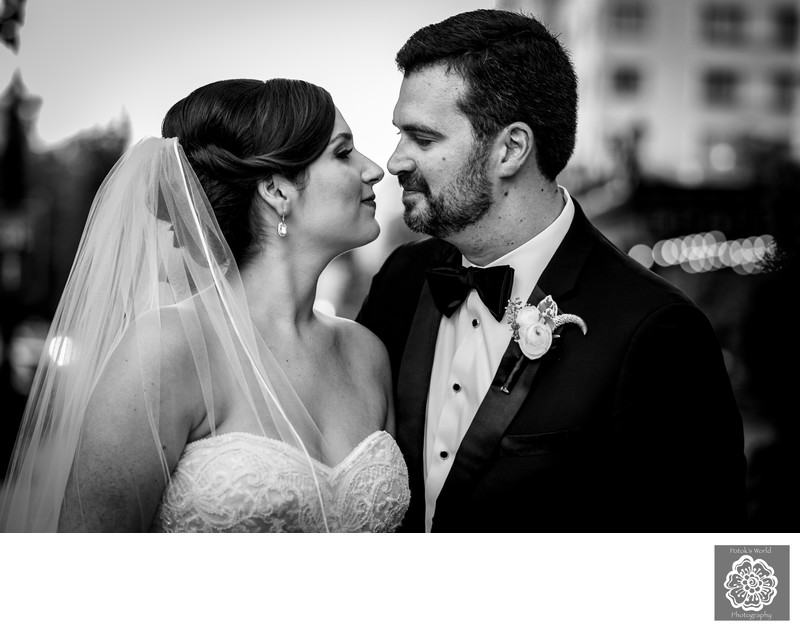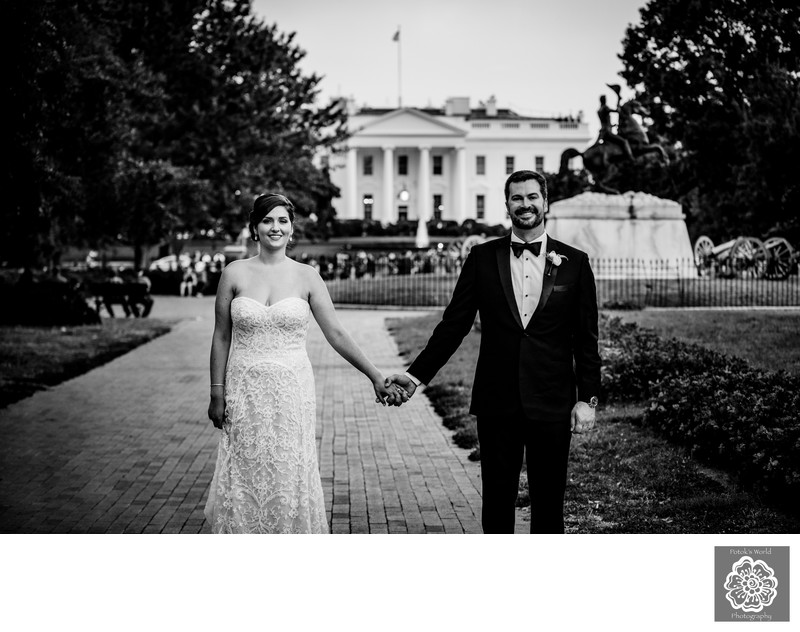 Location: The St. Regis Washington D.C., 923 16th And, K St NW, Washington, DC 20006.
© 2020 Potok's World Photography -- Husband & Wife Washington DC Wedding Photographers