Potok's World Photography
Virginia Vineyard Wedding Photographer
Couples portraits at sunsets are technically challenging from a photographic point of view, but when a wedding and engagement photographer does those pictures right, the results can be stunning. The light during the so-called "golden hour" of the day is soft and gentle, and therefore tends to be very flattering and forgiving. Every bride and groom look great when bathed in the sun's last rays of the day! More importantly, though, a sky ablaze with oranges, yellows, reds and even purples makes a great canvas upon which to create the kinds of images that convey the beauty of a couple's love story and path to the altar.
As we have mentioned elsewhere on this website, a lot of the early work that we did when we first picked up our cameras was in the field of nature photography, so we always relish the opportunity to incorporate the best that Mother Nature has to offer into the wedding and engagement pictures that we take. For that reason, we get excited when our brides and grooms book wedding venues in any of the vineyards located in the Northern Virginia portions of the Washington, DC, metro area. Much as we love photographing weddings and engagements in downtown Washington, DC, the higher elevations of nearby Arlington, Virginia, make it hard to get a clear view of the western sky during a sunset. By contrast, the rolling hills of Virginia's wine country offer great vantage points and some spectacular summer sunsets.
Virginia Vineyard Weddings
This lovely couple tied the knot at just such a rural wedding venue. They exchanged their vows in a beautiful and touching outdoor wedding ceremony at Blue Valley Vineyard and Winery, a gorgeous facility located about an hour from downtown Washington, DC. The winery is nestled in the foothills of the Appalachian Mountains and offers future spouses and fiancés the sort of rustic beauty that people dream of when they plan an outdoor wedding.
As soon as we saw the Blue Valley Vineyard and Winery's grounds, we were itching with anticipation. We could not wait for the couples portraits portion of the day, because we knew we would have the chance to pose the new husband and wife in front of a beautiful setting sun. So once the wedding rings were on the bride's and groom's fingers and their first kiss had been shared, we brought them to the spot that offered the best view of the Western sky lighting up with the sun's last rays of the day.
Getting unforgettable pictures of newlyweds posing in front of a dazzling sunset is, as we mentioned above, not always easy. Even a setting sun can be so bright that correctly exposing for the sunset can leave a couple in complete darkness in the foreground of a photograph. Fortunately, our Nikon cameras are equipped with high-tech sensors that allow us to capture a huge dynamic range in every shot we take. That means that with a bit of creative editing, we are able to produce beautiful images like this one, in which the bride and groom are lit perfectly while standing in front of a breathtaking and colorful sunset.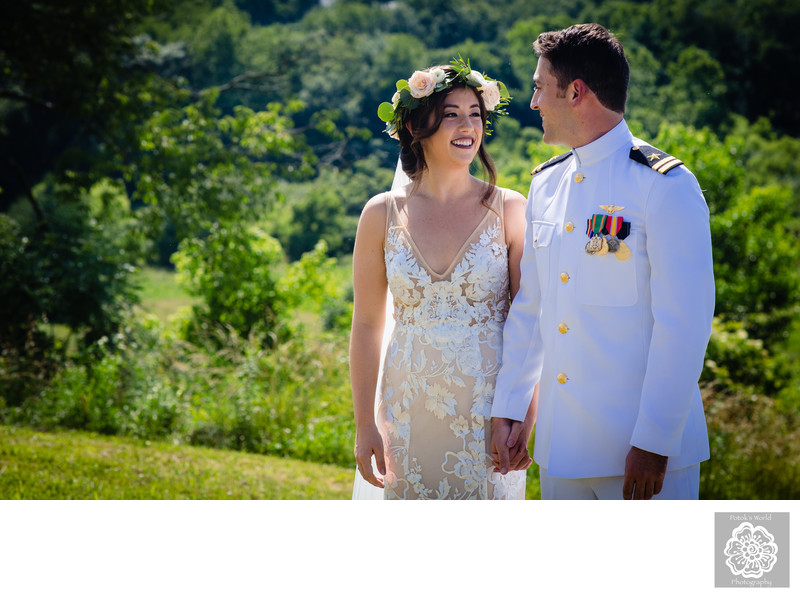 Location: Blue Valley Vineyard And Winery, 5535 Blue Valley Way, Delaplane, VA 20144.
© 2019 Potok's World Photography - Husband & Wife Washington DC Wedding Photographers