Potok's World Photography
Washington DC Elopement Wedding Photographers
Your DC wedding photographers will probably take thousands of pictures of you on the day you get married. And very few will be more important to you than the ones of you and your bridal party. We know that those are going to be some of the ones you treasure most in 25 years. So we are going to make sure that we get images of you and them that you are going to adore. And with that in mind, we are going to share a little pro tip with you. As important as your wedding party portraits are, the "behind the scenes" ones are where it is really at.
Before we get into that, though, let us back up a bit. For starters, why are we taking so many pictures at your wedding? We realize that "thousands" of images sounds like a lot. In fact, you might have gotten so hung up on that number that you did not even read anything after that! Anyway, there are few different reasons why a documentary Washington DC wedding photographer will typically capture so many images. But one of the most important is because we want you to have lots of beautiful images of you creating memories with all of your family and friends. If there is a relationship that is important to you, we want you to have a photograph from your wedding that shows why.
Naturally, a great Washington DC wedding photographer is going to pay particular attention to your "inner circle." By this, we mean the people who really matter most to you. We will give you as many pictures of you with your parents and siblings as possible, for example. We will also make sure to get images of you and your grandparents. And you will get TONS of shots of you with your wedding party. After all, these are people handpicked by you to stand by your side on one of the biggest days of your life. You have literally named them the most important people in your world (aside from a few close relatives). Because of that, you are going to want great pictures of you interacting with them.
Washington DC Elopement Weddings: Awesome Bridal Party Portraits
At this point, you are probably thinking that is what the wedding party portraits are for. And you are right! Those formal pictures are meant to give you a record of who was there for you at your marriage celebrations. They will serve as a reminder of who mattered most to you when you got married. As life takes all of you in different directions in the future, you will want to look back at that particular moment in time and remember how much them being there meant to you. We know this and will make sure that we get gorgeous shots of all of you posing together.
As valuable as those portraits will be to you down the road, though, we will bet that others will matter more. Why? Because posed portraits with your wedding party are going to be missing one crucial element: emotion. Pictures of a group of friends looking at the camera and smiling look very nice. But the connection is between the people and the camera, not one another. Only the context tells you that they are anything more than strangers posing for a photograph. So when your kids see the picture in 15 years, they know that these people matter to you. But they cannot necessarily see why.
To give you images that answer that particular question, we are going to do a lot more than just taking your bridal party portraits. While one of us is doing that, the other will be photographing scenes taking place at the margins. Our aim is to capture the moments that help define and explain your relationships with the people you have asked to be a part of your nuptials. You have a special connection with them, and we want to show that. So in addition to getting pictures of you posing with your maid of honor, we will also capture images of her holding your train as you walk to the spot where the portraits will be taken. (Which, as you can see below, we did for this bride.) We will also be waiting for the moment when your future spouse dips you and kisses you as your wedding party cheers you on. (Which we obviously also captured for this couple.) The interactions between the bridesmaids and groomsmen and the two of you are often some of the sweetest, most genuine, most touching and funniest of the entire marriage celebration. More importantly, they will remind you of the fun, laughter and spontaneity that makes your relationship with your bridal party so special.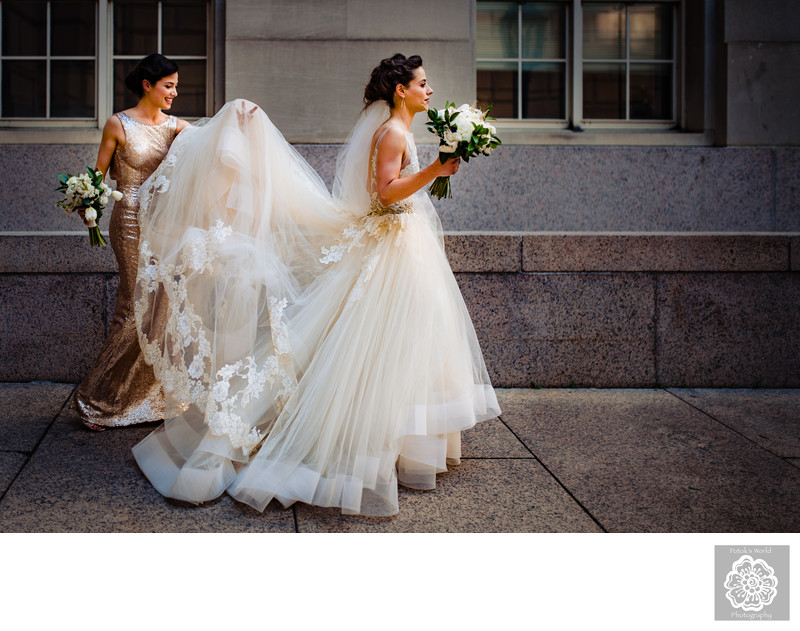 That was certainly the case for the bride and groom shown here. After they tied the knot in a lovely ceremony at Wallace Presbyterian Church, they and their guests headed to some lovely wedding venues in DC for the remainder of their event. Before their reception on the rooftop of 101 Constitution with a beautiful view of the US Capitol Building and the Washington Monument in the background, the newlyweds and their bridesmaids and groomsmen stopped off at the Ronald Reagan Building and International Trade Center. That is where they posed for some couples portraits and formal photographs of the wedding party. As we have mentioned elsewhere on this website, the venue is a bit of hidden gem for wedding photography. Thanks to its beautiful lighting (even during the middle of a sunny day) and interesting architecture, it is a great spot for creating stunning images of newlyweds on their wedding day.
It also proved to be a nice venue for taking pictures of a bride and groom posing with their bridesmaids and groomsmen. We got some beautiful photographs of the group with the Ronald Reagan Building and International Trade Center's various doorways, porticos and colonnaded overhangs giving a lovely texture to the background behind them. That is where we captured this unforgettable image — a photograph more valuable than any posed shot.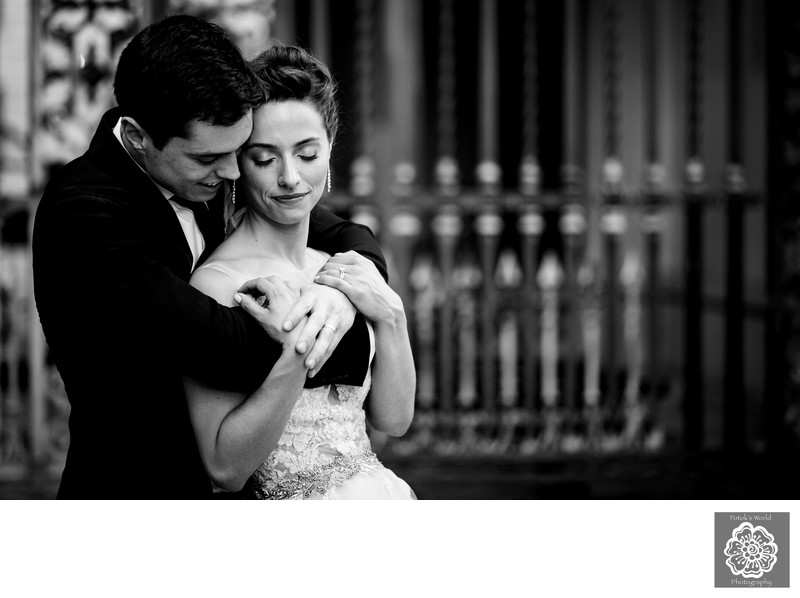 Location: Ronald Reagan Building and International Trade Center, 1300 Pennsylvania Ave NW, Washington, DC 20004.

Keywords: DC Wedding (26), DC wedding photographer (27), DC wedding photographers (30).

© 2020 Potok's World Photography -- Husband & Wife Washington DC Wedding Photographers