Fall Wedding Photos at Bluemont Vineyard in Virginia
When you contact Northern Virginia wedding photographers about documenting your wedding, you will naturally have a lot of questions for them. You will want to know about a lot about their style of wedding photography, obviously. We understand completely and are always happy to talk with you about our approach to photographing your marriage celebrations. Hiring photographers for your wedding is a big decision, and you should feel completely secure that you have chosen the right one for you.
Picking a Northern Virginia wedding photographer whose style you love is obviously critical to you loving how you look in your matrimonial pictures. Because if you like someone's approach to their craft, you will like how you look in their pictures. Photos of you at your wedding should look exactly as you have always dreamed. Maybe in your mind's eye, you look bright and airy in your wedding dress or tuxedo. If so, you should choose a wedding photographer whose style gives you those kinds of images. Similarly, if you want photos that give you a more classical, romantic or elegant look, you should select wedding photographers with that style.
When you ask us about our wedding photography style, we will emphasize our commitment to capturing the moments that matter most. Our style is photojournalistic, which means that we try to stay out of the way as much as possible. We want to let your marriage celebrations unfold naturally. That way, the emotions captured on film look and feel as real as possible. We want you to remember exactly how you felt on the day you got married. And if we stage the shots we take, your memories of that moment might not be quite as special.
The challenge for photojournalistic wedding photographers like us, of course, is creating portraiture that retains that spontaneous feel. Truth be told, it is very hard to make family formal portraits at a wedding appear not staged. There are some things that we can do to inject some fun into those pictures. But most of the time, images of the your families are going to feature people standing and looking at the camera. And that is ok.
Couples portraits after you and your beloved exchange their vows, however, are another story. There are many more ways a photojournalistic wedding photographer make your pictures look less posed. One thing we have tried is letting newlyweds use the couples portraits time to relax and enjoy one another's company. We hang back, ideally out of sight, and capture images of them cuddling and being romantic. Though they are technically aware of our presence, our cameras are unobtrusive enough for them to feel free and unfettered.
That sort of approach to our wedding photography is not always possible, of course. So instead, we often encourage our newlyweds to pose themselves a bit. We obviously help avoid any positioning that will cause you to look bad on film. But we want your whole experience of having couples portraits taken to be less structured, if possible.
That is what we did with the newlyweds featured here, for example. We took couples portraits of them after their beautiful outdoor ceremony at Bluemont Vineyard in suburban Washington, DC. We had already noticed during their first look that this couple had a loving way of interacting with each other. This bride and groom frequently touched and snuggled every time they were together. So as we took them around Bluemont Vineyard to take pictures of them, we encouraged them to be in contact. That is how we were able to get images like this one. One that appears to be a private moment caught on film.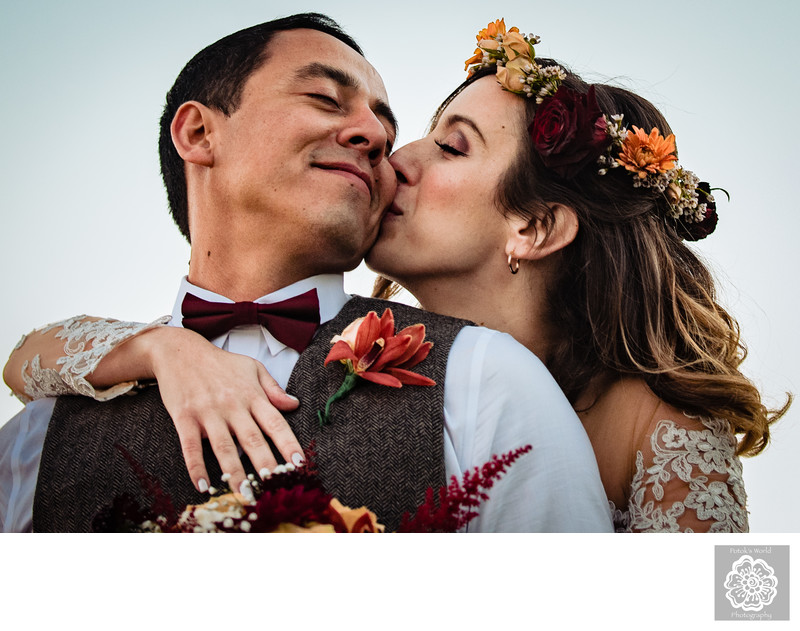 Location: Bluemont Vineyard, 18755 Foggy Bottom Rd, Bluemont, VA 20135.
© 2020 Potok's World Photography -- Husband & Wife Washington, DC, Wedding Photographers