Washington DC Cosmos Club Wedding Photographers
Couples getting married in the Washington metro area can choose from some of the best wedding vendors in the world. We are reminded of this almost every time we photograph a marriage celebration in Washington, DC. We are always impressed by the quality of the wedding venues, planners, florists and DJs with whom we work. But documenting these nuptials at the Cosmos Club really highlighted how lucky DC-based brides and grooms are. The Cosmos Club is one of the best Washington, DC, wedding venues, offering couples more than just a luxurious setting. The staff of that private club and matrimonial location gave the bride, groom and their entire wedding first-class service.
Because Washington is a world city, it attracts the best and brightest in every industry. Weddings are obviously no exception. When it comes to choosing their DC wedding photography, brides and grooms have abundant options. No matter what they want, fiancés can be sure of getting a great Washington, DC, wedding photographer.
Washington, DC, wedding venues offer spouses-to-be a similarly broad range of high-quality options. For spiritual couples, the Nation's Capital is obviously home to a many historically significant houses of worship that host matrimonies. The Washington National Cathedral and Dahlgren Chapel at Georgetown University are great examples. For fiancés planning a more secular marriage celebration, DC offers something for nearly every taste. Washington, DC, wedding venues range from big, luxury hotels and small, quirky art galleries. Couples can tie the knot outside at one of Northern Virginia's beautiful vineyards or in one of Washington's famous parks. It also has several hidden gems among its numerous private clubs. The Cosmos Club stands out among such matrimonial locations.
Like all of the best Washington, DC, wedding venues, the Cosmos Club seamlessly mixes DC history with modern elegance. Founded in 1878, the Cosmos Club is a private DC institution dedicated to the advancement of science, literature and art. Because of this, it is the birthplace of several famous Washington scientific associations, most notably the National Geographic Society. The Cosmos Club currently resides in Townsend House, an ornately designed building featured on the National Register of Historic Places. The previous owners rented it to two different U.S. presidents at different times.
That history is only part of what makes the Cosmos Club one of the best Washington, DC, wedding venues. It is also a great location for creating first-class DC wedding photography. Townsend House's Beaux Arts exterior contrasts beautifully with the surrounding urban landscape and makes a great backdrop for couples portraits. Inside the Cosmos Club is the Warne Ballroom, an exquisite Gilded Age salon with a capacity of 150-250 people. Unsurprisingly, the lavish decor, inspired by 18th-century France, makes any marriage ceremony look like a royal wedding on film. A Washington, DC, wedding photographer can make great use of the Cosmos Club's red-carpeted spiral staircase. The structure gives numerous possible angles for making DC wedding photography in which newlyweds look fantastic.
What really sets the Cosmos Club apart from other Washington, DC, wedding venues, though, is the aforementioned superlative customer service. Throughout this particular wedding celebration, the club's staff was friendly, courteous and attentive to every detail. We know that this bride and groom felt taken care of and would recommend the Cosmos Club to anyone planning their DC wedding.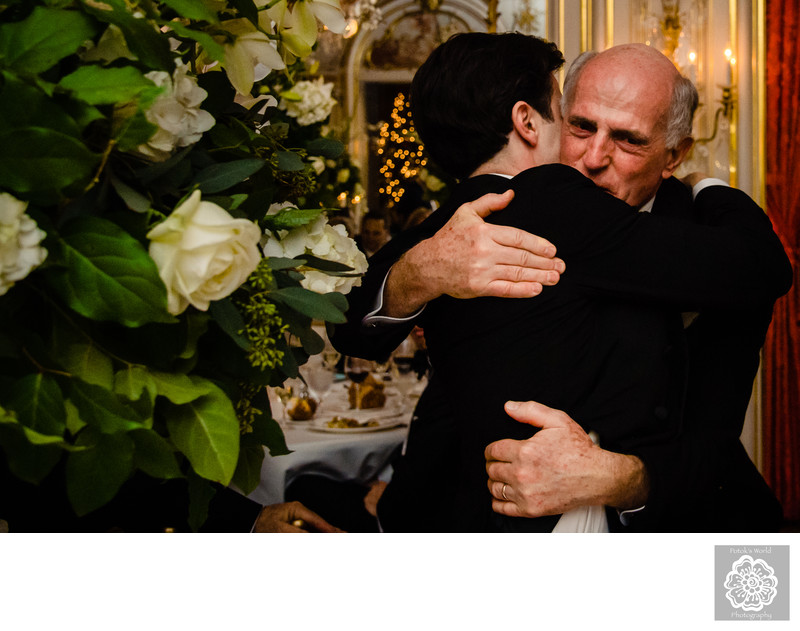 Location: Cosmos Club, 2121 Massachusetts Ave NW, Washington, DC 20008.

Keywords: Cosmos Club Wedding (3), DC (18), DC Wedding Photography (9), Washington (18), Washington DC wedding photographers (18), wedding venues (3).

© 2019 Potok's World Photography - Husband & Wife Washington DC Wedding Photographers