Washington DC Same Sex Weddings
Waredaca Brewery Company in Maryland
As we have mentioned on this site, there are some great wedding venues in the rural areas surrounding Washington, DC. As DC wedding photographers, we have had the opportunity to work at some beautiful spots in suburban Maryland and Virginia. The towns outside of DC are chockfull of rustic farms for fiancés looking for barn weddings. There are also beautiful wineries for couples hoping to tie the knot amid lovely grapevines. Because most of the vineyards are in Northern Virginia, they also offer scenic views of the Blue Ridge Mountains. The chance to taste some of the most delicious wines in the Washington, DC, metro area is another great selling point!
Not everyone loves wine, of course. There are lots of future brides and grooms in the Washington area who want a venue themed around a different adult beverage. Namely, beer! Naturally, there are plenty of breweries in and around DC in which couples can exchange their wedding vows. The majority, however, are located either in downtown Washington or in the city's highly urbanized inner ring of suburbs.
There is a least one great option, though, for fiancés who want a brewery wedding in a rural setting. Waredaca Brewing Company, located on a horse farm in Laytonsville, Maryland, is only about an hour's drive from downtown Washington. It is an lovely wedding venue set in the rolling green hills of the area outside of the Nation's Capital. Brides and grooms can exchange their wedding vows with some of the finest natural beauty DC has to offer. Then they and their wedding guests can enjoy some tasty craft beers during their subsequent wedding reception.
The property on which the brewery currently sits was originally home to the Waredaca rural Maryland co-educational residential camp. As such, the name "Waredaca" (which the brewery later inherited) was a portmanteau created from "Washington Recreational Day Camp." In the years that followed, the Waredaca property transitioned from a day camp to a horse farm. It eventually became one of the best facilities for equestrian eventing and riding lessons in the Washington, DC, area.
Just like the horse farm with which it shares the property, the Waredaca Brewing Company is committed to sustainable business practices. For example, it reuses an existing building and minimizes disturbance to the surrounding land. Waredaca has refined its brewing practices to limit water usage and carbon dioxide emissions. It also gives the spent grain generated during the brewing process to local farmers for use as animal feed. The brewing company uses ingredients grown on the property in its beer and plants new fruit trees around the farm. Finally, it uses only reusable, recyclable or compostable products in its tasting room.
Same-Sex Wedding in the D.C. Metro Area
This same-sex couple booked Waredaca Brewing Company for their nuptials partly because of this approach to these social issues. Truth be told, they and their wedding guests were also serious aficionados of good beer. That is why, prior to their outdoor wedding ceremony, the two spent a few quiet minutes in the tasting room. Before tying the knot on the green lawn behind Waredaca's brewery, the two enjoyed a craft beer in private.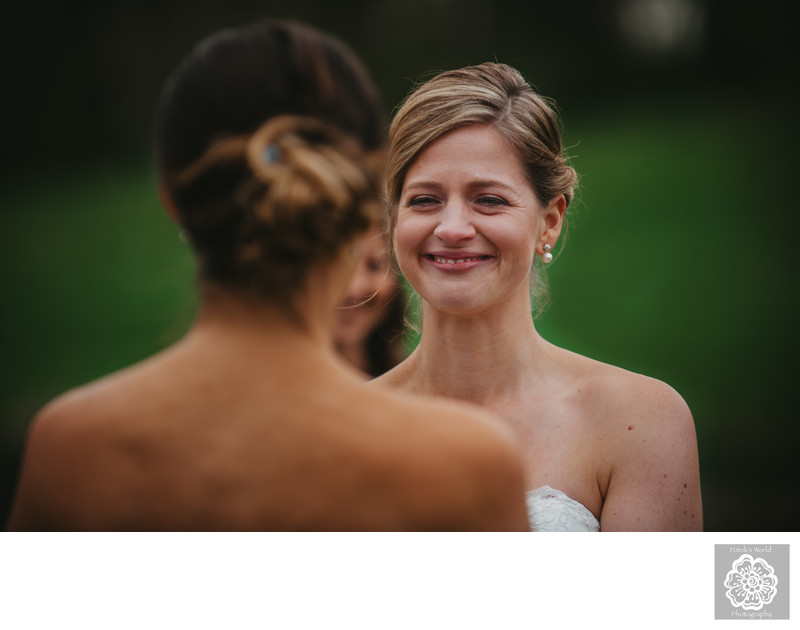 We captured the image featured here during their wedding reception after their lovely and touching exchange of vows. The party was a rollicking affair in a tent set up behind the space where they held their ceremony. Before the celebrations started in earnest, though, this same-sex couple entertained their guests with a carefully choreographed first dance. The highlight of that part of their wedding day was when one bride pulled the other close. The first then twirled her new wife around and dipped her low to the ground. As their wedding guests cheered and celebrated, we stepped closer and got the moment on film. The result was one of the best pictures we have ever taken as DC wedding photographers.


Location: Waredaca Brewing Company, 4017 Damascus Rd, Gaithersburg, MD 20882, USA.

Keywords: DC wedding photographer (18), DC wedding photographers (39), DC Weddings (6), Washington (18).

© 2019 Potok's World Photography - Husband & Wife Washington DC Wedding Photographers