National Gallery of Art DC Engagement Photos
The National Gallery of Art is a superlative location your DC engagement photos. In a city filled with great options for your couples portraits, it still manages to stand out. If you are still debating potential locations for your portraiture, you should give serious consideration to the National Gallery. Every Washington DC wedding photographer will rave to you about the museum's photographic possibilities.
Engagement Photographers Washington DC Art Museums
As we have mentioned elsewhere on this website, it is the diversity of backdrops that make the National Gallery so enticing as a location. If you are a fan of the traditional, then the West Building is the right fit for you. John Russell Pope designed its exterior in the neoclassical style that is so common in the Nation's Capital. Its columns and dome remind you of the architecture of Pope's other two famous DC buildings, the Jefferson Memorial and the National Archives. Your DC wedding photographers can get gorgeous photos of the two of you posing on the edifice's stately steps. The works that hang inside the West Building are similarly traditional. The museum offers visitors views of paintings and sculptures by legendary European masters like Vermeer, Rembrandt, Monet, van Gogh and Leonardo.
If your sensibilities run more to the abstract, then you should think about scheduling your couples portrait session in or near the East Building. Standing in stark contrast to the West Building's orthodox "H" shape is the triangular motif that marks the other half of the museum. Renowned architect I.M. Pei put two three-sided towers together to create an irregular trapezoid in the nook between Pennsylvania Avenue NW and Madison Drive NW. The inside of the East Building is dedicated to modern and contemporary art. As such, it features works by Picasso, Matisse, Pollock, Warhol and Lichtenstein. If you choose this site for your couples portrait, you are going to get some pictures that push the boundaries of creativity. A spot that is particularly beloved by DC wedding photographers is the zigzagging staircase connecting the building's top and bottom floors.
If you want a location that marries art and nature, the National Gallery offers that too. Its Sculpture Garden, which sits between the West Building and the Smithsonian National Museum of Natural History, is an ideal place for creative outdoor portraits. That part of the National Gallery contains numerous abstract installations set in a grassy park and surrounded by tall hedges. It offers you that rarest of qualities: privacy in an otherwise busy urban milieu.
If you are looking for something one-of-a-kind, though, you should plan a stop at the Concourse. That part of the museum has a subterranean walkway that connects the East and West Buildings under 4th Street NW. Said passageway offers something you cannot find in any other location in the National Gallery. It is so unique, in fact, that you can arguably not find its like anywhere in the world. The walkway between the two halves of the museum has been turned into a spectacular artistic installation. "Multiverse," as it is known, is a 200-foot-long metal tube outfitted with more than 41,000 LEDs. Those lights blink on and off in intricate patterns that transform the transit between buildings into a delightful experience. Not surprisingly, Multiverse is a place in which your Washington, DC wedding photographer can create dazzlingly creative images of you and your future spouse.
As you can see in the picture featured here, we took these lovely spouses-to-be to the National Gallery of Art for their engagement session. Naturally, we did not pass up the opportunity to stop by Multiverse to take advantage of its unique appeal. This particular couple looked so good, though, that we decided to deemphasize the tunnel and lights a bit, so as not to distract attention from them. The texture of Multiverse's surface still makes for a lovely and interesting background, but the focus of the image remains where it should be.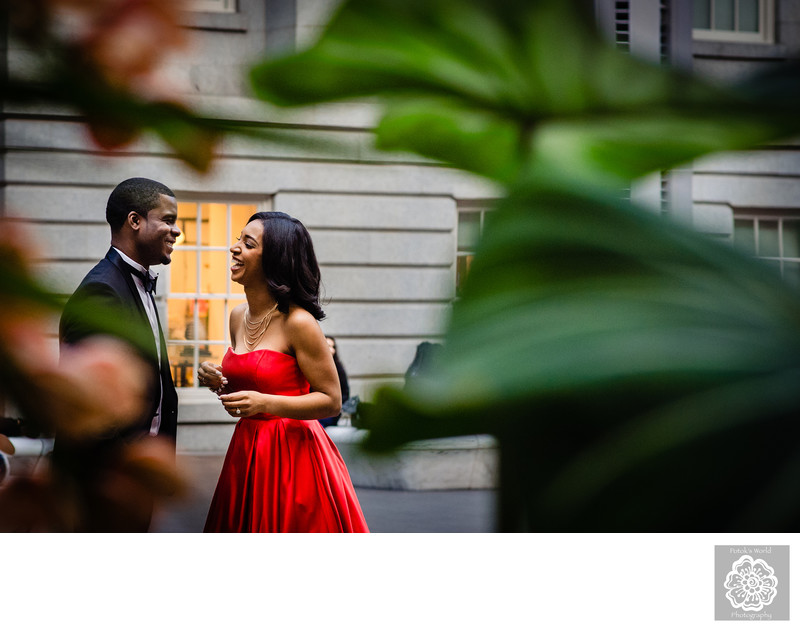 Location: National Gallery of Art, Constitution Ave NW, Washington, DC 20565.
© 2020 Potok's World Photography -- Husband & Wife Washington DC Wedding Photographers