National Gallery of Art Engagement Photos
Couples portraits with a DC feel do not get much better than National Gallery of Art engagement photos. Even in a city filled with great locations for engagement photoshoots, that museum still manages to stand out. So if you are looking at locations for your engagement session, you should give serious consideration to the National Gallery of Art. Any local engagement photographers that you ask will rave about the kind of images you will get there.
What Makes National Gallery of Art Engagement Pictures Special
The number one reason why we recommend this venue to couples is its versatility. It has four distinctly different sections with different architecture and housing different types of exhibits. As backdrops for your engagement pictures, each one gives you a very specific look and feel. That means that whatever your specific tastes, you are going to get National Gallery of Art engagement pictures that fit your sensibilities.
Traditional Engagement Photoshoot at the National Gallery of Art West Building
If you want engagement photos with a very traditional feel, then the venue's West Building has you covered. John Russell Pope designed its exterior in the neoclassical style that is so common in the Nation's Capital. Its columns and dome remind you of the architecture of Pope's other two famous DC buildings, the Jefferson Memorial and the National Archives. That means gorgeous and very Washingtonian engagement photos of the two of you posing on the edifice's stately steps.
The works that hang inside the West Building give an engagement photoshoot at the National Gallery of Art a similarly traditional. The museum offers visitors views of paintings and sculptures by legendary European masters like Vermeer, Rembrandt, Monet, van Gogh and Leonardo. Engagement photos in this part of the museum have an especially classy and elegant feel.
Creative National Gallery of Art Engagement Photos in the East Building
If your sensibilities run more to the abstract, then you should think about doing your engagement photos in the venue's East Building. Standing in stark contrast to the West Building's orthodox "H" shape is the triangular motif that marks the other half of the museum. Renowned architect I.M. Pei put two three-sided towers together to create an irregular trapezoid in the nook between Pennsylvania Avenue NW and Madison Drive NW.
The inside of the East Building is dedicated to modern and contemporary art. As such, it features works by Picasso, Matisse, Pollock, Warhol and Lichtenstein. If you choose this site for your engagement portraits, you are going to get some engagement pictures that push the boundaries of creativity. A particular fan favorite is portraits on the zigzagging staircase connecting the building's top and bottom floors.
Natural National Gallery of Art Engagement Session in the Sculpture Garden
If you want a location that marries art and nature, the National Gallery of Art offers you that too. Its Sculpture Garden, which sits between the West Building and the Smithsonian National Museum of Natural History, is an ideal place for a creative outdoor National Gallery of Art engagement session. That part of the National Gallery contains numerous abstract installations set in a grassy park and surrounded by tall hedges. It offers you that rarest of qualities: privacy in an otherwise busy urban milieu.
Unique Engagement Photos in the National Gallery of Art Light Tunnel
If you are looking for something one-of-a-kind, though, you should plan a stop at the Concourse. That part of the National Gallery of Art has a subterranean walkway that connects the East and West Buildings under 4th Street NW. Said passageway offers something you cannot find in any other location in the National Gallery of Art. It is so unique, in fact, that you can arguably not find its like anywhere in the world. It is the ideal setting for engagement photos in the National Gallery of Art that really stand out.
The walkway between the two halves of the museum has been turned into a spectacular artistic installation. "Multiverse," as it is known, is a 200-foot-long metal tube outfitted with more than 41,000 LEDs. Those lights blink on and off in intricate patterns that transform the transit between buildings into a delightful experience. Not surprisingly, Multiverse is a place in which your engagement photographers in Washington DC can create dazzlingly creative portraits of you and your future spouse.
Engagement Portraits at Multiverse in National Gallery of Art
The image featured here is a great example of what the best engagement photographers can do with that space. We took it at the end of an extended engagement session we did with this lovely couple throughout downtown DC. We brought them first to the National Portrait Gallery and American Art Museum. Afterwards, we walked down 7th Street NW toward the National Mall. Along the way, we made an impromptu stop at the old National Bank of Washington building. That edifice's distinctive gold door was glowing in the winter sun and made for a great backdrop in portraits of the couple.
Our final destinations were the National Gallery of Art and more specifically the Multiverse exhibit. Despite the museum's broad array of charms, we felt that only pictures at that spot fit the aesthetic of this couple's session. Once we reached the location, we went straight to the walkway and had these future newlyweds ride back and forth as we created portraits of them.
The best image from that sequence was this one, which surprised us a bit. The exhibit is not so prominent in this one, relative to the subjects. Though the texture of Multiverse's surface still makes for a visually interesting background, the focus of the image remains on the couple. Where it belongs. They just look so good, and their interaction is so lovely, that it would have been a shame to emphasize anything else.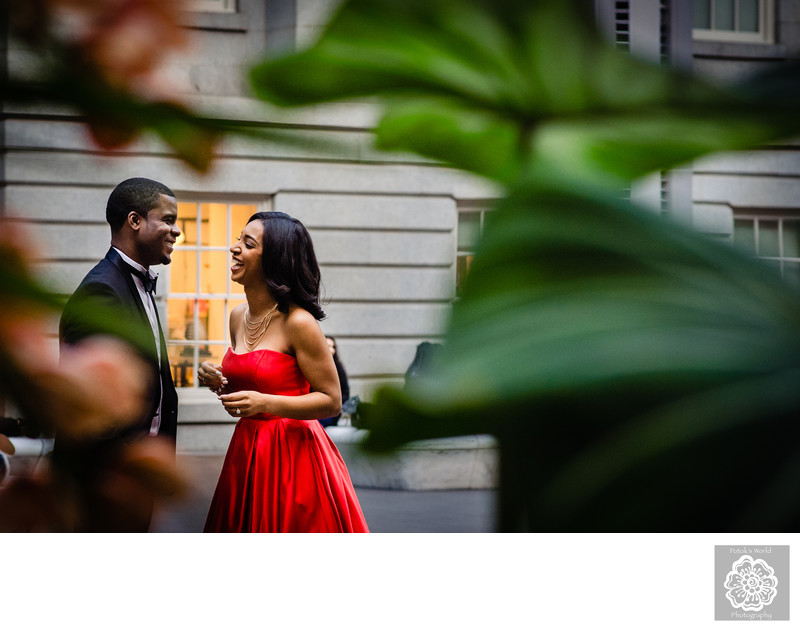 ---
Contact Us for More Information!
Interested in learning more about our services? Please visit our Wedding Photography FAQ page for answers to all your questions! Ready to inquire about our availability on your wedding date? Contact us now to get the conversation started!
Location: National Gallery of Art, Constitution Ave NW, Washington, DC 20565.
© 2023 Potok's World Photography - Husband & Wife Washington DC Wedding Photographers