Indian Wedding Photographer Washington DC
Indian weddings are special events -- one-of-a-kind celebrations of a couple's commitment to one another. Documenting them photographically and preserving the memories from them requires very specific skills and qualities. So if you are planning an Indian marriage celebration in the DC metro area, then you need to pick wedding photographers who are up to the task. On the surface, that might seem easy. Just find someone who has photographed a lot of other Indian weddings, right? But for reasons we will discuss below, that alone is not good enough. You need an Indian wedding photographer in Washington DC with more than just experience.
What to Look for in a DC Indian Wedding Photographer
So what else do you need to look for to ensure that you get photos that do your marriage celebrations justice? Here are three important qualities that we think a great DC Indian wedding photographer needs to have:
A Washington DC Indian Wedding Photographer Must Be Curious About New Culture
Finding a Washington DC Indian wedding photographer who knows wedding traditions in South Asia is very important. Marriages in that part of the world are unique, and documenting them properly requires knowing what will happen when. But as we mentioned above, generic experience photographing Indian weddings is not enough.
Why? For starters, because India is a big and incredibly, incredibly diverse country! Marriage traditions in the north, south, east and west are similar, but not exactly the same. Though Indian Hindu, Muslim, Sikh, Christian, Buddhist and Jain weddings all have a distinct South Asian flavor, the specific customs are very different. Even specific communities in the same Indian state do not celebrate weddings the same way! With that in mind, we suggest that you also focus on finding wedding photographers with a track record of documenting a lot of different kinds of marriage traditions. Ones who are curious about other cultures and interested in learning about the diversity of the world.
Why does this matter? Because telling your wedding-day story in pictures means knowing not only what makes your celebrations Indian. It also means understanding what makes your celebrations unique to you. It requires talking with you before your wedding to get a feel for the little aspects of your wedding that are both quintessentially Indian and personal to you and your future spouse. And that is a skill developed through years of traveling the world and learning about other cultures. And of course, through photographing weddings celebrated with diverse traditions. (Please click here to learn more about our international backgrounds and how that has informed our experience documenting weddings.)
The Best Washington DC Indian Wedding Photographers Must Focus on Your Families
Familles are an important part of any wedding celebration. In any culture, a marriage represents to some degree the joining together of two families. Nowhere is this more true, however, than in India. We have photographed weddings celebrated in accordance with cultural traditions from every corner of the globe. And we have never documented one in which families are more important than they are in Indian celebrations. Your parents, grandparents, aunts and uncles, siblings and cousins who are like siblings are really critical players in your wedding event. And your Washington DC Indian wedding photographers really need to know how to highlight that in your pictures.
As you look for people to document your wedding photographically, though, pay particular attention to HOW their pictures reveal the importance of family at Indian weddings. Look beyond the family formal portraits (the ones with everyone standing in a row and smiling at the camera). Yes, they are vital parts of your wedding album. But they do not show what those people mean to you. They do not show the connection that binds you together as a family. They do not show the love you have for one another.
So what should you look for when you are flipping through portfolios? Keep an eye open for images that show emotionally significant moments at a wedding. Pictures that show genuine feelings and meaningful interactions. Photos that tell the story behind the relationships an Indian couple have with their families.
Indian Wedding Photographers in DC Should Be Fun to Be Around
It is really important that you like your wedding photographers. Why? Because they will be among the only service providers who will be with you during your entire marriage event. If you do not click with them, that is going to be an unpleasant experience for everyone involved. And that is the last thing that you want on your wedding day!
Having photographers who are fun to be around is even more important at an Indian wedding. As you know, Indian marriage celebrations are big, crazy affairs. There are always tons of people around and lots of things happening all at once. It can honestly get a little stressful or overwhelming for some folks. The best Indian wedding photographers in DC, though, are not the least bit fazed by this. They enjoy all the madness and connect with your family and friends. Ideally, all of your wedding guests should leave your marriage celebrations saying, "Wow! What a pleasure it was to have those photographers present! They really fit in and felt more like friends than like service providers!"
Real Emotional Moment by Indian Wedding Photographer Washington DC
We captured this award-winning image at an Indian wedding celebration at the Silver Spring Civic Building in suburban DC . It shows, in our opinion, what is possible when photographers possess the qualities mentioned above.
The family of this bride from the Coorg/Kodava community in India. (If you are not familiar with this particular ethno-linguistic group, they are the historical residents of an eponymous district in southern Karnataka.) Though their wedding traditions share many of the elements found in a typical Hindu wedding, there are many things about them that are unique. For example, there is no priest and no chanting of mantras during the ceremony. Driven by our profound curiosity and desire to ensure that our photos did this bride's matrimony justice, we spent a lot of time with her learning the significance of each part of her wedding day. That way, we were ready with our cameras every time something important happened.
Knowing how important family is in an Indian wedding, we were also in position every time there was the possibility of a significant emotional moment between the bride and a family member. For example, when all her guests lined up to congratulate her and her groom immediately after they tied the knot. We knew that their happiness for her and her joy at having them present were sure to lead to some beautiful moments. Sure enough, that portion of her day was filled with moments of pure, unadulterated elation like the one captured here. And because we know how to photograph Indian weddings the right way, we preserved them for this bride to treasure forever.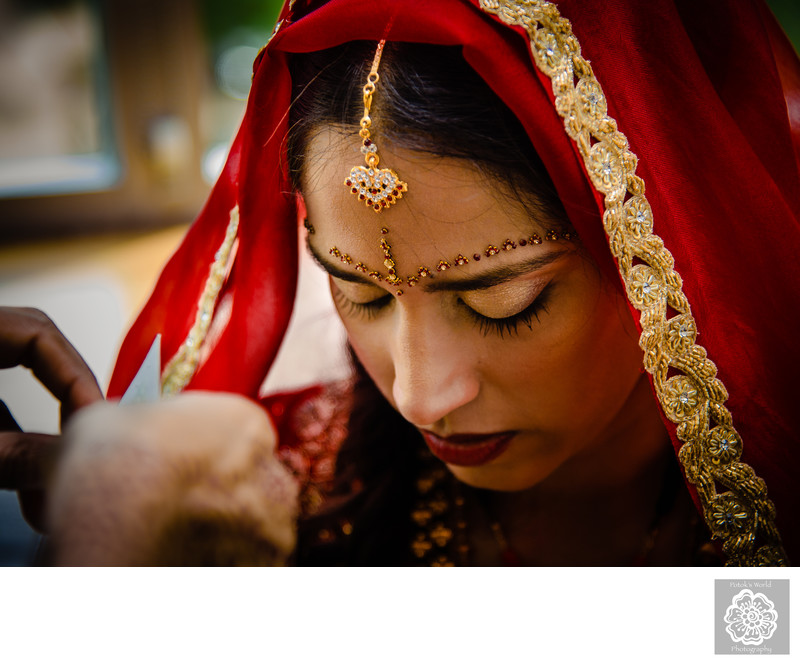 ---
Contact Us for More Information!
Interested in learning more about our services? Please visit our Wedding Photography FAQ page for answers to all your questions! Ready to inquire about our availability on your wedding date? Contact us now to get the conversation started!

Location: Silver Spring Civic Building, 1 Veterans Pl, Silver Spring, MD 20910.

Keywords: DC Wedding (12), DC wedding photographer (11).

© 2023 Potok's World Photography - Husband & Wife Washington DC Wedding Photographers