One of the enduring lessons that we have learned in 2020 is that simple weddings are every bit as beautiful as more elaborate ones. In fact, they are even lovelier in some ways. Why? Because a smaller marriage celebration forces a couple to distill their event down to the very basics. And what is left is only what really matters most. Devin and Brent's Capitol Hill wedding on New Year's Eve 2020 really drove that point home for us. Like many weddings during the pandemic, theirs was a simple event. But it was one of the most heartfelt and touching that we had the pleasure to photograph last year. As such, it was a good note on which to bid "fair morrow" to one of the oddest and most tumultuous years for weddings that we have experienced.
Smaller Weddings = More Heart…
To expand on what we said above about the beauty in smaller marriage celebrations, the pandemic has made all of us stop to think about what is most important in our lives. And at least in our experience, that is the relationships we have with our family and friends. Almost everything beyond that is nice but not ultimately essential.
And what is a wedding at heart if not a celebration of relationships? It is about sealing a lifetime one between the two spouses-to-be, of course. But it is also about recognizing the value of the bonds each has with their family and friends. And about forging new relationships with and among in-laws. Yes, the party aspects of a wedding are fun and part of the process of creating new shared memories. But what is really at the heart of every marriage celebration? The couple committing themselves to one another forever in the presence of those closest to them. And that is always a beautiful thing, even when you strip away all of a wedding's normal grandeur and circumstance.
…and Meaningful Photos
As we have said many other times on this website, the photos you get from a smaller wedding are also no less meaningful than ones from larger events. Actually, they can be even more so in many ways. With a smaller celebration, almost your entire focus will be on that sacred exchange of vows with your future spouse. With fewer distractions, you can be fully present in that beautiful moment. You can appreciate the significance of what you're doing more fully. And you can experience your emotions completely authentically.
In our experience, that genuineness is the one essential ingredient in any unforgettable wedding picture. The more real and natural your emotions are, the more impactful the images of those critical moments are going to be. And again, when you and your future spouse are relaxed and worry-free, everything you feel and experience will be pure and unforced.
That was certainly the case during Devin and Brent's wedding on Capitol Hill. Tying the knot in the company of just their closest family allowed the bride and groom to focus entirely on one another. They felt free to lose themselves in the presence of their soulmate and really enjoy the process of getting married. And we'd like to think that shines through in the photos we took of them on New Year's Eve 2020.
Lovely Micro Wedding Ceremony at Capitol Hill Church
Devin and Brent's aforementioned ceremony took place at St. Joseph's Roman Catholic Church on Capitol Hill. That venue is a neighborhood icon that sits just steps from Capitol Hill's most famous landmark. Though the couple did not hold a Catholic ceremony, the church was kind enough to offer them a space for their nuptials anyway. Devin's father is a pastor with a longstanding relationship with St. Joseph's on Capitol Hill (as the venue is popularly known) and was a natural choice to officiate.
Having the bride's father so involved in the event naturally contributed to the sweet and touching feel of Devin and Brent's wedding. His first look with his daughter before the ceremony was a lovely moment marked by laughter and loving smiles. During the ceremony, the words he spoke to them and scripture he quoted in his blessings were heartfelt and personal in ways that no other officiant's could be. Similarly, the little jokes he weaved into his remarks never failed to bring a smile to the faces of the bride and groom.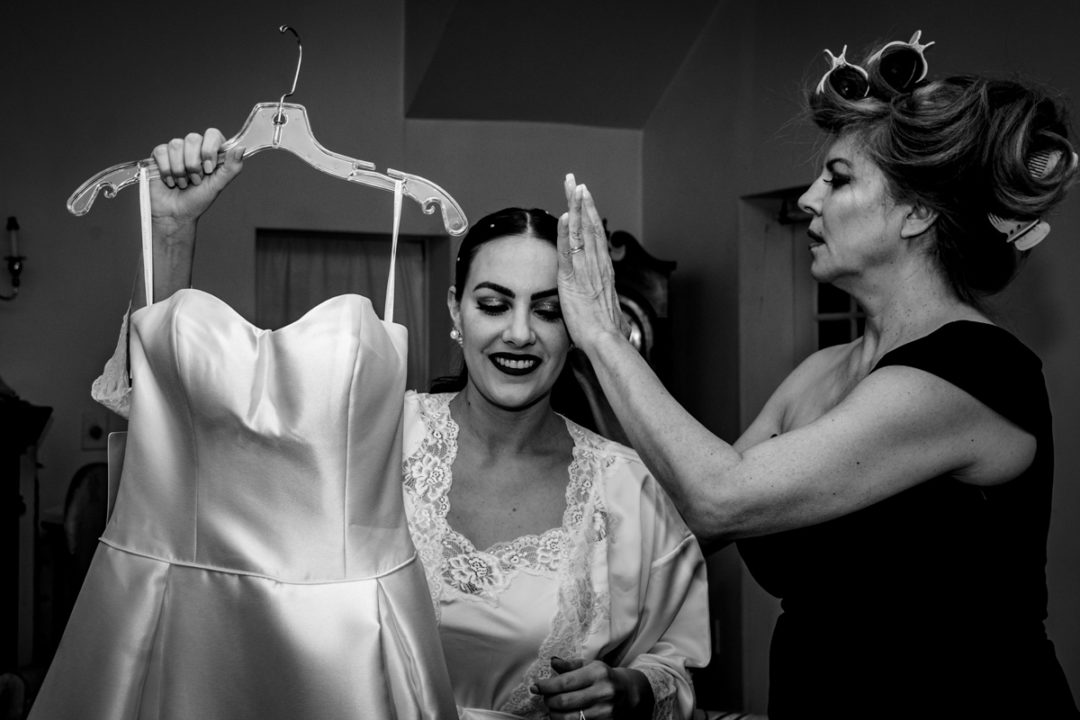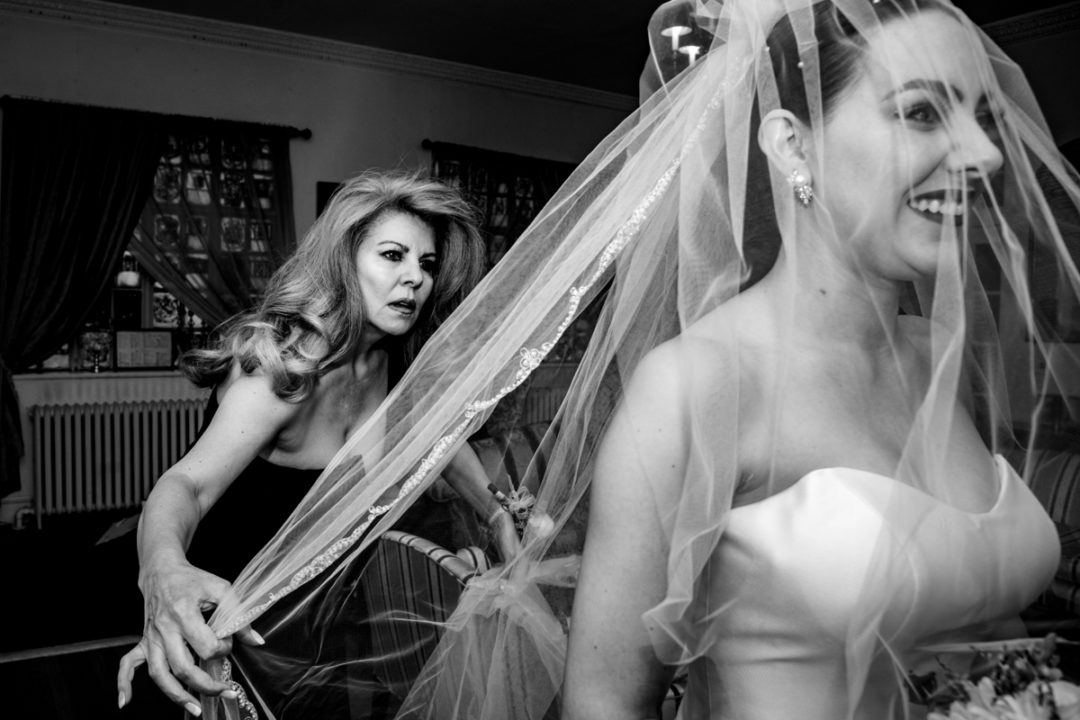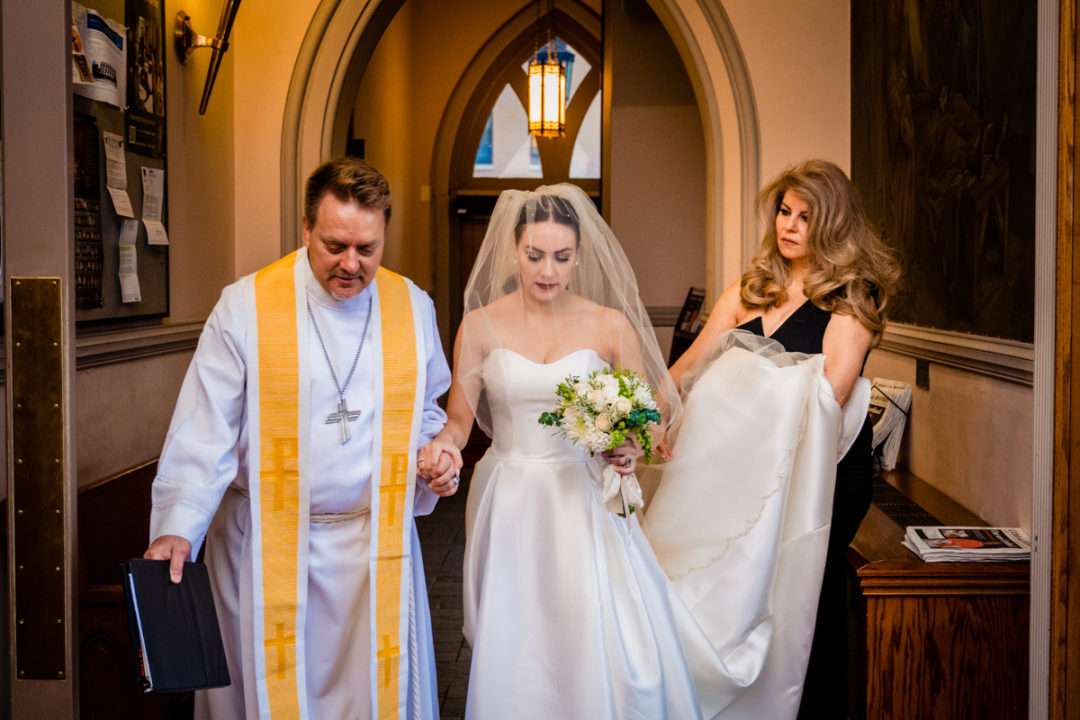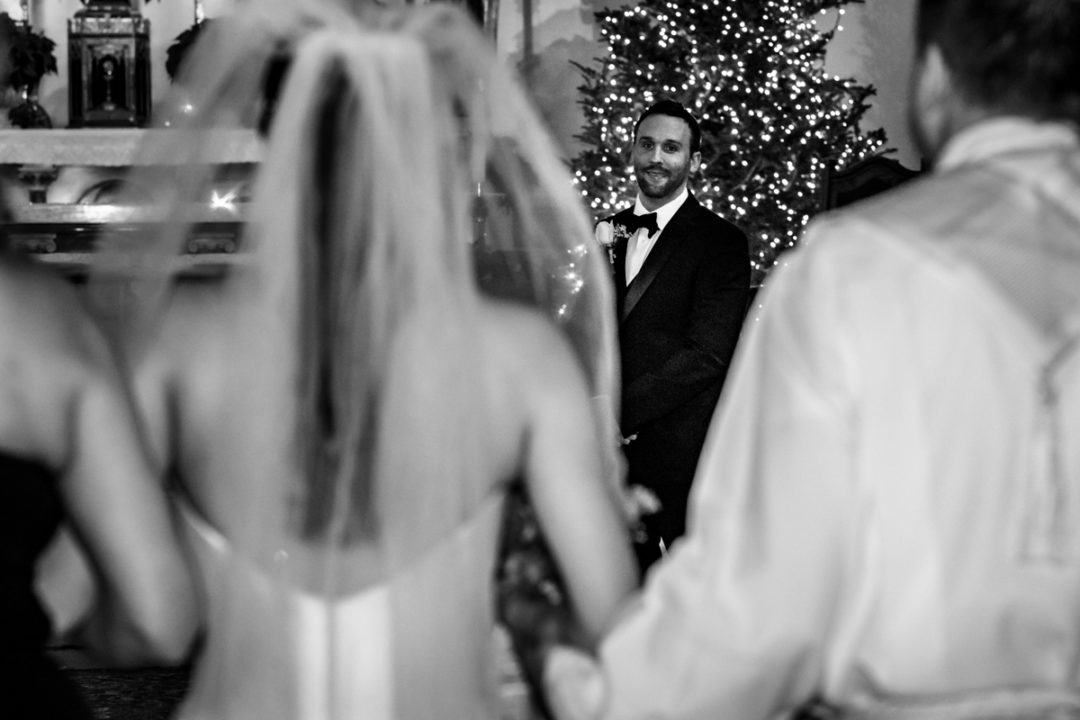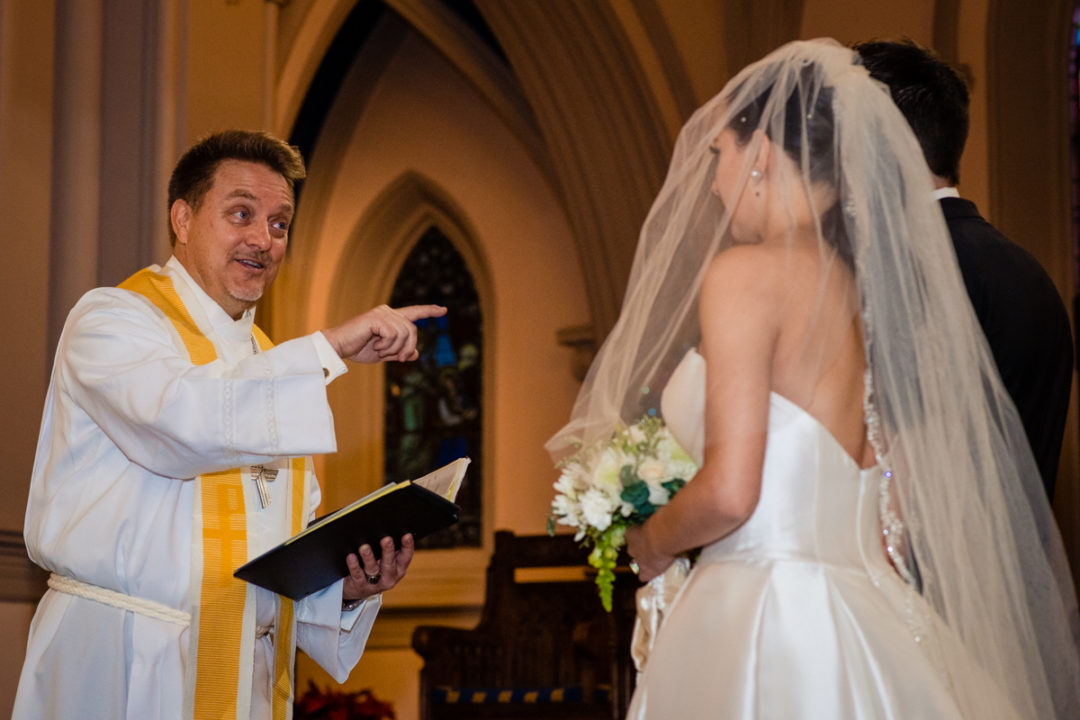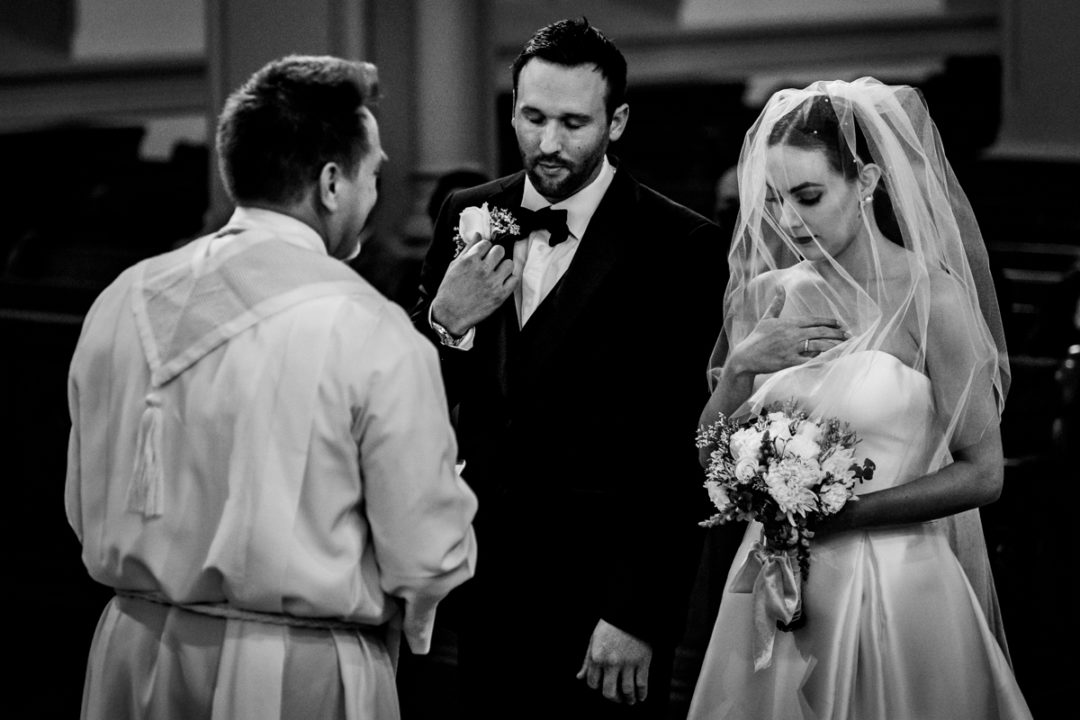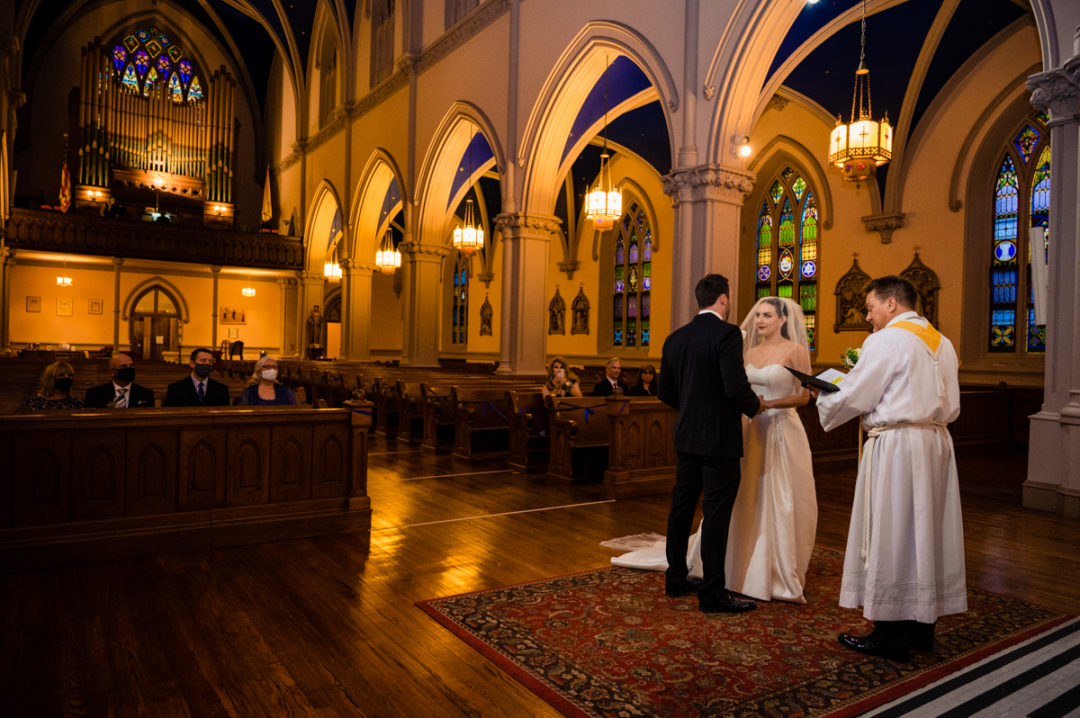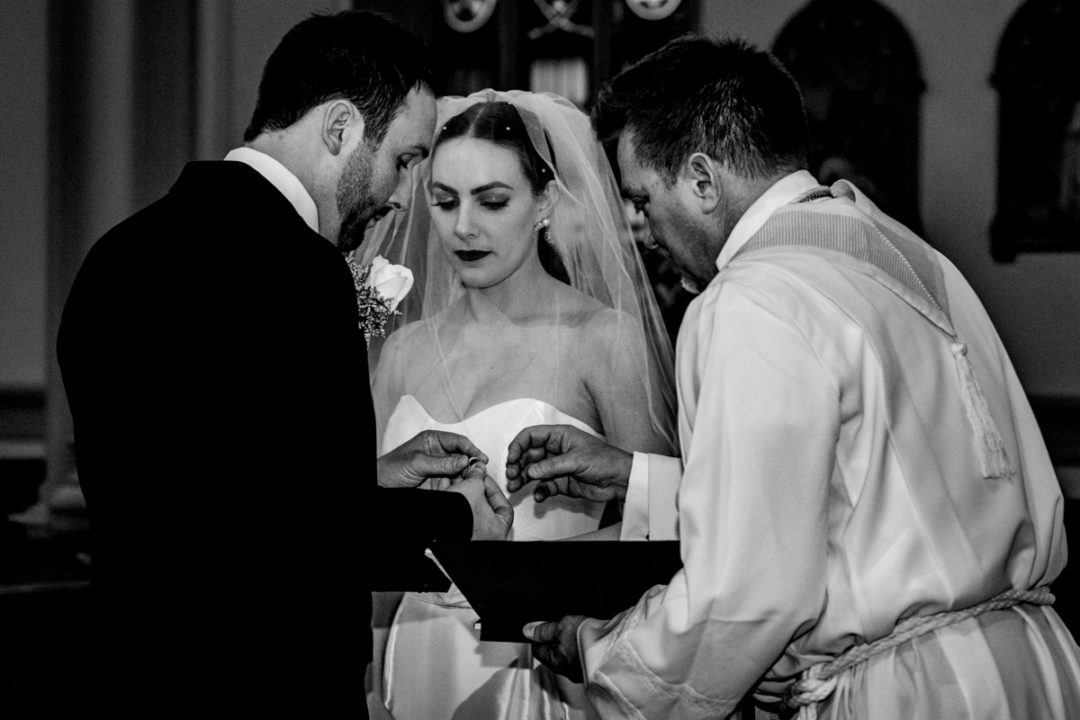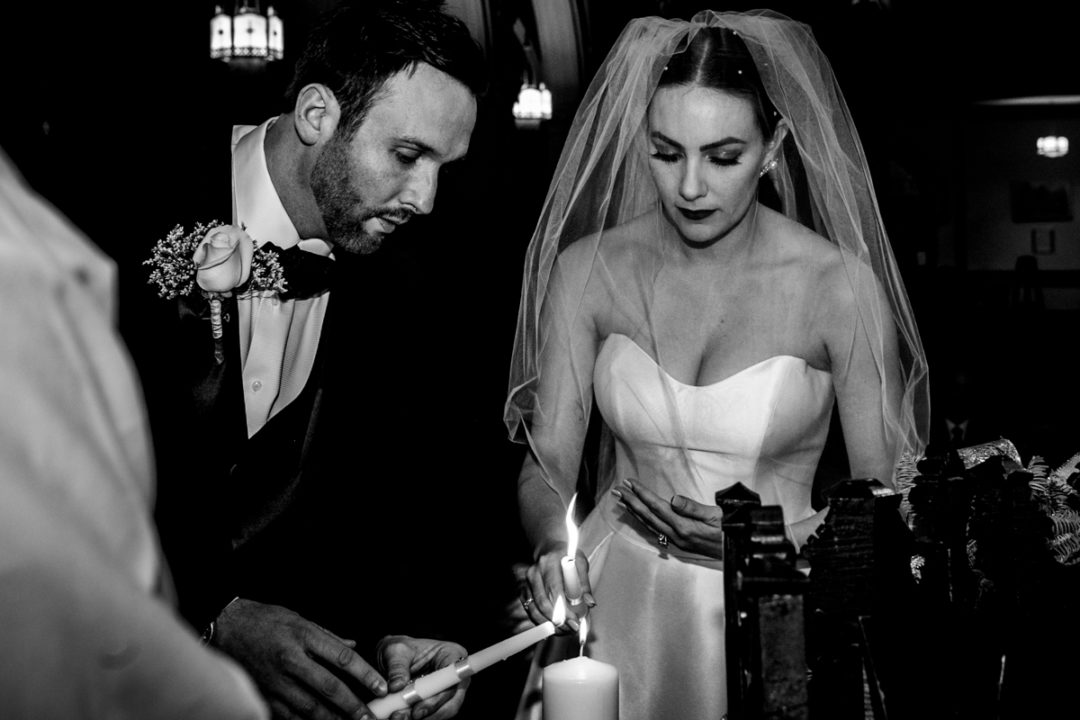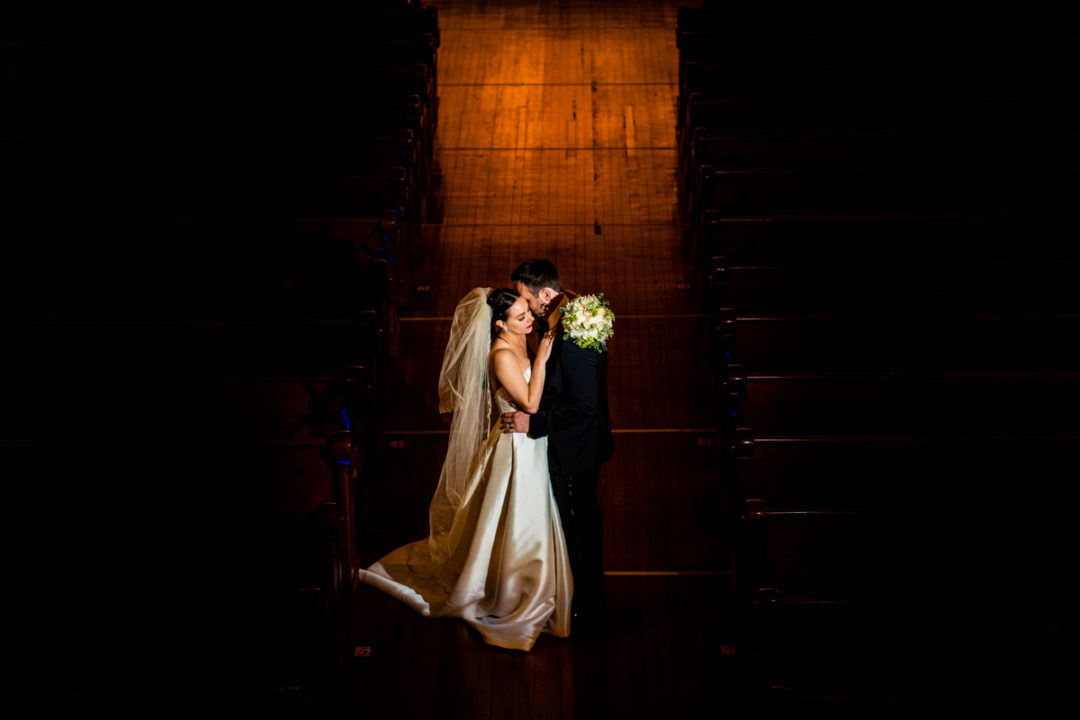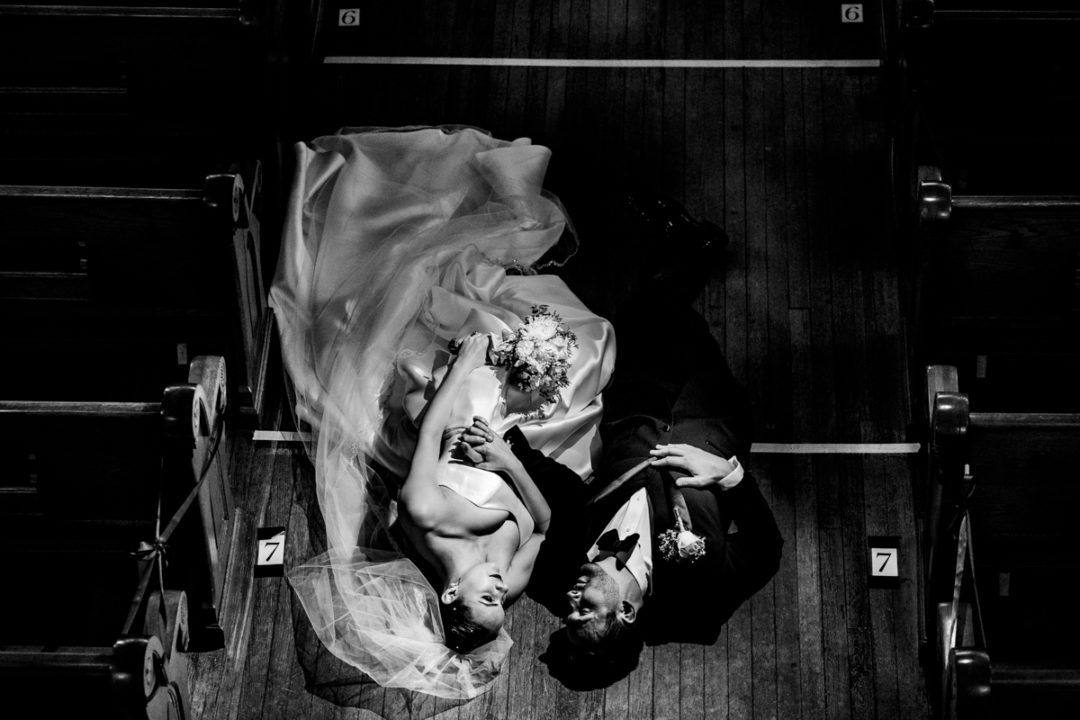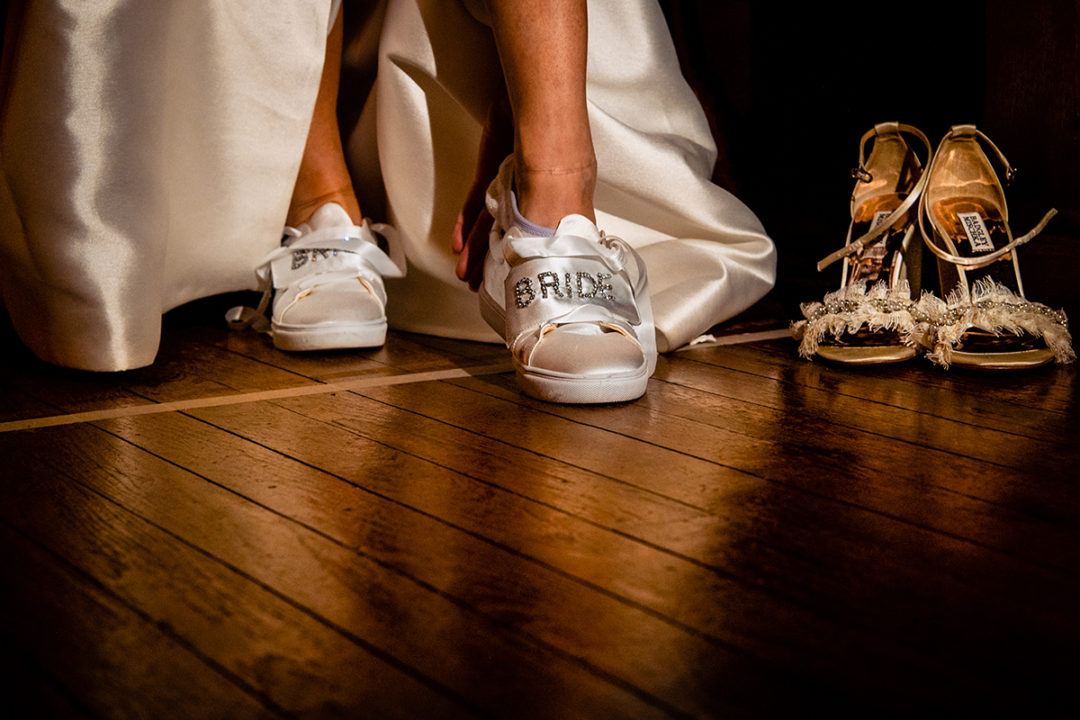 Capitol Hill Wedding Portraits
After the ceremony concluded, Devin and Brent bid their small assembly of guests a brief farewell. They planned to meet back up with them later in the evening for an intimate dinner. Before they did, however, the newlyweds wanted to be sure to get some beautiful Capitol Hill wedding portraits.
Doing their post-ceremony portraits around the U.S. Capitol was not just about taking advantage of one of DC's most iconic landmarks. For Devin and Brent, it was also personal. Neither is originally from the Nation's Capital. Since they came to Washington DC, though, Capitol Hill has been their home. More importantly, it is where they first lived together as a couple and used to go for walks together around the Capitol. And as such, the location was a very crucial part of their love story. They had so many shared memories of moments enjoyed in that neighborhood that the setting brought out an extra layer of romance in the way they interacted with one another.
We started by bringing them from the church to the other side of the U.S. Capitol building. The area between the building and its famous reflecting pool is one of the best places in DC for couples portraits. As you can see in Devin and Brent's photos, it is obviously perfect spot for jaw-dropping portraits of a couple with the iconic dome rising behind them. At the same time, you can get gorgeous shots of you embracing with the Washington Monument in the background just by turning around. Finally, that location is secretly the best inside the District for sunset portraits. It is one of the few places in downtown DC with a clear view of the western sky. (Unfortunately, it was cloudy and drizzly during Devin and Brent's couples portrait session.)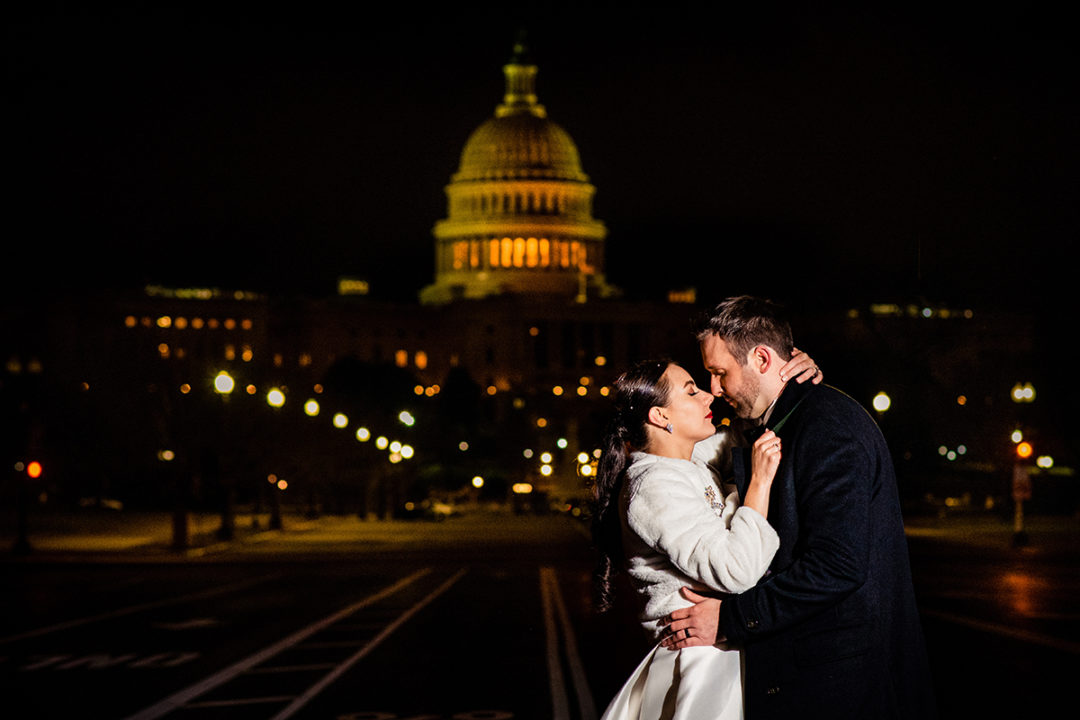 Wedding Photos at the National Gallery of Art
After finishing with those quintessentially Capitol Hill matrimonial pictures, we brought Devin and Brent around the exterior of the East Building of the National Gallery of Art. That museum's offbeat architecture and style proved a great spot for more creative shots. We used artificial lighting and colorful "gels" to craft striking silhouettes of the couple against the building's walls.
Devin and Brent's portrait session concluded, though, with a return to what drew them to this part of DC in the first place: Capitol Hill. We didn't have to bring them all the way back there, though, for photos with that feel. Instead, we just had them pose in the middle of Pennsylvania Avenue NW. That street connects the White House and the Capitol, and is wide enough that few trees or buildings obstruct the view. More importantly, its bike lane is in the median, which makes it possible for you to pose directly in front of the Capitol Building. We had Devin and Brent stand there and took a variety of wider and closer shots of them. Our favorites, though, happened when Brent took advantage of the setting and the moment to dip his new bride — a spontaneous moment that made for memorable portraits.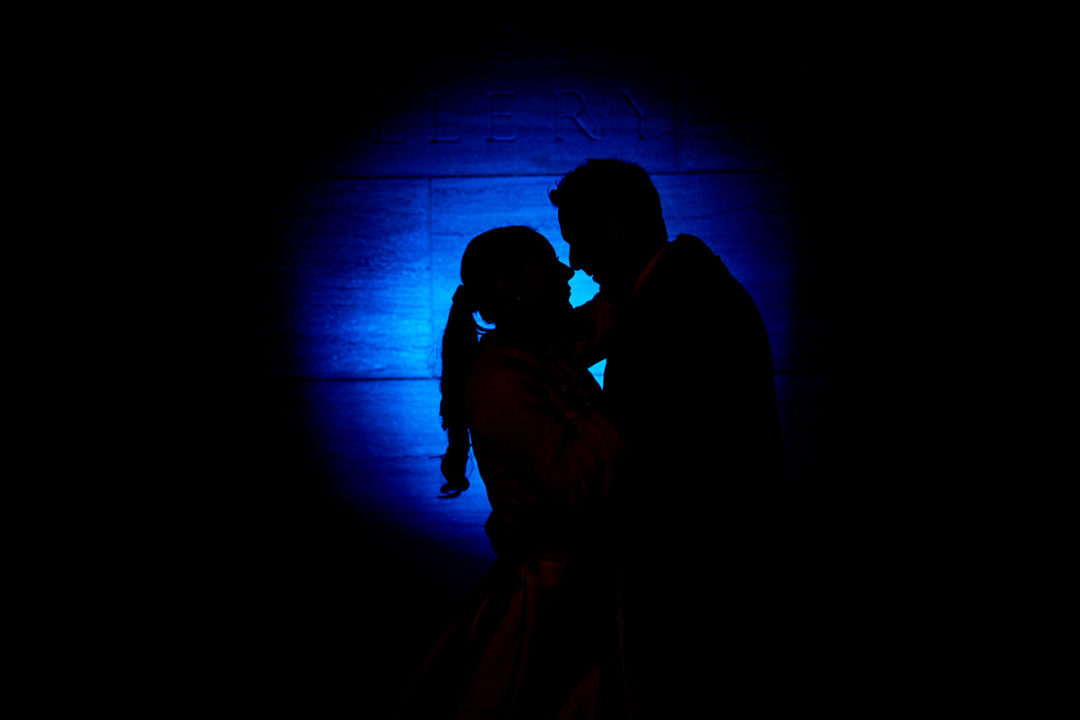 Thanks so much, Devin and Brent, for allowing us to be a part of your lovely micro wedding! We appreciate your trust!
---
Contact Us for More Information!
Interested in learning more about our services? Please visit our Wedding Photography FAQ page for answers to all your questions! Ready to inquire about our availability on your wedding date? Contact us now to get the conversation started!