Amid the darkness of the past few months, it has sometimes been hard to find the positives. From economic disruptions to fear and panic to loss of loved ones, it often seems that all the news is bad. We're here to tell you, though, that there are still glimmers of light and hope in the era of coronavirus. And that they shine all the brighter exactly because of how bad things are right now. One of the biggest rays of hope is what we DC wedding photographers are seeing in our industry. Soulmates are showing that no pandemic can extinguish their love. They are demonstrating that no lockdown restrictions can keep two people from finding ways to start a life together. They are still getting married or taking engagement photos during coronavirus without putting themselves and others at risk.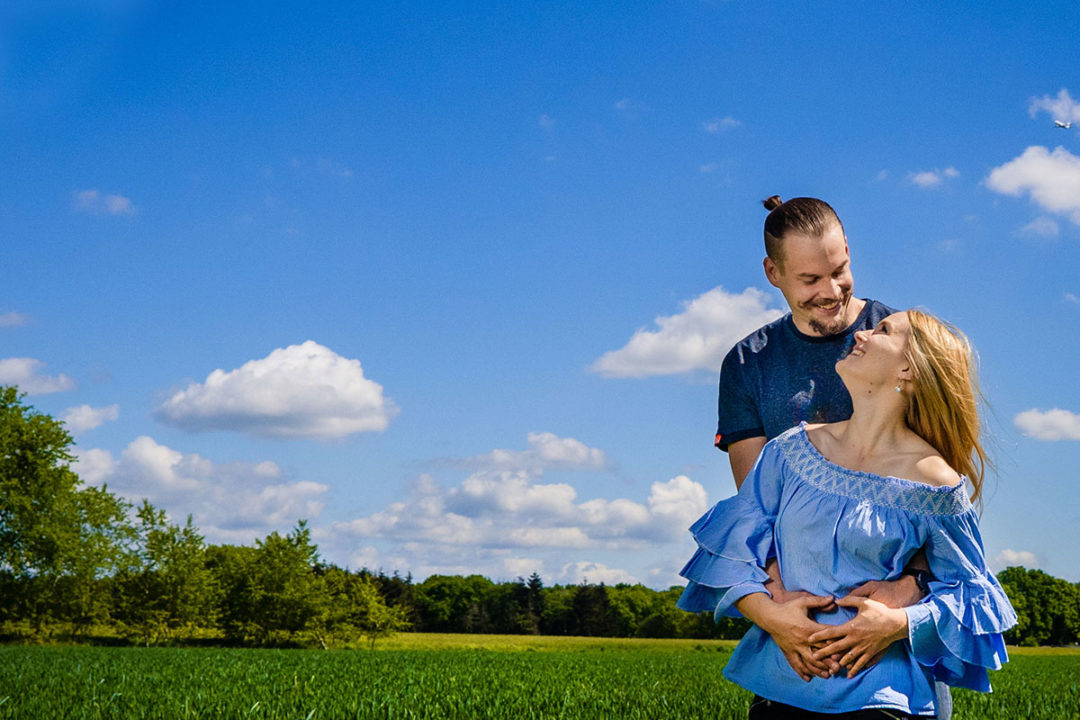 Small Intimate Wedding Ceremony Options
We've mentioned elsewhere on our website and on this blog that there are a number of ways to hold a wedding during the coronavirus lockdown, even if you are still planning a bigger, more conventional celebration in 2021. Elopements in place, minimonies, microweddings and Zoom weddings all allow you to tie the knot without endangering others. Take it from us, those ceremonies, the declarations of love and the resulting photographs are every bit as touching and memorable as ones from a more standard wedding.
If any of these options sound good to you, we encourage you to contact us to discuss how we can help you document your marriage celebrations. We would love to tell you more about the packages we are currently offering for a small intimate wedding . We are committed to telling your love story with our pictures, no matter what form your wedding ceremony takes.
Engagement Photos During Coronavirus 
In a similar vein, an engagement session during coronavirus is also a very feasible option. If one of you popped the question recently, we would be more than happy to create gorgeous images of the two of you. In fact, that kind of photoshoot is actually quite a bit safer than several of the wedding options. With the question of inviting guests moot, any risk of spreading the virus goes way down. An engagement session during COVID-19 would just be the two of you and the two of us.
Naturally, we will also take precautions to ensure that the already minimal risk is as close to zero as possible. In addition to wearing masks throughout your engagement session, we will also keep an appropriate distance from the two of you. Actually, no guests makes this really easy for your DC wedding photographer to do. We can get whatever angles we need without having to worry about being too close to others. By using longer lenses, we can still get very romantic and intimate images of you without getting too near. And obviously, getting wider shots from a distance is just as easy with social distancing as without.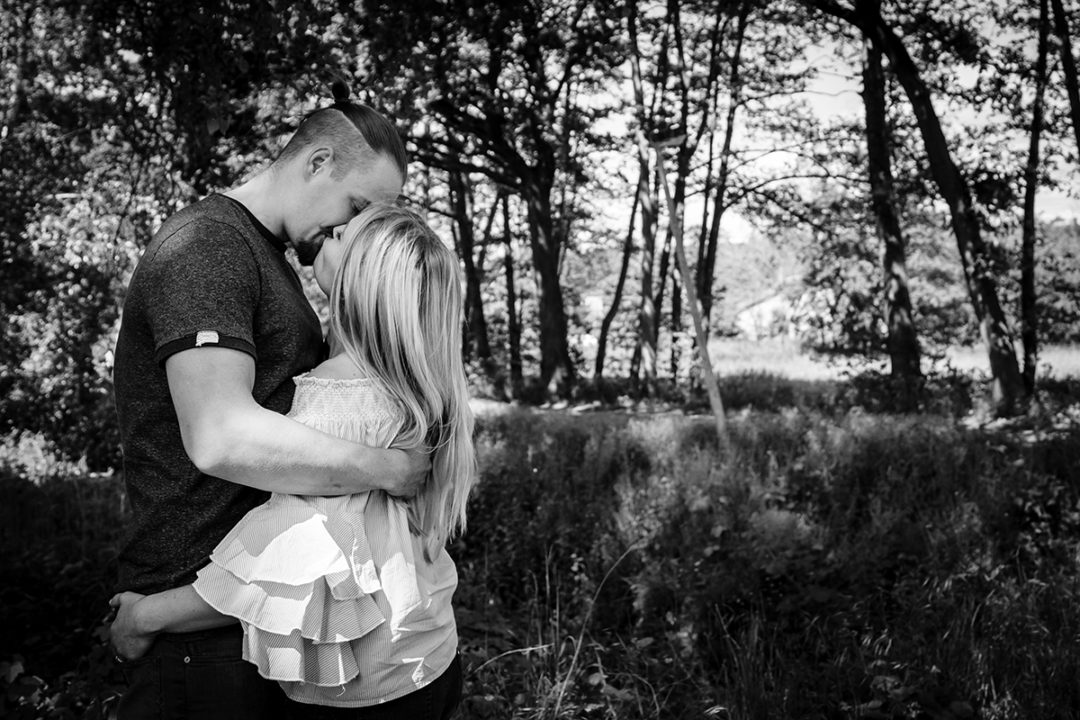 Destination Engagement Photos
During this particular destination engagement session during COVID-19, we got a mix of both kinds of images. We got plenty of beautiful closeups (again, from a distance) of Lisa and Tilman cuddling and embracing. For example, we captured lovely images of them kissing while sitting on a small bridge traversing a creek. Those were intimate portraits that highlighted the ways these two fit together perfectly. We also took wide, sweeping shots of them holding one another while nestled below some huge trees. Those emphasized the deep blue summer sky and the beautiful countryside near Hannover, Germany, that was the setting for their photoshoot.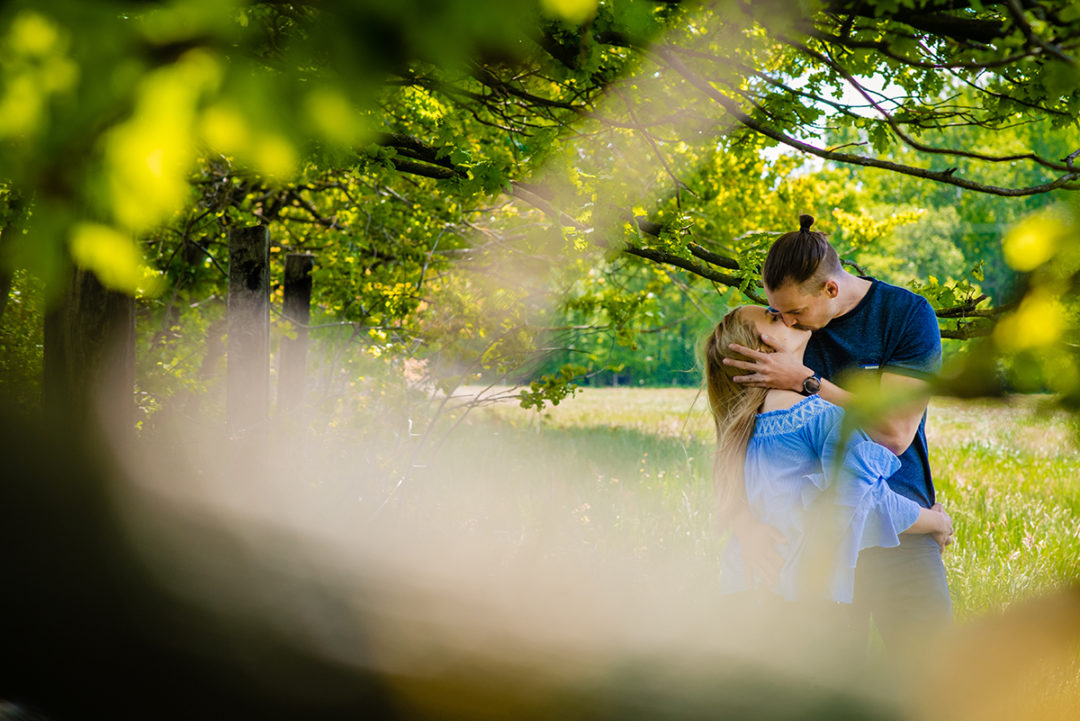 Silhouette Photo by Destination Photographer
Perhaps the best image of the day was one of the aforementioned wider shots of them under the trees. As you can see above, we decided to make it into a silhouette photo. There are a number of reasons why we find those kinds of portraits to be particularly compelling. The main one is that silhouetting you and your future spouse is a very effective way of separating you from the background. In every engagement photo we take, we want you to be the main focus, regardless of what else is in the frame. To do that, we need to find a way to draw the eye to the two of you. Silhouetting you against a bright background achieves this by creating a contrast. The couple cloaked in shadows stands out against the brightness of the sky. Your eye notices that incongruity and immediately fixates on it.
The other thing that makes this image particularly striking is the effect of the trees. Silhouetting a couple against a bright but mostly uniform background can be a wee bit dull. Yes, we want your eye to go to the subjects. But there should also be other interesting elements in the frame. That's where the trees come in. Like Lisa and Tilman, they are mostly in the shadows thanks to the exposure settings we used to silhouette the couple. However, enough of the parts of the trees facing the camera are visible to give nice bits of color and texture to the image.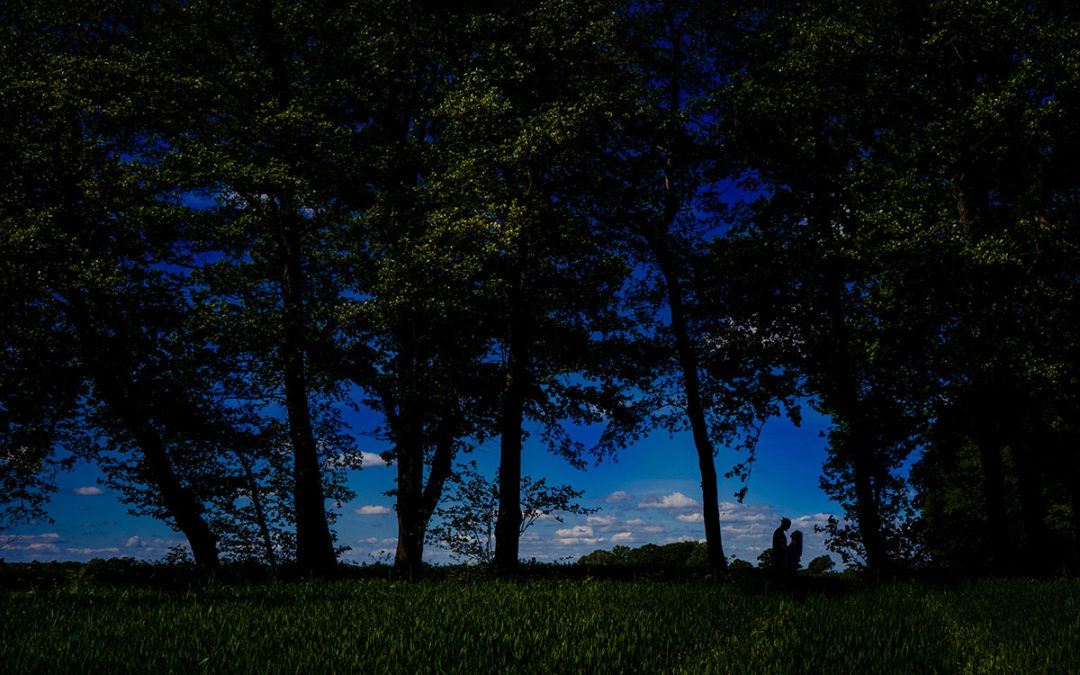 DC Engagement Photographers
If you and your future spouse recently got engaged and want photos to commemorate that happy milestone, please have a look at our portfolio and reach out to us for more information on pricing and availability. We would love to help you tell a part of your love story through an engagement session during COVID-19.