As we've mentioned several times on this site, including your dog in your wedding or couple portraits is a great idea. We'll go over the reasons why again below. But long story short, they make your engagement photos or wedding portraits extra special. So if you have a four-legged friend, think about including them in your pictures. Even if it means adding a bit of extra time to your day like Sabrina and Mike did! The first part of their wedding portraits took place in Constitution Gardens (read about that here) and was just for the two of them.  And for the second, they picked up their beloved goldendoodle Max and brought him to Dunn Loring Park in Fairfax VA. And in the hour we spent taking park wedding photos of them, we created images that are personal, meaningful and unforgettable.
Why Couple Portraits With Dogs Rock!
Like we said, we've already covered elsewhere why couple pictures with your dog are so awesome. So we won't go into great detail in this post. But we will quickly mention the main reasons why you should think about bringing your dog to your couple or wedding photo session:
Because they are special to you and your relationship, they make your portraits more meaningful.

Their energy and playfulness add dynamism and excitement to the images.

They are so cute and lovable that pictures with them can't help but be sweet.
Dunn Loring Park Wedding Photos on a Tennis Court
One tip that we give couples for getting the most out of a photoshoot with their dog is to find ways to keep them entertained. Bringing a ball or a favorite toy will help get them focused and more importantly, a little play will burn off their excess energy.
Sabrina and Mike came prepared. In fact, they made playing with Max an integral part of their wedding photo session. Dunn Loring Park has two tennis courts, so the couple brought rackets and a sleeve of balls. They then spent the first part of their photoshoot batting the tennis balls back and forth in their wedding clothes. And naturally, Max chased after them the entire time. We got some awesome shots of the big friendly dog loping and leaping in the air.
Once Max was a little worn out, his parents decided to go for some portraits with a cuter feel. So they put a shirt on the goldendoodle and posed for more traditional photos. (Much to Anji's delight, the shirt in question was a Germany soccer jersey.)
Of course, given that Max is only two years old, his "rest" time didn't last long. He was almost immediately ready to run and play again. So we got some really fun pictures of Sabrina and Mike chasing him around the Dunn Loring Park tennis courts.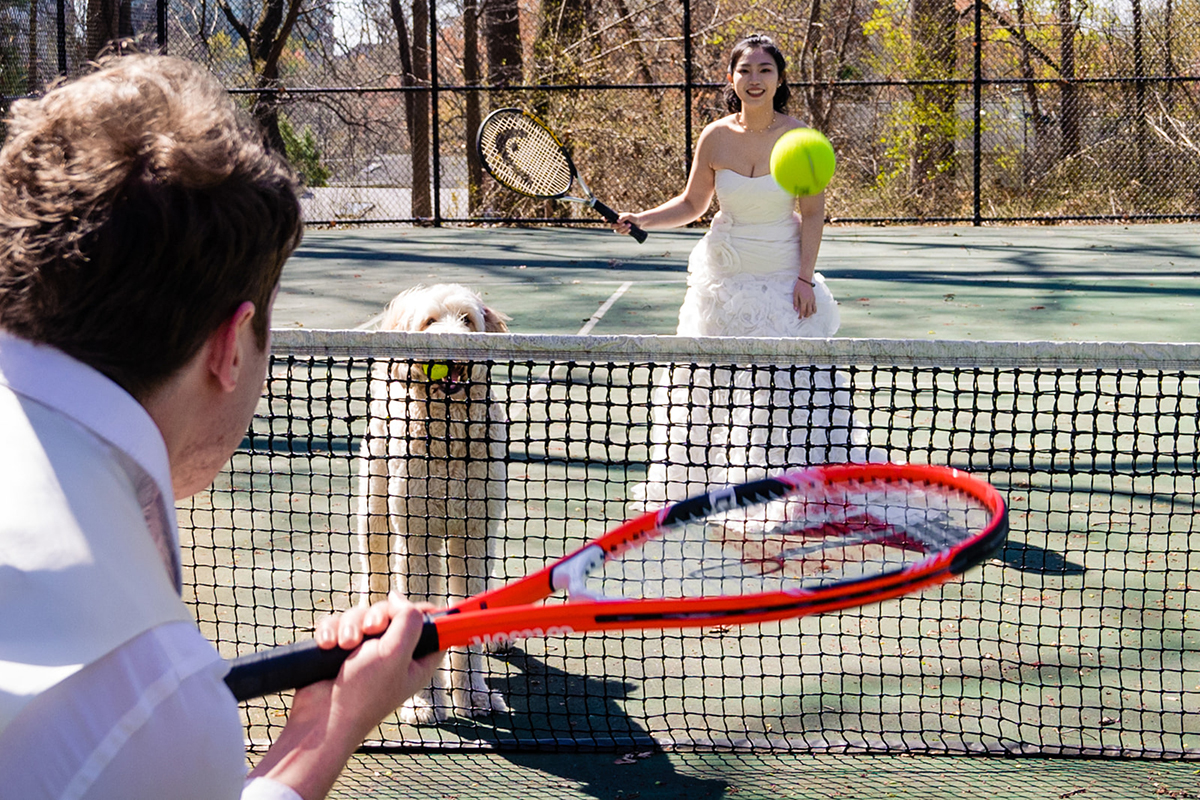 Wedding Portraits in a Fairfax VA Park
From there, we moved on to other parts of Dunn Loring Park. The couple and Max (who was now wearing a more "formal" long-sleeved shirt) walked along the pathway that runs in a loop around the Fairfax VA park. We stopped here and there to create lovely portraits of the three of them together.
Our favorites were the ones we took just off the path. In that spot, there was a lovely leafy green tree providing some shade and a fallen log perfect for sitting on. We took some very sweet pictures of Sabrina, Mike and Max posing there.
Of course, we didn't want the entire photoshoot to be about Max! As tempting as that was, we did also want to get a few more wedding portraits of the couple. So we distracted the big dog by throwing a tennis ball for him to chase while we got some great shots of Sabrina and Mike alone. Naturally, Max didn't want to be left out. So he came loping back and plopped down right in front of the couple. Which was just fine! Because we took some really sweet pictures of them interacting with him.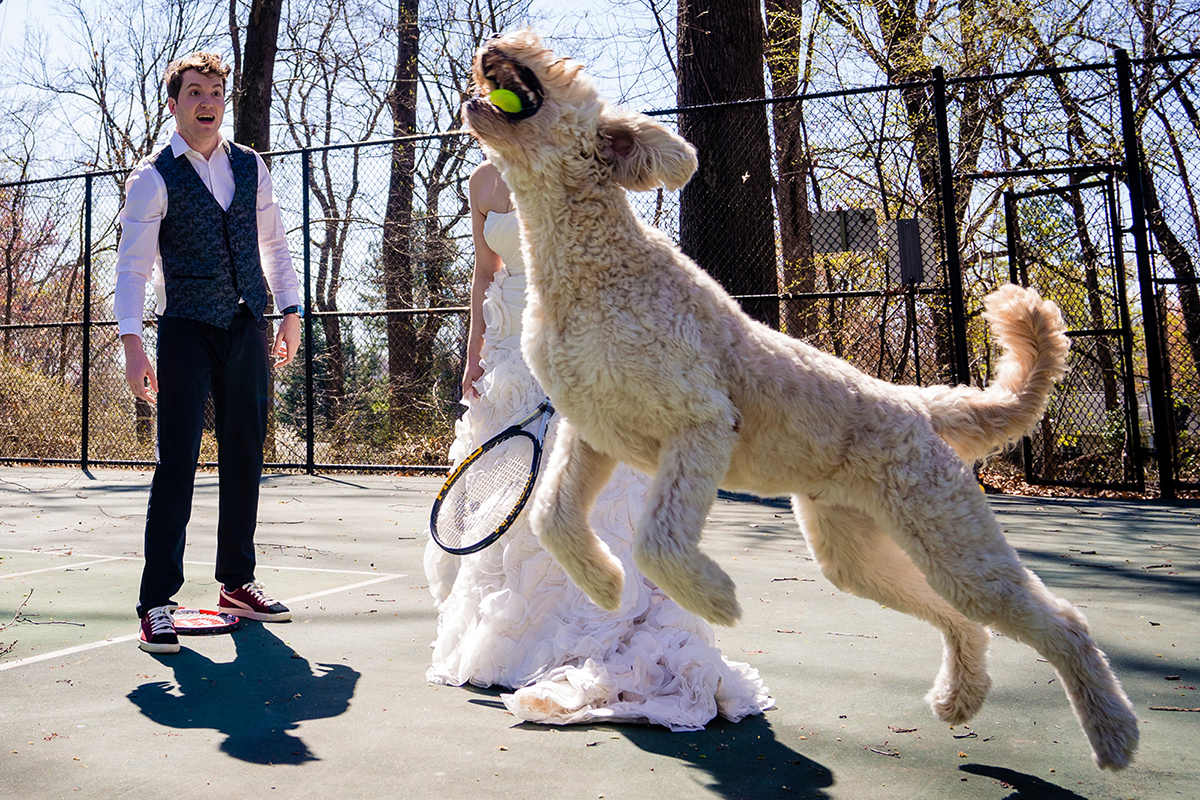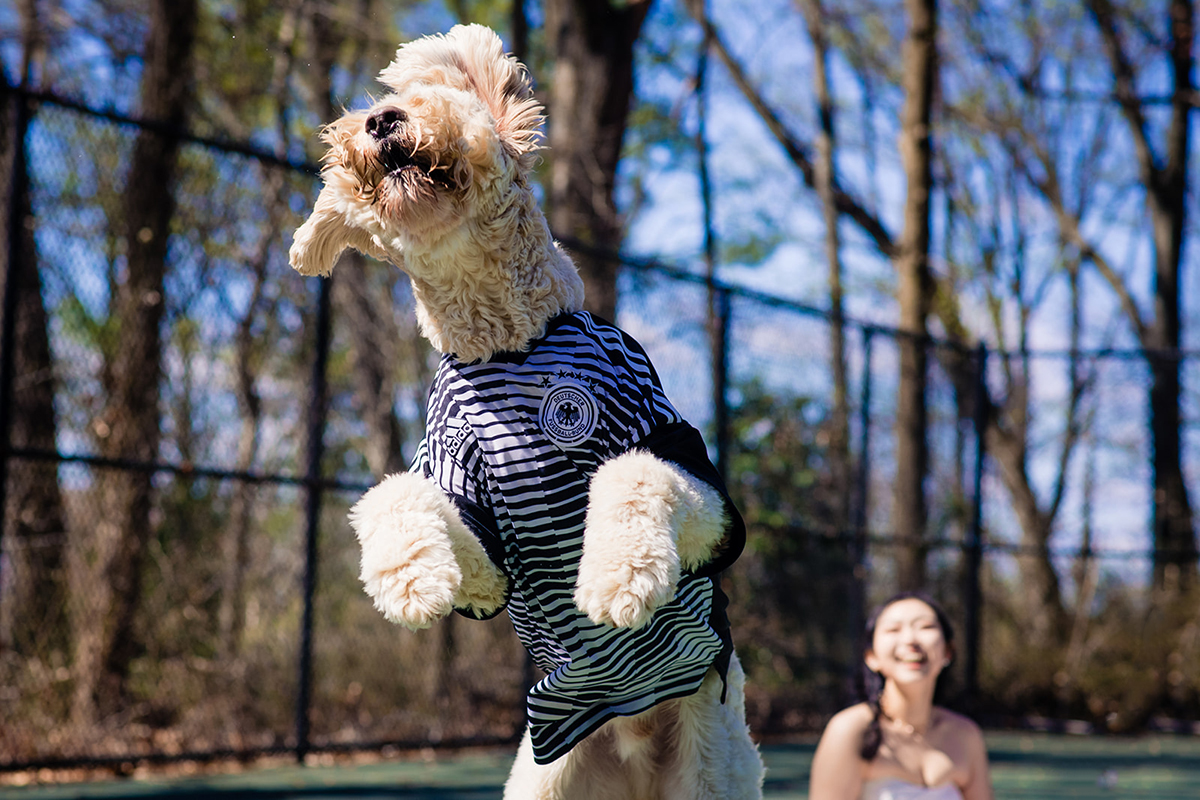 More Couples Pictures in Dunn Loring Park in Fairfax Virginia
For the final part of the couple portrait session, Sabrina and Mike brought us to a swingset in Dunn Loring Park's playground. They wanted us to get some pictures of Mike pushing Sabrina on one of the swings. Unfortunately, the material in the bride's dress was a little slipperier than anyone anticipated. And as a result, she fell off the swing twice! Fortunately, she wasn't hurt, and the photos of those moments were really sweet. Especially the ones of Mike making sure that Sabrina was ok. Watching him tend to her, you could see how much he loved and cared about her.
To avoid any further mishaps, we switched things up and had Mike climb into the swing. Sabrina then pushed him back and forth. (To her credit, she resisted the urge to knock him off in retaliation!) By that point, Max was tired of being ignored, of course. So he came to watch the proceedings. Well, first he entertained himself by digging up half the sand by the swingset. But then he lied down to observe his mom and dad playing. And of course, we got awesome photos of all of it!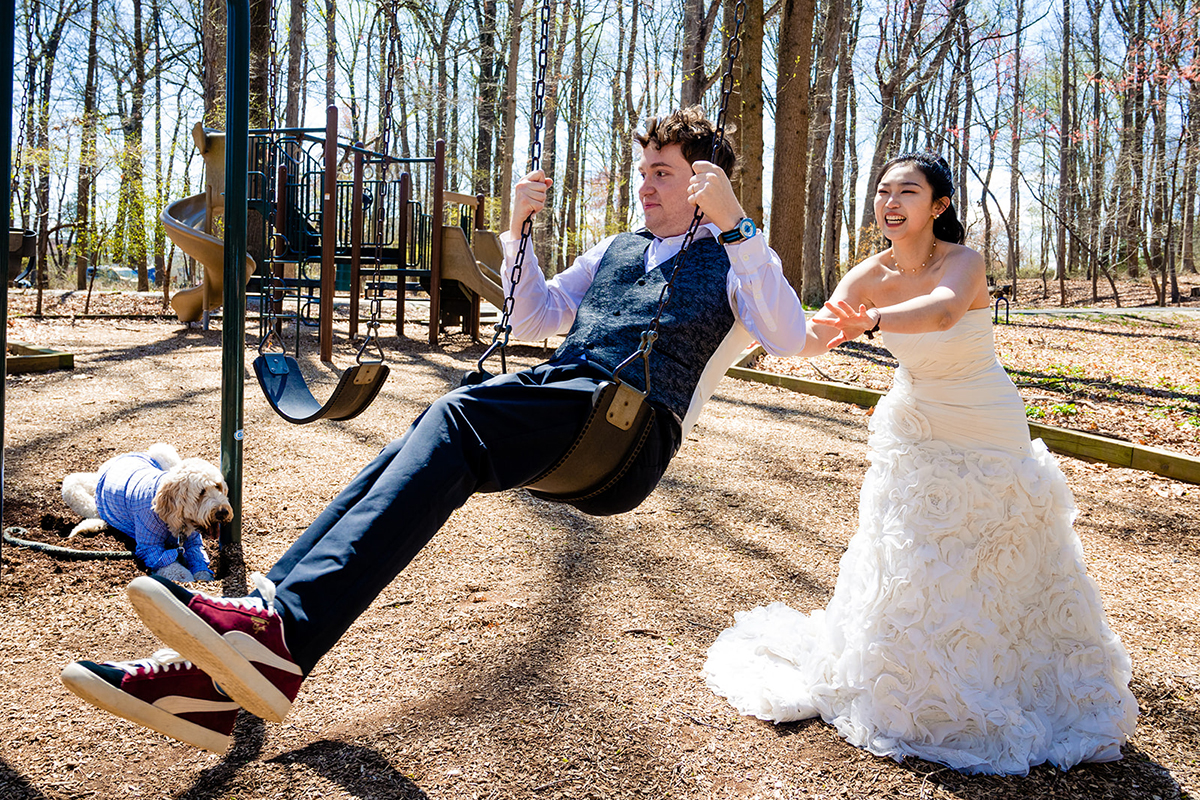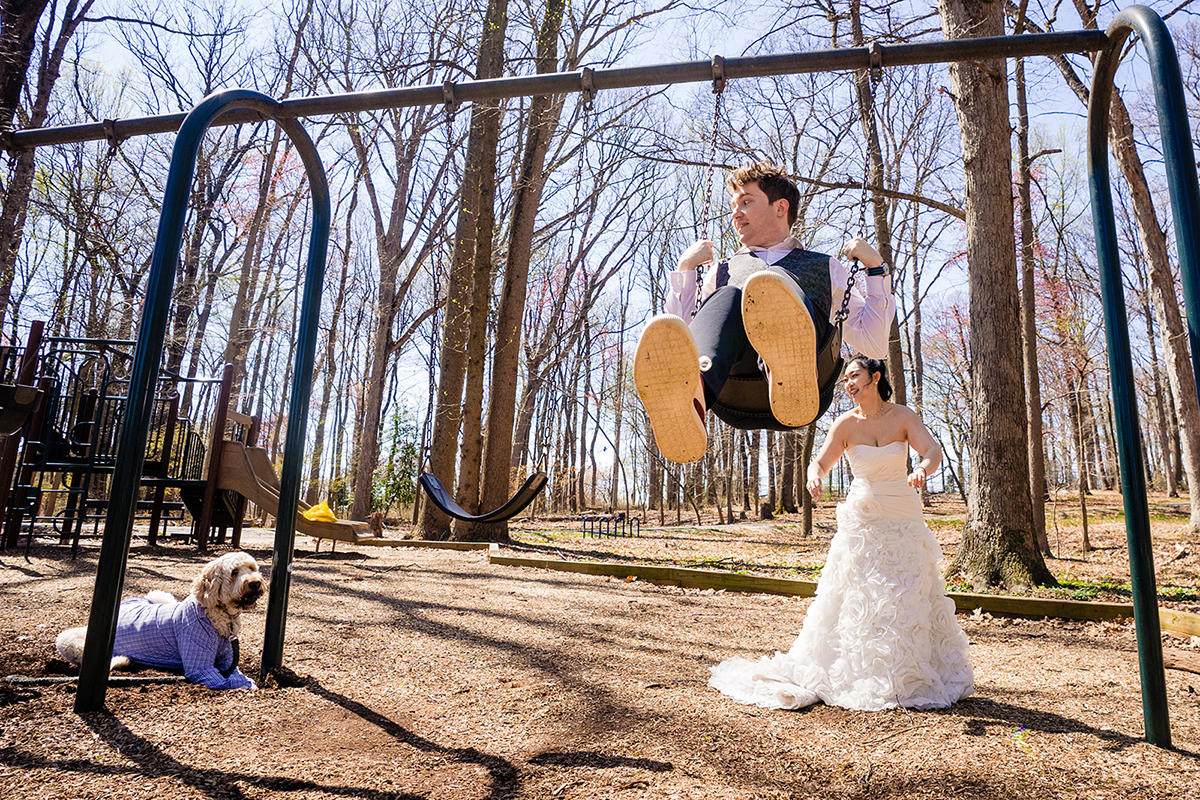 Sabrina and Mike, thank you for allowing us to be a part of your love story! We are so honored that you chose us for your wedding portraits. And Max, it was lovely to meet you! We had so much fun playing with you!
---
Contact Us for More Information!
Interested in learning more about our services? Please visit our Wedding Photography FAQ page for answers to all your questions! Ready to schedule an couple photoshoot of your own? Contact us now to get the conversation started!