For all you dog lovers out there, we have four great tips for including your four-legged friends in your engagement portraits! Before we get to them, though, let us say we are 100% in favor of engagement photos with dogs. Bringing your canine friend(s) to your portrait session is always a great idea! So if you are thinking about doing it, we strongly encourage you to! In our time as wedding and engagement photographers, we have had the privilege of photographing many couples alongside their beloved dogs. And the results have always been stunning portraits that the proud pet parents love forever!
Why Take Your Engagement Pictures with Dogs?
In the event that you are on the fence about this, allow us to quickly talk about why these kinds of images never fail to impress. For starters, engagement pictures with dogs have a lot of fun and dynamism. A dog's natural playfulness brings a lot of motion to every portrait and smiles to everyone's faces.
More importantly, though, including your canine friend in your engagement session gives your photos a very personal touch. It helps show who you are as a couple and a bit of what brought the two of you together. Your dog is undoubtedly an integral member of your family. They also very likely played an important part of your relationship. Adopting him or her might have represented a significant step in your path to the altar. So making them a part of your portrait session allows people a window into your lives and personalities. And engagement photos that do that are always unforgettable!
Getting Awesome Couple Photos with Dogs
The trick, of course, is to make sure that you and your future spouse remain in the moment and focused on each other. At the end of the day, you and your relationship are the centerpieces of the photos. Your dog is there to add context and spark to the scene; you are the stars. If you are preoccupied with trying to make them a part of the pictures, that becomes the story. So with that in mind, here are some ways to ensure your couple photos with dogs turn out great!
Four Tips for Your Engagement Photos with Dogs
Bring treats. This is a no-brainer, right? Any dog owner knows that rewards (or outright bribery) are very effective tools for getting your canine friend to cooperate. A couple of pocketfuls of doggy treats go a long way in having a successful couple photoshoot with a dog.
Let us worry about the posing. We got you covered when it comes to making you look great on film! As we mentioned above, we have also photographed a lot of couples with their pets. So we know how to create beautiful dog engagement photos. If you give us the aforementioned treats, we can get your pet into the right spot while the two of you remain focused on one another.
Choose a location with a lot of space. We all know how much dogs love to run and frolic, right? It is one of the things that make them so lovable! Like we said, it is also what makes engagement photos with dogs so dynamic. So make sure that the location you pick has enough space for them to play in. Finding such a spot will also have the added benefit of letting them tire themselves out early on. And if you need some suggestions, we know plenty of great locations!
Bring outfits and accessories for your dog. This suggestion is less about keeping your pet cooperative and more about jazzing up your engagement pics with dogs. Just like outfit changes and accessories give your portraits fresh and different looks, dressing your dog up a little can make each of your pictures distinct. Plus, what is cuter than a puppy wearing a neckerchief or a personalized harness?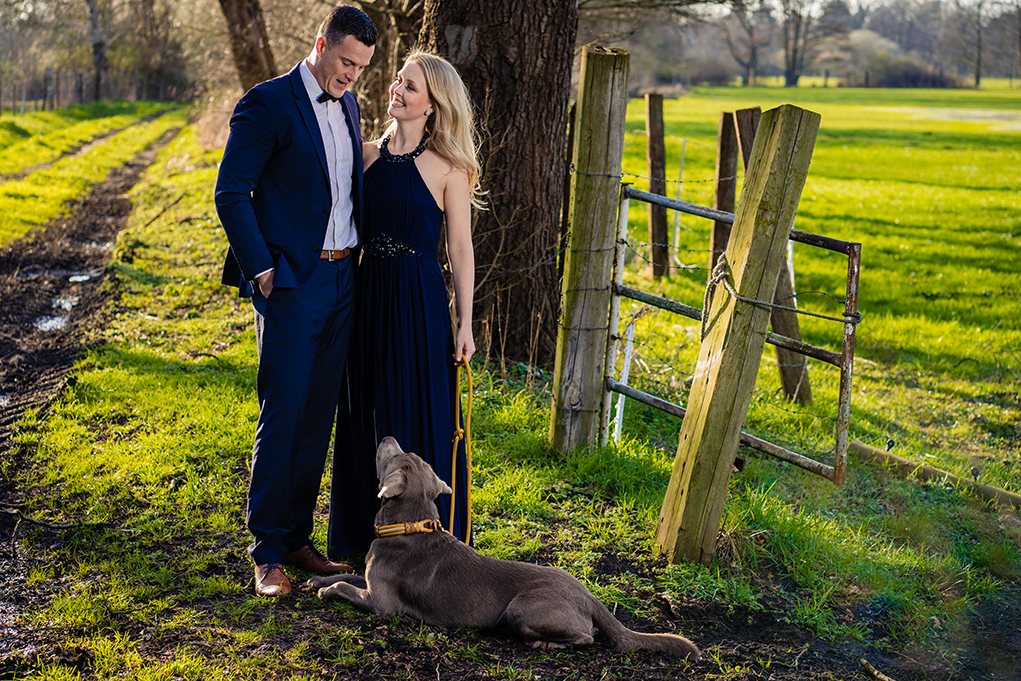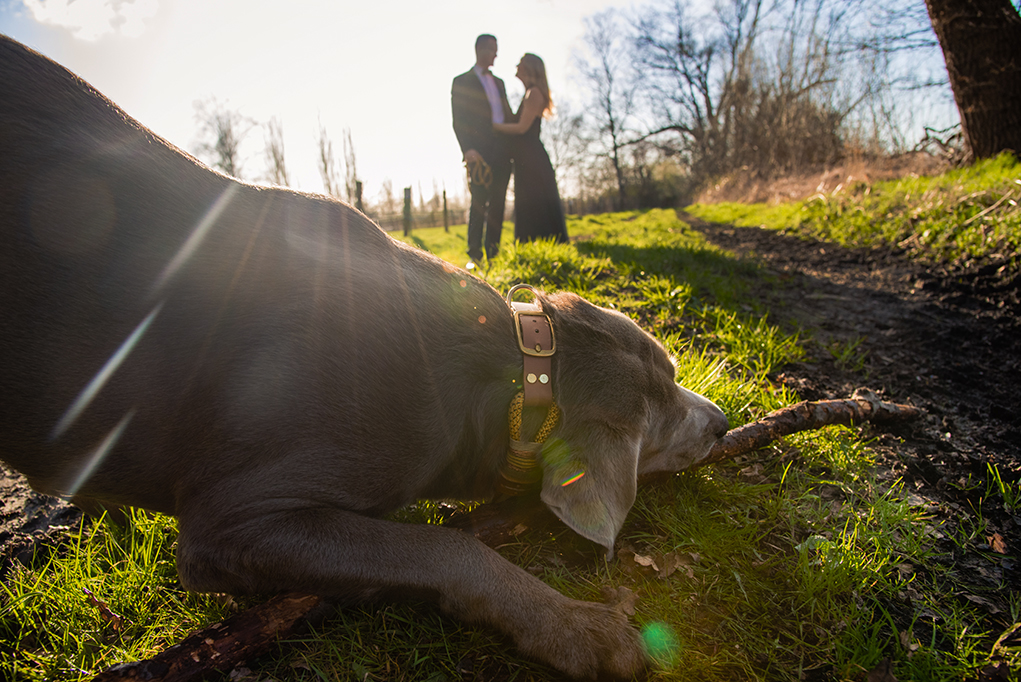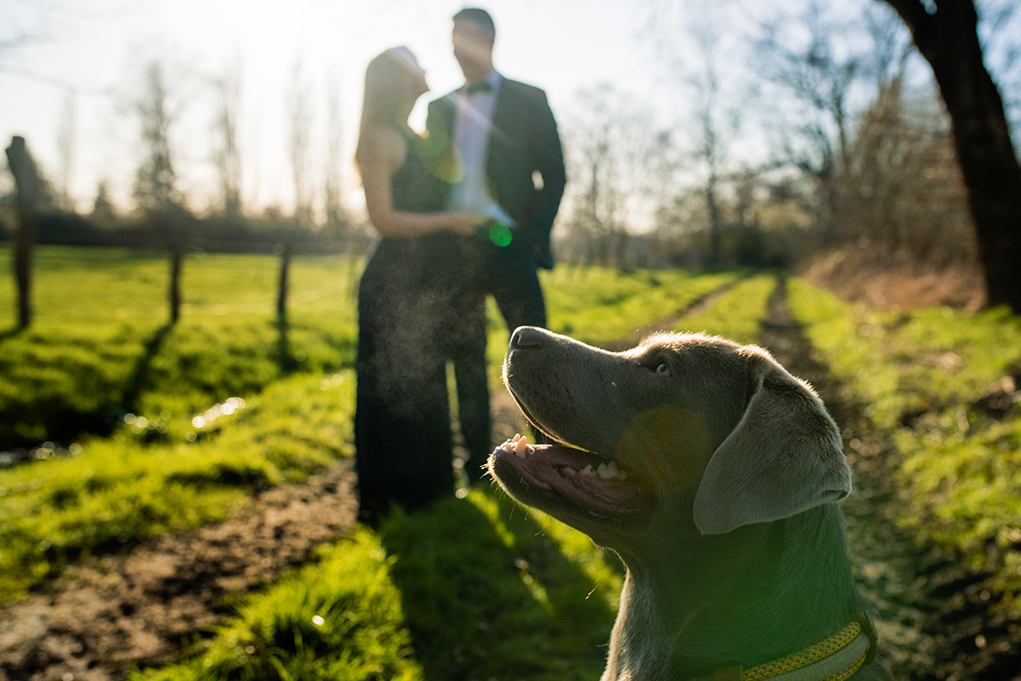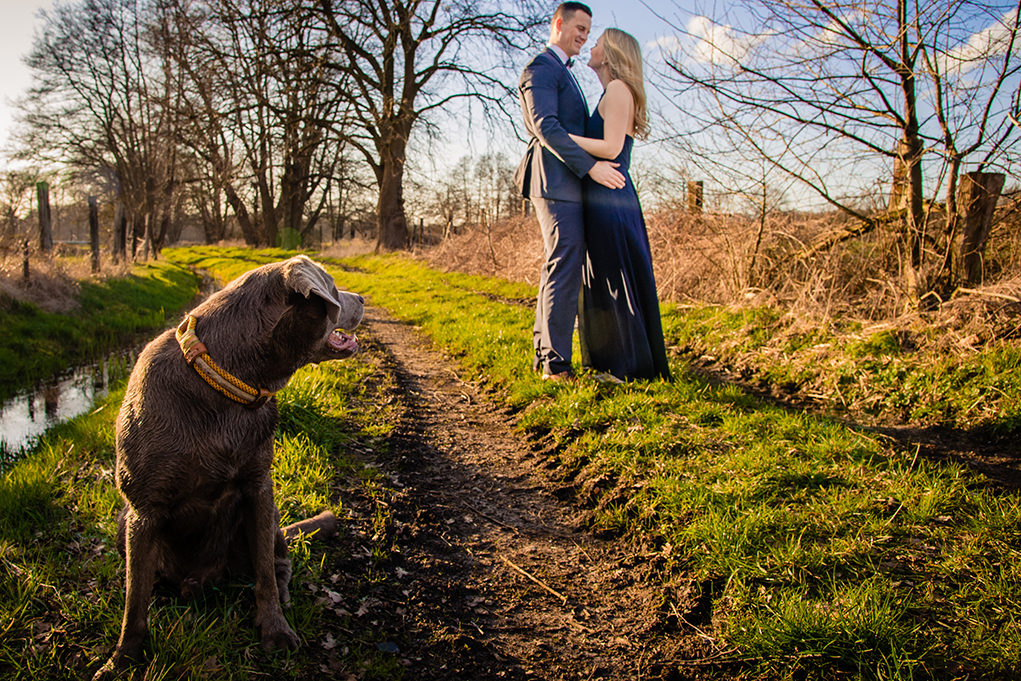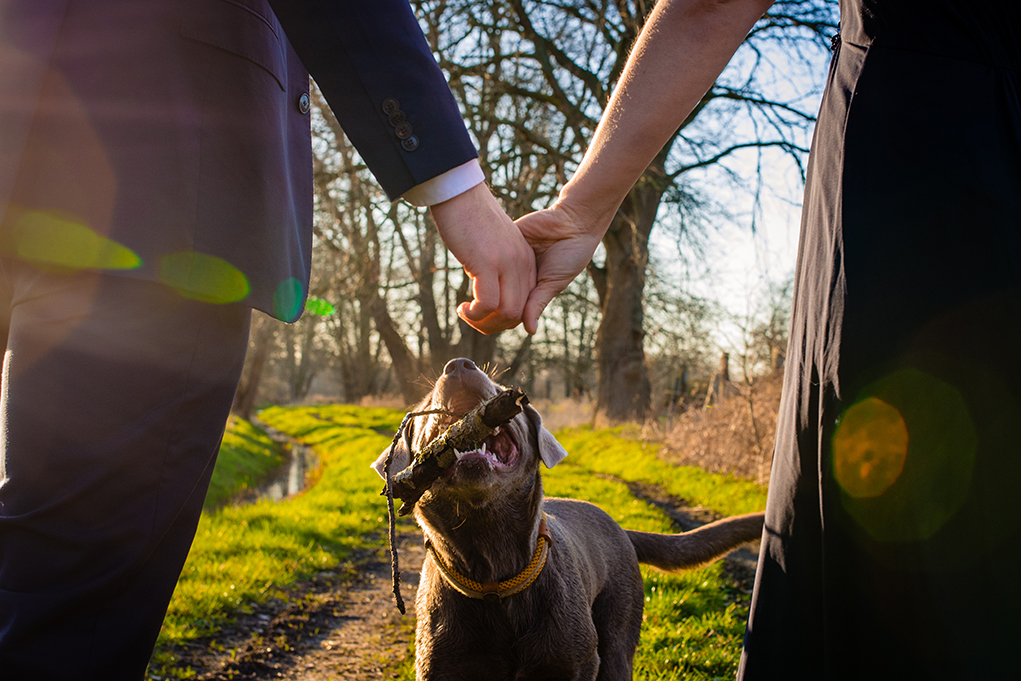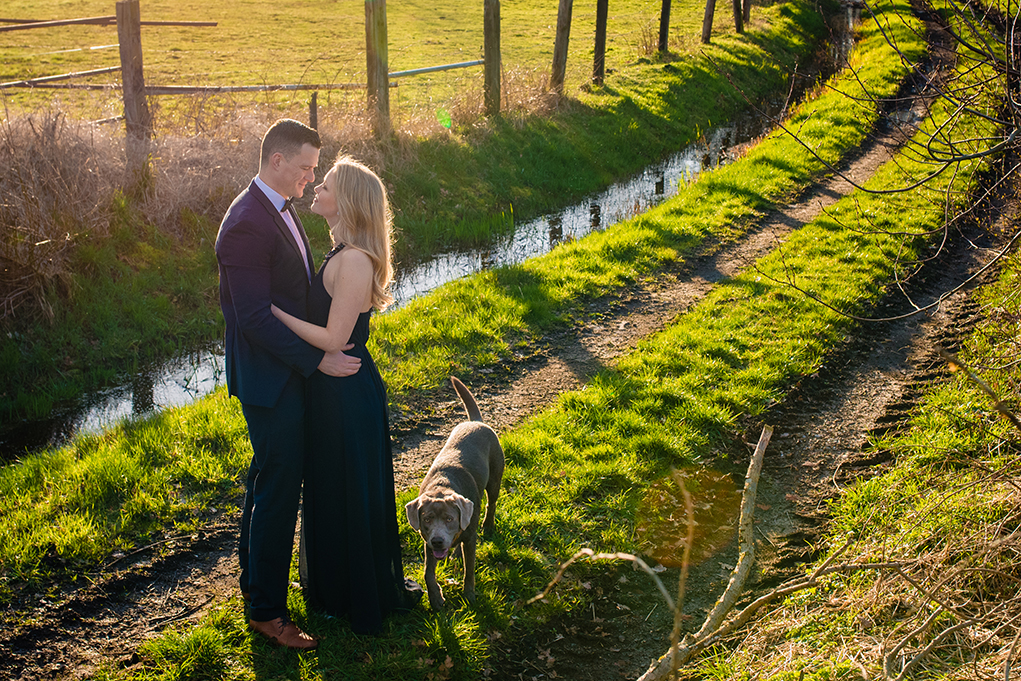 ---
DC Engagement Photographers
Hopefully, these suggestions are helpful to you and make it easier for you to bring your dog to your engagement session. As we said, dogs really are a great addition to your couple portraits!
If you and your future spouse recently got engaged and want photos to commemorate that happy milestone, please have a look at our portfolio and reach out to us for more information on pricing and availability. We would love to help you tell a part of your love story through an engagement session during COVID-19.