As we've mentioned elsewhere, there are a lot of places in the DC metro area where you can get cherry blossom engagement photos. If the crowds by the Tidal Basin aren't your thing, then there are plenty of other under-the-radar options. That said, there really is something iconic about cherry blossom engagement pictures in downtown DC. The beautiful flowers are such a part of the fabric of the Nation's Capital that engagement photos that incorporate both are beautiful and full of context. That's why we were thrilled when Katie and Pete suggested Hains Point/East Potomac Park for their pre-wedding photo session. Though a bit less packed than the Tidal Basin area, this peninsula is lined with gorgeous cherry blossom trees that explode in late March/early April. That makes it the perfect place to get stunning, truly "DC" engagement photos like Katie and Pete's.
Hains Point/East Potomac Park Engagement Sessions
We'll talk below about what made Katie and Pete's engagement session so special. But first, we wanted to discuss what's great about Hains Point and East Potomac Park as locations for pre-wedding pictures. It's a lovely area for a photoshoot, even when the cherry blossoms aren't out!
In case you're not familiar with it, Hains Point is the end of a manmade island that juts out into the Potomac River. It sits just southeast of the Tidal Basin. The area is also home to East Potomac Park and its eponymous golf course. Because of its unique location, it offers gorgeous views of both DC's Southwest Waterfront and Arlington's skyline. With equally good views to the east and west, it is one of the rare spots where you can get sunrise and sunset engagement pictures. So it definitely has all the ingredients for an awesome engagement session, regardless of the season.
Hains Point and East Potomac Park really come alive, though, when the cherry blossoms bloom. As we mentioned above, the iconic trees line most of the island's edges. Their distribution is less dense than those that ring the Tidal Basin. But the layout of Hains Point offers creative possibilities that its neighbor doesn't. For example, you can get a shot of you in the middle of Ohio Drive SW. Then the pictures have two lines of cherry blossom trees receding beautifully into the distance on either side of them.
There are only two downsides to Hains Point and East Potomac Park as a location for engagement photoshoots. The first is the crowds. During DC's Cherry Blossom Festival, it gets pretty packed. (Though it's not nearly so bad during the rest of the year.) And the second is that commercial photo sessions there require a permit from the National Park Service.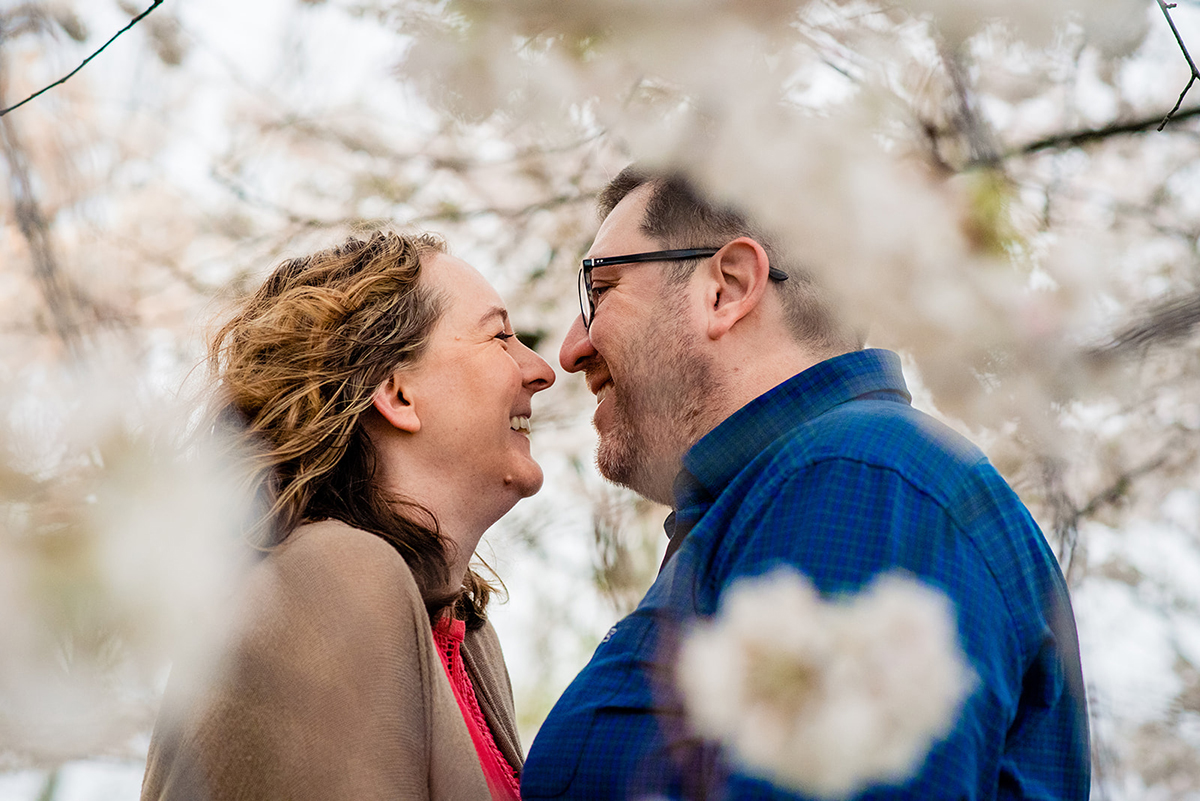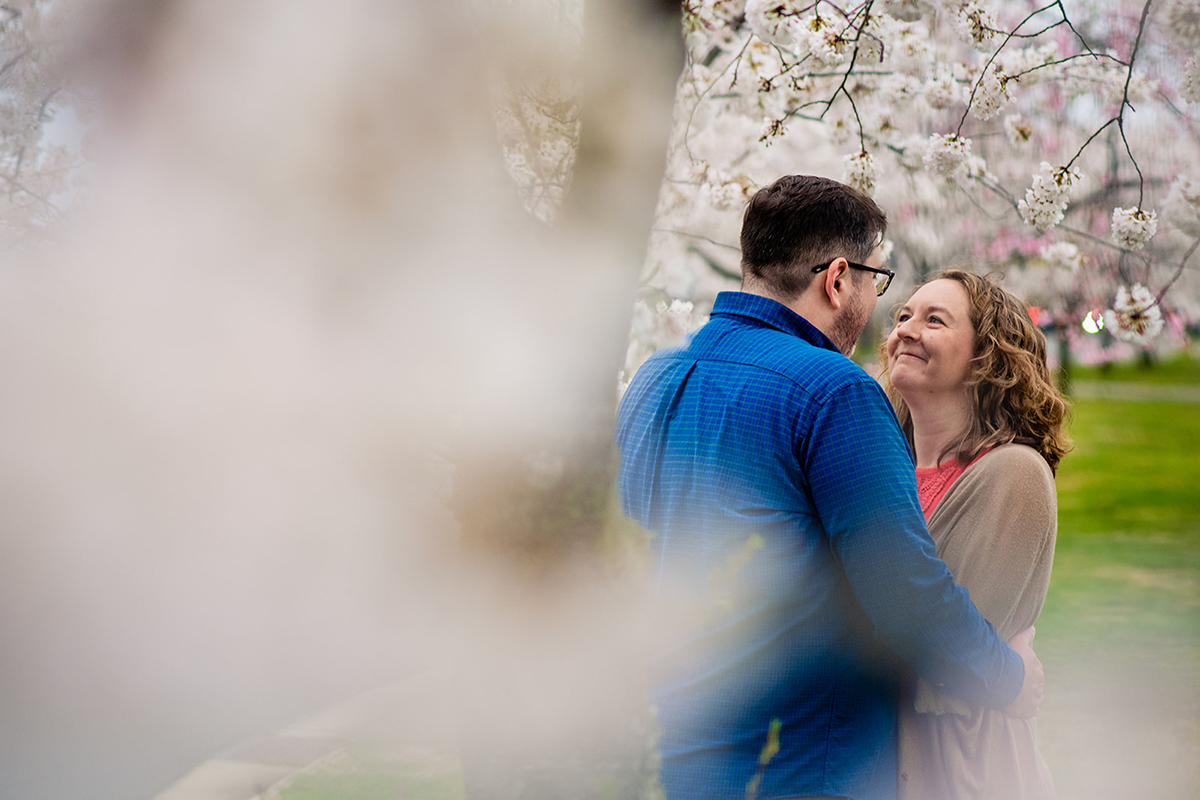 Hains Point DC Cherry Blossom Engagement Session
We wanted to improve our chances of avoiding those crowds for Katie and Pete's DC cherry blossom engagement session. So we suggested that we meet up on Hains Point relatively early in the morning. Fortunately, the couple was down to start their Saturday just after sunrise.
Katie and Pete were good sports about more than just the time. The day dawned chilly and overcast, and with rain in the forecast. The less-than-ideal weather didn't faze the couple in the slightest, though. They braved the elements without a word of complaint. And in the process reminded us of how excited we are to be working with such cool people!
The cold and threat of rain made the engagement session in East Potomac Park a little less pleasant. But it also helped minimize the crowds a bit. Our only company for most of the photoshoot were the few hardcore runners who wanted to see some cherry blossoms as they got their cardio in.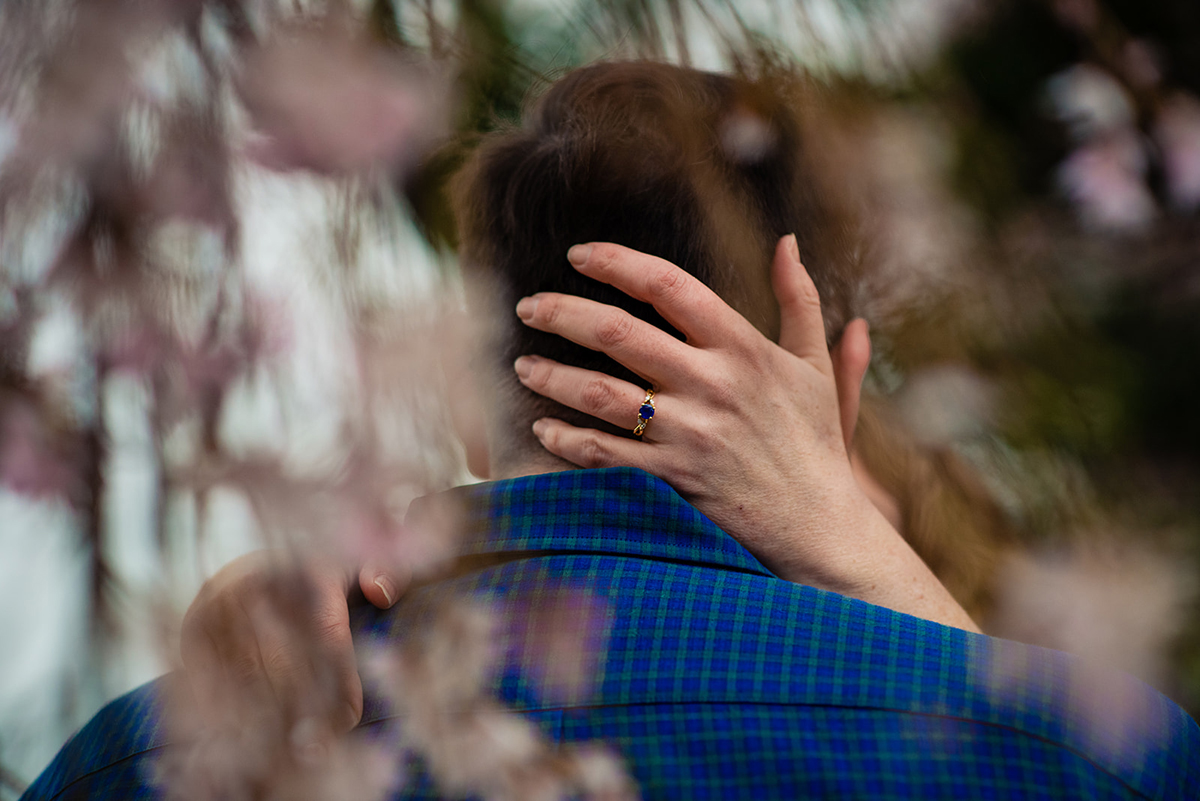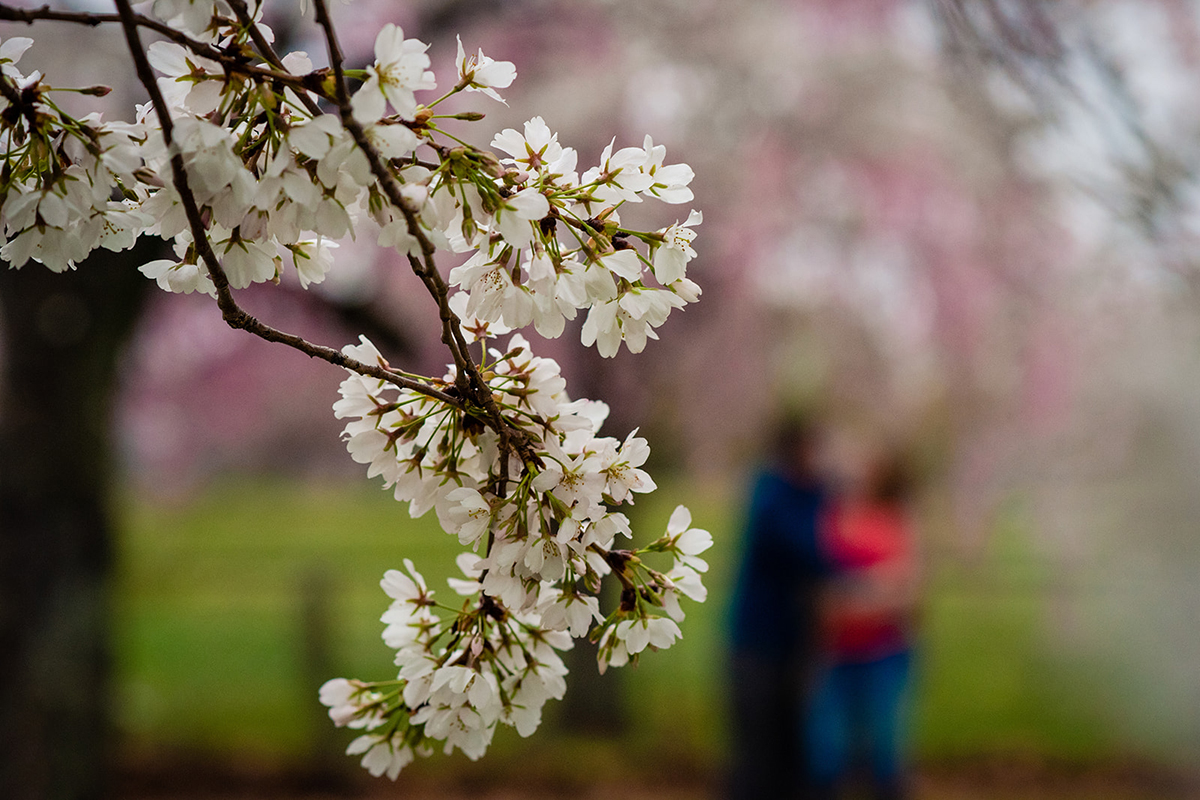 Washington DC Cherry Blossom Engagement Photoshoot in East Potomac Park
We got a third stroke of luck for Katie and Pete's cherry blossom engagement shoot in Washington DC. The flowers proved remarkably hardy this year. One of the best and worst things about the cherry blossoms is their evanescence. No matter what the weather, they are only in bloom for a week or two every year. Which is part of what draws millions to the National Mall every spring! And unfortunately, a cold snap, strong winds, heavy rains or all three can tear the gorgeous flowers from the trees.
A torrential downpour the night before Katie and Pete's engagement session had us a little worried. We thought we might arrive at East Potomac Park just to find piles of blossoms floating in puddles. But miraculously, they survived! So the conditions for an unforgettable cherry blossom engagement photoshoot were all in place.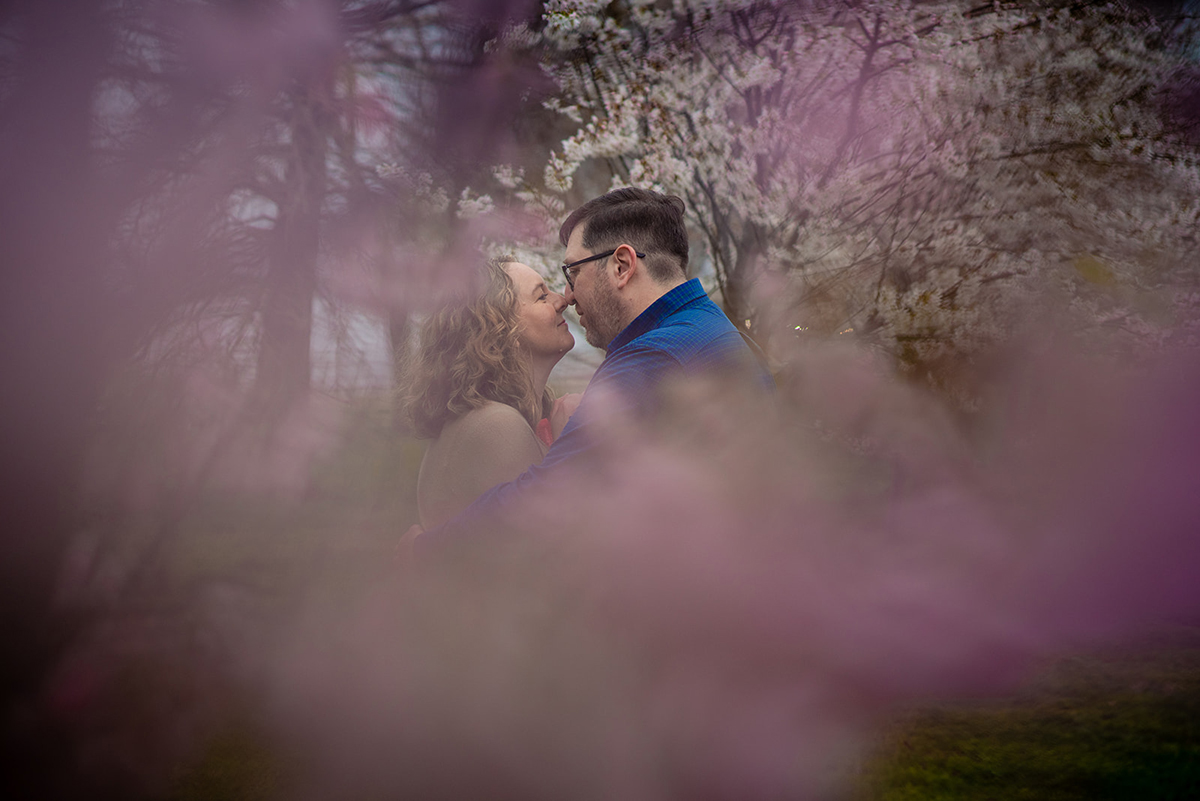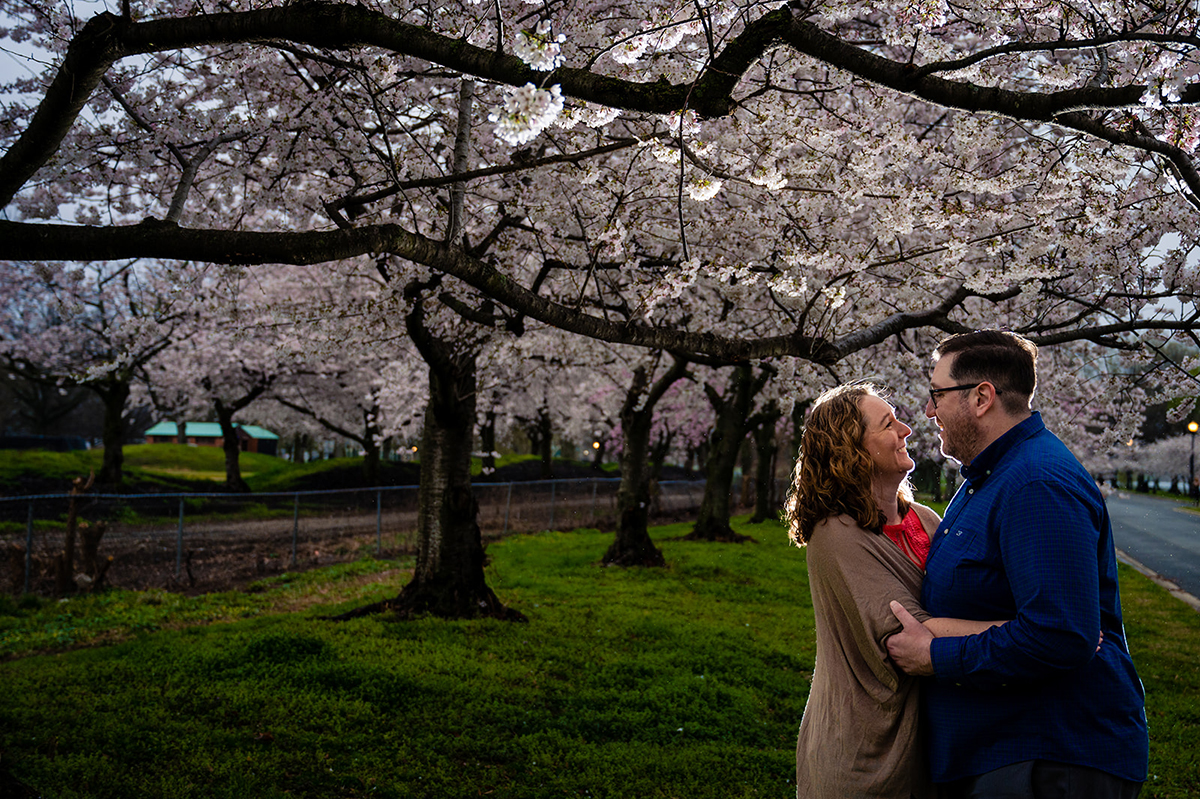 Hains Point and East Potomac Park Cherry Blossom Engagement Photos
We met up with Katie and Pete near the picnic area on the tip of Hains Point. That spot would make it easy o create some portraits of them with both DC and Northern Virginia in the background. We could also get a sense of where the cherry blossoms were looking the best.
Their engagement session started – as all of ours do – with some very basic posing to help the couple get comfortable. As it turned out, they didn't need much warming up! They are a couple with a lovely chemistry who couldn't stop kissing and caressing each other. Though we posed them for a couple of the more creative shots (more on that later), we mostly avoided disrupting something that was looking great on film.
For the first half of Katie and Pete's cherry blossom engagement session, we focused on creating closeup pictures of the couple with the beautiful flowers framing them. In addition to bringing the beautiful pink and white flowers into the images, surrounding the future spouses like that makes the photos intimate and personal.
After we wandered around East Potomac Park for a while, stopping here and there to take engagement pictures of Katie and Pete amid the cherry blossoms, we decided to amp up the creativity a bit. We set up two lights behind them – one adding lovely rim lighting to the couple and the other bathing the cherry blossoms above them in ethereal lighting.
Once the rain (which had mercifully waited to fall until we were mostly done) started, we kicked up the creativity to another level. Katie and Pete opened up the transparent umbrella they brought. And we used our lights to fashion images of them with the rain streaking down around them.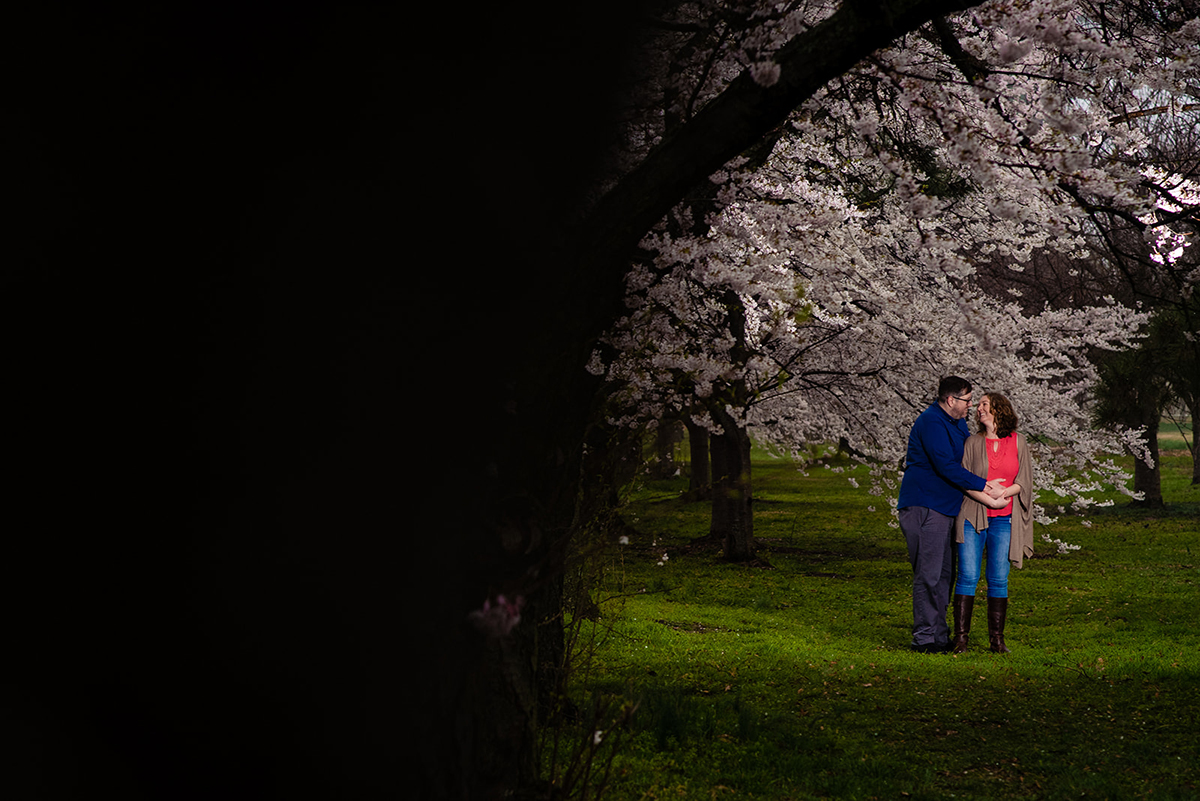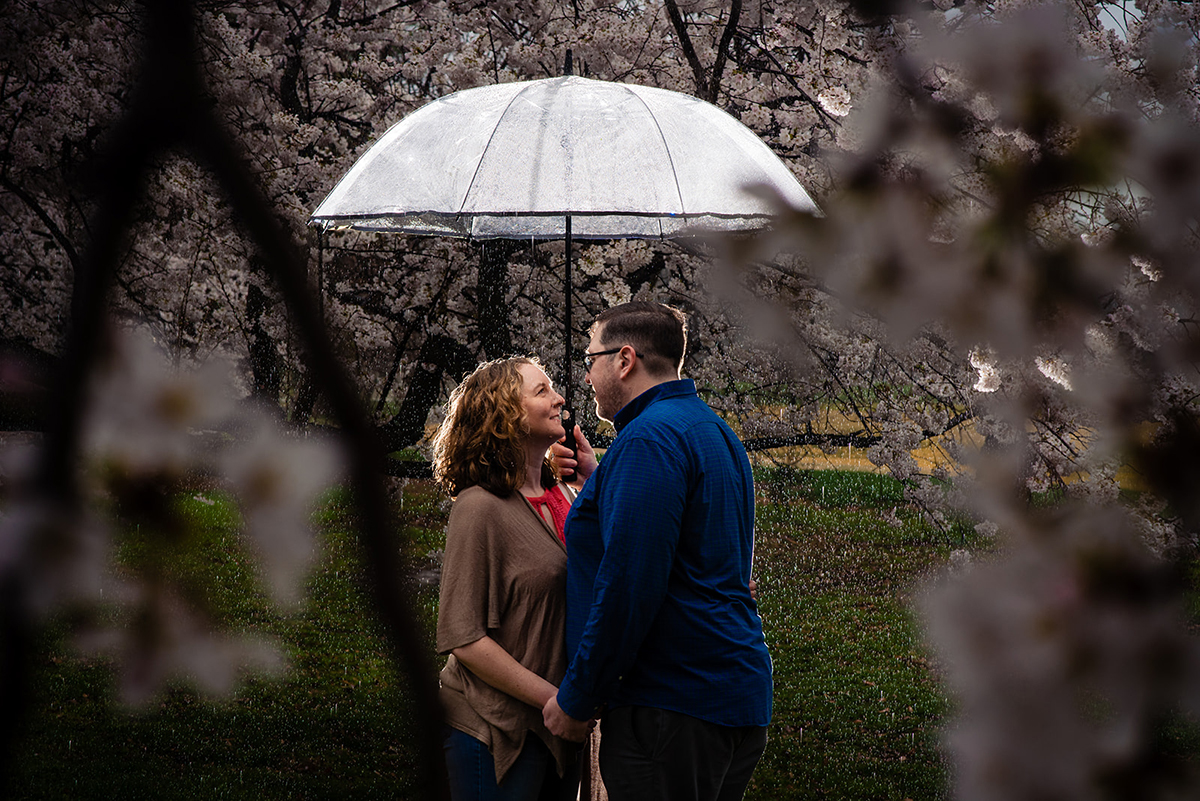 A Special Thanks
Katie and Pete, we can't thank you enough for allowing us to document this stage in your journey together. We cannot wait to be there for you on your wedding day later this year!
---
Contact Us for More Information!
Interested in learning more about our services? Please visit our Wedding Photography FAQ page for answers to all your questions! Ready to schedule an engagement photoshoot of your own? Contact us now to get the conversation started!