"In spring a young man's fancy lightly turns to thoughts of love." Alfred, Lord Tennyson, expressed the well-known connection between springtime and love better than we ever could. Though we would suggest that it is not only young men who think of romance during that time of year! Recent research indicates that all of us are more receptive to finding our soulmate in the spring. Not just meeting them, but also falling in love with them! It is no wonder, then, that that season is ideal for engagement photoshoots. Any engagement photographer will tell you that the conditions for beautiful portraits do not get much better. As you can see in this collection of images captured in red poppy fields, spring engagement photos are something special!
Why Schedule a Spring Engagement Photo Session?
There are a lot of compelling reasons why couples like you opt for a springtime engagement photoshoot. Many of them are logistical. The majority of future spouses whom we photograph marry within a year of popping the question. Summer is without question and for obvious reasons the most popular season for weddings. Working backwards, that leaves the previous spring, winter, fall and possibly summer as potential times for an engagement session.
The summer and fall of the year before are often too early for taking betrothal photos. You are still basking in the enjoyment of being engaged. Scheduling a session with an engagement photographer is probably not going to be the first thing you think of! Winter engagement sessions can lead to some really lovely pictures. But there are some compelling reasons why engagement photos during that time of year might not be the best idea. Chief among them, obviously, is that it can get pretty cold in the Washington DC metro area in the winter!
So that leaves spring as the optimal time to hire an engagement photographer to document your love story. It is close enough to your wedding that you are fully engaged in the planning and in the right frame of mind to have the pictures done. At the same time, you receive your engagement portraits in time to include them in your save-the-date cards. The weather could not be more perfect for engagement portraits, especially if you live in or around Washington DC. As longtime residents of the Nation's Capital, we know firsthand how glorious it is to be there in March, April and May. The weather is warm, but the DC area's dreaded humidity has not fully kicked in.
DC in the Springtime = Engagement Photos You Will Never Forget!
Forget all that for a moment, though. The much better reason to do a spring engagement photoshoot is that the portraits you get are absolutely gorgeous! The flowers and trees that bloom all over the Washington DC metro area make the most beautiful backdrops for springtime engagement photos that you could want. Think the tulips growing by the Netherlands Carillon look great? Imagine a picture of you and your future spouse with those in the foreground. Have you marveled at the cherry blossoms blanketing the Tidal Basin area? Picture the two of you nestled among those delicate pink and white flowers. Do you enjoy visiting the US National Arboretum? Think of how special that spot will be after you have commemorated your love with a photoshoot there.
Spring Engagement Photography at Destination Locations
Spring isn't just an awesome time for engagement photoshoots in the Washington DC area. As destination wedding photographers, we can tell you that March, April and May are equally beautiful months just about everywhere. (Well, in the Northern Hemisphere, anyway.) Northern Germany, a region we are intimately familiar with, is particularly lovely during that time of year. Tulips bloom, farmers sow fields of canola plants that turn a brilliant yellow and the German countryside and forests become dream locations for spring engagement photography.
Red Poppy Field Spring Engagement Pictures
And then there are the red poppy fields. One of the best things about having a destination engagement photoshoot is that you can get truly unique images. (You know, the kind that make your friends die of envy!) Poppies are common in the UK and Europe, but relatively rare in the U.S. More importantly, they are nowhere to be found anywhere near DC). So if you are able to plan a destination photoshoot, spring engagement pictures of you and your future spouse amid their blood-red petals will look unlike anything you could get at home.
Spring Engagement Photos in Northern Germany
Which you can see quite clearly in the collection of engagement images here. We took them during a destination engagement photoshoot just outside of the German city of Hannover. The future bride was originally from a small Northern German town whose main tourist attraction is a carefully cultivated poppy field. Tourists come from miles around every spring and summer to see the field turn a vibrant red as the poppies bloom. So it came as little surprise that the bride-to-be chose this gorgeous red poppy field as the setting for her spring engagement photos.
We started by taking closeup shots of this couple kissing amid the blossoms. The idea was to create intimate portraits in which they were the main focus. Then we zoomed out to capture wider-angle images of the pair embracing while surrounded by a seemingly endless ocean of red flowers. Finally, we used our drone to get really wide shots in which the red poppy fields appear only as a splash of color in the background along with some cool-looking energy windmills. We (and the couple) couldn't be happier with the resulting springtime engagement photos!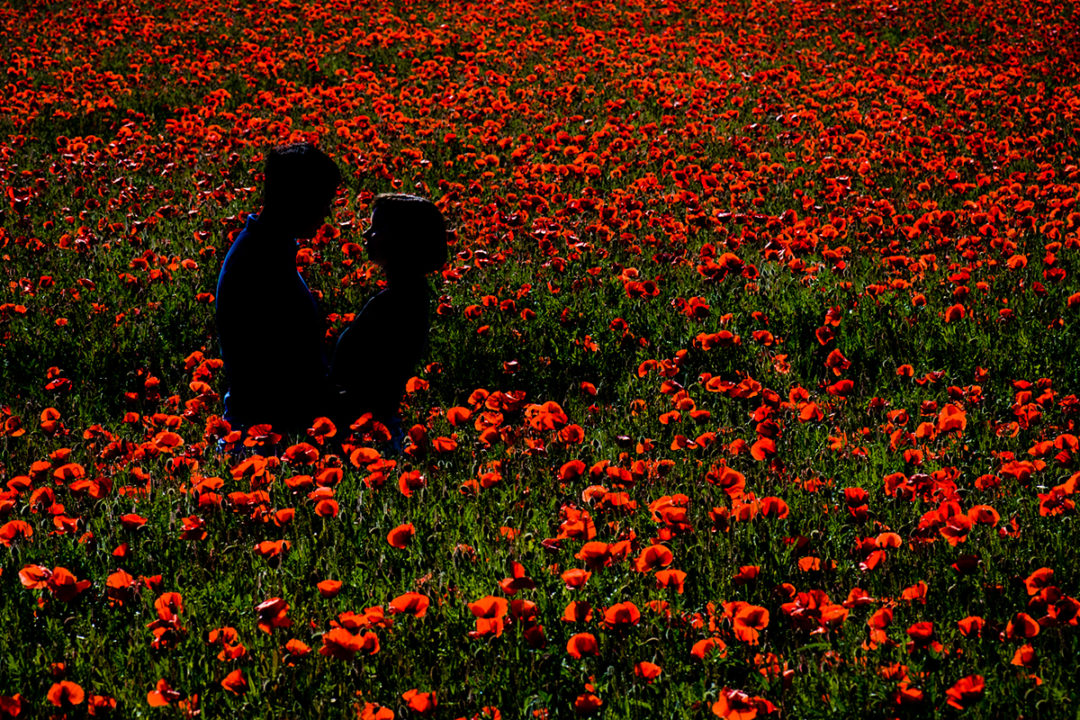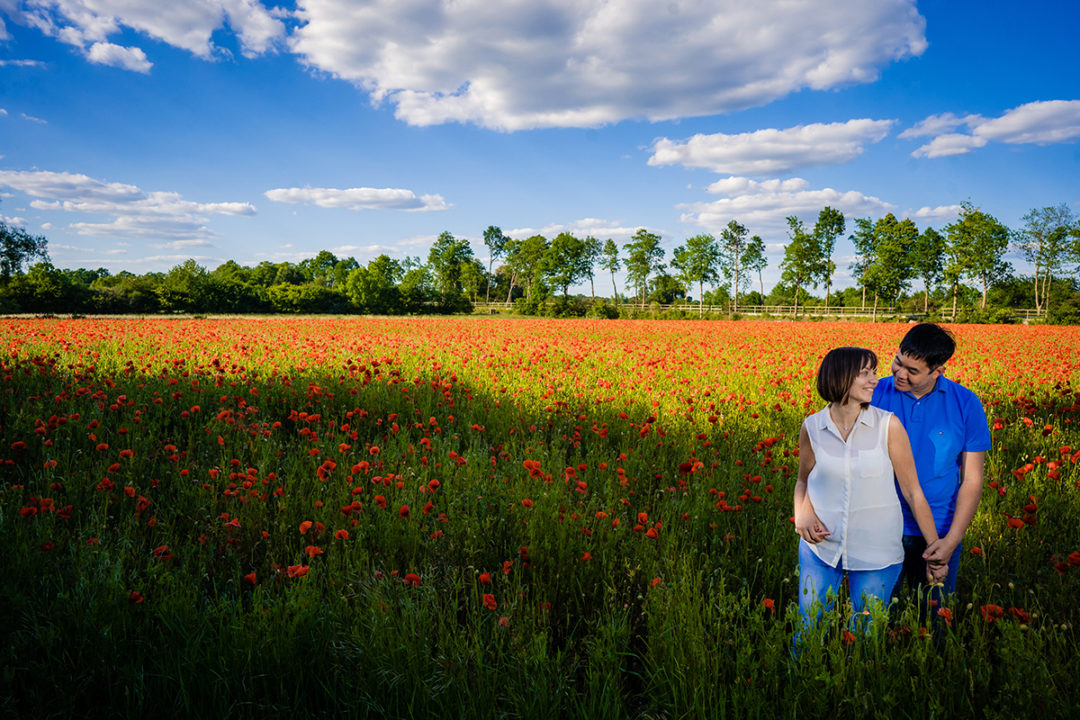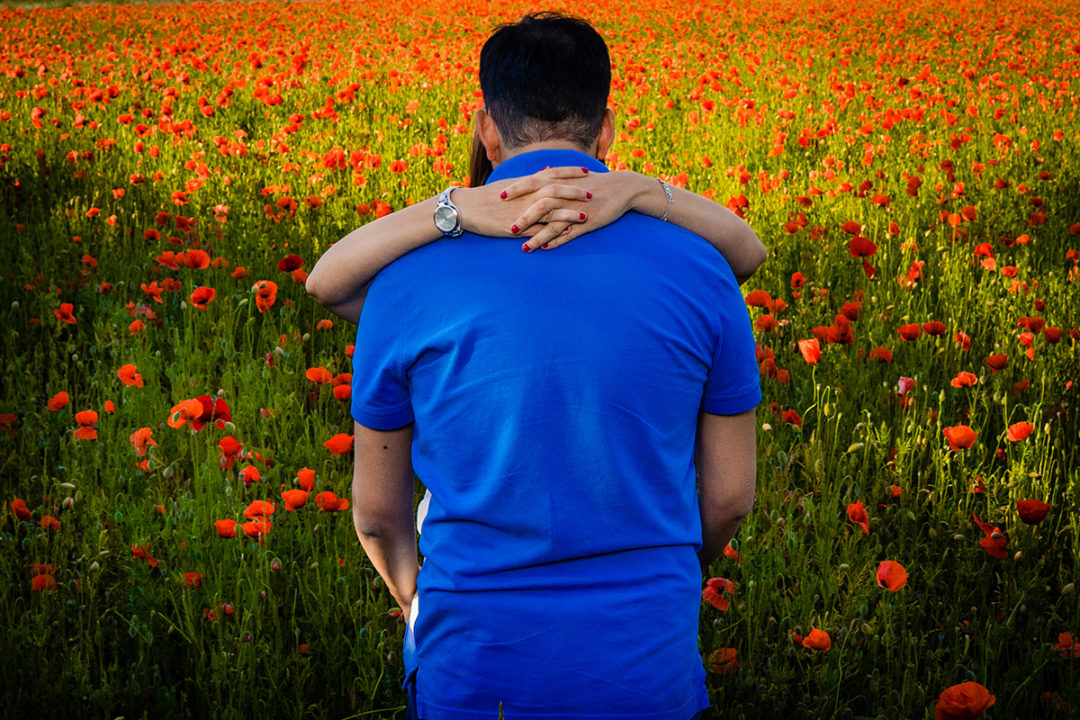 ---
Contact Us for More Information!
We hope that you enjoyed this glimpse of what your own photo gallery will look like if you book us for an engagement session. We also hope it has piqued your interest about our services! If so, go ahead and send us a message here.
Planning a destination wedding? No problem! Though we are based in Washington DC, we obviously travel for weddings and engagement sessions. That has taken us to countries in Asia, Europe and various cities within the US.