Want to commemorate your decision to marry with something iconically "DC?" Then cherry blossom engagement photos are a great choice! After the monuments, the delicate pink and white flowers that bloom for one or two glorious weeks every spring are perhaps the best known symbols of the Nation's Capital. Having your engagement photoshoot with them as a backdrop is a perfect way to show the world that Washington is a vital part of your love story.
The most sought-after location for cherry blossom engagement sessions is, without question, the Tidal Basin. The world-famous trees ring almost the entire circumference of the reservoir. Images of their branches heavy with blooming flowers and drooping gracefully to brush the surface of the water are truly unforgettable. Especially when the wind is down. Then the Tidal Basin acts as a giant mirror, creating a "double" layer of cherry blossoms. It's no surprise that this location is so popular! Any couple would love pictures of themselves embracing in the natural nooks created by the curve of the boughs. And perhaps the best part? The Tidal Basin is within sight of the Jefferson Memorial; Franklin Delano Roosevelt Memorial; Martin Luther King, Jr. Memorial; and Washington Monument. So you can combine several of the most recognizable DC icons in one awesome photoshoot.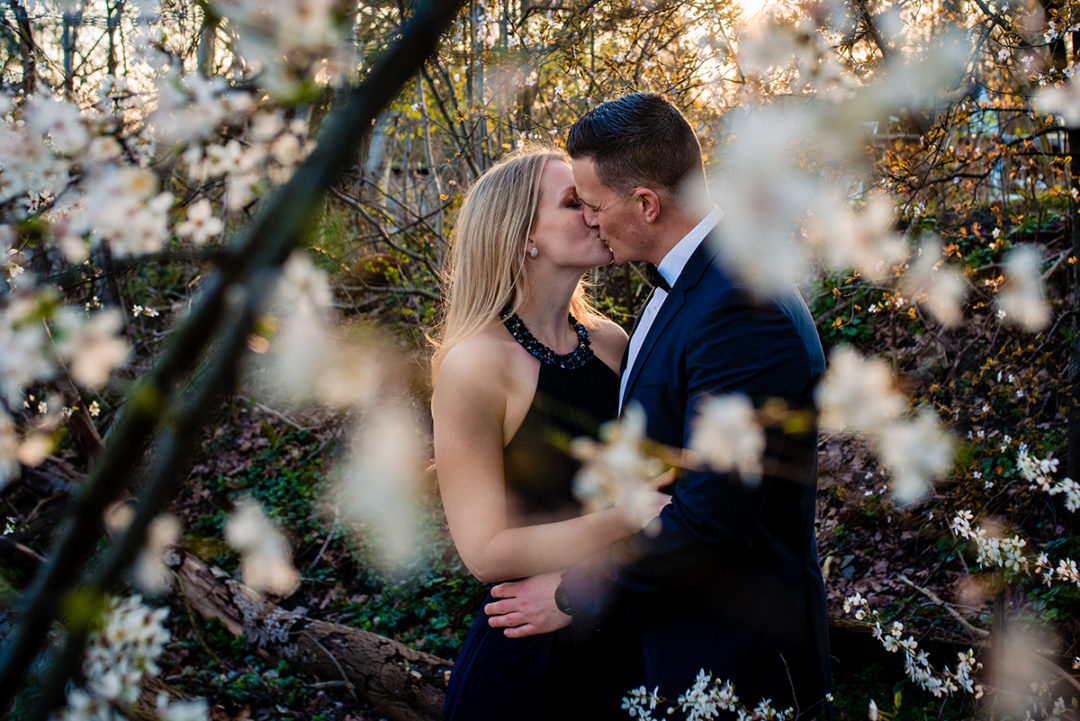 Top DC Area Locations for Cherry Blossom Engagement Sessions
The downside to choosing the Tidal Basin, though, is that you will definitely not be the only ones with that idea. When we say that that spot is popular for engagement sessions, we mean it is POPULAR! Even worse, the annual Cherry Blossom Festival attracts hordes of tourists who seemingly occupy every inch of prime engagement photo space for two weeks. So a session near the Tidal Basin can be somewhat stressful for you. (And don't believe anyone who tells you that a sunrise engagement shoot will make everything better! It's not much less crowded before dawn. We've been out there at 5:00 am and have witnessed amateur photographers arguing with each other over who has dibs on a particularly good spot!)
The good news is that the Tidal Basin is far from the only place in the DC metro area with cherry blossom trees. There are dozens of great locations for cherry blossom engagement shoots that attract a fraction of the crowds. So you get all the beauty and unforgettableness of the National Mall without any of the hassle or stress! With that in mind, here are some fantastic spots to consider: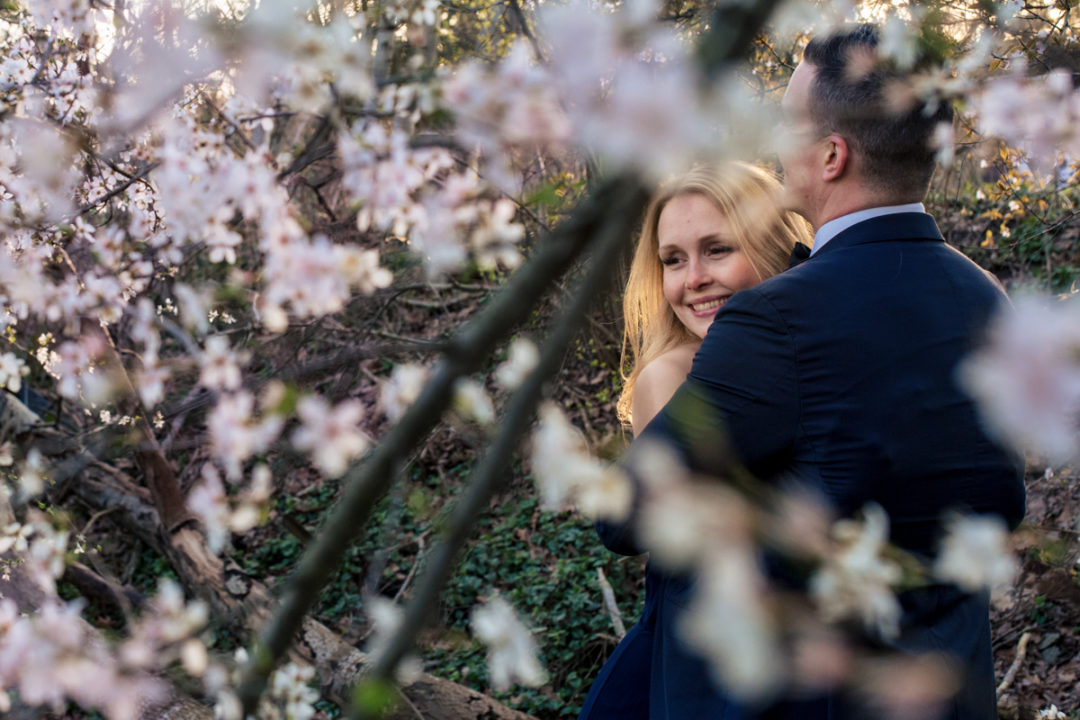 Cherry Blossom Engagement Photoshoot Locations in Washington DC
Let's start with options inside the District.
Hains Point/East Potomac Park
Just a short walk from the Tidal Basin is Hains Point, a lovely peninsula that juts into the Potomac River. At its far end is East Potomac Park, a charming picnic and recreation area. Cherry blossom trees line most of the shore of the peninsula, making it a great choice for a spring engagement session. Even better, it has some extra plusses that the Tidal Basin doesn't. For example, the proximity of the river leaves the views from its shores relatively unobstructed. That means you can get fantastic engagement photos with downtown DC or bluffs of Northern Virginia in the background. The clear view comes in especially handy at dusk and dawn. Hains Point is hands-down the best place for cherry-blossom-themed sunrise and sunset engagement sessions.
Unfortunately, no location for cherry blossom engagement sessions is 100% perfect. There are a couple of downsides to choosing Hains Point and East Potomac Park. First, the area is only slightly less frequented by tourists than the Tidal Basin. So you're still potentially going to be fighting crowds. Second, the peninsula is on National Park Service (NPS) land, meaning engagement photoshoots require a special permit that will cost you $140.00.
Potomac River cruises
Moving a short distance from Hains Point brings you to an outside-the-box location for cherry blossom engagement sessions. Namely, aboard one of the Potomac River cruise lines that ferry sightseers up and down DC's main waterway. Because the National Mall and Tidal Basin are relatively close to the river, you can get great views of the cherry blossom trees from the upper decks of these cruise ships. As a result, most local boat companies offer special seasonal packages specifically designed to take you past the best blooms on either shore. As a bonus, a Potomac River cruise cherry blossom photoshoot also gives you gorgeous and unique views of the monuments rising above the horizon in the background.
If you are considering booking a spot on a Potomac River cruise, however, there are a couple of additional things you'll want to consider. For starters, this option is not free. Though the ferry operators do typically offer pretty good prices in the aforementioned special packages, you will have to pay for the tickets. In addition, being on a boat does limit the breadth and variety of the engagement pictures you'll get. Though the background will change during the shoot, the setting won't. So you're pretty locked into images with a specific look and feel.
Dumbarton Oaks and Montrose Park
Heading back up the Potomac takes you to Georgetown, the source of many of the river cruises and one of DC's most famous neighborhoods. Tucked just up the hill from its main commercial area are Dumbarton Oaks Park and Montrose Park. These two hidden gems are contiguous green spaces that offer a bit of much-needed tranquility amid the hustle and bustle of the Nation's Capital. They also have some gorgeous cherry blossom trees with far fewer tourists milling around! The two parks also have several other spots for great engagement photos. Away from the main areas is a charming old stone bride set in the middle of a forest. It is one of the loveliest settings for couples portraits imaginable. The proximity to the middle of Georgetown is another plus. After getting cherry blossom engagement pictures, you can also get stunning shots of you on the neighborhood's iconic M Street.
Like Hains Point and East Potomac Park, these two locations sit on NPS land. As a result, engagement photoshoots at either or both parks require a special permit. You can cover both with the same application fee ($90.00) but would need to pay a separate location fee for each ($50.00 apiece).
Stanton Park
Swinging around to the other side of the Nation's Capital, you'll find Stanton Park. Located on Capitol Hill, this small green space is an insider's cherry blossom viewing destination. Though nowhere near as famous as many of the other cherry blossom sites in and around DC, it still offers some gorgeous blooms to pose in front of. Perhaps even more valuable, however, is Stanton Park's location. As with real estate, the neighborhood matters a lot in an engagement session. And Stanton Park sits in one of the best places in Washington for couple portraits. Just blocks away are both the US Capitol and Union Station, two of the city's (and country's) most iconic landmarks. The liveliness of the open-air bazaars of Eastern Market are also within walking distance.
Stanton Park is yet another location that falls under NPS's jurisdiction (sensing a theme here?), so professional photoshoots there also require a permit. The US Capitol and parts of Union Station also require special permission, though it is possible to get photos of you on the street with those buildings behind you.
United States National Arboretum
Another nice thing about a session at Stanton Park is that you can easily pair it with a visit to the U.S. National Arboretum. Its location on the far eastern edge of the District means it draws far fewer visitors than the attractions downtown. The trip is well worth the effort, though! For starters, its cherry blossom trees stay in bloom longer than those downtown. The National Arboretum also offers a gorgeous collection of other trees and flowers that make spectacular backgrounds in engagement photos. Another attraction is the National Capitol Columns, 22 beautiful spires that were originally a part of the U.S. Capitol. You can also take a short drive across the Anacostia River to Kenilworth Aquatic Gardens. That spot has some cherry blossom trees by the entrance. But its main draw is the stunning pink and white lotuses that bloom every June and July.
The downsides to a cherry blossom engagement photoshoot at the U.S. National Arboretum include (yet again) permitting requirements. The USDA, which administers the site, has a different application process from the NPS and charges $105.00 for a permit. The other drawback to scheduling a session there is the National Arboretum's is what we mentioned above. Unless you live on the eastern side of DC or in the parts of suburban Maryland nearby, it can be a bit of a drive to get to the park.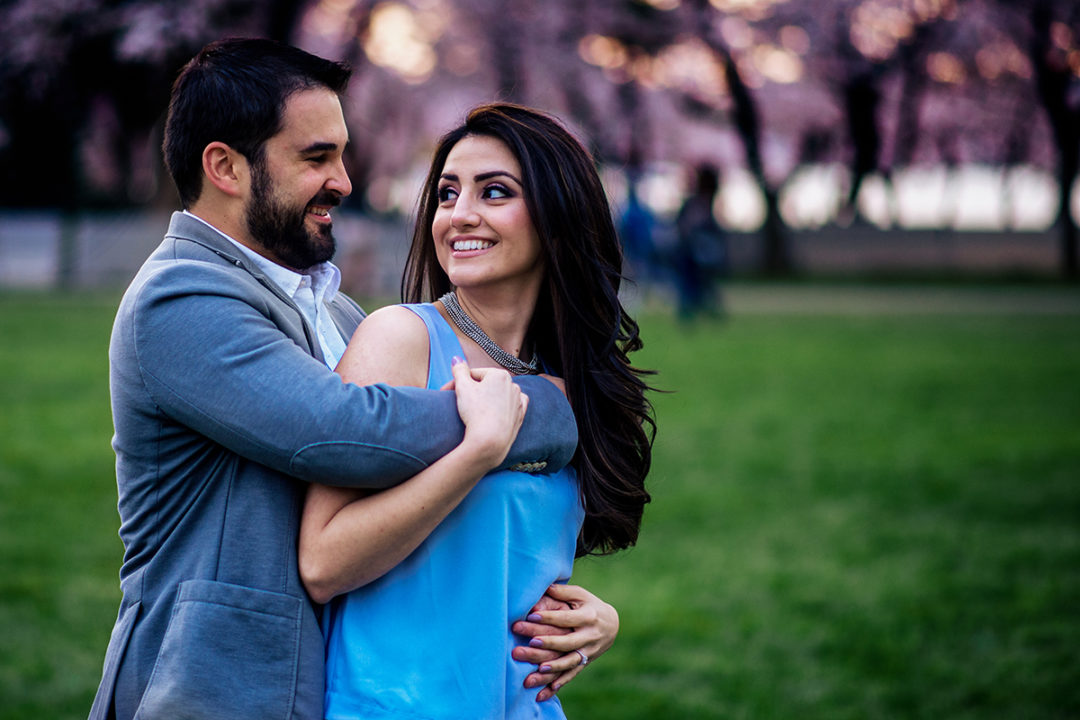 Top Maryland Locations for Engagement Sessions with Cherry Blossoms
Speaking of Maryland, DC's neighbor to the north is no slouch when it comes to cherry blossoms! The state hosts several great locations for cherry blossom engagement shoots that draw significantly less traffic than the Tidal Basin.
Glen Echo Park
One spot that is fairly close to the District is Glen Echo Park. Formerly an amusement park, Glen Echo is now a cultural center offering classes, workshops and performances in the visual and performing arts. Nods to its past remain, however, such as the antique Dentzel menagerie carousel that was the park's last operating ride. Not surprisingly, this feature makes for a great and visually interesting backdrop for your engagement photos.
Since the closure of the amusement park, the NPS has managed Glen Echo Park. As you can probably guess, that means you need a permit to have a cherry blossom engagement session there. Complicating matters are the additional fees necessary to do commercial photography, making Glen Echo Park a more expensive option than most other locations.
Kenwood, Maryland
Tired of reading about places that require permits? Don't worry! There are locations in the DC metro area that are free for cherry blossom engagement photoshoots. One such spot is Kenwood, a neighborhood in the swanky Washington suburb of Bethesda. Thanks to the explosion of pink and white flowers that blankets the area every spring, Kenwood's fame as a destination for viewing is second only to the Tidal Basin's. It is such a popular destination, in fact, that there is even a dedicated parking lot nearby to accommodate the uptick in visitors during cherry blossom season!
All that popularity means, of course, means that it does attract a lot of tourists every spring. It is probably also second only to the Tidal Basin in the number of visitors it gets. (Being free might have a little something to do with that!) So if you choose this spot as your cherry blossom engagement session location, be ready to deal with some crowds.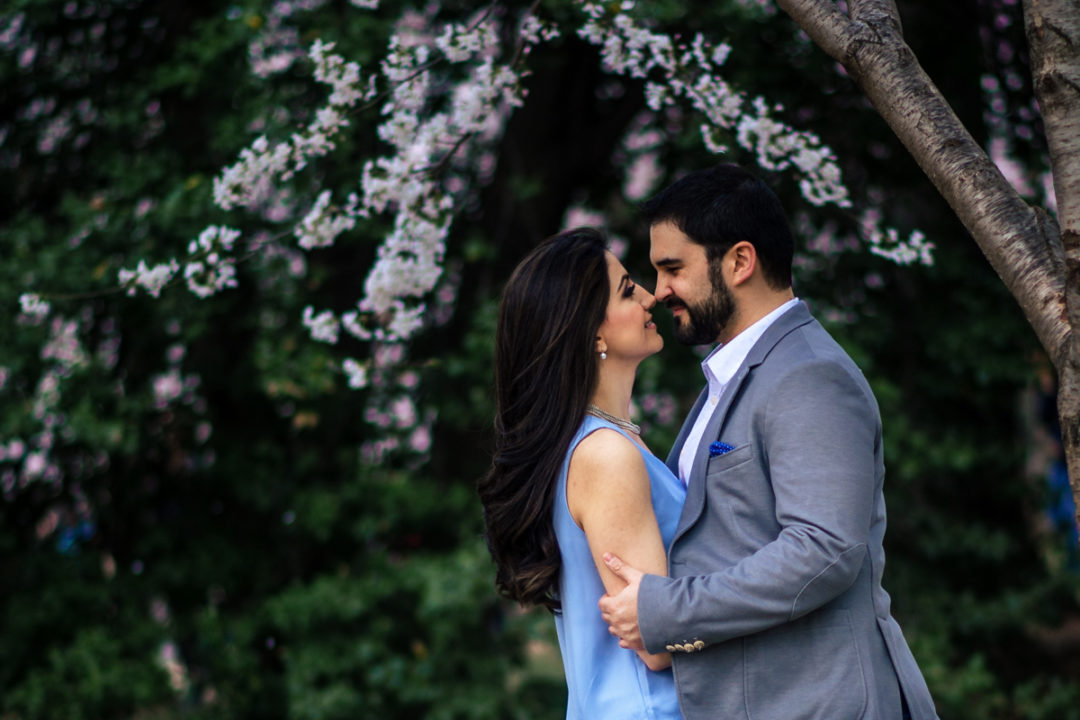 Best Places in Virginia for Cherry Blossom Engagement Photos
But what if you live on the Virginia side of the DMV and don't relish the idea of fighting for parking in the District or trekking all the way to Maryland? Fortunately, you have plenty of great options much closer to home.
Green Spring Gardens
One great example is Green Spring Gardens, a lovely little park in Alexandria. In addition to some gorgeous cherry blossom trees that are perfect for your engagement session, the gardens also have a collection of beautiful flowers, trees and plants. Those make it an ideal spot if you want an outdoor engagement photoshoot. The highlight of the park is a charming gazebo set next to a peaceful pond with a fountain at its center. Another reason to consider Green Spring Gardens is its location. It is just a short drive from Old Town Alexandria, meaning you can combine the two spots for a session with lots of variety!
Unfortunately, this is one more location for a cherry blossom engagement session that needs a permit. Fortunately, it is the least expensive one we have found in the DC metro area. (There could be cheaper ones, of course, so please don't hold us to this if you know of one!)
Meadowlark Botanical Gardens
Heading farther from DC and deeper into Northern Virginia takes you to Meadowlark Botanical Gardens in Vienna. One of the prettiest of the properties that NOVA Parks manages, these 95-acre gardens have a striking collection of cherry blossom trees that bloom a bit later than the ones downtown. With around 100 of the trees scattered throughout the park, the photographic possibilities are very diverse! The best spots, though, are along the walkway that traces a loop around the park and near the ponds in its northwest corner. In fact, you could probably spend your entire engagement session in that part of the gardens. In the middle of one pond is a lovely gazebo. From that spot, you have a gorgeous view of the pavilion that is the centerpiece of Meadowlark Botanical Gardens' fantastic Korean Bell Garden.
Doing your engagement photo session at this site does require a permit. Like Green Spring Gardens' fees, though, the prices to use Meadowlark Botanical Gardens are rock-bottom. The other potential drawback to choosing this location is its distance from most of the rest of the DMV. If you live in the Virginia part of that, no problem! But if you're coming from DC or Maryland, then you're looking at driving more than 20 miles to get there.
Van Gogh Bridge at Lake Anne
A short drive from Vienna to Reston brings you to Lake Anne, a pretty little body of water in the middle of a commercial and residential development. Partway around the lake is a charming footbridge that is a secret spot for gorgeous couple portraits with cherry blossoms. Though this is really the only location at Lake Anne with those famous trees, the area offers lots of other great photographic possibilities. In addition to the bucolic views of the lake and surrounding land, there are also some really cool and unique art installations near Lake Anne Plaza (the aforementioned commercial and residential area).
An engagement session at Lake Anne does not require a permit (yay!), but there are a couple of disadvantages you might want to consider before selecting it. First, it is even farther from the District than Meadowlark Botanical Gardens. So again, if you live in other parts of the metro area, it's probably not for you. Second, the lake does not have a lot of different options for portraits with cherry blossoms. You pretty much just have the bridge (which is lovely, by the way!). So if you want cherry blossom engagement photos with more diversity and variety, you'd be better off picking another location.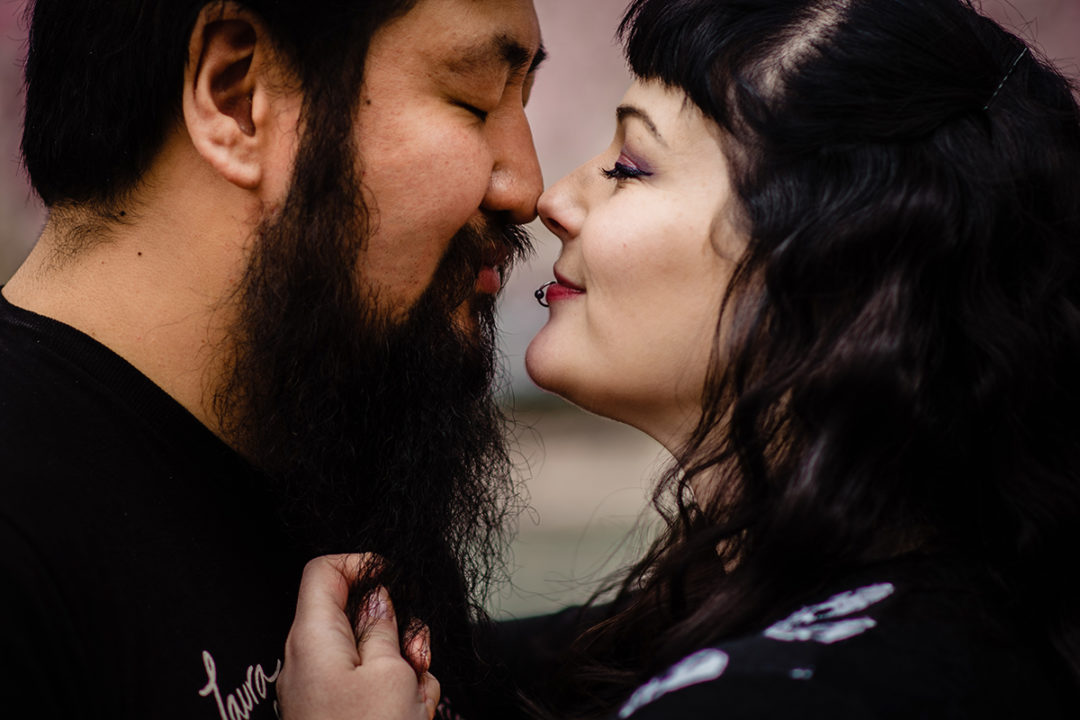 ---
Contact Us for More Information!
Does reading this have you interested in booking a cherry blossom engagement photoshoot in or around DC? Great! Contact us now to get that conversation started! Be sure to also check out our Wedding Photography FAQ page for answers to all the questions you might have about our services!