The best time of year for engagement sessions in the Washington DC metro area is approaching fast. And with that in mind, we'd like to address something that a lot of our clients ask about. Namely, what they should wear for their engagement photoshoot. It is a great question and one that we love to answer for the couples we photograph! We obviously want you to be thrilled with your engagement portraits. It is also very important to us that you come away from your session happy with the experience. And for reasons we get into below, the clothing you choose for your session makes a huge difference in both those areas. So without further ado, we'd like to offer you six tips for what to wear for engagement photos.
#1: Choose the Outfit that Makes You Feel Most Confident About Yourself
This is without a doubt the most important consideration when it comes to your choice of outfit. If you feel good about how you look in what you're wearing, you will be brimming with confidence. And that is going to shine through and make you look great in your engagement photos. So pick an ensemble that shows off the features you like best and downplays the areas that make you feel insecure.
At the same time, avoid new outfits. You will almost certainly worry about how they look and fit during your session. Also tay away from ensembles with a mixed track record of making you look good. You can pretty much guarantee that they will let you down on the day of. Finally, steer clear of "project" clothing. Those can be great motivation for working out or dieting, but unless they fit great at the time of your engagement shoot, leave them at home.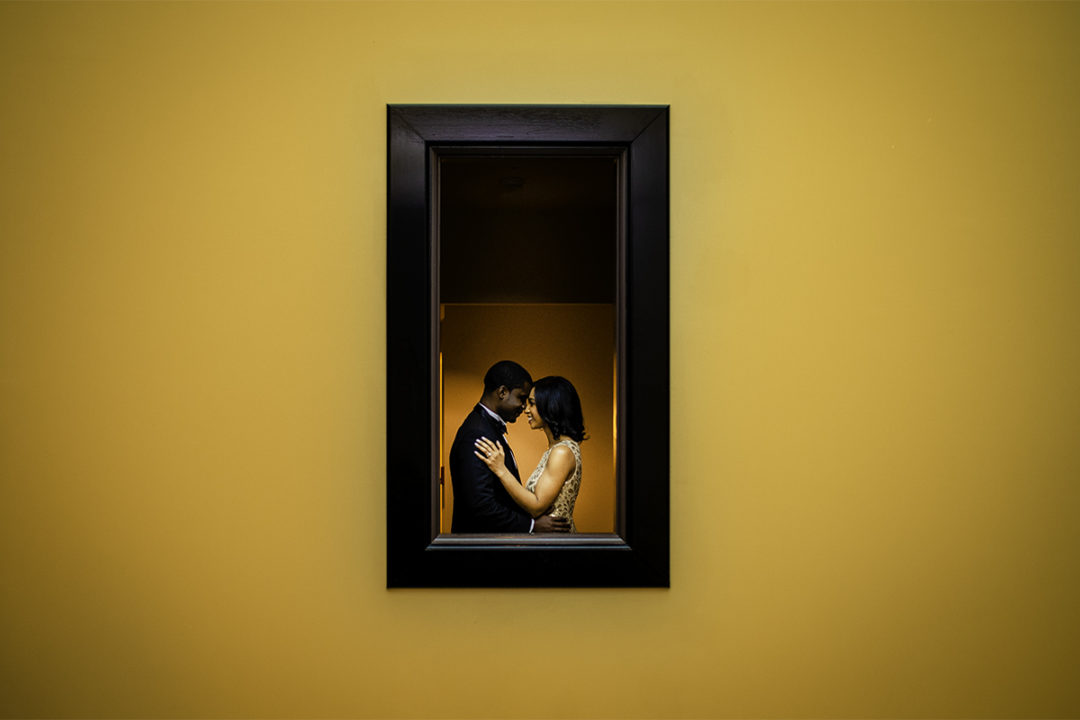 #2: Make sure that you are also comfortable
The ideal choice of outfit for an engagement photoshoot is one that you forget you even have on. Why? Because you do NOT want to spend your entire session adjusting or fixing some part of what you're wearing. That fidgeting will take you out of the moments you're supposed to be sharing with your partner. And that will kill a lot of the romance that can make engagement pictures so magical. So pick clothes that fit you just right, leave a bit of freedom of movement and don't pinch, bind, ride up or fall down.
In addition, uncomfortable clothes (especially shoes) can really limit your choice of location. If you have trouble walking in what you're wearing, you might have to cross some really great outdoor spots off your list of potential places for photos. But what if you have a really cute pair of heels that you absolutely must wear for your engagement photos? Not a problem! Just bring a more comfortable pair of slip-on shoes that you can change into whenever you need to walk.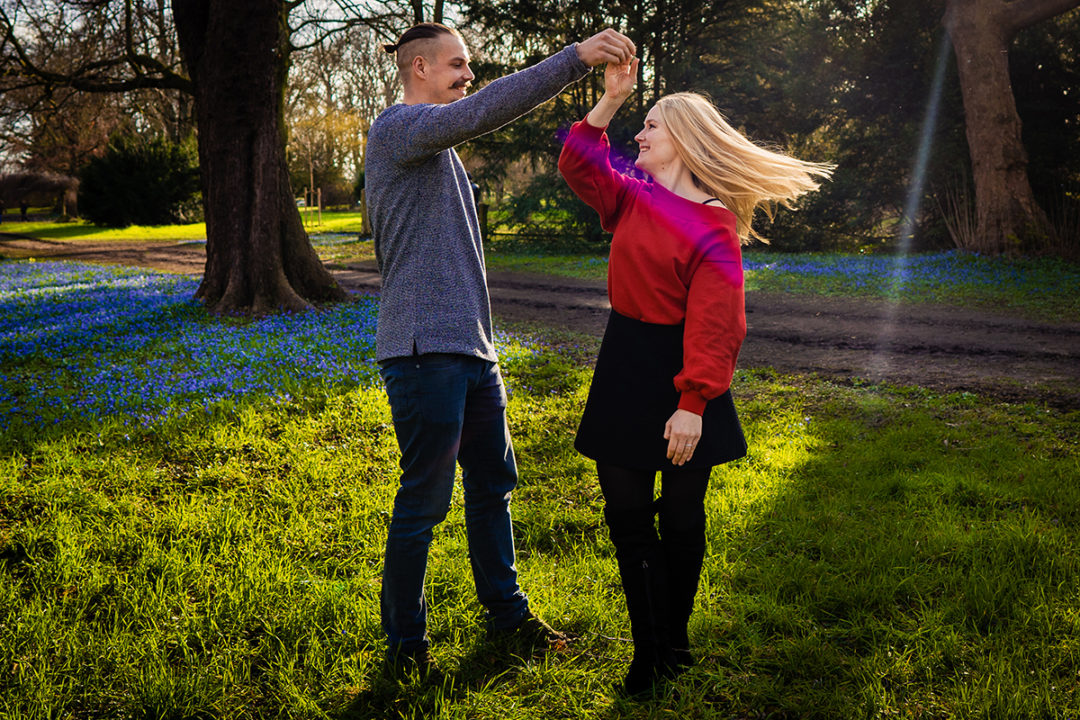 #3: Bring One or Two Changes of Clothing
You will definitely want some variety in your engagement portraits, so bring another set of clothes to change into during your session. Putting on a new outfit halfway through can literally allow you to get two photoshoots' worth of pictures for the price of one.
Resist the urge, however, to bring too many different outfits. You definitely won't want to spend the majority of your session changing in and out of clothes! Plus lugging around a lot of extra stuff will get old quickly — even if your future spouse is the one doing the carrying. Try to limit yourself to two extra ensembles at most. One should be your main change of clothes and the other a backup in case the first one doesn't fit the setting.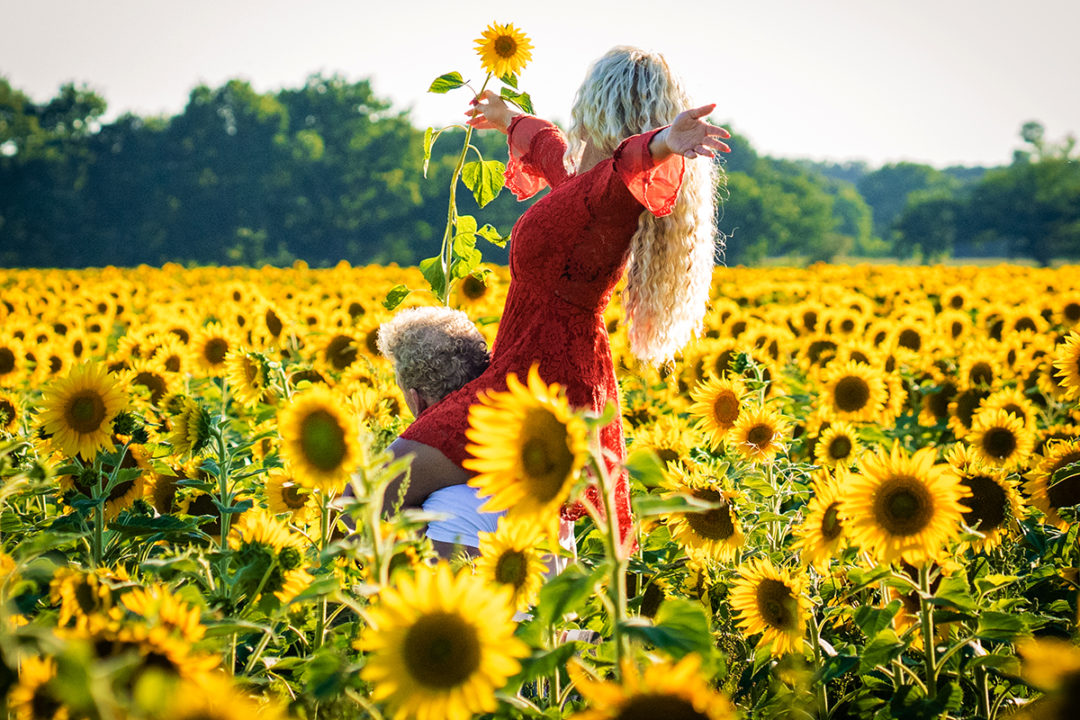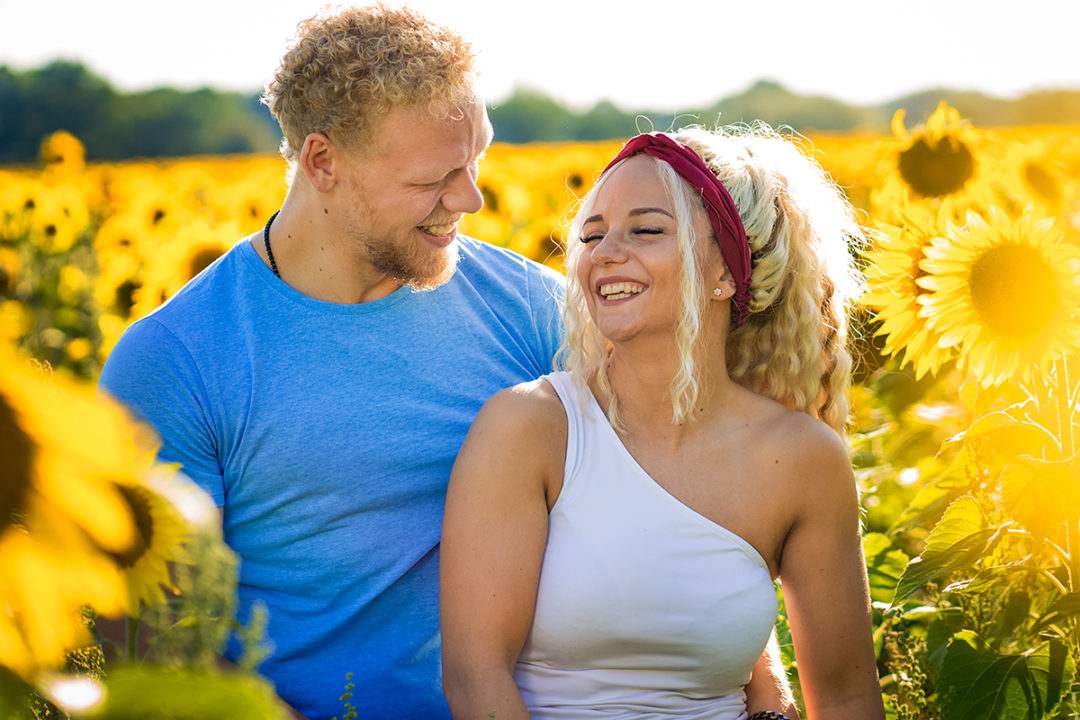 #4: Vary Things up with Accessories
Engagement portrait sessions are often on the shorter side, and some locations don't have a place where you can change clothes. So getting into a new outfit might not be possible. If that is the case for you, don't worry! You can still get variety in your pictures by bringing along some cute and fun accessories. Putting on a hat, scarf, different piece of jewelry, watch or other new element can transform your outfit into something entirely distinct without a wardrobe change.
But what if you can change your clothes during the session? Bring some accessories anyway! Having them on hand will still be a nice way to jazz things up during your session.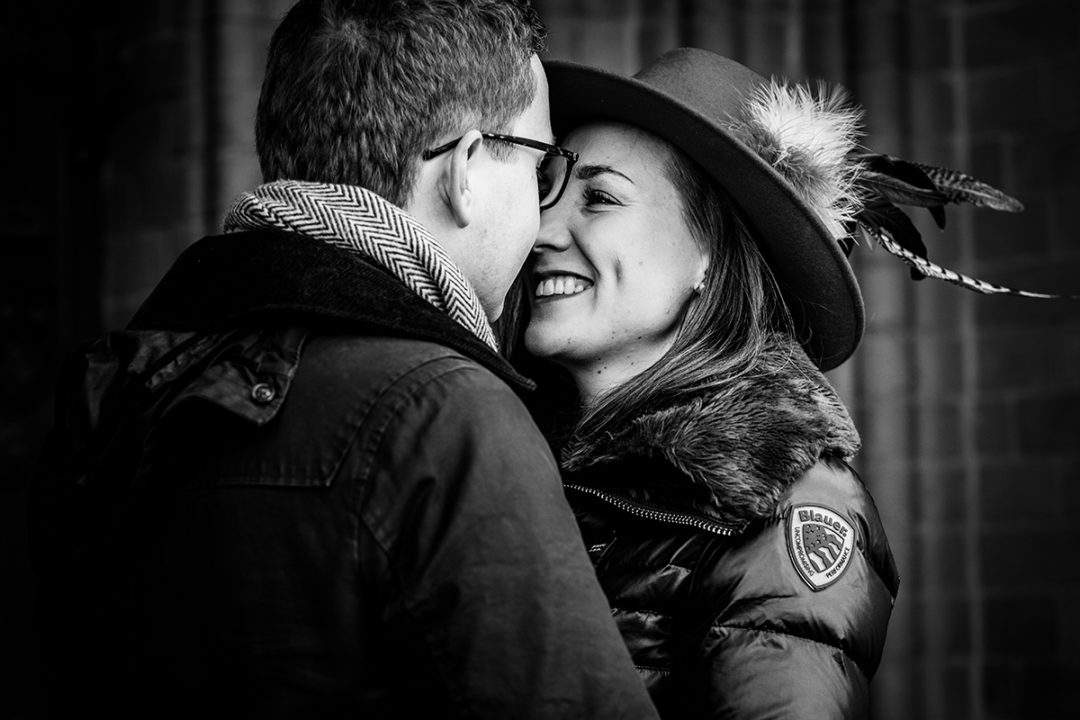 #5: Pick Colors that Complement what Your Partner Is Wearing
The images of the two of you are going to be much more visually pleasing if the colors of your outfits mesh well together. Everything about your engagement photos should emphasize togetherness, connection and compatibility. Clothing choices that look good together will communicate those things subtly but effectively.
We generally advise against wearing matching outfits, though. We should confess, however, that that is a personal aesthetic preference and not an iron law of engagement photography. For us, photos of people in matching clothes always reminds us of some truly embarrassing family holiday card photos from our childhoods. (And no, you should not think about asking our moms to see evidence of those!)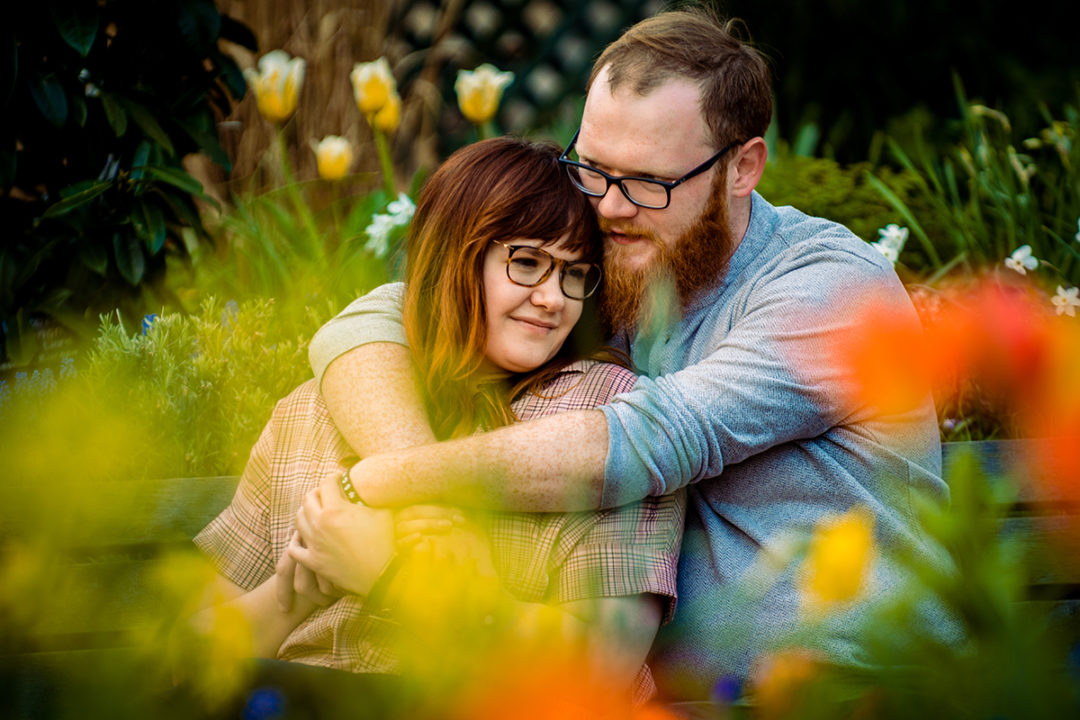 #6: Avoid Bright or Loud Colors and Very Elaborate Patterns
You should certainly choose colors and patterns that you love, especially if they make you look and feel your best. Do be aware, though, that bolder choices might not always work well in every setting. Bright or neon colors don't always mesh well with certain backgrounds. And the last thing you want is unintentionally jarring effects in your engagement pictures!
Similarly, some especially bold patterns can limit the locations that will work well for you. If the print you choose to wear clashes, that is going to create a visually unappealing look that will leave you unhappy with your portraits. So unless you really love how you look in a particularly bold outfit choice, we suggest sticking with more muted colors and neutral patterns.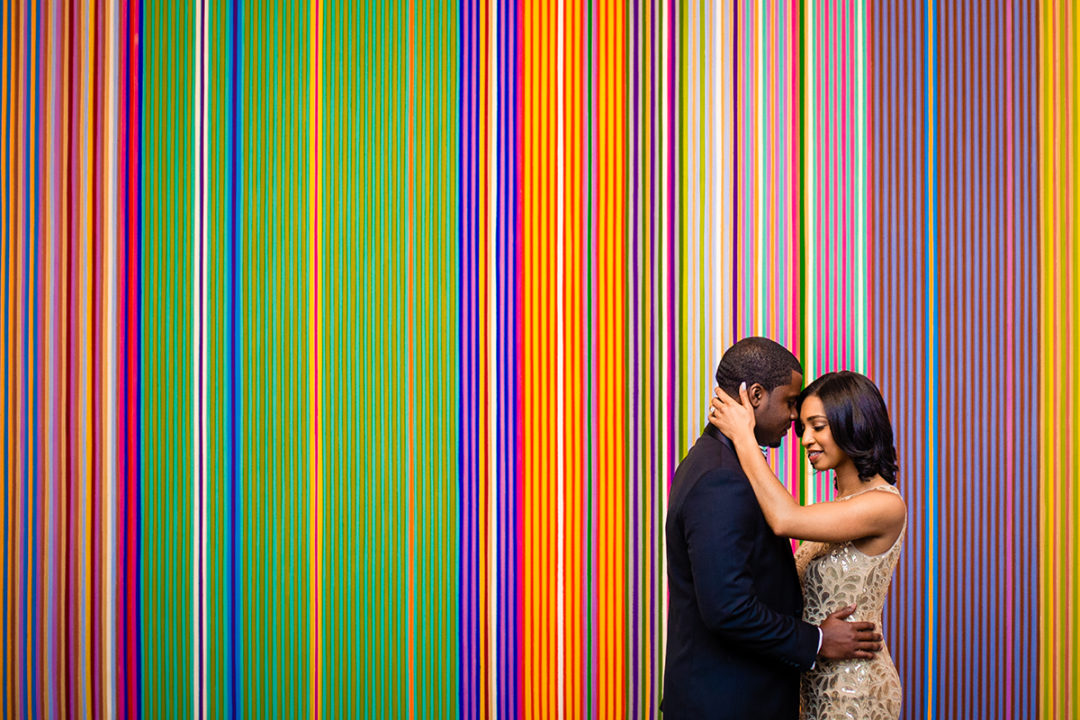 Still Not Sure What to Wear for Engagement Photos? Ask Us!
Hopefully, the tips above will help you choose the perfect outfit for your engagement session. But if you're still unsure what would look best in your photos or if you want to know if a specific ensemble would be a good choice, feel free to ask us! We have a lot of experience taking pictures of couples like you and would like to think we have a pretty good feel for what works and what doesn't. More importantly, we want you to love your portraits and are happy to help to make that happen. So please do reach out to us for feedback on possible outfits if you like!