Creative Engagement Photos
We are always thrilled when people for whom we've done couples or engagements portraits want more. That is why we were so pleased when two clients we photographed in a recent destination engagement session asked us for a second shoot the following night. We had taken gorgeous pictures of Barbara and Kenneth in a lovely forest setting just outside of Hannover, Germany. The couple absolutely adored the images, but they decided they also wanted something different. So they asked us to take more creative engagement photos for them the next day. We aim to please, of course! So we brainstormed ideas and techniques that would dazzle and amaze them.
Portraits at Sunset
To ensure we got creative engagement photos for them, we scheduled Barbara and Kenneth's session at sundown. Why? For starters, we had some great ideas for using the sun's waning light to create some inventive portraits. The light at that time is perfect for getting more conventional pictures that are really gorgeous. But it also illuminates things at a steep angle. That means it creates high-contrast scenes — areas with long, striking shadows and narrow patches of light.
And skilled DC wedding photographers can use those to craft really creative engagement photos. For example, we asked Barbara and Kenneth to lie down on the floor of their hotel room, where light coming through the blinds painted streaks of illumination. We positioned them such that only their eyes were illuminated. Just like they were the day before, the couple were great sports throughout the process. We marveled at their patience and specifically their ability to refrain from blinking the entire time the light was shining in their eyes.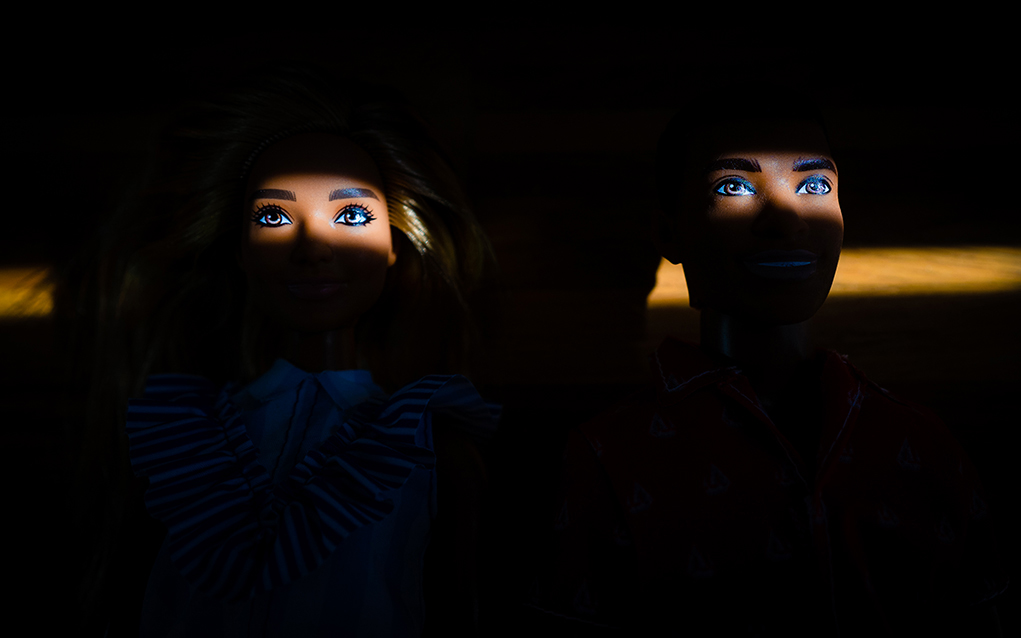 After capturing some stunning images of them in that pose, we changed things up and asked them to stand near the window. Then we pulled up the blinds to let the full light of the setting sun in. With the future spouses in that position, their shadows stretched across the room. We climbed up above them and aimed our cameras down at the floor to get a very innovative portrait of the couple. Fortunately for us, they were not terribly tall!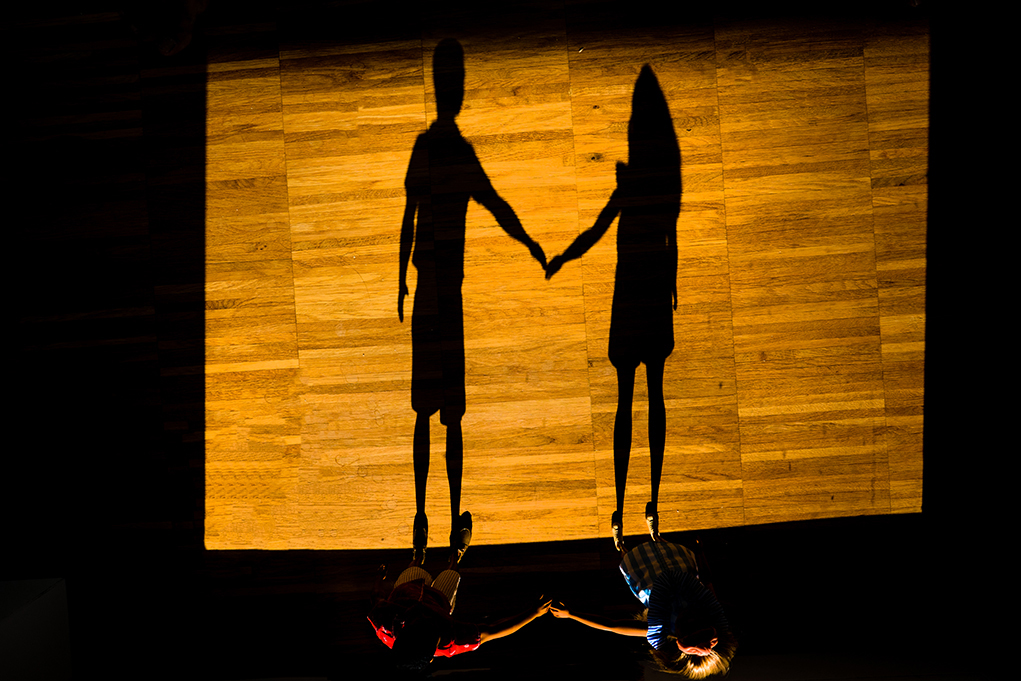 We concluded this part of their engagement shoot by having them stand against one of the walls of their hotel room. More specifically, the one facing the window. We then dropped the blinds back down. That turned the sun's rays into a very visually interesting pattern on the white paint of the wall. We posed the couple quickly and got some magical shots of them in that spot.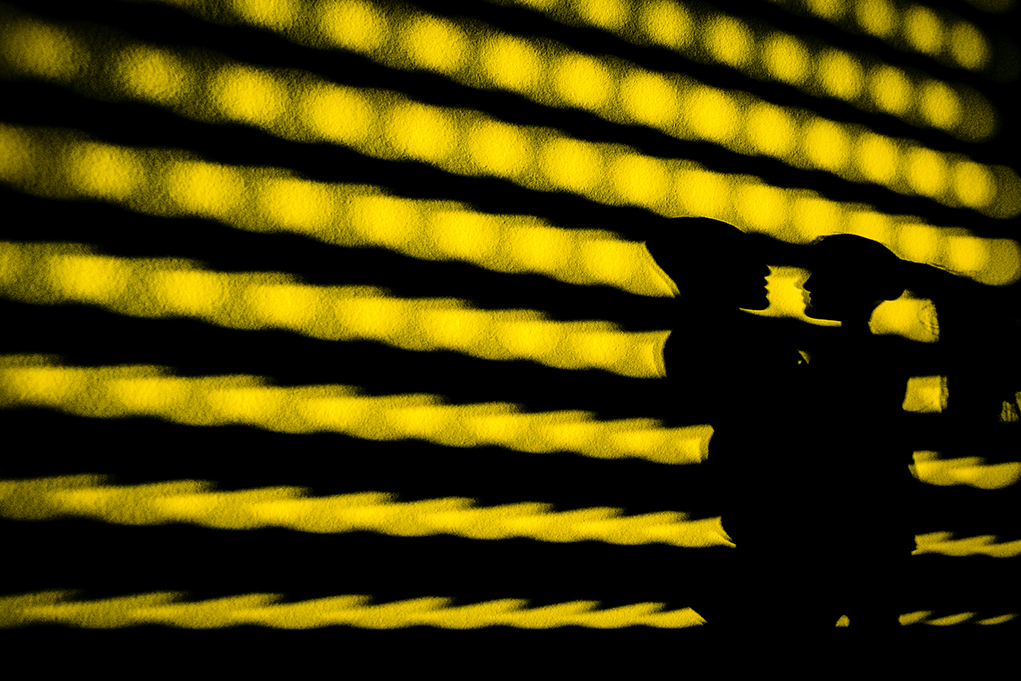 Unique Engagement Photos
Before the sun set completely, we brought Barbara and Kenneth outside for some creative engagement photos with a completely different look and feel. The second reason why we scheduled the shoot at dusk was the opportunity to do silhouette engagement portraits. Though those are technically possible at any time of day or night, mornings and evenings are particularly good for silhouettes. The low position of the sun makes it very easy to darken the subjects against the rest of the frame.
To give the couple the creative engagement photos they wanted, though, we introduced an additional element that dramatically transformed the scene. We took some MagMod filters that we normally use in flash photography. These filters are pieces of metal with designs cut into them. We placed them against our lens and pointed the camera toward the sun so that the design became a silhouette. We then posed the future spouses such that they were framed by the lines. The resulting images were something unlike anything they had seen before.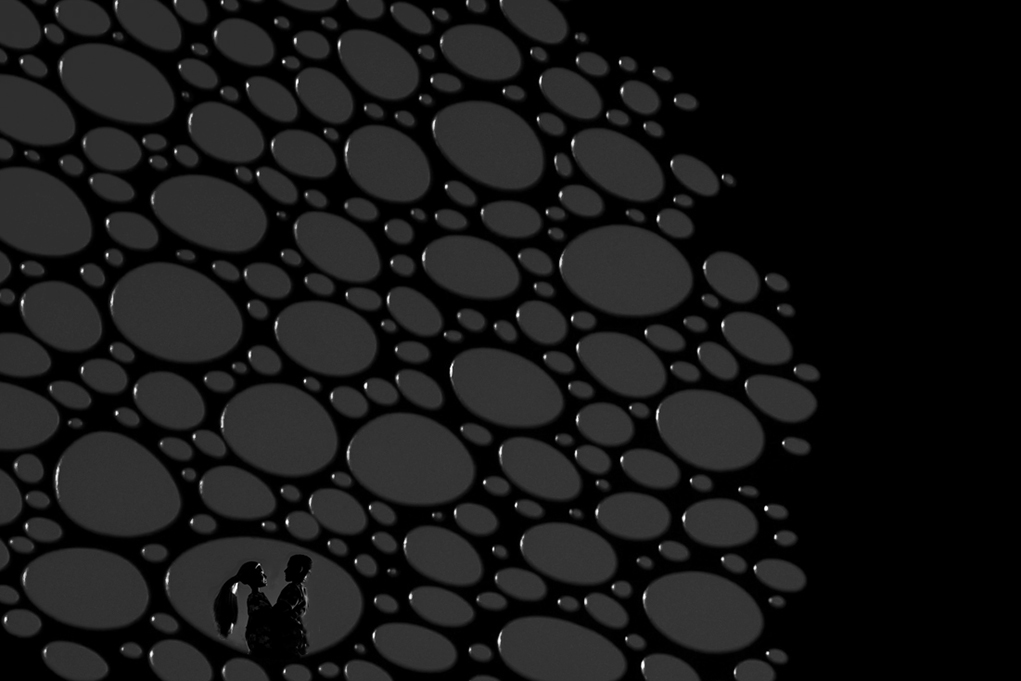 Zoo Portraits
The final reason why we planned Barbara and Kenneth's second engagement shoot at sundown was the chance to do some night photography. The darkness obviously requires us to use our flashes. And artificial lighting really amps up the potential for creativity.
The location of that portion of the engagement session was the Erlebnis Zoo Hannover (Hannover Experience Zoo). That institution, which recently reopened, is a lovely destination that attracts visitors from around the world. Barbara and Kenneth loved the idea of creative engagement photos there and specifically requested that we do a portion of their shoot at the zoo. They met for the first time while on safari, so pictures of them near exotic animals was a great way to tell part of their love story.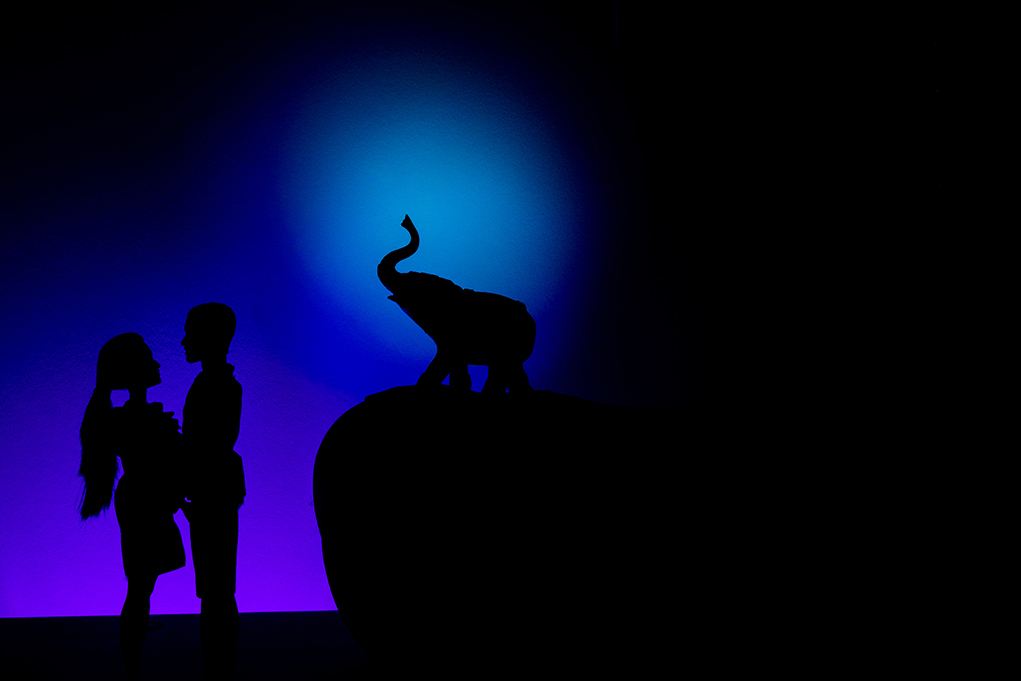 As luck would have it, their engagement shoot happened to coincide with a "Late-Zoo" event that the institution holds on a regular basis. On certain days, the zoo remains open until 10:00 pm, meaning night photography near the animals is a possibility. So we packed up our gear and took them to the zoo.
We started by the big cats. That choice was partly a nod to their first meeting and partly because we love cats so much. We posed the couple in front of the lion enclosures and used our flashes to illuminate them. As we were taking these shots, one of those majestic creatures wandered by to see what was going on. Fortunately, the streetlights lighting the zoo's walkways provide enough illumination to show the big cat watching the future spouses as they posed.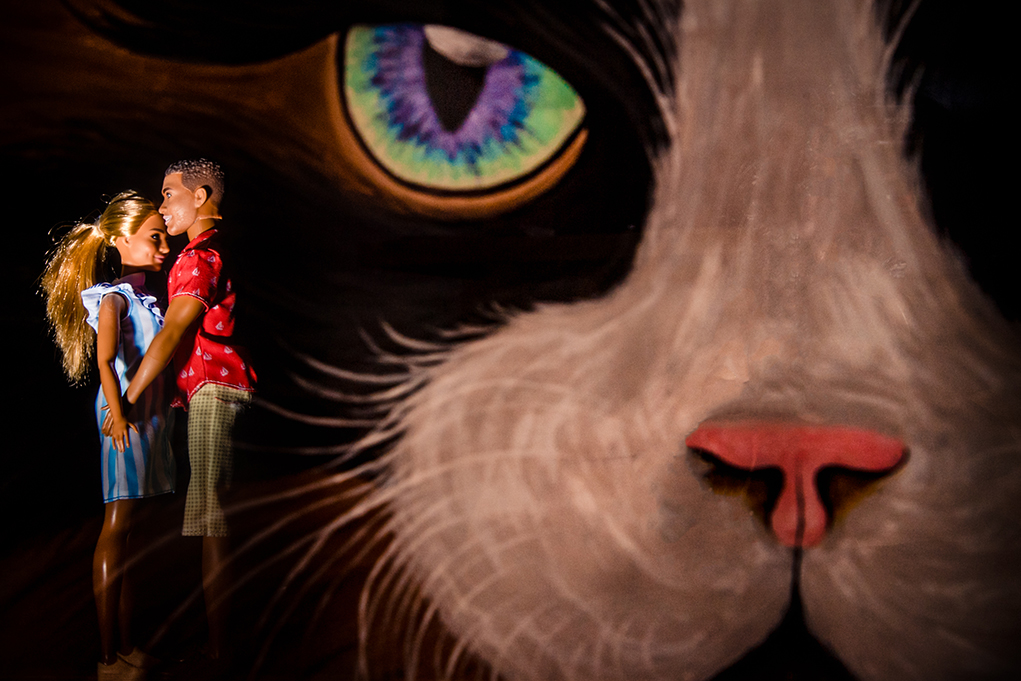 Engagement Photographer DC
After that, we brought Barbara and Kenneth to another animal they remembered fondly from their safari: the elephant. To make those portraits more creative, we took out our MagMod gels to add some color to the scene. When attached to our flashes, those tools paint the scene in a variety of hues. We put our artificial lights behind the couple so that they would be silhouettes in the resulting images.
We then went to the other side of the enclosure to shoot through that space. That increased the likelihood that at least one elephant would be in the scene. At first, we used the same lighting to make the elephant who happened by dark in the frame as well. We couldn't believe our luck when the beautiful animal raised his trunk and trumpeted just as we were clicking our camera shutter.
For the next sequence of photos, we decided to mix things up a bit. We left one flash behind the couple and moved another one back to where we were standing. That allowed us to illuminate the curious elephant. Who, in an incredible stroke of good fortune, trumped again just as we were taking a picture of the couple.
We'd like to thank Barbara and Kenneth again for being such great clients and willing participants in both shoots. Their patience and flexibility was much appreciated! And we hope that the images that we gave them made all of that worth it!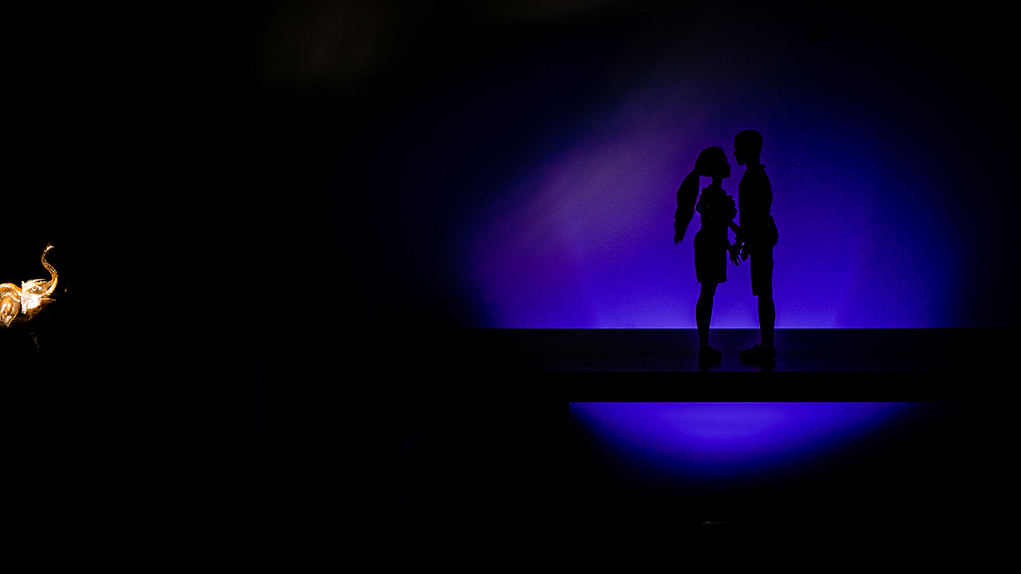 DC Engagement Photographers
We hope that you enjoyed this glimpse of what your own engagement photo gallery will look like if you book us. We also hope it has piqued your interest about our services! For our part, we can't wait to hear more about what you have planned for your big day! So go ahead and send us a message here.
Planning a destination wedding or engagement photo session? No problem! Though we are based in Washington DC, we often travel for weddings and engagement photoshoots. That has taken us to countries in Asia, Europe and various cities within the US.