Love in the Time of COVID-19 by DC Wedding Photographers
As the coronavirus pandemic grips the world, we have found a little pocket of joy and happiness amid the darkness. It is something we call "Love in the Time of COVID-19." And seeing it confirms for these two DC wedding photographers that the human spirit is uncrushable. It helps us believe that love does conquer all. And it gives us hope that better days are ahead.
Honestly, finding positives is hard sometimes when the coronavirus has so completely taken over our collective consciousness. We feel like every time we turn on the news or go online, we see more bad COVID-19 news. And as human beings, our hearts break every time we hear about someone losing a family member, friend or job due to this terrible pandemic.
As DC wedding photographers, we also have sympathy for a more specific group that COVID-19 is affecting. We feel the pain of every couple who has had to reschedule or cancel their wedding plans. Being in this industry (and a married couple ourselves), we know exactly how much effort goes into putting together a dream wedding. To have that disrupted at the last minute is a terrible, terrible thing.
Unique DC Wedding Photography
At the same time, our spirits always lift when we see couples refusing to let the virus rewrite their love story. Sure, the pandemic has forced some small edits. But the plot has remained the same. At the end of the day, DC-area couples are still finding ways to get married and start their life together. And that makes us very, very happy. We love seeing spouses-to-be organizing elopement wedding ceremonies with reduced guest lists. We smile when we see the engagement photos they take while observing proper social distancing. And most of all, we rejoice every time we see the pandemic fail to get in the way of what is most beautiful about a wedding — the love.
Yes, "Love in the Time of COVID-19" looks different. But it is also unique and memorable. We're sure that the couples who get married now will someday love the special spin that their DC wedding photos have. They might never be happy about the disruptions. But they will never forget what was happening when they got married. And people will talk about their wedding photography for decades to come.
DC Photographer Self-Portraits
Inspired by those efforts of our fellow Washingtonians, we decided to ask a DC wedding photographer to take some pandemic-inspired couples portraits of us. One problem: We are stuck in Germany at the moment due to travel restrictions. It turns out that there are two DC wedding photographers who live very nearby. (Spoiler alert: They are us!) So we took our cameras, DJI drone and protective masks out to a nearby field to take some self-portraits.
The good news was that flowers are fully blooming right now in Northern Germany. So we had our pick of gorgeous backdrops. The best one was a large field of yellow blossoms not far from our house. After walking through the length of it (and getting pretty dirty in the process!), we found a nice break in the flowers a passing tractor made. That seemed like a good spot in which we could lie down for some drone photography. (We've talked elsewhere about why aerial photos of you look best when you're on the ground.) Sure enough, once our drone was up in the air, we saw some striking lines and patterns emerge. We then took some portraits of ourselves embracing and kissing as much as the masks would allow us. Afterwards, we took some more conventional self-portraits of us standing in the field.
We hope that these photos spur you and your future spouse to find ways to express and document your own love during this time of crisis. As you do, though, please remember to observe proper social distancing and to take all other appropriate precautions. We want you and your families to stay safe and well at all times!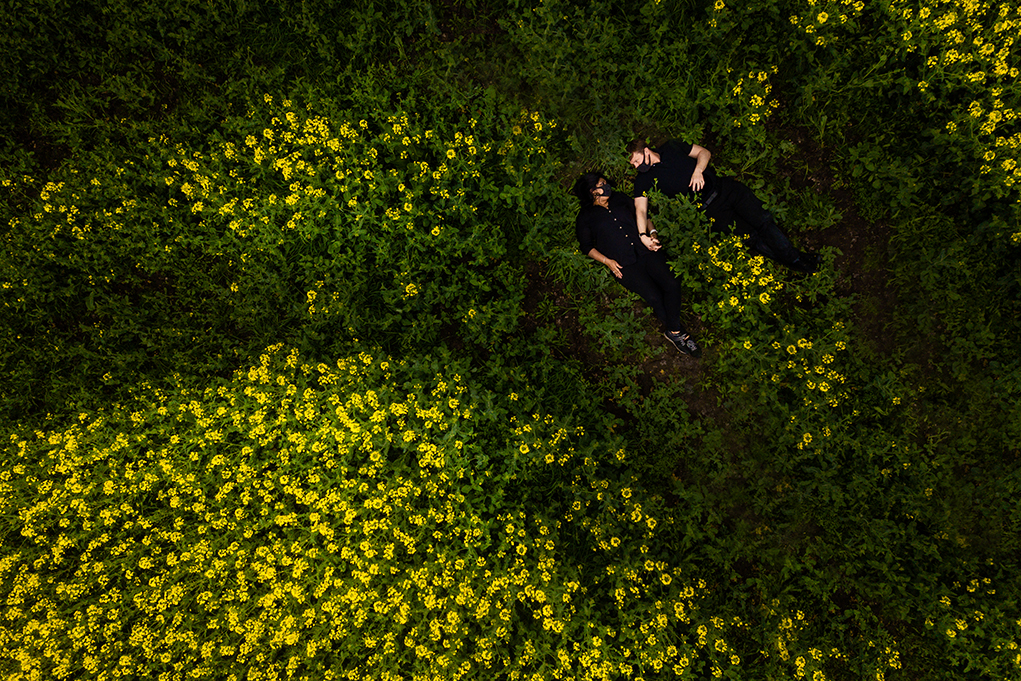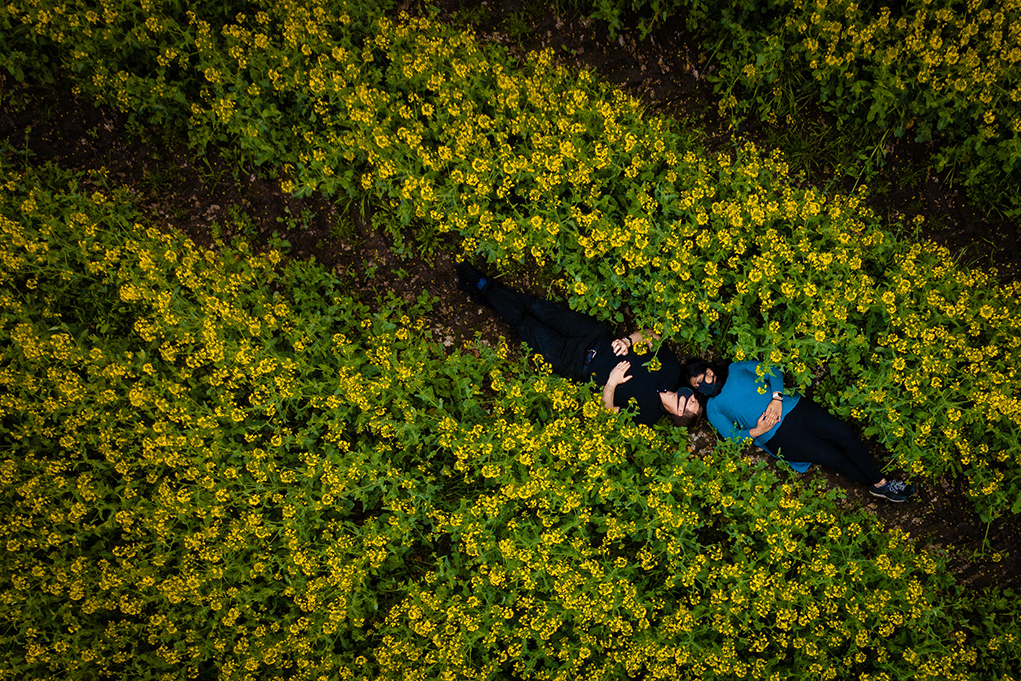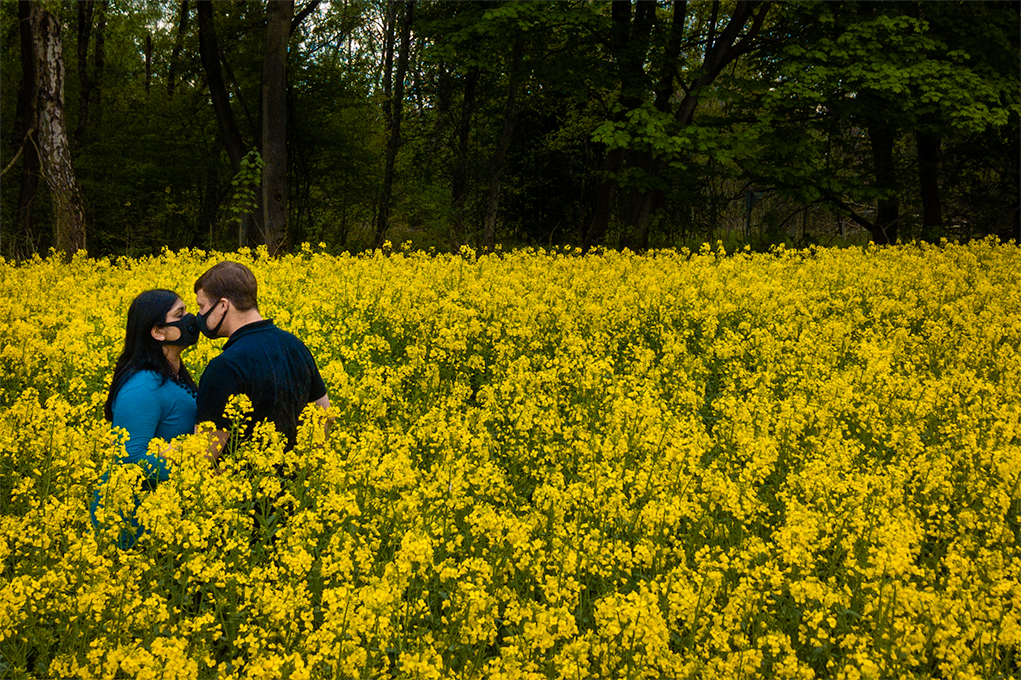 Contact Us for More Information!
We hope that you enjoyed this glimpse of what your own engagement photo gallery will look like if you book us. We also hope it has piqued your interest about our services! For our part, we can't wait to hear more about what you have planned for your own marriage celebrations, whether they will take place during COVID-19 or after! So go ahead and send us a message here.
Planning a destination wedding? No problem! Though we are based in Washington DC, we often travel for weddings and engagement sessions. That has taken us to countries in Asia, Europe and various cities within the US.