Old Town Alexandria is one of the most popular locations for engagement sessions in the Washington DC metro area. And it's little wonder! The neighborhood has all the hustle and bustle of downtown DC, making it ideal for pictures with an urban vibe. At the same time, its cobblestone streets, 18th-century townhouses and open-air markets give it a much more charming atmosphere. Old Town also played a significant role in the early days of our country. So engagement pictures with a historical feel are easy to get! Finally, Old Town has a variety of settings within a short distance from one another. So your portraits get that special quality that we've talked about a lot on this blog. Namely, a lovely diversity of looks and feels. In short, you will not be disappointed if you opt for Old Town Alexandria engagement photos!
Old Town Alexandria Photo Spots with Personal Significance
As great as all of those reasons for choosing Old Town are, they actually didn't factor into Sarah and Mike's decision to take their engagement pictures there. For them, it was personal. Mike proposed to his future bride on a street corner near the Old Town waterfront. They then celebrated their engagement at Mia's Italian Kitchen, a local eatery just steps away. So making those special Old Town Alexandria photo spots a part of their engagement session was a big priority for them.
Doing their engagement photoshoot in Old Town had the added advantage of making their second request a reality. Because they were scheduling their session in the early spring, they also wanted photos with cherry blossom trees in bloom. Fortunately, Old Town Alexandria is just a short drive from one of the best spots in the DC metro area for those famous flowers. Green Spring Gardens park is a bit of a hidden gem when it comes to finding cherry blossoms away from the madness of the Tidal Basin. As Sarah and Mike learned to their delight, it also has a lot of other features that make for fantastic engagement photos! To see some glorious images from that half of their engagement shoot, please click here.
Old Town Alexandria Engagement Pictures by the Waterfront
Given the significance of the corner where Mike proposed to Sarah, it seemed only natural to start their Old Town Alexandria engagement session there. After getting a few standard shots of them embracing there, we decided to amp up the creativity a bit. The sun was setting over King Street, so we wanted to include that in their photos. We also noticed a charming cartoon map of Old Town on the window of Vola's Dockside Grill and Hi-Tide Lounge. Making that a part of the images seemed like an excellent way to give them a sense of place.
To get the colors of the sky at dusk, our camera settings had to be pretty dark. That shrouded the map in darkness. So to both illuminate and highlight it, we set up a flash on a nearby table. The results of these efforts were Old Town Alexandria engagement pictures with creativity and multi-layered storytelling. (A special thanks goes out to the couple at a nearby outdoor table for their patience with the strobe-light-like effect of our flash going off while they ate!)
After taking a few pictures of Sarah and Mike silhouetted against the evening sky, we moved over to King Street Park. That lovely green space sits on the Old Town waterfront and features a rotating series of unique art installations. The current exhibit — a series of posts of different heights laid out in a grid — offered considerable creative possibilities. And when we saw two young men leaping from one pillar to another, we knew we had the X-factor necessary to create something really special. We had Sarah and Mike pose at the end of one row of posts. Then we lied down on the ground and asked the two gentlemen to leap across the gap from opposite directions.
Outdoor Restaurant Old Town Alexandria Engagement Photos
Sarah and Mike's engagement session in Old Town Alexandria concluded with a few pictures at that aforementioned restaurant where they first celebrated their engagement. While they sat together at an outdoor table, holding hands and talking, we took some wide-angle shots of the restaurant. To make sure that the couple was the main focus, though, we spotlighted them with an off-camera flash. The resulting images were a sweet and tender reminder of the bond that unites this lovely couple. (And another special thanks goes out to the patrons of that restaurant, who also put up with our flashes going off while they ate dinner!)
After we put our cameras down, Sarah and Mike very generously treated us to a celebratory dinner together. Along with two close friends of theirs, we all toasted to a successful engagement shoot and a budding friendship.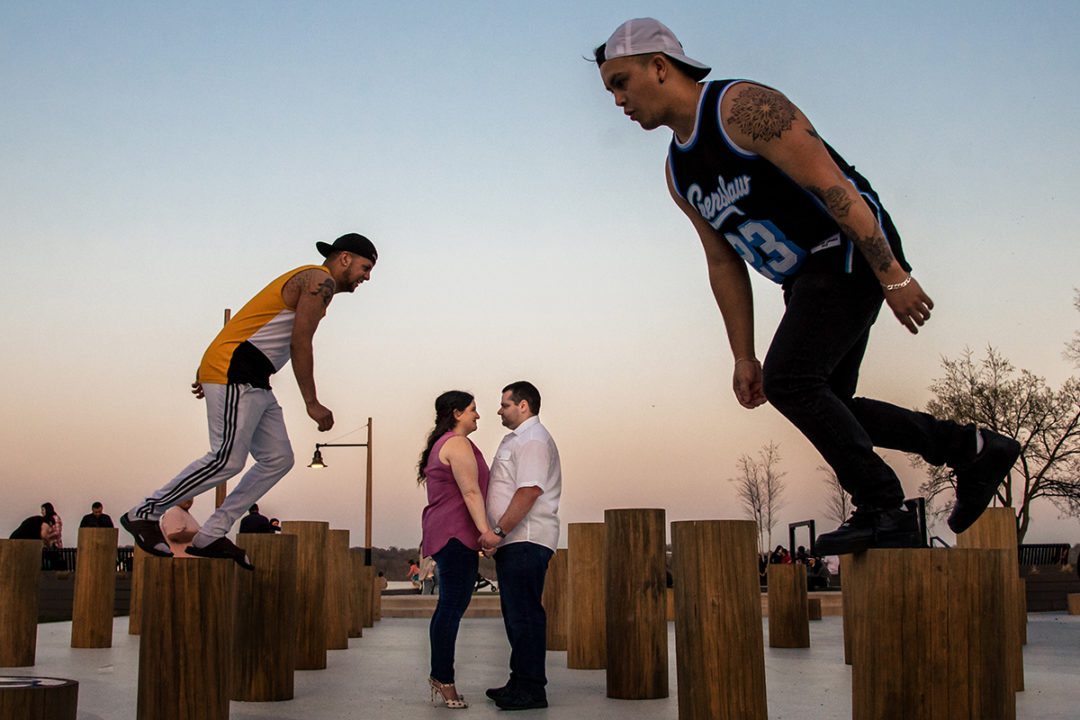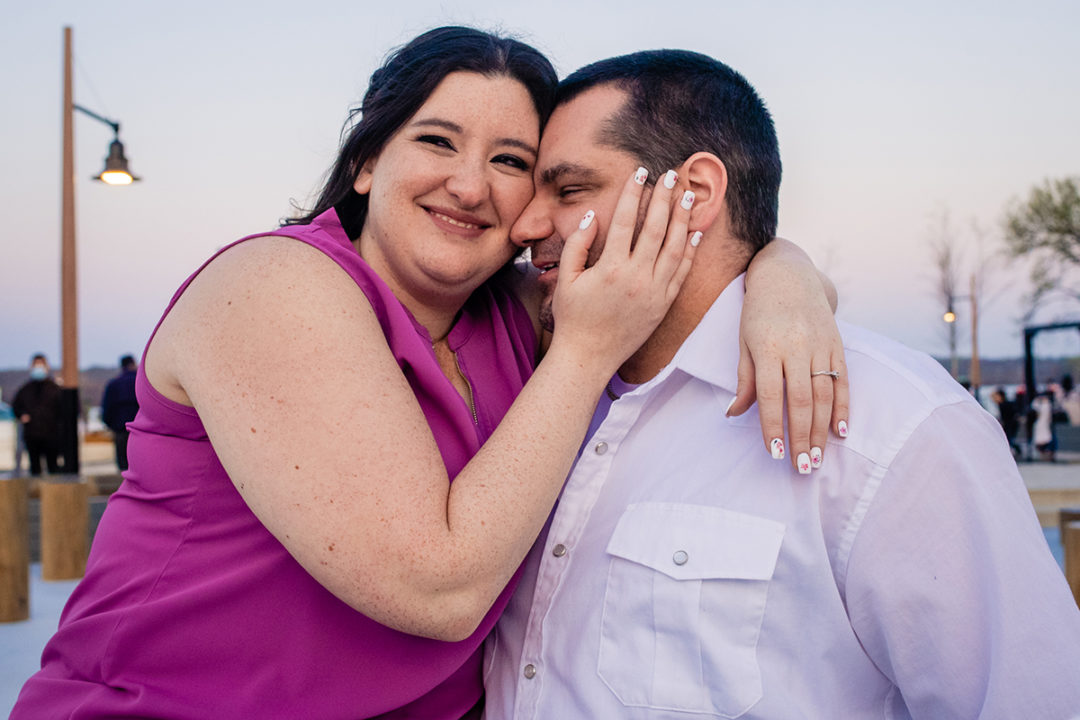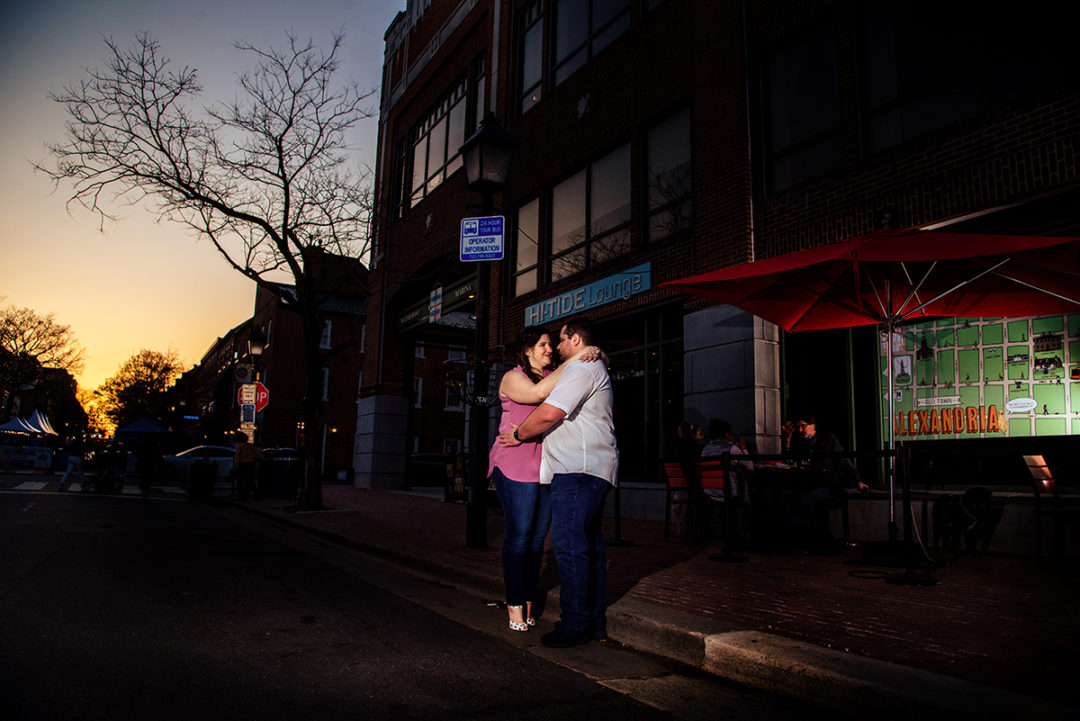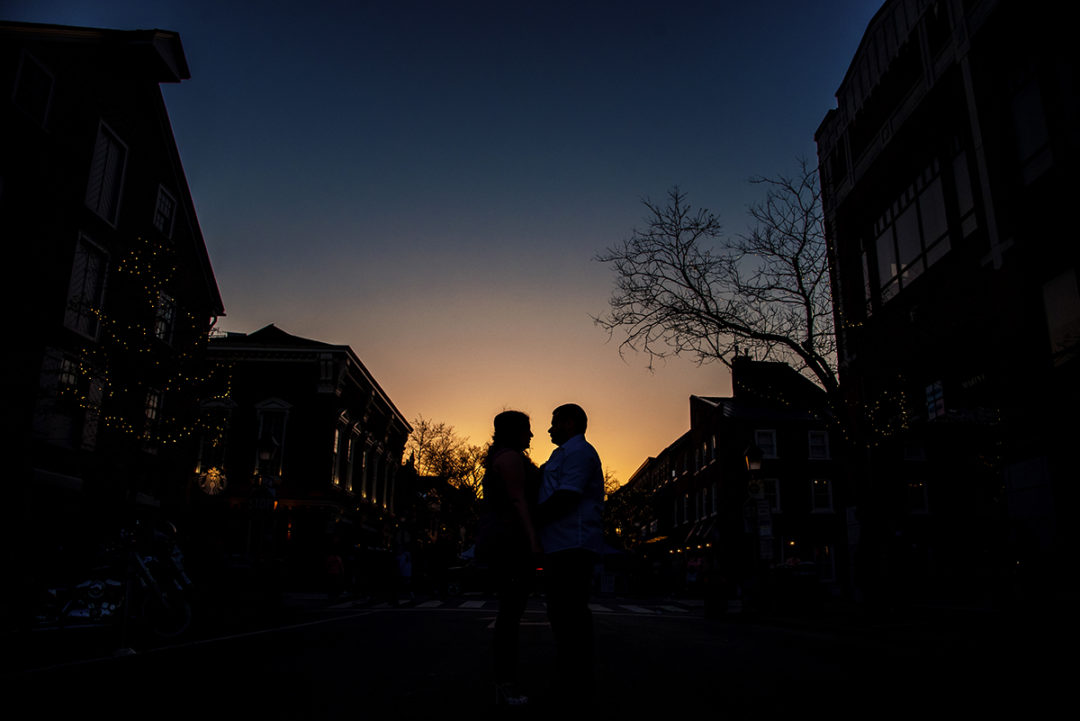 ---
Contact Us for More Information!
Interested in learning more about our services? Please visit our Wedding Photography FAQ page for answers to all your questions! Ready to inquire about our availability on your wedding date? Contact us now to get the conversation started!