The best part of getting engaged in the Nation's Capital? The chance to have your engagement session near some of the country's most iconic landmarks. The problem? Any engagement photoshoot on National Park Service (NPS) lands requires a permit that costs at least $140.00. The solution? Smithsonian Gardens engagement photos! Nearly all of the Smithsonian's 13 gardens and landscapes are close to the National Mall. All offer spectacular and very "DC" photographic possibilities. And small commercial photo sessions in any of them are completely free of charge. (But do make sure your photographers check in with the institution's public relations office before the shoot.)
We'll get to Chrissy and John's awesome engagement session in the Smithsonian Gardens shortly. But first, allow us a word about just how unique that aforementioned photography policy is. We have lived in major cities on every continent except Australia and Antarctica. We've visited museums in dozens of countries around the world. And we can tell you that no place offers what the Smithsonian does. Nowhere have we encountered a network of museums that gives so much while charging nothing to visit. And more importantly if you're planning an engagement session, there is nowhere in DC or anywhere else that allows you to get such iconic pictures without requiring a permit.
Gorgeous Enid A Haupt Garden Engagement Photos 
It was exactly that combination of iconic location and no cost that led Chrissy and John to pick the Smithsonian Gardens for their engagement portraits. When we were planning their photoshoot, they asked for a list of potential locations. They were looking for outdoor spots that would allow them to take advantage of the gorgeousness of a DC spring. Our list had some great options, but frankly, none could offer them as much as the Smithsonian's green spaces could. So we were not at all surprised that they chose the gardens as their location.
We started their engagement session at perhaps the best-known of the Smithsonian's outdoor spaces — the Enid A Haupt Garden. At four acres, the "backyard" of the Smithsonian Castle is a sneakily large green space in the heart of downtown DC. It is a beautiful spot for resting while walking among the monuments and museums. Much more importantly for Chrissy and John (and you!), it provides a lovely backdrop for portraits. The beauty of Enid A Haupt Garden engagement photos is unmatched!
The main part of the garden — the part directly behind the Smithsonian Castle — is the Parterre. Its elaborate layout of plantings and symmetrical patterns are reminiscent of Victorian-Era gardens. Their design is perfect for visually pleasing wide-angle shots that include the castle and its unique Norman-style architecture. With that in mind, we chose to kick things off and get the couple loosened up with some portraits there.
Engagement Pictures in the Smithsonian's Otherworldly Moongate Garden
We also took a few closeup shots of Chrissy and John near the castle's back door. After that, we moved their Smithsonian Gardens engagement session to the Moongate Garden. Modeled after the Temple of Heaven in Beijing, this part of the Enid A Haupt Garden is a peaceful place to commune with nature. It is also a spot for some really trippy and creative engagement photos.
We started by having Chrissy and John walk through the iconic and eponymous moongate that leads from the Parterre into the garden. The door's shape was perfect for framing the couple. It was also ideal for drawing attention to their laughing faces as they approached us. The lovely view of the trees and flowers behind them didn't hurt either! After that, we asked them to stand near the Moongate Garden's lovely water feature. The pond at the center of the space is designed to cool the surrounding area and reflect the sky above. We decided to take advantage of the latter effect. So we took cool pictures of Chrissy and John's mirror images in the surface of the water.
Once we finished creating these portraits, we took Chrissy and John back out to the Parterre for some closeup shots. Like the moongates, the intersecting lines created by the crisscrossing flower beds were ideal for framing their faces.
Cherry Blossom Engagement Photos in the Fountain Garden
After a quick trip to their car for an outfit change, Chrissy and John posed for us near the Renwick Gates. That structure's cast-iron gates and sandstone piers separate the Enid A Haupt Garden from the chaos of Independence Avenue. At the same time, they give passersby a lovely view of the Smithsonian Castle. The green and yellow shrubbery inside proved a perfect place for engagement pictures with colorful, multilayered backgrounds.
From there, we took them to the other side of the Enid A Haupt Garden. The portion abutting the Smithsonian National Museum of African Art is reminiscent of the Court of the Lions in the Alhambra, an Moorish palace and fortress in Spain. The Fountain Garden's central feature is (unsurprisingly) a fountain with similarly Islamic-inspired elements. We (and Chrissy and John) were pleased to see that the Fountain Garden was also full of cherry blossom trees in full bloom. Peak bloom near the Tidal Basin had already come and gone by the date of their engagement shoot. Though we knew that there are places in the DC area with later-blooming trees, we did not know that the Enid A Haupt Garden was one of them.
Needless to say, we took full advantage of this unexpected opportunity! We took dozens of beautiful shots of the couple embracing amid the gorgeous pink and white flowers that filled the courtyard. We live to overdeliver to our clients. So naturally, we were delighted to be able to give Chrissy and John something we thought impossible before their engagement session.
Intimate Mary Livingston Ripley Garden Engagement Photos
As you head to the National Mall, the Fountain Garden leads directly into another Smithsonian Garden — the Kathrine Dulin Fogler Rose Garden. Unfortunately, Chrissy and John's engagement photoshoot took place a little too early in the spring for that spot to offer much in the way of photographic opportunities. We were mildly disappointed to see not a single rose in bloom!
Why only mildly? Because the Kathrine Dulin Fogler Rose Garden's location on Jefferson Drive does offer a different photographic possibility that is perhaps even better. From the middle of that street, we had a clear view of both the Smithsonian Castle in the foreground and the Washington Monument towering in the background. There was no way we were going to pass up an iconic shot like that! So we had Chrissy and John walk back and forth across Jefferson Drive while we got pictures with those two famous buildings as a backdrop.
Afterwards, we took them around the corner of the Smithsonian Arts and Industries Building and into the Mary Livingston Ripley Garden. We've done engagement sessions in this lovely green space before, so we knew how perfect it is for portraits. The garden's raised flower beds filled with tulips and unique curvilinear layout create intimate nooks in which lovers can cuddle. Even with the usual horde of tourists milling around, a couple can feel a sense of privacy that leads to very romantic portraits. As you can see in the Mary Livingston Ripley Garden engagement photos featured here, that helped Chrissy and John feel completely at ease during this portion of their shoot.
Creating a Comfortable Environment for Smithsonian Gardens Engagement Photos
Helping our couples relax and feel comfortable during their engagement sessions is a huge priority for us. And it was particularly important when it came to Chrissy and John. Though the groom-to-be was a veteran of the portrait-taking process thanks to a dad with a love of photography, Chrissy was much more hesitant coming into the session. We knew that helping put her at ease was critical.
As luck would have it, we are in the process of taking an absolutely fantastic photography course that addresses that challenge. Two Mann U, a comprehensive and exhaustive seminar from Erika and Lanny Mann, has equipped us with some useful techniques for making people comfortable being photographed. Like having a couple spin around three times before embracing. Or having them peck each other like chickens. Or having them create new nicknames for each other. Though they might seem silly on the surface, they are all designed to get people loosened up.
We were delighted to see that those techniques worked like a charm with Chrissy and John. From the very first thing we tried, we could feel them relaxing. And as the session progressed, the Two Mann U technique never failed to leave them laughing and not worrying about being photographed.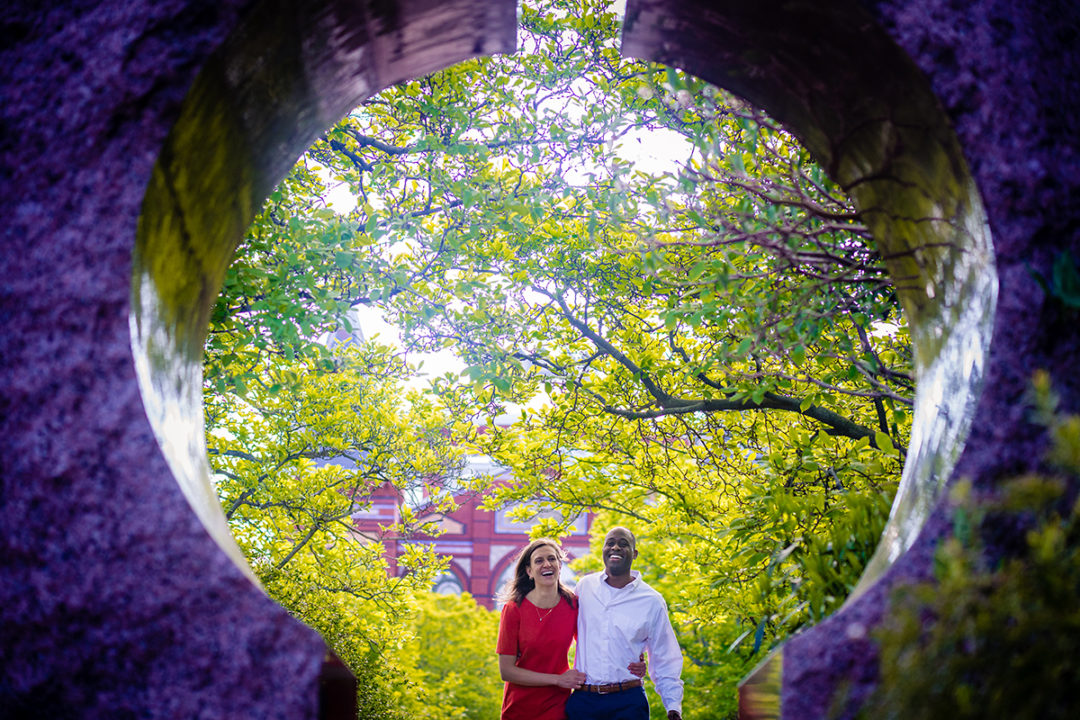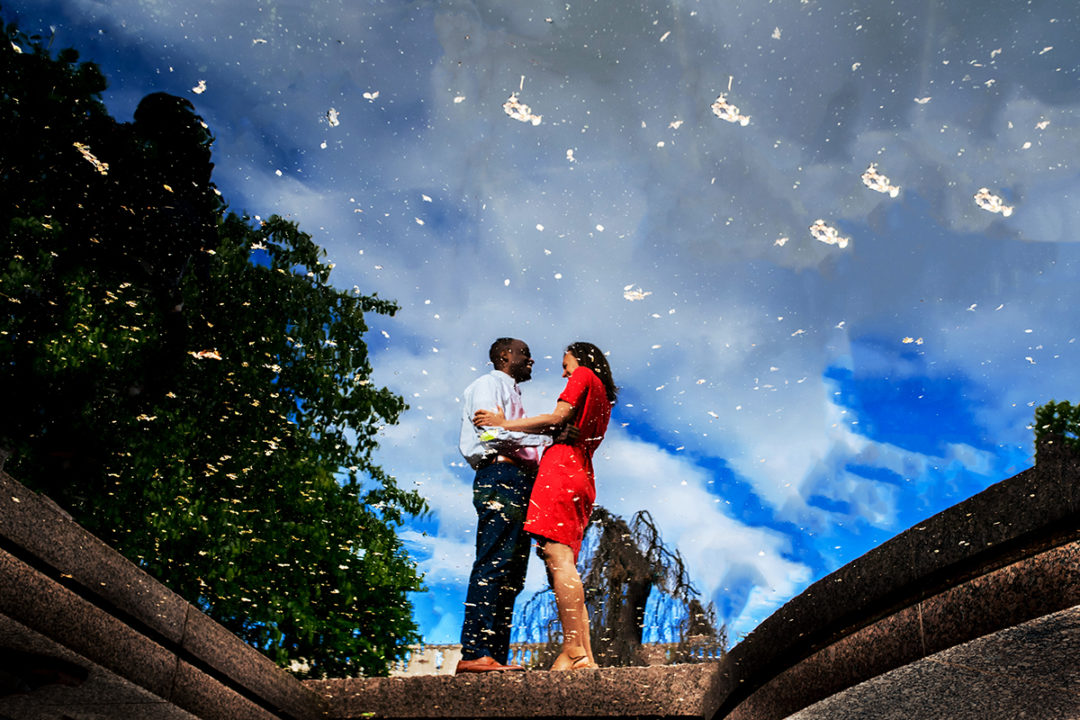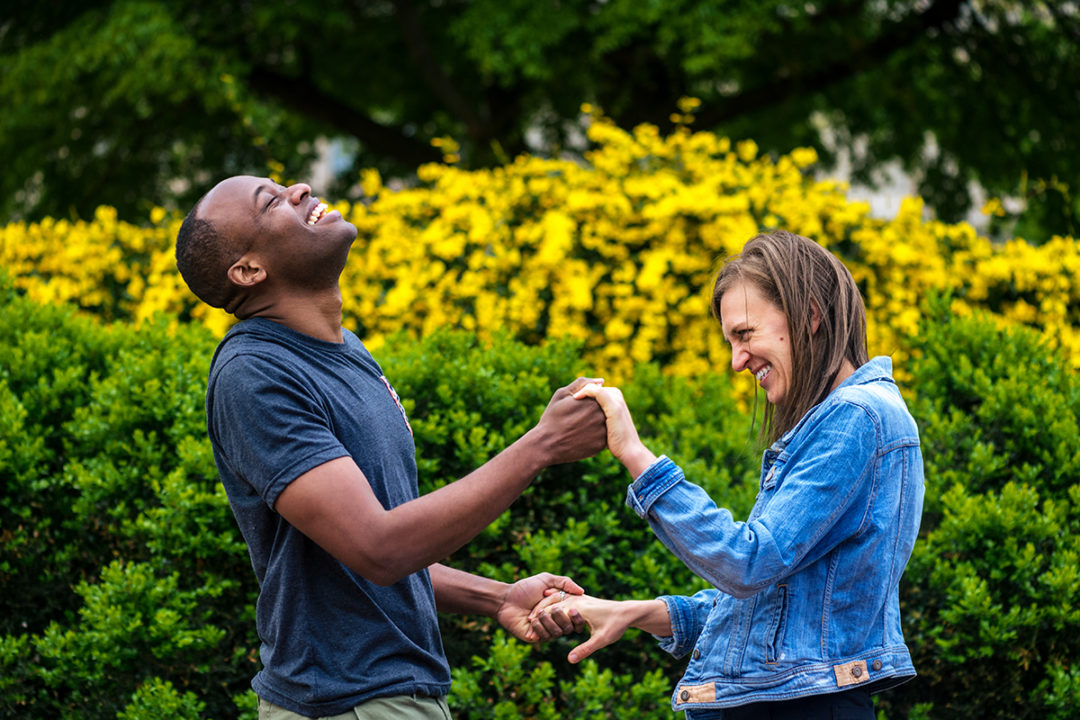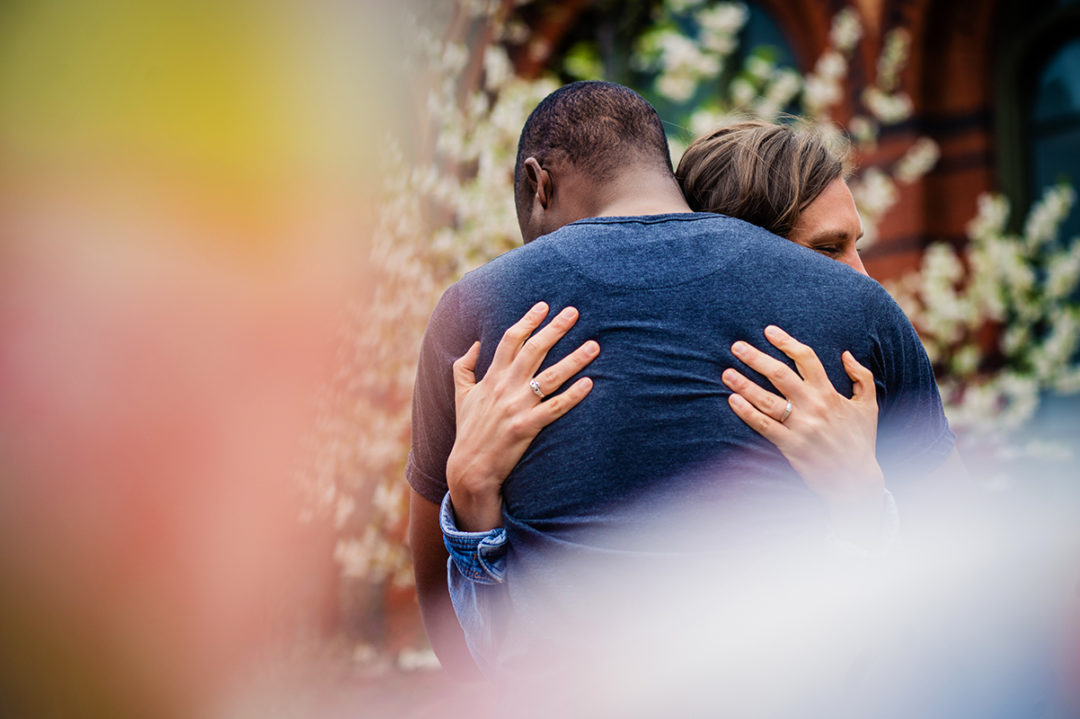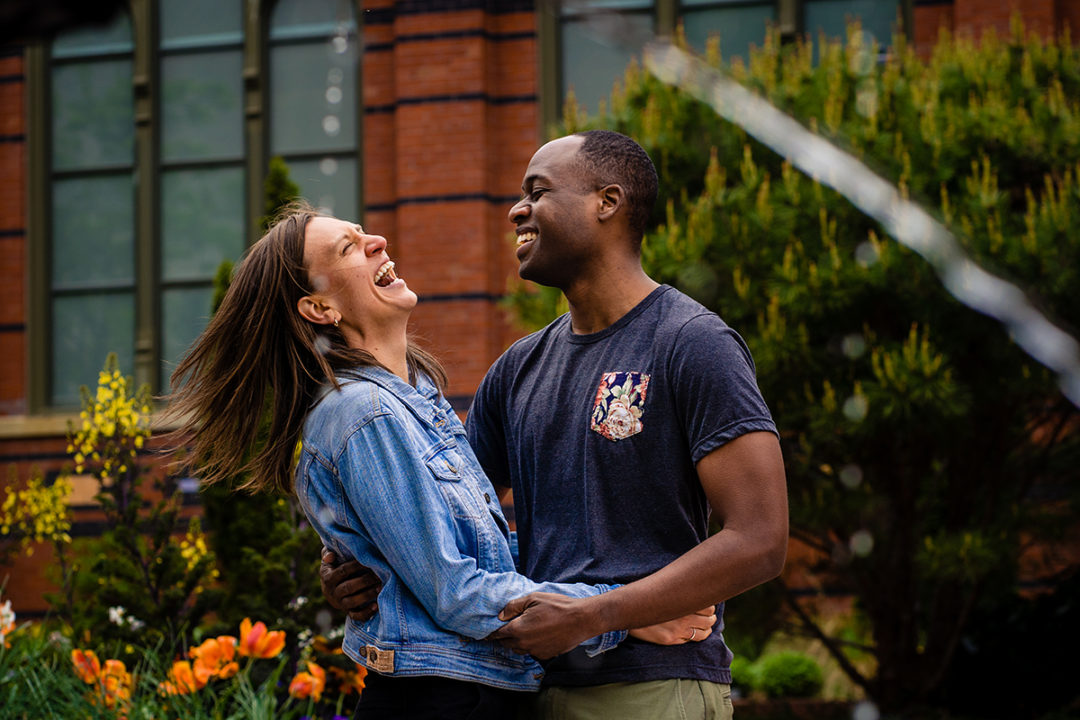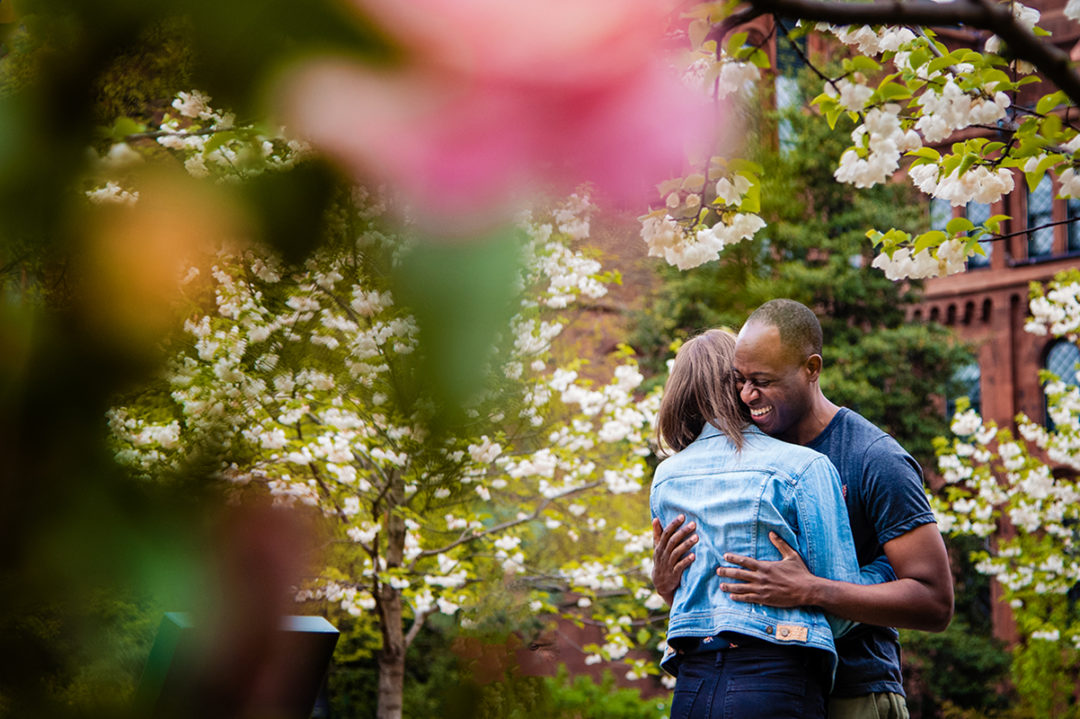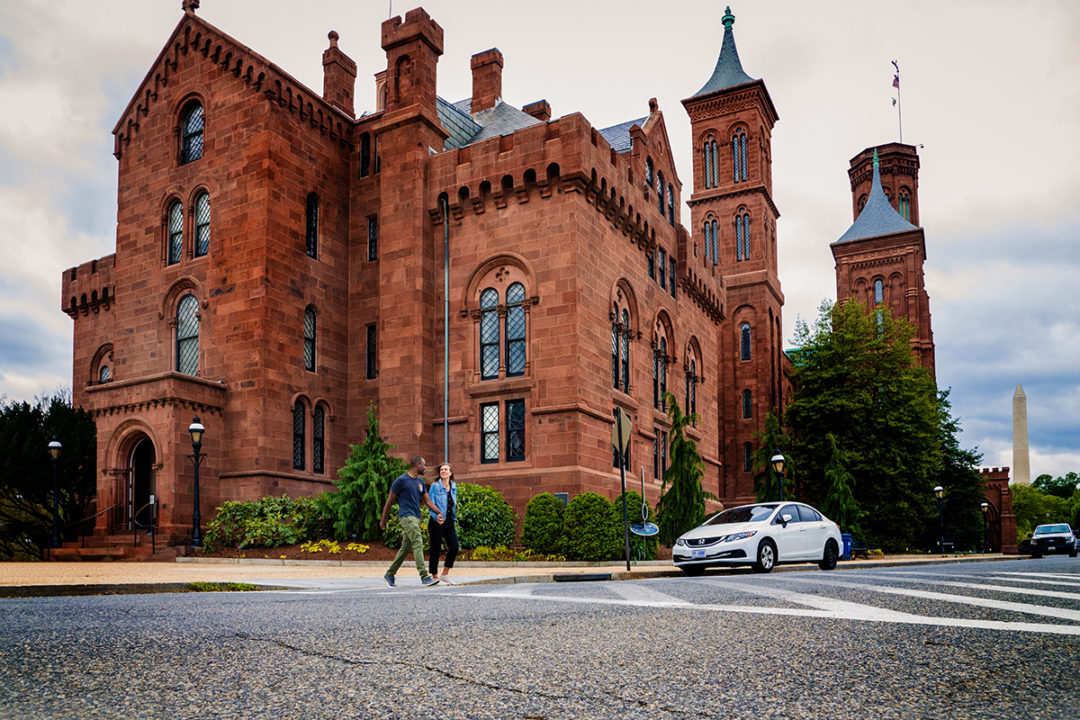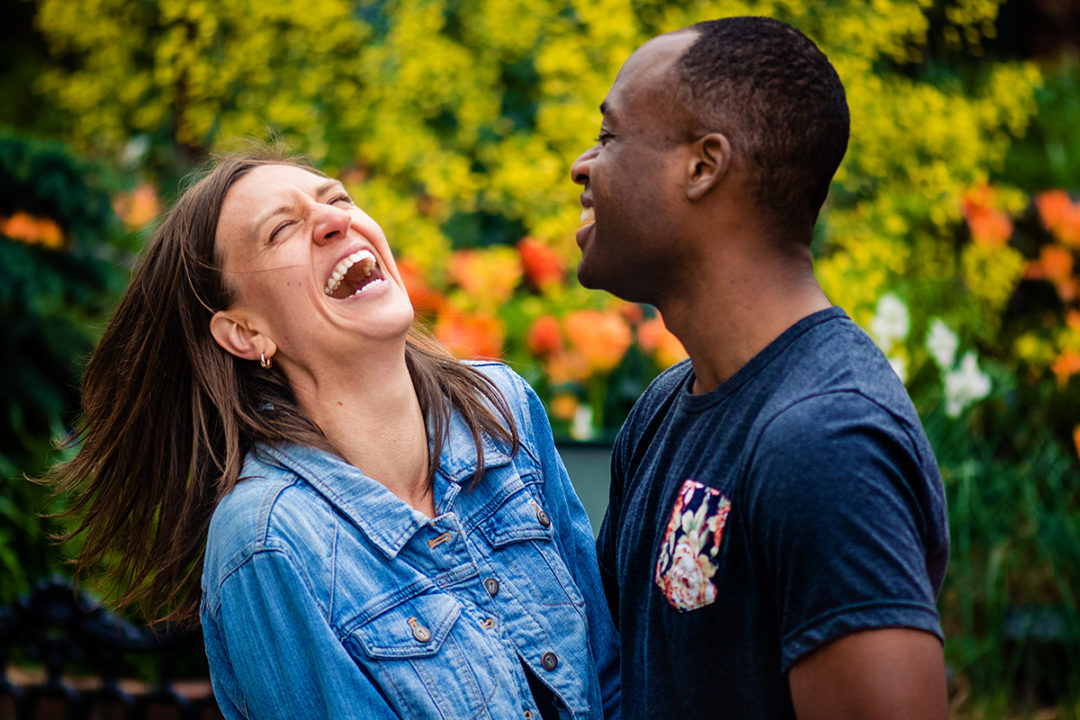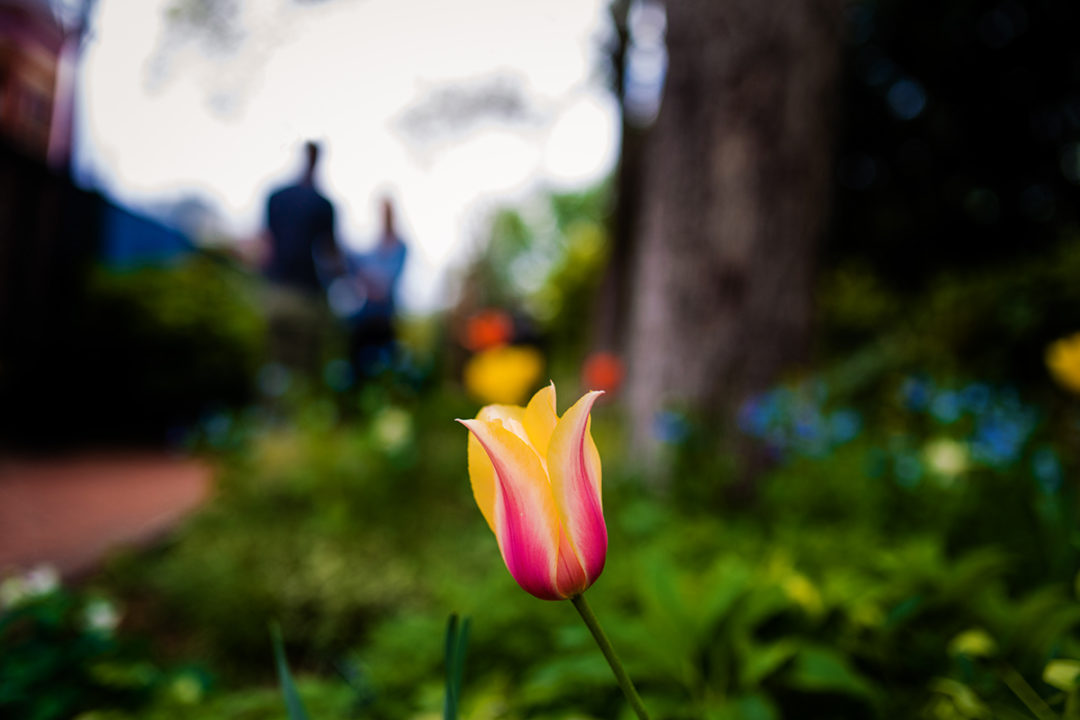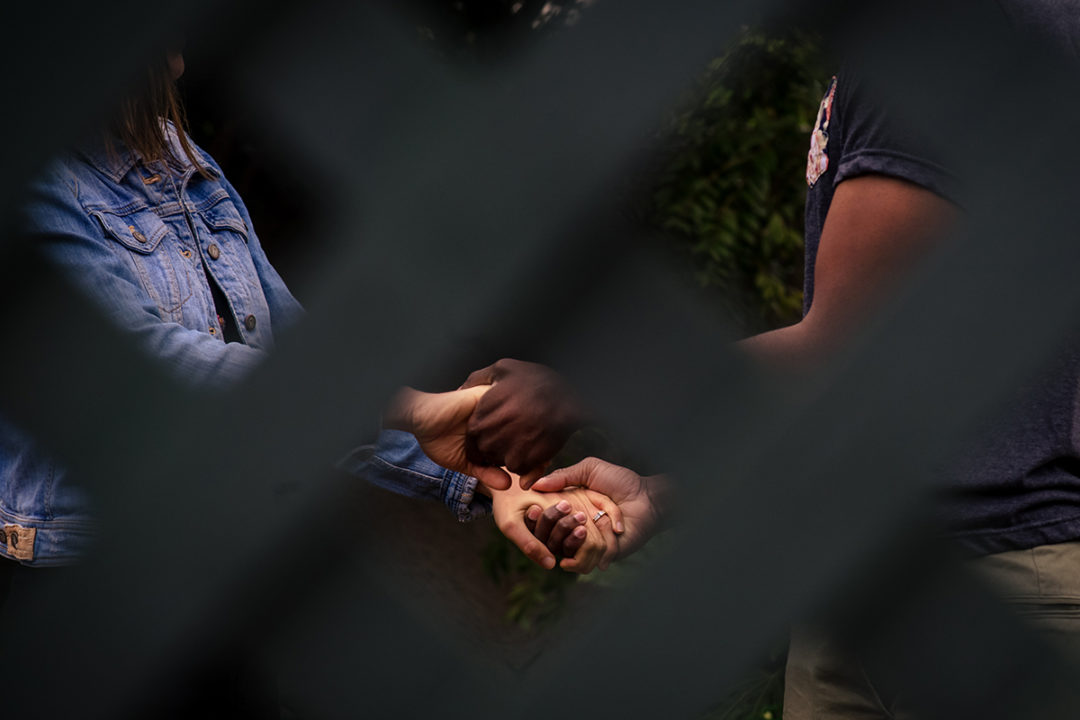 ---
Contact Us for More Information!
Interested in learning more about our services? Please visit our Wedding Photography FAQ page for answers to all your questions! Ready to inquire about our availability on your wedding date? Contact us now to get the conversation started!