5 Engagement Photo Locations DC
5 Fun Engagement Session Locations in Washington DC
So the love of your life popped the question, and you said yes (naturally)! The two of you are now engaged! Yay! Take some time to celebrate it!
Once the initial excitement wears off, it is time to think about taking engagement photos. But which location should you pick? The Washington DC metro area has so many great options that it can be difficult to decide. Maybe you and your future spouse have a favorite restaurant where you went on your first date. Perhaps your favorite activity as a couple is hiking, and a beautiful park or trail in Northern Virginia is the best choice.
There are so many things to consider when you are trying to decide which location is the best one for your engagement photos. You want a place that means something to you and your fiancé(e), but it should also be a spot that is good for photography.
As DC wedding photographers, we have taken pictures of spouses-to-be in locations all over the metro area. So if you're having trouble deciding where to go, we are always happy to give recommendations. Here are some of our favorite spots in and around the Nation's Capital:
1. Dumbarton Oaks Park
Do you love the look and feel of DC's swanky Georgetown neighborhood but find the Waterfront or M Street too crowded? Fortunately, the area has several spots that are more intimate and private. One of the best is Dumbarton Oaks Park. Located up the hill from Georgetown's main commercial area, this green space has acres of grassy expanses and groves of trees that are all perfect for romantic pictures of couples. Dumbarton Oaks engagement photos are guaranteed to feature you and your future spouse in gorgeously bucolic settings. The cherry on top is that the park is accessible from R Street Northwest from a side street called "Lover's Lane." And if that isn't a great place for spectacular engagement photos, then we don't know what is!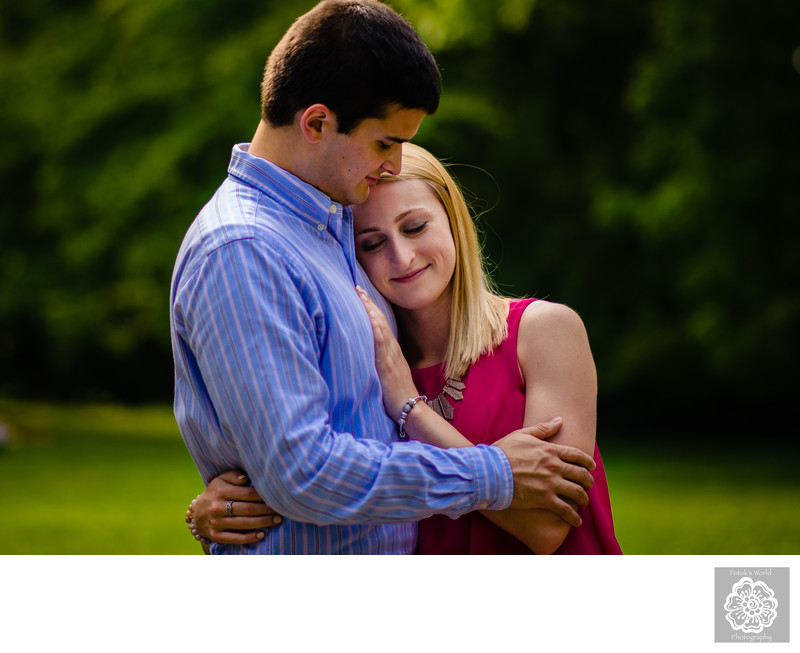 2. Ford's Theatre
If you want a little bit of local and national history in your engagement pics, then Ford's Theatre in downtown DC might be a good fit for you. It is famous (or perhaps infamous!) for being the site of the assassination of President Abraham Lincoln in 1865.
This tragic event led to the theater closing for several decades. The building was converted into a Lincoln museum in the 1930s. In 1965, it became Ford's Theatre again and continues to present plays for the Washington community to this day. We actually saw a lovely staging of "The Glass Menagerie" there a couple of years ago. Ford's Theatre also has a fascinating museum with exhibits about the Civil War, President Lincoln and the latter's assassination.
Our favorite spot for engagement photos at Ford's Theatre is just outside its main door. Tenth Street Northwest is a relatively quiet road (for downtown DC), meaning you can get some lovely pictures with a genuinely Washington feel.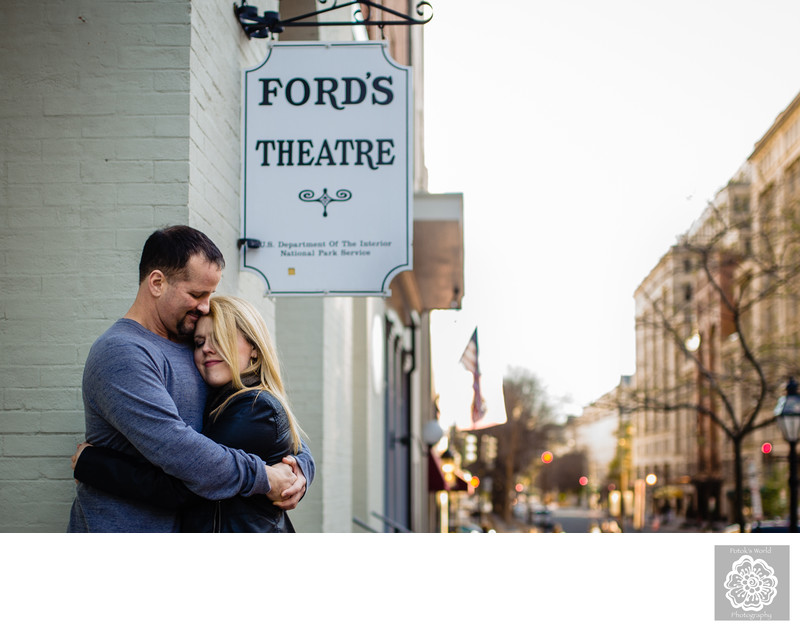 3. National Gallery of Art Sculpture Garden
If you consider yourself a lover of the arts and but also like the outdoors, Washington, DC, has exactly the setting you'll want for your engagement session. The National Gallery of Art Sculpture Garden offers artistic backdrops and the beauty of nature side by side. You can get colorful backgrounds like the one in this photo in one shot. Your Washington DC wedding photographer can then move you two feet over for images with trees and plants from all over the country behind you.
The various sculptures displayed in the park between the National Gallery of Art's two wings include ones created by modern artists such as Marc Chagall, Roy Lichtenstein and Joan Niro.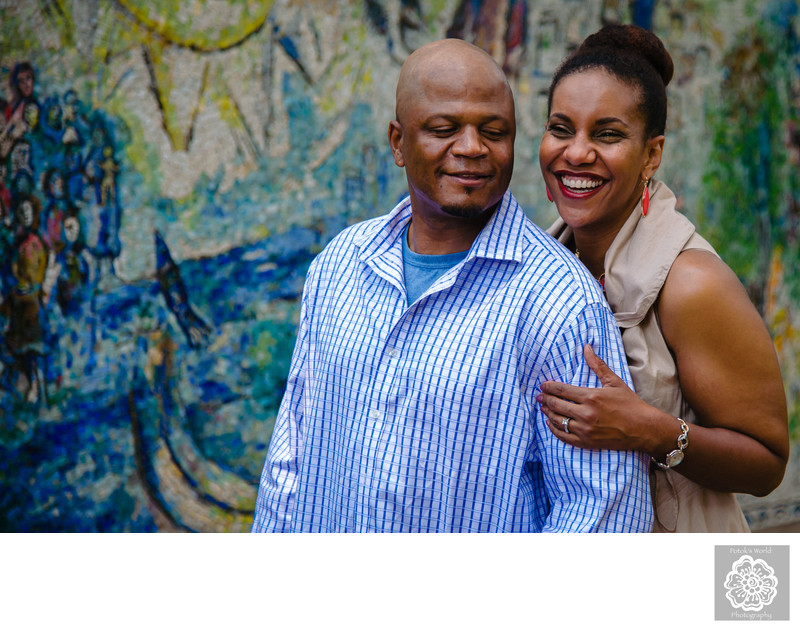 4. Smithsonian Gardens -- Mary Livingston Ripley Garden
Can you take wedding photos in the Smithsonian museums? You bet you can! But you don't need to even go inside to get stunning wedding and engagement portraits! For spring engagement sessions, The Mary Livingston Ripley Garden is an ideal location! Every April, the garden turns orange, yellow, pink and purple as the tulips bloom. So if you and your fiancé(e) love vibrant flowers and want your images to have an outdoorsy vibe, then you can get them without leaving the Nation's Capital. In fact, you can have them in the heart of the city!
This lovely little garden is located just off the National Mall, tucked between the Smithsonian Arts and Industries Building and the Hirshhorn Museum. As such, it offers the rarest of things in downtown DC: privacy. It is so secluded that you might miss it if you're walking quickly along Jefferson Drive Southwest. This makes it a perfect spot for you and your intended to cuddle in while your photographer gets lovely pictures of you. The garden's curvilinear walkways allow for shots like the one here, in which you are framed by tulips!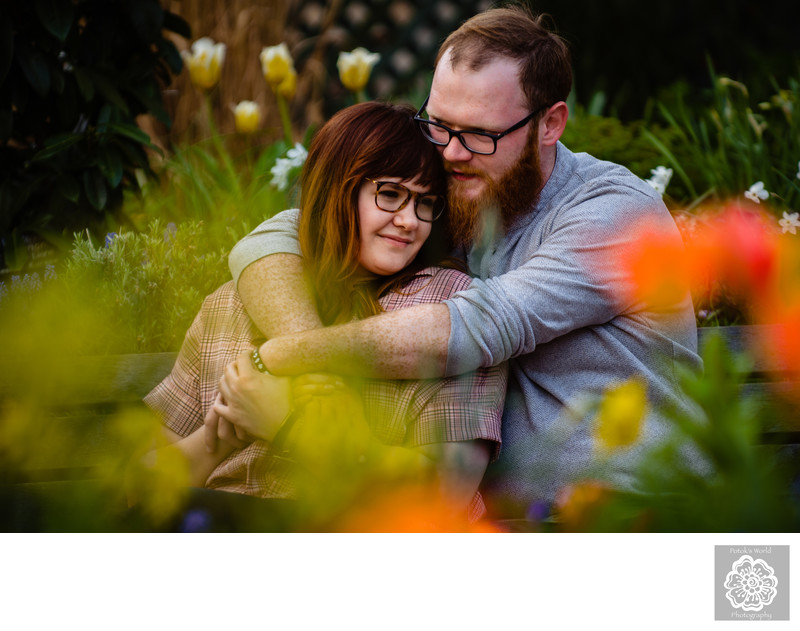 5. Tidal Basin with Cherry Blossoms
Let's face it, everyone loves it when the cherry blossoms start to bloom in Washington DC! And the only thing better than seeing those beautiful flowers is having them in the background of your engagement images! Nothing makes photos of you and your beloved more genuinely "Washington" than the delicate pink and white blooms of the cherry blossom trees.
Though there are many places around the city and in its various suburban neighborhoods where the cherry blossoms bloom in the spring, the Tidal Basin remains an uncontested favorite when it comes to having your picture taken with these beautiful flowers. The trees literally ring the entire path around the water, leading to lovely reflections that take your engagement photos to the next level.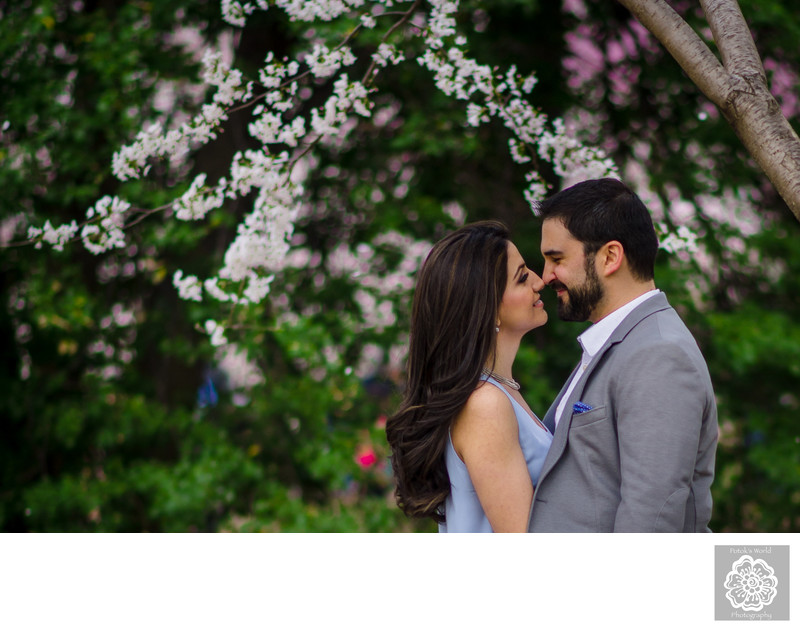 © 2023 Potok's World Photography - Husband & Wife Washington DC Wedding Photographers