Fathom Gallery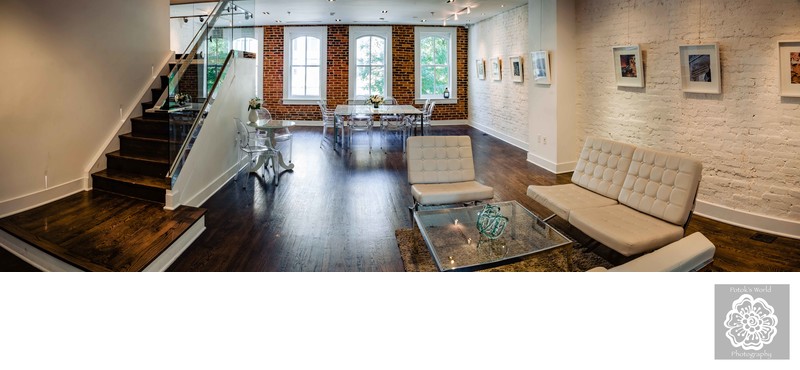 Type of venue: Historic, Loft, Museum
Wedding events that can be held there:
Full weddings
Receptions
Bridal showers
Engagement parties
Maximum total capacity of a Fathom Gallery DC Wedding: 125
What you will love about the venue:
Fathom Gallery is a Washington DC wedding venue that gives its clients something that every couple is looking for: uniqueness. For a variety of reasons, it is nothing like most other locations in the Nation's Capital. And that means that your wedding experience will be unlike anyone else's. A Fathom Gallery DC wedding will be special to you and your future spouse, and will stand out from the rest. The wedding photos we take of you there will also be one-of-a-kind.
Unique wedding venues DC
As we said, almost every DC couple wants a wedding-day experience that is like no other. Having gone through the wedding-planning process ourselves, we understand that desire completely. Every love story is unique and different. So every wedding should be unique and different too.
A lot of having a one-of-a-kind wedding starts with the venue you select. The more unique your location is, the more unique the look and feel of your celebrations will be. Makes sense, right?
Fathom Gallery DC wedding venue
So why do we say that Fathom Gallery is such an uncommon DC wedding location? For starters, because it is several different venues all rolled into one. The venue resides in a building that was once a turn-of-the-century automotive shop. It still retains a bit of a gritty, urban feel thanks to its use of exposed red bricks. Though those accents remain, the interior has been transformed into a hip art gallery with exquisite hardwood flooring. Fathom Gallery also mixes in natural elements thanks to its gorgeous outdoor rooftop deck area. That particular space gives you something quite rare in downtown Washington DC: the option to exchange your vows with the open sky above you.
And the best part? Fathom Gallery seamlessly mixes those disparate parts into a beautiful, integrated whole. Its blend of urban, trendy and natural never feels jarring or forced. It all just works in a way that is sure to leave you pleased with the look and feel.
Fantastic Wedding Photos at Fathom Gallery DC
This diversity of styles and elements is also a perfect recipe for truly unforgettable and unique marriage photos. Over the course of a full wedding day at Fathom Gallery, your DC wedding photographers can take pictures of you in front of several entirely different backgrounds. We can give you images with urban, modern and natural atmospheres without ever leaving the venue. You Washington DC wedding photographer can also create pictures that combine two or more of the elements in interesting ways. For example, the green of the pear trees growing on the rooftop deck and the red of the brick wall can combine into a beautiful urban and natural backdrop in your couples portraits.
If you are in the mood to venture further afield, though, there are a lot of great options within a short walk. Tree-lined Logan Circle, for example, is just a block away. In that particular historical district are several beautiful old mansions that were once home to famous Washington residents. They make for great (and very Washingtonian) backgrounds for photos of newlyweds. A walk down P Street Northwest leads to Dupont Circle, one of DC's artier neighborhoods and a great site for portraits. Along the way, you can stop on the tree-shaded road for expansive shots of you posing on a typical DC street.
Why would Fathom Gallery be a good fit for your wedding?
It stands out among wedding venues in DC art galleries.

Its cozy spaces are perfect for an intimate DC wedding event.

You can have an indoor/outdoor wedding celebration in an urban setting.

You get want venue that is a "blank canvas" that they can decorate in a completely personal way

Washington's trendy Dupont Circle neighborhood gives you great options for very "DC" couples portraits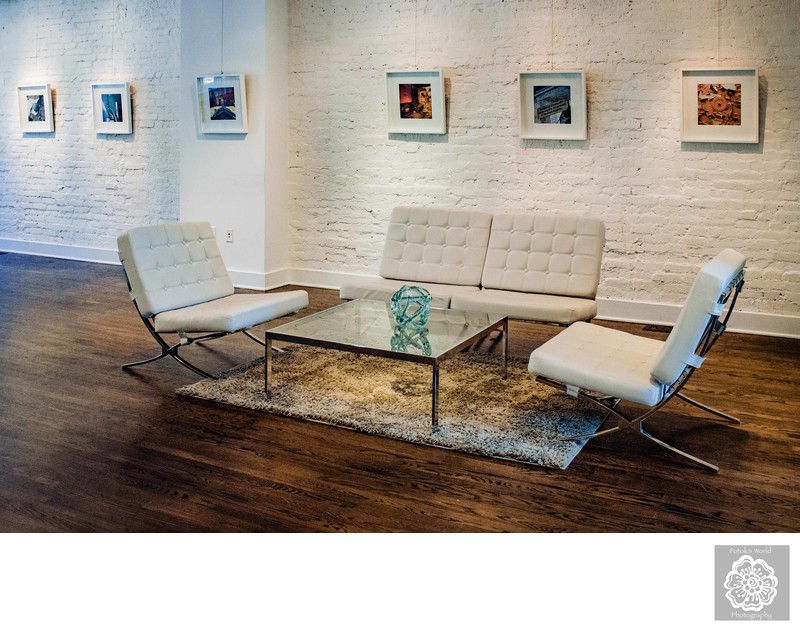 The best of downtown DC wedding venues
As we mentioned above, the building in Washington that houses Fathom Gallery was once a brake shop, which is evident from its exterior architecture. Like the other edifices on that block of 14th Street Northwest, it was once part of DC's bustling Automobile Row. Though cars are no longer serviced in this part of downtown DC, you can see reminders of the neighborhood's former life. The building next door, for example, has a restaurant/bar in what clearly used to be a garage. A refurbished old-fashioned manually opened garage door now serves as its front window on the ground floor.
That Fathom Gallery's DC home was once an auto repair shop is a little less apparent. The structure of the edifice still resembles that of its neighbors, of course. Many of the other elements of the garage have disappeared, though. For instance, the coffee and cocktails establishment that occupies the ground floor has replaced the garage door with a large window.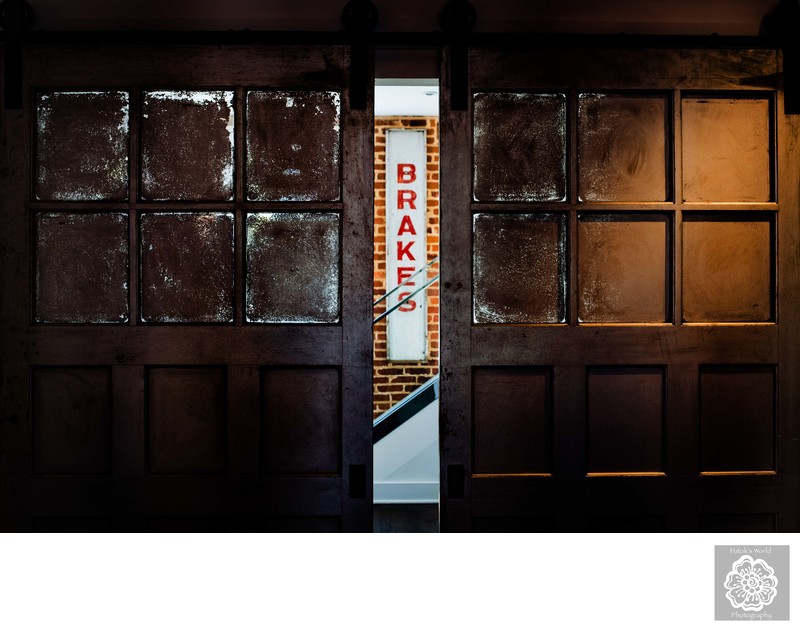 Keeping with its mission to offer Washington couples a quirky space, this DC wedding venue still finds ways to embrace its automotive background. The interior, in particular, is filled with nods to its past. At the top of the stairs, for example, hangs a photo of the edifice from its Automobile Row days. Similarly, Fathom Gallery's kitchen is decorated with a helpful (and descriptive) vintage "Brake Shop" sign from the past. In our opinion as Washington wedding photographers, these touches effectively blend the venue's past with its artsier present. They give their DC-based brides and grooms a lovely mix of the historical and the modern.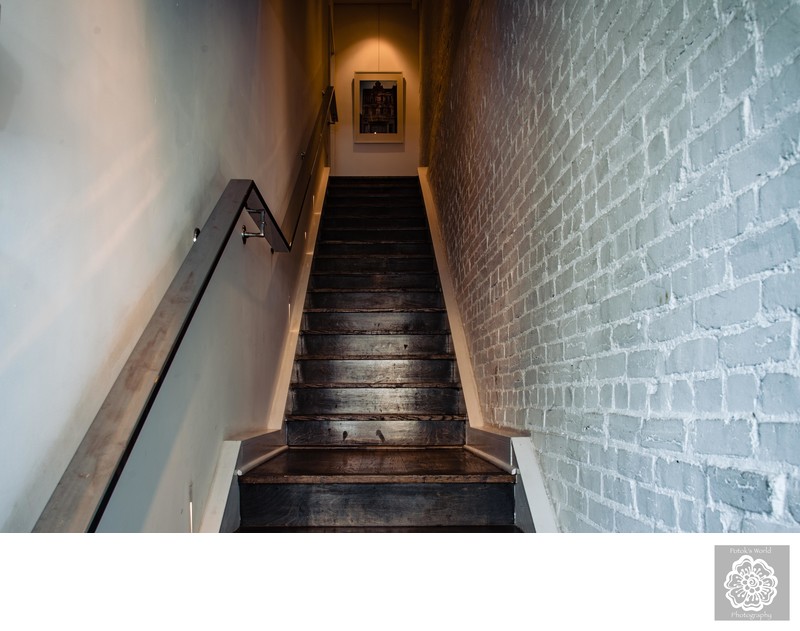 Fathom Gallery DC wedding photos: images that stand out
Because Fathom Gallery is a loft wedding venue, visitors who enter immediately climb a narrow staircase to the second floor. This particular space offers lovely possibilities for DC wedding photography. The leading lines created by the walls and the railing are perfect for drawing the eye to you.
The space is also quite flexible. Your Washington DC wedding photographers can vary up the mood of the pictures by changing where we pose you. If you are standing at the top of the stairs, the images will appear very private and intimate. It will seem like we have stumbled you ducking out of your reception to enjoy some alone time. If we place you at the foot of the stairs, though, the effect is quite different. In those matrimonial images, you will look like you are just arriving at your wedding reception. The picture appears more anticipatory, because you appear to be enjoying one last embrace before making your big entrance.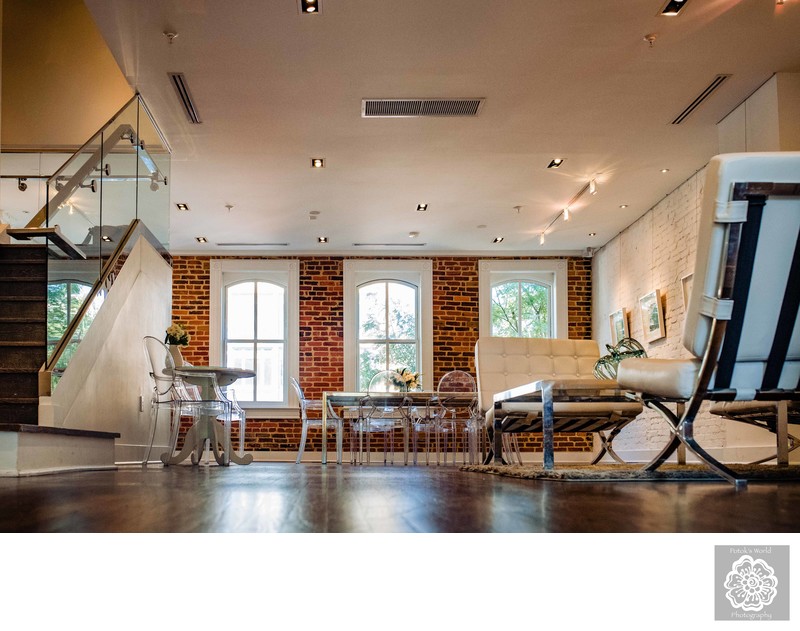 Wedding venues in DC art galleries
Turning left from the top of the stairs, you find yourself in Fathom Gallery's main indoor wedding event space. It is an open room, measuring approximately 25 feet by 35 feet. The space can accommodate a maximum of 125 people for a wedding event.
There are two things that are special about this part of the venue (for DC wedding photographers, anyway). The first is the soft natural light coming in through three tall windows at the far end of the room. It is the ideal lighting for great couples portraits. As much as flash photography is part of our repertoire, we prefer not to use it if possible. We can and do use it to inject drama into the portraits that we take. But otherwise, we will always take good natural light when it is available. And this venue's main interior space has plenty of it!
Fathom Gallery DC wedding decor? Flexible!
The other thing that is great about the indoor portion of this wedding venue is how customizable it is. Though this room is furnished in these photographs, you can change it around to suit your specific needs. The open nature of the space's design allows for many different seating configurations. If you hold your wedding ceremony there, you can arrange for seating for up to 80 guests. For a sit-down wedding reception dinner, the space can accommodate as many as 65 people.
Fathom Gallery's primary indoor space is not only adaptable with regard to furniture. You can also customize it to fit your personal tastes. The room's white brick walls are essentially a blank canvas. You can decorate them in whatever way you choose, creating the kind of wedding venue that we talked about above. One that is completely unique to you.
As Washington DC wedding photographers, we especially like that you can hang your own photographs on the walls. This creates a very cool scenario for pictures of your ceremony. We can get images of you walking down the aisle past your own engagement photos! That gives your wedding photography a lovely extra layer, because it highlights the progression of your journey to the altar.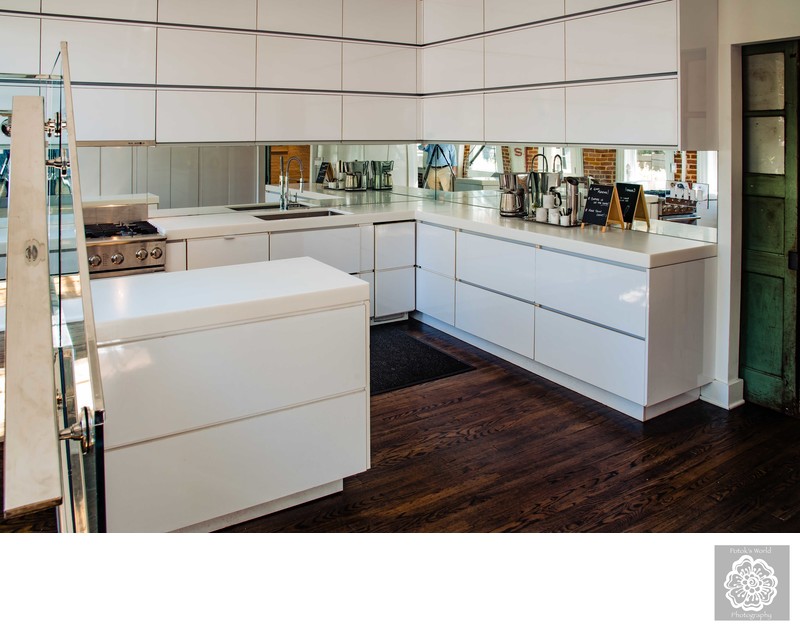 Other Highlights of Fathom's Interior Space
Opposite the three windows in Fathom Gallery's main indoor wedding space are two sliding barn doors. Those are designed in the same distressed style as the rest of the wedding venue. Which means that the doors fit very well with the space's "auto shop turned chic urban loft" vibe. They also make a simple but great backdrop for couples portraits, as they are free of distracting elements. That allows the focus of the photos to remain on you, the newlyweds.
The barn doors also provide separation between the main wedding event room and the open-layout catering kitchen on the other side. That area has two highlights, from a photographic point of view. The first is the light coming in through the windows looking out over Fathom Gallery's rooftop deck. As in the case of the sunlight illuminating the main gallery space, the light in the kitchen is soft and gentle. You might not think that a kitchen is a good place to take couples portraits. But with good lighting, the best DC wedding photographers can take fantastic matrimonial photos in any location!
The other nice thing about the kitchen is the aforementioned "Brake Shop" sign. We like it because it adds some nice context to the wedding photos that we take. It is also a quirky visual element that adds a fun little touch to the background of a couples portrait.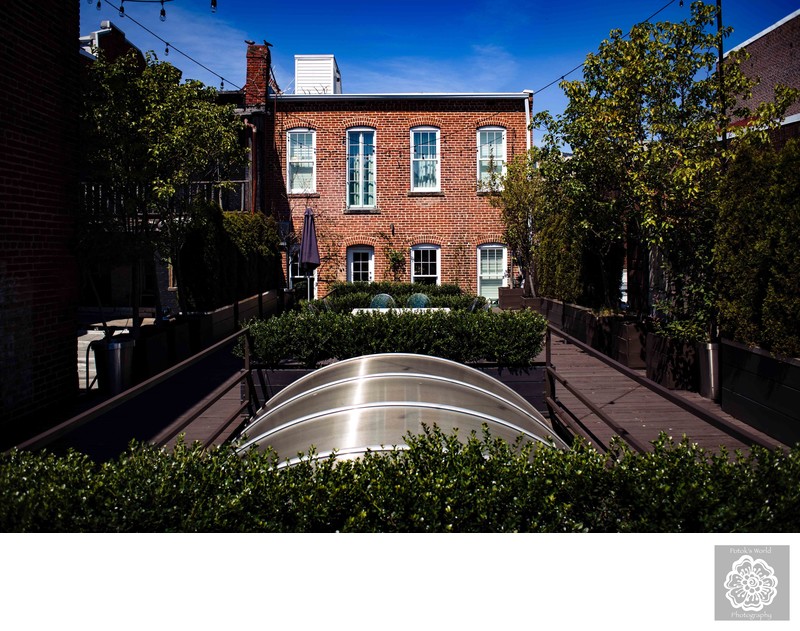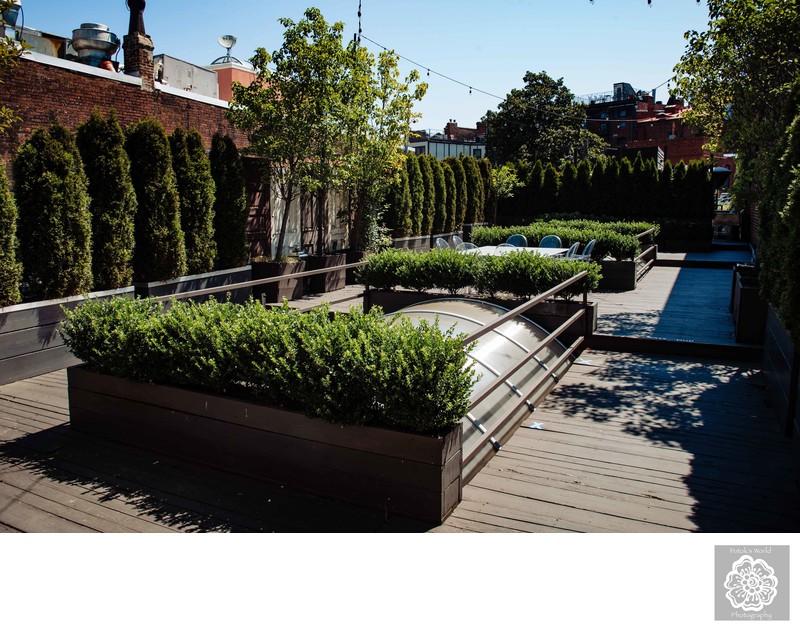 Rooftop wedding venues DC
The highlight of Fathom Gallery as a DC wedding venue, in our opinion, is its rooftop deck. It is located outside the kitchen and offers you yet another thing that is unique. The country's sixth-largest metropolitan area is a great place in which to hold a wedding celebration. DC has history, no shortage of elegant wedding venues and some of the most iconic landmarks in the world. Because it is such a large city, though, Washington does not have a lot of open-air wedding venues. At least not in the downtown area.
That is what makes the rooftop deck so great as a site for a matrimony. It allows you to have an outdoor wedding ceremony or reception in the middle of downtown Washington DC. You can exchange their vows with open sky above you while still getting the chic feel of an urban wedding.
Fathom Gallery's outdoor space measures approximately 25 feet by 65 feet. It is large enough to accommodate as many as 125 guests at a wedding ceremony. The rooftop can fit the same number of wedding attendees at a standing, cocktail-style wedding reception. If you want an outdoor dinner, the venue can set up enough tables and chairs to seat up to 40 guests.
Outdoor wedding photography at DC art gallery
There are a number of things that we like about the rooftop deck as a site for Washington DC wedding photography. The "outdoor space in an urban milieu" atmosphere is obviously a huge selling point. The contrast makes photos of your wedding ceremony very striking and interesting. The greenery is another element that makes this part of Fathom Gallery a great location for a wedding. There are evergreen trees lining the outer edge of the deck that are interspersed with budding pear trees. The two skylights in the middle of the roof are framed by lovely shrubbery. All of this flora helps give the space a more natural feel that contrasts beautifully with the surrounding brick walls. The green of the bushes and trees also looks great against the red brick of said walls.
The layout of Fathom Gallery's rooftop deck also makes for visually interesting photos of your wedding ceremony. The skylights in the middle mean that there is no space for a center aisle. So your dad must walk you to the altar via one of the two lanes on either side of the roof. This creates some new and unorthodox angles for your Washington DC wedding photographer. Which means you get more creative and memorable wedding pictures!
Getting ready for a Fathom Gallery DC wedding
Fathom Gallery also has a penthouse upstairs from the main gallery space. The penthouse was in use on the day we took pictures of this DC wedding venue. It consists of two adjoining rooms that can be used for bridal prep, a photo booth or extra seating for a wedding reception dinner. The larger of the two is about 17 feet by 20 feet, whereas the smaller is approximately 9 feet by 13 feet. The penthouse comes equipped with a shower and anything else that a bride would need to get ready for her wedding day.
© 2023 Potok's World Photography - Husband & Wife Washington DC Wedding Photographers