Chennai Wedding Portfolio
The importance of Jasmine at Chennai Weddings
If you have ever been to any beautiful south Indian celebration you would have noticed that flowers play a big role. And as wedding photographers in Chennai we have found that India's famous and colorful three-day marriage celebrations are no exception. Though the Marigold flower is the all-time favorite, the jasmine, also called Malli or Malliga " in Tamil definitely is a close second.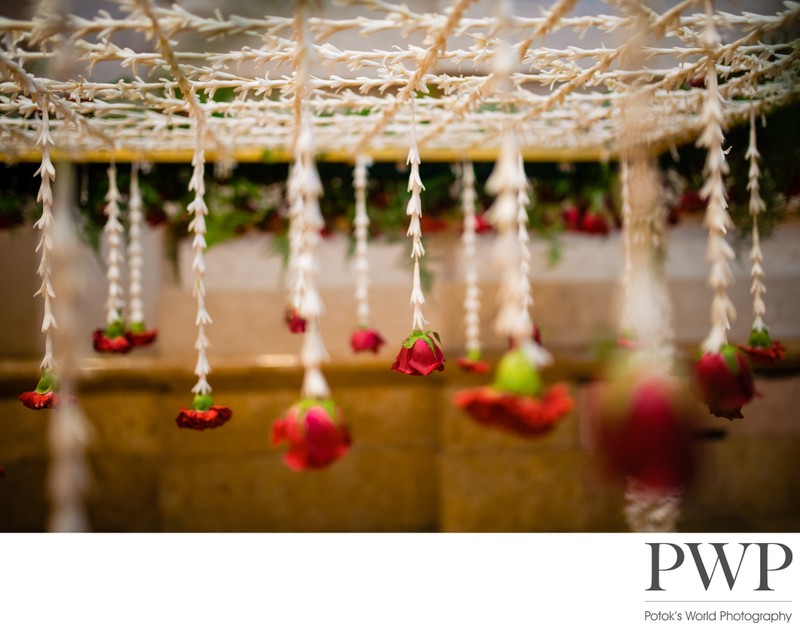 You will see strands of fragrant jasmine hung as part of the decoration or nestled next to beetle leaves, yellow and red turmeric powder on trays offered auspiciously between the families of the bride and groom. Or as garlands that are exchanged between the future spouses. And of course, it is also worn as an adornment in the hair of many ladies attending the weddings.
But have you ever asked yourself why jasmine is so popular? If so, here are some of the most common reasons:
It's very fragrant – as far as people can remember Jasmine flowers have been used in making perfumes and essential oils. Even its name is derived from the Arabic word "Yasmin" meaning fragrant gift from God.
The jasmine flower is mentioned in Hindu Mythology. Women in the Indian epics Ramayana and Mahabaratha are also said to have worn wonderfully smelling strands of jasmine in their hair.
White jasmine in a woman's hair symbolizes good luck. A popular notion is that when worn these flowers are meant to bring the person prosperity and success.
Others say that Jasmine in India is the symbol of love between two people.
Location: Weddings and Marigolds Studio, 8/12, "Manorama, Lakshmanan St, Chennai, Tamil Nadu 600017.
© 2023 Potok's World Photography - Husband & Wife Washington DC Wedding Photographers