Destination Wedding in Punta Cana
Picking the right wedding dress might just be the most important thing you do as you prepare for your DC-area wedding. Obviously, it is not the only consideration that you have. The venue matters considerably, of course. The wedding planner, hair and makeup artists, caterer, DJ/band, florist, limo company and cake are also critical to the success of your marriage celebrations. And the right Washington, DC, wedding photographer (we would like to think!) is necessary so that your nuptial event is captured on film for eternity. But you are going to be the center of attention for the entire day. The eyes of your bridesmaids or groomsmen, your and your future spouse's families, all of the invited wedding guests and of course, your intended will be on you. So it is understandable that looking your absolute best is of paramount importance when you are walking the aisle to get married. And that usually starts with getting the perfect wedding dress.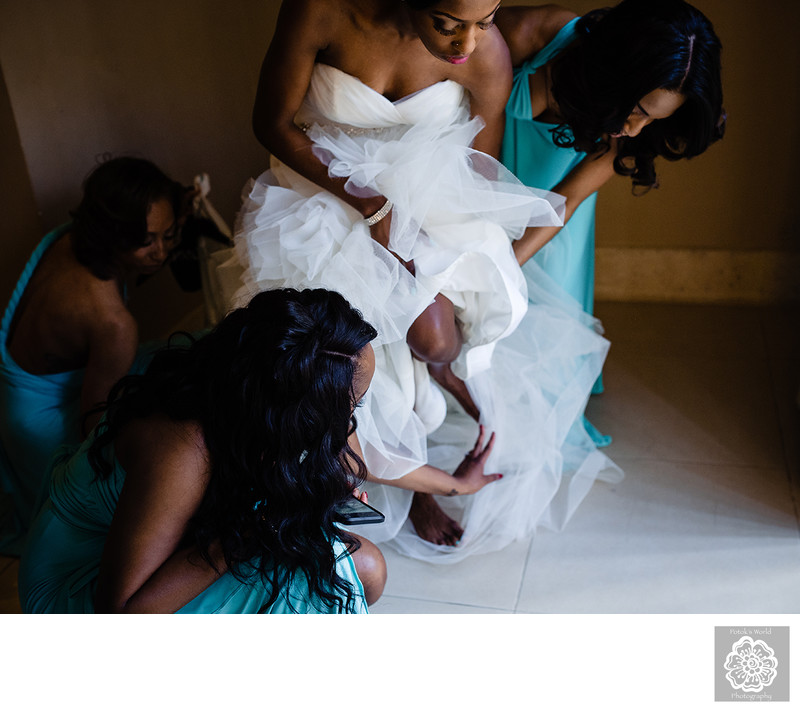 We know how much time and effort you put into researching the best options. You visit different bridal dress shops. You try on countless dress-veil combinations just to find the one that is most flattering to you. And when you spend so much time (and money!) on something like that, you are obviously going to want to have some reminders of it. The nice thing about a wedding dress is that you can actually hang onto it after your matrimonial celebrations. Perhaps your daughter could even wear it at her wedding many years from now! The physical dress itself is not really enough, though. You will also want some reminders of how you looked when wearing it. That is why incorporating the wedding dress into the pictures we take of you is a very important part of what we do as DC wedding photographers. It is so crucial that many future brides actually hire us to photograph them and their mothers, bridesmaids, sisters and/or friends shopping for the wedding dress.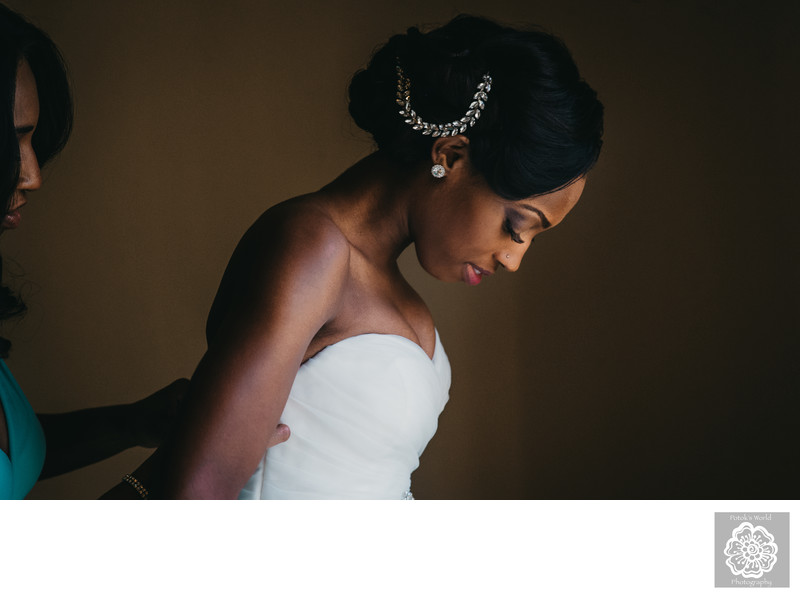 As a result, a good Washington, DC, wedding photographer always makes sure to reserve time on the day of the marriage celebrations to capture images of you getting into your dress (if those are shots that she wants) and many portraits of her wearing it. For us, the latter set of images should not only focus on you and how beautiful you look as you prepare to tie the knot with the person you love. Those pictures should also feature your bridal dress prominently and show how it complements and flatters the person wearing it.

When DC wedding photographers like us do this job right, you will get pictures as stunning as this one. This lovely bride-to-be had her wedding festivities at the Now Larimar Punta Cana in the Dominican Republic and got ready in a gorgeous, sun-dappled room adjoining the resort's luxury spa. The best part of that space was the large window at the back. Posing the bride in front of it was a natural choice. As you can see in this image, the window was partially obscured by bamboo poles that allowed enough light in to illuminate the bride and her dress without completely overpowering them. In addition to the gentle and flattering lighting, the lines in background were ideal for framing and drawing attention to the beautiful wedding dress. The verticality of the bamboo poles are more or less parallel to the upper portions of the dress that are in contact with her body. Those then give way to the diagonal lines of the intersection between the wall and the floor almost exactly where the wedding dress train spreads out on the ground. The bride and her dress are the entire focus of the picture, which is exactly how it is supposed to be! The result of this setup was a portrait that any bride would be delighted to receive.

Location: Now Larimar Resort, S/N El Cortecito, Avenida Alemania, Punta Cana 23000, Dominican Republic.

Keywords: Destination Weddings (30).

© 2020 Potok's World Photography -- Husband & Wife Washington, DC, Wedding Photographers