Indian Wedding Photographer Washington DC
If you hire us to be your DC wedding photographers, you can count on us to get lots of images of you interacting with your friends and family. A wedding is about much more than just you tying the knot with your beloved. It is also a celebration of your families and all the people who know you, love you and support you. Getting photographs of them congratulating you, sharing a laugh or tear with you or getting crazy with you on the dance floor is important. A documentary Washington DC wedding photographer absolutely must capture those moments for you. The resulting images are sure to be some of the ones you treasure most down the road.
To make sure we are getting those kinds of photos for you, we will pay particular attention to the period of time immediately following your ceremony. This is typically when your family and guests will come to hug you and offer you a few words of congratulations. Sometimes this happens on a completely informal and spontaneous basis. Your guests might just snag you on your way out the door to your reception. In other cases, newlyweds build in some time for a slightly more formal interaction. Some Washington DC wedding venues, for example, offer you the space to organize a receiving line. Building that into your wedding day timeline will give you and your guests a chance to chat after the reception.
Receiving Line at Wedding in DC
In some cultural traditions, the post-ceremony interactions among the newlyweds and the guests are a formal part of the event. This is the case in most (though certainly not all) Indian wedding celebrations. The newly-married couple will typically sit on stage and greet each guest as they come to congratulate the new spouses. The guests will also normally leave their wedding gift on stage at that time.
Making the post-ceremony receiving line a formal part of your wedding event is great for your photography. If people congratulate you at random times during the wedding reception, there is always the chance that your Washington DC wedding photographer could miss some of those precious moments. If you make the receiving line a more formal part of your wedding, it ensures that your DC wedding photographer gets lots of great pictures of you and your family and friends. You are certain to receive beautiful images of your sharing moments with the people who love you most.
Top Indian Wedding Photographer Washington DC
We created this unforgettable photograph of just such a moment at an Indian wedding celebration in Silver Spring, Maryland. She and her groom tied the knot (literally, as is the case in most traditional Indian ceremonies!) at the Silver Spring Civic Building. Afterwards, a long line of friends and relatives made their way up to the stage to greet and congratulate them. The length of the line was a testament to what a huge group of people thought highly enough of the bride and groom to join them on their big day.
The image featured here was taken when the bride stood up to give her best friend the biggest hug she could muster. What we particularly love about the photo is the look of unrestrained joy on the bride's face as she receives her friend's congratulations for having gotten married. The friend is so obviously happy for her, and she is so happy to have such a good friend in her life. These are the emotions and the moments that make wedding days so special. And that is why our biggest goal as wedding and engagement photographers is capturing them on film and preserving them forever for the couples who hire us.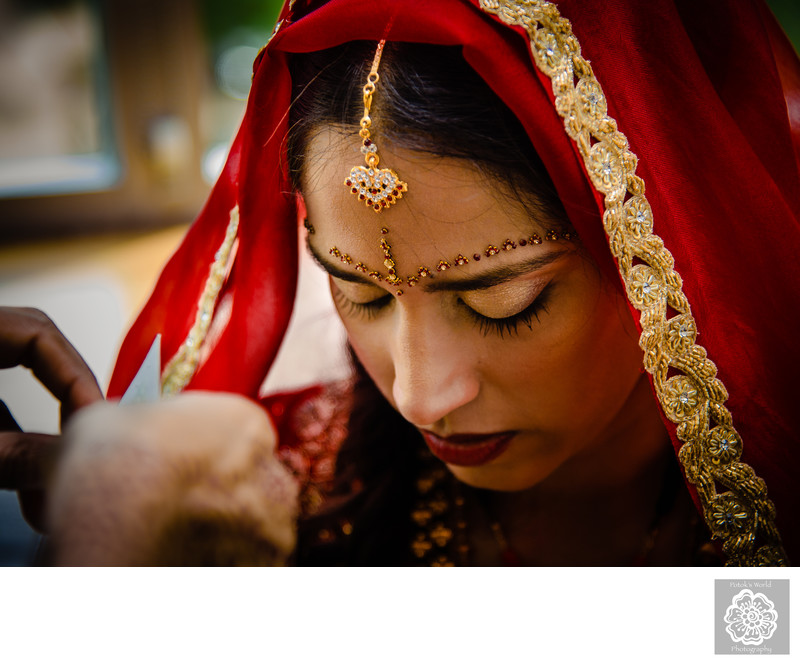 Location: Silver Spring Civic Building, 1 Veterans Pl, Silver Spring, MD 20910.

Keywords: DC Wedding (81), DC wedding photographer (84).

© 2020 Potok's World Photography -- Husband & Wife Washington DC Wedding Photographers