Spring Engagement Photography DC
Spring engagement photography in DC produces some of the most beautiful images imaginable. So if that is the season you have in mind for your photoshoot, then you are in luck! There is a seemingly endless selection of different gorgeous backdrops all over the Nation's Capital. There are almost too many to choose from! Which is actually a pretty good problem to have. Because no matter which location you pick, you are going to get engagement photos that will make your friends very jealous!
Why Spring Engagement Photography?
Before we talk about all the different locations that the DMV has to offer you, let's first address why you should schedule your engagement session in the spring in the first place. Here are three quick reasons:
The weather is perfect. There is no better time to be in Washington DC than in the spring. Though we love living in the Nation's Capital, we have to admit that the summers here are quite unpleasant. The winters are not much better; they are surprisingly raw, considering DC's location! In the spring, though? The weather is nice and warm, and the humidity is low. It is the ideal time to be outside. And the ideal setting for a spring engagement photography session!
You get photos in time for your "save the date" cards. If you are marrying in the summer, you cannot wait until June to send out reminders to your guests to plan for your wedding day. Fortunately, getting your engagement photos done in March, April or May gives you time to get those cards to them. And of course, with beautiful reminders of your relationship on them!
The pictures are gorgeous. We more or less already covered this, but springtime is by far the loveliest season in the DC metro area. Flowers bloom all over the region. Rivers run high. Dogwood trees open their distinctive blossoms. Oh, and let's not forget the cherry blossoms! DC's most famous trees obviously make for spectacular spring engagement photography.
Downtown DC Spring Engagement Photography
Let's come back to all the choices you have for locations for a spring engagement photography session. If you like, you can go with the most famous spots in downtown Washington DC. You could schedule a photoshoot at the Tidal Basin during the Cherry Blossom Festival, for example. As we mentioned above, a session there will give you some of the most gorgeous and Washingtonian spring engagement images you could ever want. Same thing with the tulip beds in the Floral Library, which is just steps from the Tidal Basin. Your engagement photographers in Washington DC can produce breathtaking pictures of you posing there amid the colorful flowers.
Let's face it, though. Those locations can be pretty tourist-heavy in the spring. That is not necessarily a problem, of course. We can always work around the throngs of people. But if big crowds are not your thing or you find them too distracting, there is no need to worry. Spring engagement photography in DC can be just as beautiful when it is off the beaten path. Want tulips in downtown Washington DC? You can get them in the Mary Livingston Ripley Garden, a lovely, serene spot tucked between two museums abutting the National Mall. Or in a nameless (as far as we can tell) park at the corner of 21st Street and Virginia Avenue NW.
Northern Virginia Engagement Photography in Spring
Don't feel like coming into the District? Not to worry! There is plenty of great spring engagement photography to be had in the Northern Virginia suburbs. Many of Northern Virginia's parks have gorgeous flower gardens that add just as much color to your engagement photos as DC's famous tulip beds. If your heart is set on tulips, though, then the Netherlands Carillon in Arlington has gorgeous rows of them in the spring. Plus an added bonus. Pictures of you with the tulips in the foreground can also feature some of DC's most famous monuments in the background. The Carillon is up a hill from Washington and offers the best view of the National Mall you can find.
What about cherry blossom trees? Northern Virginia has those too! There are some right in front of Arlington's Central Library and more lining parts of the Custis Trail. They are just as beautiful as the ones downtown but get a fraction of the visitors. Which means all of the beauty and distinctive DC flavor with none of the hassle!
Spring Engagement Photography by DC Engagement Photographers
This particular couple opted to do their engagement photoshoot downtown. They were from Baltimore, so the "typical" DC experience appealed to them. We suggested a sunrise spring engagement photography session in East Potomac Park. The latter is a great spot for engagement photos at dawn, as it offers a rare unobstructed view of the eastern sky. It is also ringed with cherry blossom trees, making it a slightly less trafficked spot for engagement photos during the festival.
In the end, the photo of this lovely couple that we liked best featured neither the sunrise (which was gorgeous) nor the cherry blossoms. Instead, it was this one, which could have been taken anywhere at any time of year. Why? The reason is quite simple. Zooming in on them highlights the looks on their faces. It shows the love in their eyes and smiles. It brings the emotions to the forefront. And to documentary wedding photographers in Washington DC like us, that is worth more in an engagement photo than any beautiful scenery.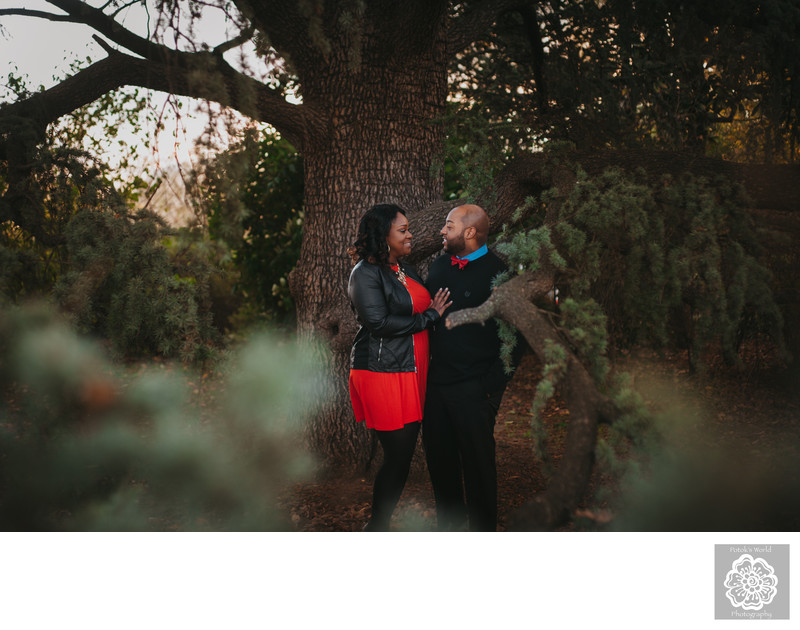 ---
Contact Us for More Information!
Interested in learning more about our services? Please visit our Wedding Photography FAQ page for answers to all your questions! Ready to inquire about our availability on your wedding date? Contact us now to get the conversation started!
© 2023 Potok's World Photography - Husband & Wife Washington DC Wedding Photographers