Potok's World Photography
Bluemont Vineyard Wedding Photos Northern Virginia
In our time as Northern Virginia wedding photographers, we have learned how magical vineyards can be as settings for nuptial celebrations. If you and your future spouse are planning an outdoor wedding, you should strongly consider one of the Washington DC metro area's dozens of wineries. Northern Virginia, in particular, is an up-and-coming wine-producing region. As such, it is home to many vineyard wedding venues. Once you get about 45-60 minutes west of downtown Washington DC), the countryside is dotted with lovely estates that have been converted to vineyards. And fortunately for you, most of them also host marriage celebrations! One of those is Bluemont Vineyard, a lovely, rustic location tucked between Leesburg and the West Virginia border. If you are thinking about a vineyard wedding, you should give it some thought. Why? Because a Bluemont Vineyard wedding gives you the best of the Northern Virginia winery matrimonial experience.
Vineyard Wedding Venues Virginia
Before we get to what makes a Bluemont Vineyard wedding so magical, let's start with what is great about wineries. And no, we do not just mean the wine! Though that is a perfectly good reason to plan a visit to a Northern Virginia winery! No, we are talking about what makes them great wedding venues.
Obviously, the principal allure of vineyard wedding venues in Northern Virginia is the natural beauty. The foothills of the Blue Ridge Mountains offer some of the most gorgeous scenery you can ever imagine. If your dream wedding includes an outdoor ceremony, then you could do a lot worse than having the green of the Virginia hills in the background! And then there are the vines. There really is something special about the glow of the sun on the grapevines, particularly in the late afternoon/early evening.
All of this natural beauty means that your Northern Virginia wedding photographers are certain to get stunning pictures of you. The shots of the two of you exchanging your vows amid Mother Nature's beauty will take your breath away. You and your wedding party will look radiant in the formal portraiture. And of course, the couples pictures you and your future spouse will be the stuff dreams are made of. Whether you have a Bluemont Vineyard wedding or you celebrate at a different Northern Virginia winery, you will get portraits that make your friends die of envy.
Bluemont Vineyard Wedding in Northern VA
As a winery wedding venue in Northern Virginia, Bluemont Vineyard offers you all of that and more. The location's wedding ceremony and reception spaces comprise a large barn-like building called the Stable and its back patio. The latter has a breathtaking view of the surrounding countryside that is easily visible from over a low stone wall. The former marries rustic charm with modern amenities to create an ideal setting for a 200-person post-ceremony celebration.
A lot of Northern Virginia winery wedding venues can give you these kinds of facilities. But not too many can also give you a charming little getting-ready room upstairs from the reception area. And even fewer have something like Bluemont Vineyard's Stone Cottage. Nestled near the winery's peach and apple orchards, this one-bedroom cottage is a lovely place for you and your future spouse to spend your wedding night.
And that is not even all that you get if you opt for a Bluemont Vineyard wedding! Also on the property is the Blue Door Cottage, a house with space for six people to sleep. So that means that your wedding party or a collection of close relatives can also stay the night! You could even have an informal wedding brunch the next morning!
Portraits from a Bluemont Vineyard Wedding
As Northern Virginia wedding photographers, we would be remiss, of course, if we did not mention the promise of getting sublime portraits at Bluemont Vineyard. The bucolic beauty of the venue's property will give your wedding photos an especially lovely look and feel. If you hold your ceremony on the back patio, you can exchange your vows with the aforementioned view of a gorgeous valley as a backdrop. Especially at dusk. The surrounding hills and trees positively glow in the setting sun!
This is especially true in the late autumn. The sunlight is less direct than it is in the summer, and its source dips below the horizon earlier. This means that a Bluemont Vineyard wedding is likely to be bathed in gentler, more golden light at that time of year. That makes the photographs of you and your beloved pledging your love to one another something truly special.
Northern Virginia Wedding Photographers at Bluemont Vineyard
Things get even more gorgeous when it comes to your couples portraits after your Bluemont Vineyard wedding. Not surprisingly, the majority of the venue's grounds comprises lovely rows of grapevines. And those just happen to solve one of the big challenges of couples photography. It can be very hard to get privacy for you after you finish tying the knot. All your family and friends want a moment of your time. Their intentions are good, of course; they just want to wish you well! But that can distract you and keep you from focusing on your new spouse during the portrait session.
Rows of grapevines are great for giving you that separation. They form a perfect natural barrier that keeps you away from the hustle and bustle. You feel more secluded and more alone with the person you love the most in the world. And we can photograph you cuddling between the rows. Or perhaps taking romantic strolls down the lanes. Or maybe just enjoying a few minutes of peace during your otherwise hectic wedding day.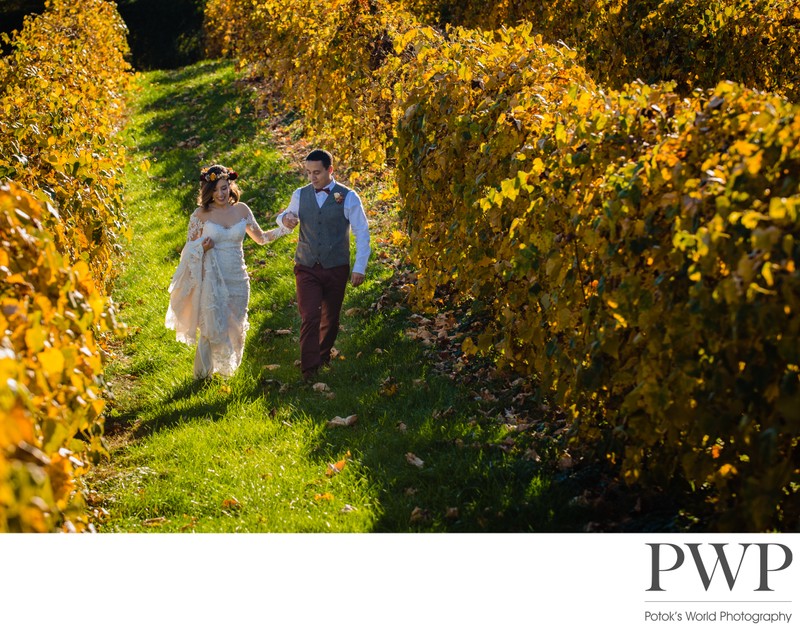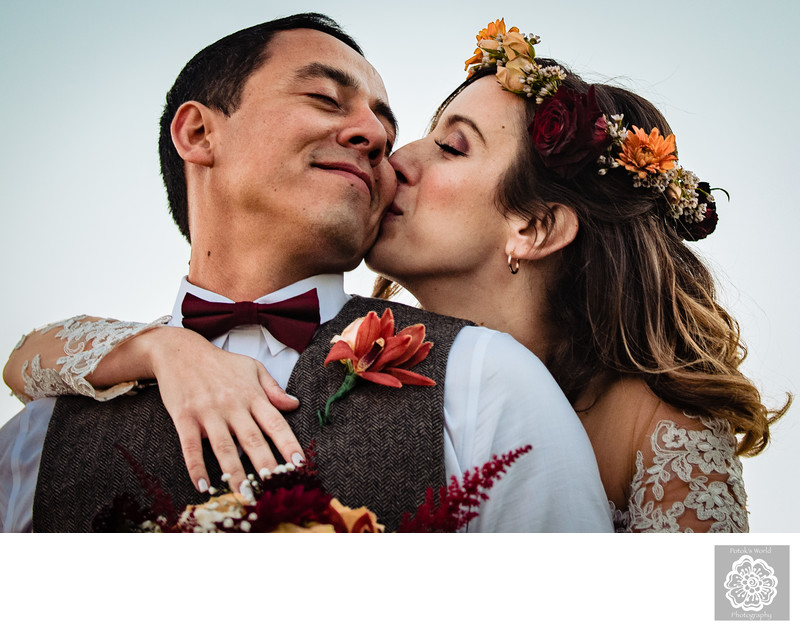 Contact Us for More Information!
Interested in learning more about our services? Please visit our Wedding Photography FAQ page for answers to all your questions! Ready to inquire about our availability on your wedding date? Contact us now to get the conversation started!
Location: Bluemont Vineyard, 18755 Foggy Bottom Rd, Bluemont, VA 20135.
© 2023 Potok's World Photography - Husband & Wife Washington DC Wedding Photographers