Potok's World Photography
Indian Wedding Photographer Washington DC
If you hire one of us as your Indian wedding photographer Washington DC, you can be sure of one thing. Namely, that you will receive gorgeous images that tell the story of your wedding day. We are documentary wedding photographers, which means we approach our craft from a storytelling perspective. Our goal is to give you beautiful photos, of course. But they should have a purpose. They should communicate more than just that you looked stunning or that your wedding was lovely. The pictures should tell something about who you are as a couple. They should help someone who does not know you understand what brought the two of you together. In short, they should narrate some portion of your love story.
Best Indian Wedding Photographer Washington DC Focuses on Family
A big part of us telling your love story is by taking pictures of your friends and family. Why? For starters, your wedding will be about so much more than just you tying the knot with your future spouse. It will also a celebration of your families. Beyond that, it will be a celebration of all the people who know you, love you and support you. So getting photographs of them congratulating you, sharing a laugh or tear with you or getting crazy with you on the dance floor is crucial to the telling of the story of your day. An Indian wedding photographer in Washington DC absolutely must capture those moments for you. Because, again, they will be critical to your wedding-day story. And as a result, those images are sure to be some of the ones you treasure most down the road.
Indian Wedding Photographer Washington DC Pictures of Family
There is more to it than that, though, in our opinions. Your family and friends will not just start mattering to you on your wedding day. They were probably a part of your love story long before you even decided to marry. Perhaps one or more of them introduced you to your future spouse. Between that first meeting and your engagement, your family and friends were almost certainly the ones you turned to for advice or to celebrate relationship milestones. We will bet that they were the first ones you called after one of you popped the question to the other. So telling the entirety of your love story in pictures requires documenting those relationships on your wedding day.
In our experience, documenting the couple's families is doubly important at Indian weddings. A marriage in the cultures of the Subcontinent really and truly represents the coming together of two families. Partly for that reason, there are many more roles for family members to play in all aspects of a Hindu marriage celebration. The latter is also the result, however, of the closer bonds that an Indian family shares. So an Indian wedding photographer in Washington DC needs to make doubly sure to focus on the interactions the couple has with their relatives.
Indian Wedding Photographer Washington DC Post-Ceremony Images
Our job is made a little easier by the structure of a typical Indian wedding. Most (though certainly not all) of these celebrations have a time built in after the ceremony for family and friends to greet/congratulate the newlyweds. The guests will usually come hug the couple and offer them a few words of congratulations.
Planning Tip from Indian Wedding Photographer Washington DC
If you have some flexibility in your wedding-day timeline, you should think about making a post-ceremony receiving line a formal part of the schedule. Why? Because if people are only congratulating you at random times during your subsequent wedding reception, there is always the chance that your Indian wedding photographer in Washington DC could miss some of those precious moments. Making a receiving line a more formal part of your wedding ensures that all of that is preserved.
Top Indian Wedding Photographer Washington DC
We created this unforgettable photograph of just such a moment at an Indian wedding celebration in Maryland. The bride and her groom tied the knot at the Silver Spring Civic Building. Afterwards, a long line of friends and relatives made their way up to the stage to greet and congratulate them. The length of the line was a testament to what a huge group of people thought highly enough of the bride and groom to join them on their big day.
We took the image featured here when the bride stood up to give her best friend the biggest hug she could muster. What we particularly love about the photo is the look of unrestrained joy on the bride's face. The friend is so obviously happy for her, and she is so happy to have such a good friend in her life. These are the emotions and the moments that make wedding days so special. And that is why the biggest goal for each of us as an Indian wedding photographer in Washington DC is capturing them on film and preserving them forever for the couples who hire us.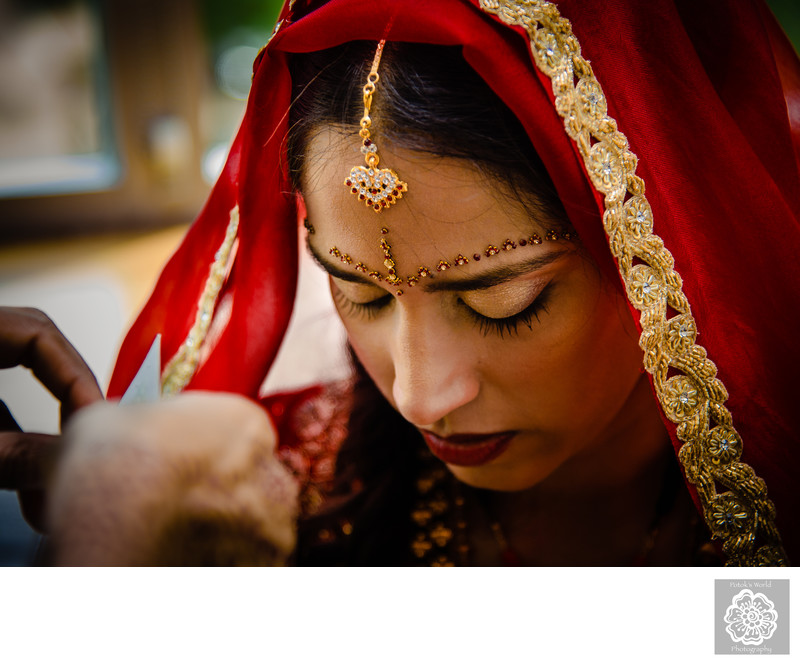 Location: Silver Spring Civic Building, 1 Veterans Pl, Silver Spring, MD 20910.

Keywords: DC Wedding (78), DC wedding photographer (81).

© 2020 Potok's World Photography -- Husband & Wife Washington DC Wedding Photographers