Potok's World Photography
National Portrait Gallery Wedding Portraits
There are a lot of great Washington DC wedding venues and beautiful spots for wedding photography in and around the city. The Nation's Capital has spaces to fit your tastes and individual needs, no matter how specific they might be. That means you and your future spouse can feel assured that you can tie the knot in a facility that is perfect for you. You can also head to the altar confident that your wedding portraits are going to look fabulous. No matter where you get married, the right Washington DC wedding photographers are sure to find a backdrop that complements you and your beloved beautifully.
Nowhere is that more true than in the city's Smithsonian museums. They are one of our favorite locations for couples portraits -- a tremendous asset in any Washington DC wedding photographer's quest to give you unforgettable pictures. They offer a wealth of different canvases upon which to create portraiture of you and your future spouse. Just like the city that hosts them, they offer something for every taste. Each Smithsonian building has a different design, different architecture and different focus.
The latter means photographs at each one will will be dramatically different. Couples portraits in each location have an entirely distinctive look and feel. For example, the artwork displayed in the American Art Museum is offbeat and quirky. Photos taken there will obviously be artier and more creative. Installations in the Smithsonian National Museum of American History, in contrast, are a representative sampling of the country's cultural background. Engagement or couples portraits taken there are obviously going to feature those elements more. The National Gallery of Art has a very distinctive set of escalators that make a fun setting for creative pictures.
The best part about making use of the Smithsonian museums for couples portraits is the cost. Entrance to nearly every one of those DC institutions is completely free! Photographing newlyweds or fiancés in those spaces also requires no permit. In fact, the Smithsonian encourages all visitors to bring cameras and use them as much as possible! Obviously, these photography-friendly policies are a boon to you, as well as to your photographers. Your Washington wedding day can easily include stops at one or more Smithsonian museum for some breathtaking shots.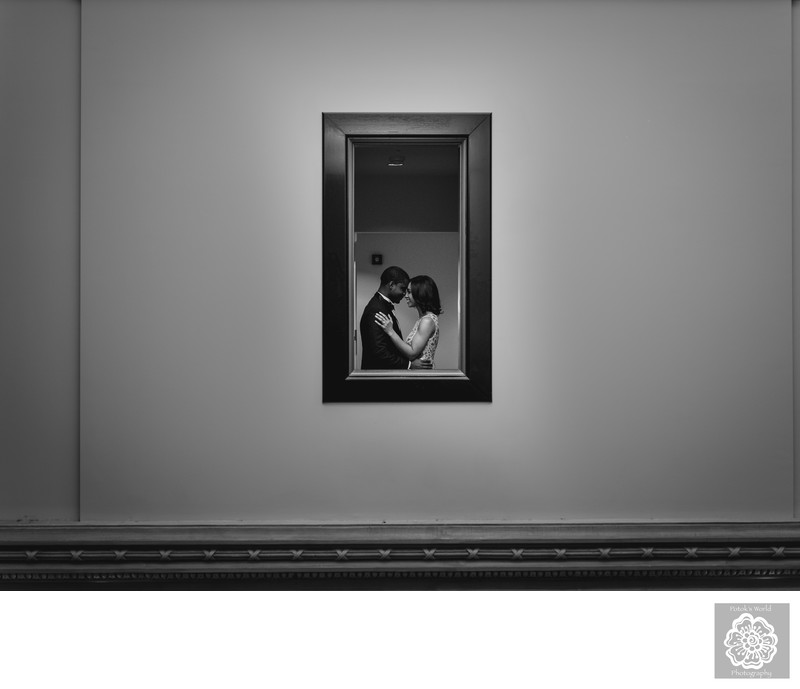 National Portrait Gallery Photos
We took this pair of fiancés to the aforementioned American Art Museum during part of their engagement shoot. That particular part of the Smithsonian network is located in the heart of DC's historic Chinatown neighborhood. The museum occupies half of the Old Patent Office Building, which is just steps from the area's primary Metro stop. The second half of the building belongs to the National Portrait Gallery, another Smithsonian museum. As such, the venue offers a great selection of diverse spots of portraiture. A Washington DC wedding photographer can get unique shots on one side and more traditional pictures on the other.

As we wandered through the American Art Museum side of the building, we were struck by one particular exhibit. More specifically, we were intrigued by its potential as a location for memorable couples portraiture. That artwork was Gene Davis's Hot Beat, a piece famous for its vibrant stripes and rich colors. We thought it would be the perfect backdrop for one of the shots we had in mind. It is colorful and interesting enough to jazz up any couples portrait. At the same time, its design is simple enough not to distract attention away from the picture's main subjects.

The need for a visually interesting background was even greater, considering the shot we had in mind. The spouses-to-be had wanted a portrait that emphasized their engagement ring. To really focus on that piece of jewelry, we posed the fiancés such that their faces were obscured. We had the bride-to-be stand with her back to Hot Beat. Her future husband stood facing her. We then asked her to wrap her arm around him and place her left hand on his head. We felt that this would do a great job of showcasing her diamond ring. The resulting image did this, in our opinion. And thanks to the great backdrop, the picture was also fresh, fun and creative!

Location: National Portrait Gallery, 8th St NW & F St NW, Washington, DC 20001.

Keywords: DC Wedding (81), DC wedding photographer (84), DC wedding photographers (93).

© 2020 Potok's World Photography -- Husband & Wife Washington DC Wedding Photographers