Potok's World Photography
National Portrait Gallery Wedding Portraits
Are you looking for a Washington DC venue where you can get interesting and unique wedding or engagement photos? If so, then we would recommend two locations. Well, actually, it is just one location with two dramatically different parts inside it! We are talking about the National Portrait Gallery and the American Art Museum. These two Smithsonian institutions share a space in the heart of the city. And in our experience as Washington DC wedding photographers, they are among the best spots in the metro area for couples portraits. They are so different from one another that you are certain to find a setting you like within their walls. National Portrait Gallery wedding portraits are perfect if you are looking for something traditional. Photos at the American Art Museum, by contrast, are ideal for more creative tastes. So no matter what your aesthetic preferences, you will find something you like.
National Portrait Gallery Wedding and Engagement Photos…
In one half of the Old Patent Office Building in downtown DC is the National Portrait Gallery. It is without a doubt a Washington icon. Which makes it a great place for couples portraits with a very DC feel. As it showcases portraits of the most notable Americans, it is also a national treasure. Which gives National Portrait Gallery wedding and engagement portraits a great historical feel as well.
The idea of a National Portrait Gallery dates at least back to 1886. That is when the Massachusetts Historical Society began trying to create an American version of the same-named museum in London. Due to a variety of factors, that project never made it to fruition. In the subsequent decades, though, many wealthy Americans kept the dream alive. They donated their private portraiture collections to the Smithsonian Institution and the US government. It was not until 1957, when Washington's historic Old Patent Office Building was threatened with demolition, that the museum project gained real urgency. The government officially founded the National Portrait Gallery in 1962. The institution then opened its doors to the public in 1968.
Coming back to the topic you are no doubt most interested in (National Portrait Gallery wedding portraits), this museum is a great fit for anyone who loves history and classical artwork. The National Portrait Gallery has corridor after corridor of lovely paintings of icons of American history. Your Washington DC wedding photographers can get beautiful portraits of you in front of stunning portraits of people who have made our country what it is today.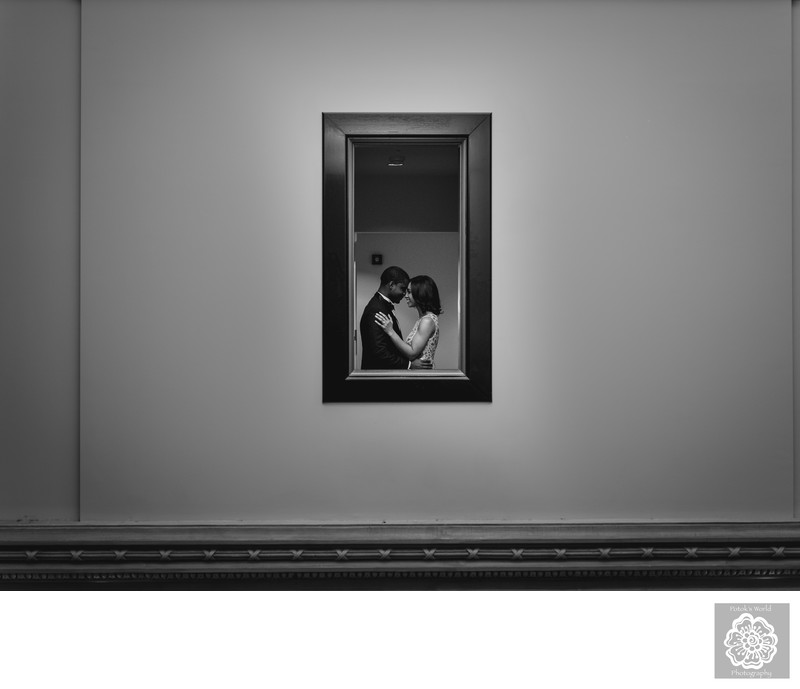 ...and Couples Portraits at the American Art Museum
As we mentioned above, the American Art Museum gives you pictures with a completely different look and feel. If you put National Portrait Gallery wedding portraits alongside those taken at its neighbor, you will hardly believe the venues share a building! Pictures of you at the American Art Museum will look fresh, offbeat and creative.
This museum is the first in the US dedicated uniquely to the preservation of American art. As part of that mission, the institution celebrates artists and works that speak about our shared American experience. At the same time, it aims to represent the incredible diversity of our nation by giving a voice to artists from different backgrounds. The range of works exhibited there is almost dizzying. It comprises contemporary crafts, modern folk and self-taught art, American impressionist paintings, African-American art, Latino art, New Deal art, works from the Gilded Age and even video games.
The American Art Museum is (unsurprisingly) a great fit for couples with more offbeat sensibilities. Your engagement photographers in Washington DC can use the innovative sculptures to frame you in interesting and visually pleasing ways. The colors of the various installations will give your portraits a lively and vibrant feel.
Engagement Session at the National Portrait Gallery
We took this lovely couple to the two museums not to take American Art Museum and National Portrait Gallery wedding photos. Instead, we started their engagement photoshoot there. We began by taking the couple up to a long, two-story hallway on the top floor of the building. The future spouses first posed for some dramatic wide-angle shots in the middle of that corridor. We then ducked into one of the many gallery rooms adjoining the main hallway. While there, we took some photos of the couple cuddling and admiring one of the portraits displayed within.

The spouses-to-be then went up to the second floor of the chamber. We captured some gorgeous images of them embracing in a portico that opens to a spacious atrium. Before they came back down to the main floor, we took some additional photographs of them framed in an open window in the wall. That is where we produced this beautiful image of them lovingly touching foreheads.

Afterwards, we proceeded to the American Art Museum half of the building. We got some lovely images of the couple near some of the larger installations. Our favorites featured them posing beneath a painting with lines resembling the letter "M."

We finished the engagement session in the Kogod Courtyard, the highlight of a recent renovation to the building. Occupying the space between the two museums, the courtyard has a beautiful, undulating window canopy. The latter allows plenty of natural light to illuminate the space, making it a beautiful space for engagement photography. We took a few wide-angle pictures of the couple there and then departed, vowing to come back again soon!

Location: National Portrait Gallery, 8th St NW & F St NW, Washington, DC 20001.

Keywords: DC Wedding (12), DC wedding photographer (11), DC wedding photographers (13).

© 2023 Potok's World Photography - Husband & Wife Washington DC Wedding Photographers