Potok's World Photography
QG Baltimore Wedding Photographers
As you plan your wedding in the Charm City area, the choice of venue is obviously very critical. Actually, not just venue, but Baltimore wedding venues! You might very well need to select two or three different locations for your marriage celebrations. You could decide to get ready in one place, have your ceremony in other and celebrate your reception in a third. This is particularly true if you intend to have a religious wedding ceremony. Most churches, temples and mosques do not allow you to get ready or have your reception in their facilities!
To make the decision making and logistics easier, you might opt to use the same venue for two or even all three of major parts of your event. As Baltimore wedding photographers, we can certainly understand why you would want to go in this direction. Getting ready in the same place where you will have your wedding reception is an especially good way to cut down on hassles during the organizational stages. It also lessens your stress level on the day of. Heading upstairs at the end of a long day and night can sometimes be preferable to traveling across town to another location when you are tired.
Using the same venue for multiple portions of your wedding also has the added bonus of being a better deal for you. Many hotels will offer you special rooms for booking their Baltimore wedding venue for your nuptials. It is not too bad for your wedding photography either! Luxury hotels in the Charm City metro area have sumptuous interiors that will pictures of you and your intended getting ready look fantastic. Any Baltimore wedding photographers would say there is no need to go elsewhere to prepare for the marriage celebrations if you have those facilities at your disposal!
Unique Baltimore Wedding Venues
We do always enjoy, however, when Baltimore-area couples change things up a bit. If you choose to do your pre-ceremony preparations at a different site in the Charm City, that can be a great idea. One particularly cool trend that we have observed recently is grooms getting cleaned up and dressed at old-school barbershops/mens clubs. These Baltimore institutions generally offer straight-razor shaves and other pre-wedding grooming. They also typically have lounge areas where the groom and his groomsmen play pool and get prepared for the wedding ceremony. Many even have a bar where the Washington wedding party can have a drink or two to calm their nerves. It is not surprising to wedding photographers like us that grooms like the idea of relaxing with their groomsmen in places like this. Spending time in a quiet and comfortable environment before the bustle of a Baltimore marriage ceremony is often priceless.
One such barbershop/mens club where we have taken photographs is the Quinntessential Gentleman (or the QG) in Baltimore, Maryland. The name is misspelled intentionally to honor the owner's mother. It was she who inspired him to both act like a gentleman and to open a business celebrating that culture. Located just a few blocks from Baltimore's famous Inner Harbor, the QG opened its doors in 2005. It began as a barbershop offering a sophisticated take on the old-fashioned approach to mens grooming. Since then, the QG has expanded its services to include a spa, a cigar lounge, a bar, a restaurant and an upscale men's clothing store.
Grooms who book the Quinntessential Gentleman for their pre-wedding preparations can start with a classic hot-towel and straight-razor shave. That is what the groom pictured in this image did. We loved photographing that part of his getting-ready process. It gave us unique wedding photos that we could not have gotten at more traditional hotel venues. Producing images that are unique is special is always a goal for us. We want our Washington-area brides and grooms to get pictures that stand out and show how special their wedding was. So we appreciate the opportunities that unique venues like the QG give us to create new and different wedding photography.
After his shave, the groom returned to the Clubhouse to join his groomsmen in getting dressed for the wedding. The Clubhouse is a private area built around a pool table. It is also equipped with a TRUGOLF golfing simulator, several old-school arcade video games and a massive TV. As he got ready, this Baltimore groom asked each of his groomsman assist him in putting on one thing. One helped him into his shoes, for example. Another fixed his cufflinks, and the groomsman in this photo worked on his tie. It was a nice way to get all of the members of his wedding party involved in the Baltimore marriage celebrations. The gesture clearly made them feel more a part of his nuptials. It also acknowledged the importance of them supporting him on such an important occasion.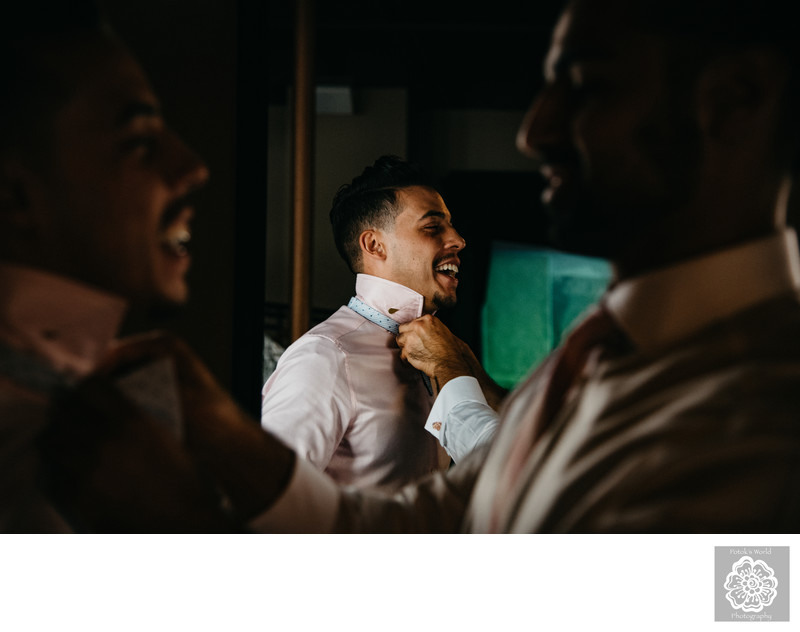 Location: The QG, 31 S. Calvert St, Baltimore, MD 21202.

Keywords: Baltimore wedding (33), Baltimore wedding photographer (9), Maryland wedding (27).

© 2020 Potok's World Photography -- Husband & Wife Washington DC Wedding Photographers